Fast and Easy Stir-Fry With Chicken and Summer Vegetables
The Best Way to Use Up Your Farmers Market Haul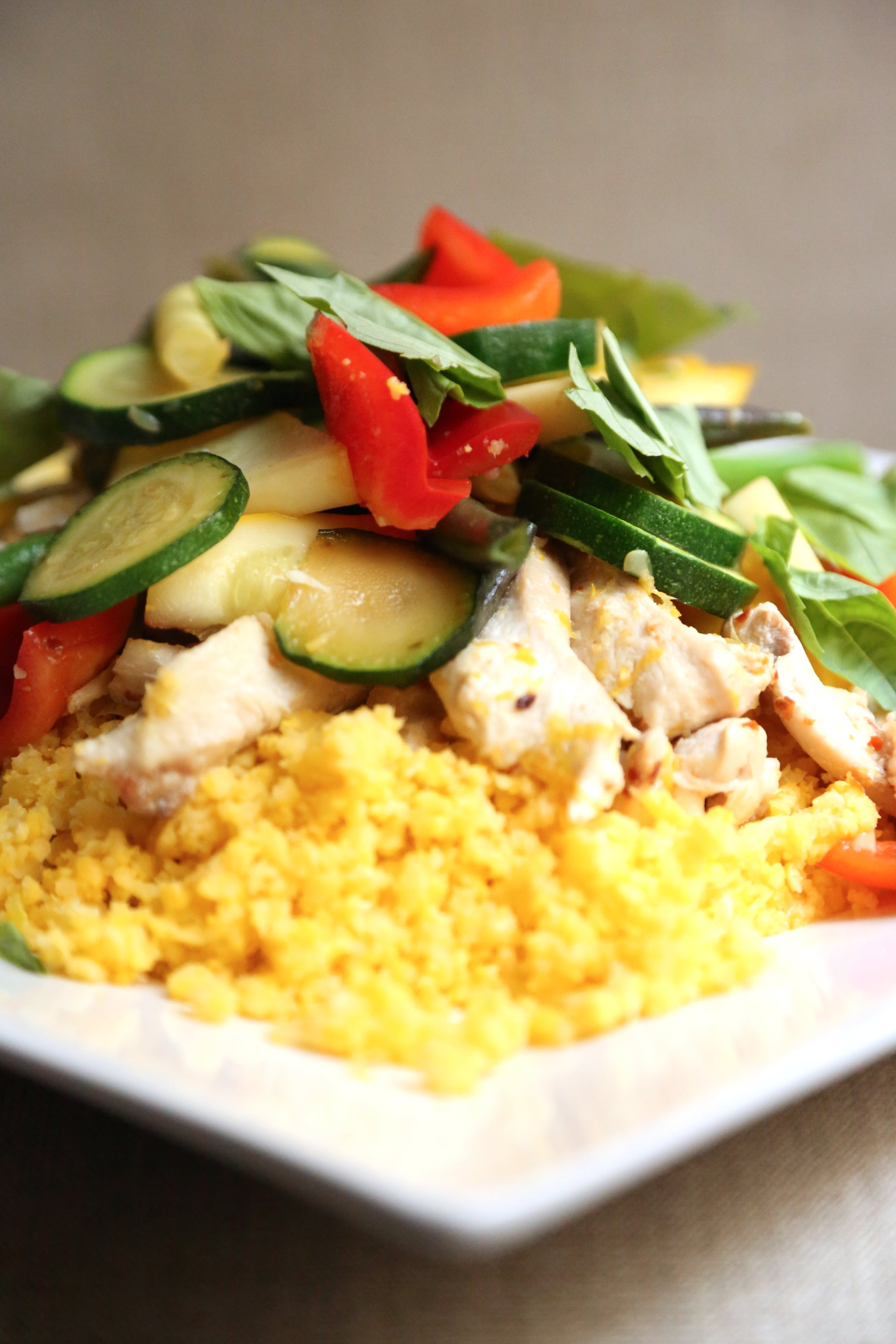 When I head to the farmers market during Summer, I shop like I'm never going to see produce ever again. I end up hauling away more veggies than any single person could ever realistically consume. I know I'm not alone . . . that's why I try to develop recipes that use a lot of the produce at once and invite someone over to share in the bounty. This Summery stir-fry is one of the easiest and most straightforward ways to use up seasonal produce. There's really only one rule, and that's to taste and salt this dish as you cook until you're satisfied with the result! When Summer veggies are at their peak, salt is the only necessary seasoning to amplify the fresh produce flavors.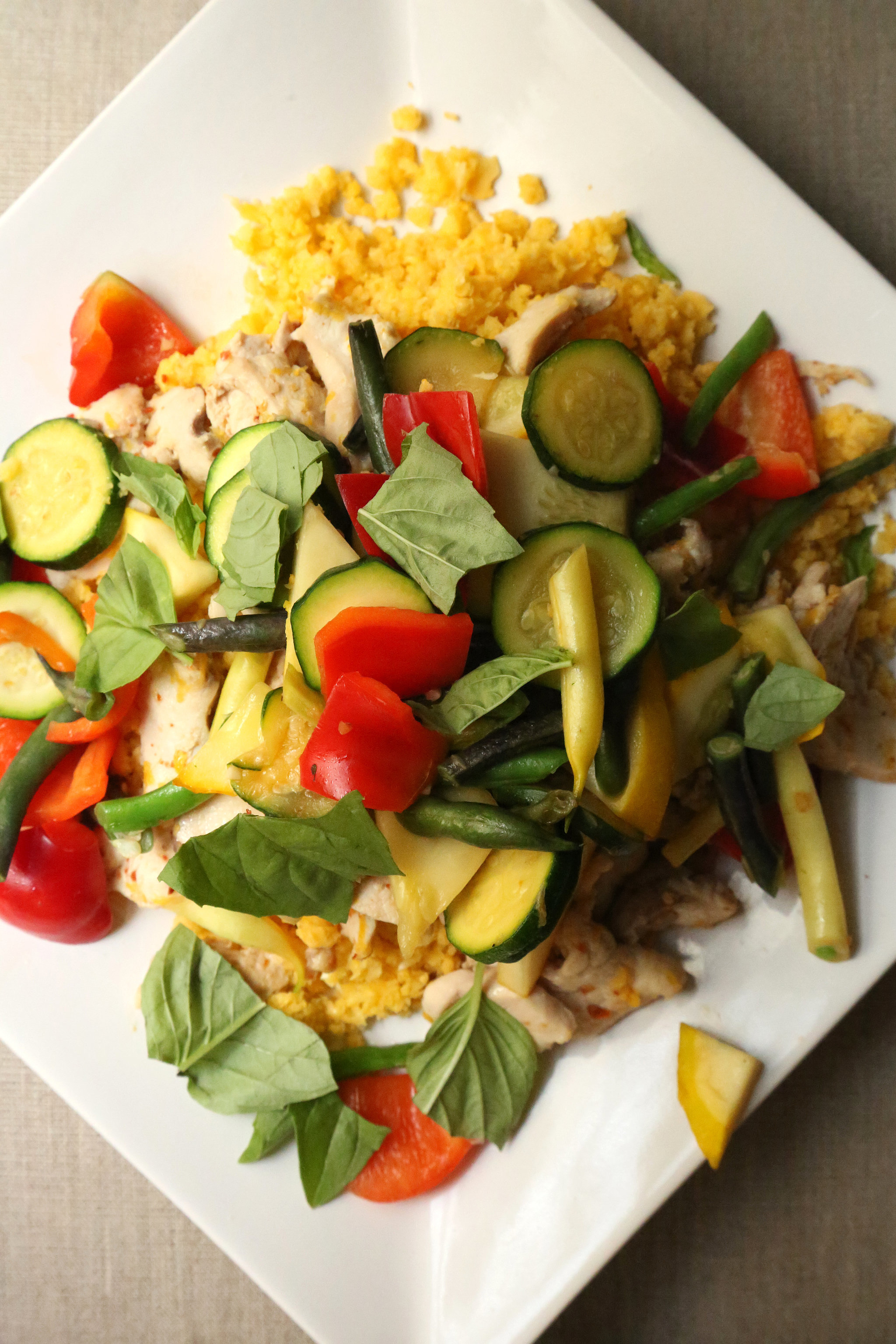 Summery Stir-Fry
From Anna Monette Roberts, POPSUGAR Food
Notes
To make a vegetarian version of this dish, use a vegetarian meat substitute instead of the chicken or simply use the seasonings for the chicken (garlic, lemon zest, and red pepper flakes) in the vegetable sauté. Optionally, garnish with cheese.
Use this Summer produce guide for other vegetables to toss into the stir-fry. Rely on the best-looking veggies from the market to inspire your stir-fry, so consider including Summer corn, eggplant, padron peppers, and/or cherry tomatoes.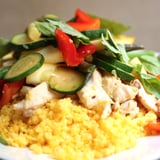 Ingredients
2 tablespoons ghee or clarified butter, divided
1 small head cauliflower, pulverized into rice (about 2 cups)
Salt
1 tablespoon minced garlic
1 pound boneless skinless chicken breasts, cut into thin slices against the grain
Zest of 1 lemon
1/4 teaspoon red pepper flakes
1 cup green beans, cut into 1-inch pieces
1 yellow Summer squash, like pattypan, cut into 1/4-inch-thick half-moons
1 zucchini, cut into 1/4-inch rounds
1 bell pepper, cut into 1-inch pieces
Fresh basil, for garnish
Grated parmesan or goat cheese crumbles, for garnish (optional)
Directions
Heat a large wok or sauté pan over medium-high heat. Melt 1 tablespoon ghee and stir-fry cauliflower rice pieces until heated through and tender, about 5 minutes. Salt to taste, then transfer to a large serving platter using a rubber spatula.
Return wok to stovetop and melt remaining 1 tablespoon ghee. Add garlic and stir-fry for one minute, until fragrant and lightly golden-brown. Add chicken and stir-fry until chicken turns white, opaque, and is cooked through, about 7 minutes. Add lemon zest and red pepper flakes in the last minute of cooking. Salt to taste. Top the cauliflower rice with the cooked chicken..
Return wok to stovetop and add green beans. Cook for 3 minutes, until green beans are tender. Add squash and cook 1 minute, or until squash becomes translucent. Add bell pepper and cook 1 minute, or until heated through. Salt vegetables to taste. Transfer the vegetable stir-fry to the cauliflower rice platter.
Garnish with freshly torn basil and cheese (optional).
Information
Category

Main Dishes

Cuisine

North American

Yield

Serves 2-3
Image Source: POPSUGAR Photography / Anna Monette Roberts