Game of Thrones Ned Stark Cake Pops Recipe
Ned Stark's Decapitated Head Has Never Looked Better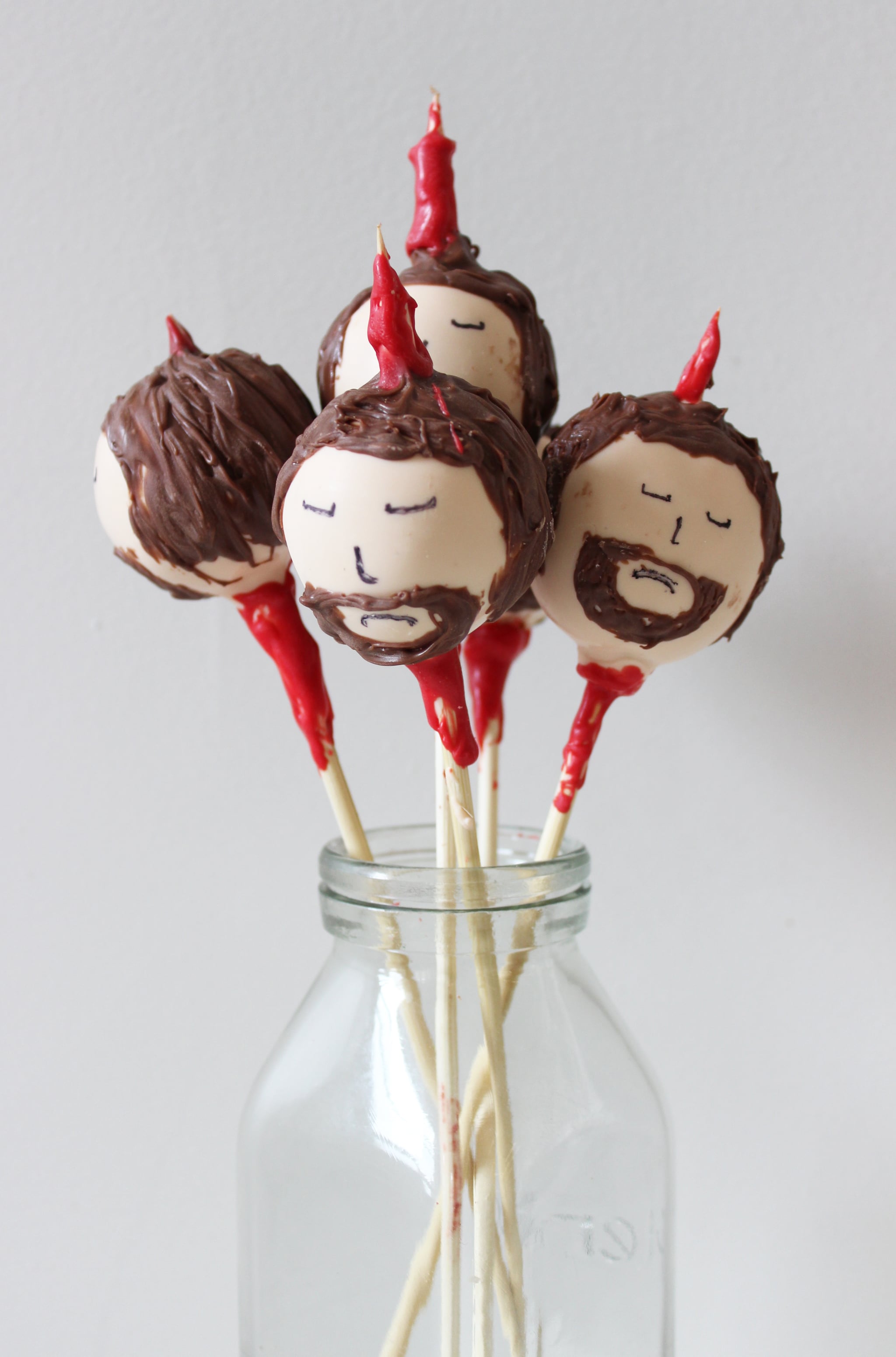 I don't even watch Game of Thrones, but I admire the loyalty the show elicits from its fans — even as it kills off beloved character after beloved character. I have the joy of living with one such fan: my boyfriend. The man goes all out when it comes to Sunday night viewing parties, and one need only look to the DIY Iron Throne sitting in our hallway as proof.
His most impressive GOT-party feat has to be these Ned Stark cake pops; somehow he was able to make the decapitated Lord of Winterfell look sort of delightful and cute. While the cake pops took several hours to make, the "oohs" and "aahs" from our guests made it more than worthwhile. (And believe it or not, there are actually several Game of Thrones cake pop recipes.)
Before you pass them off as some sort of novelty party favor, you should know the pops are also damn good. Made from red velvet cake (because blood, duh) and glazed with white chocolate, the cake pops were sweet, creamy, and moist, leaving our guests with a sugar high that lasted throughout the evening. Should you question whether they deserve a spot at the Feast of Crows, our guess is that Joffrey would totally serve these at a party — most likely to Sansa.
Notes
Because cake pops tend to be labor intensive, we relied on box mix for the cake. However, you can certainly make ingredients from scratch.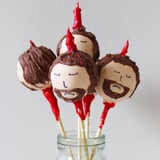 Ingredients
1 red velvet cake, bake as directed, 13 x 9 cake
1/2 chocolate cake, bake as directed, 13 x 9 cake
16 ounces cream cheese frosting
1 12-ounce bag white candy melts
1 12-ounce bag yellow candy melts
1 12-ounce bag pink candy melts
40 bamboo skewers
1 12-ounce bag brown candy melts
Black food marker
1 12-ounce bag red candy melts
Directions
Crumble cooked and cooled cakes into large bowl and mix in the cream cheese icing. This is best accomplished by using your hands, but a warning that it will get messy.
Roll mixture into quarter-size balls and lay on a cookie sheet. Chill in the refrigerator or freezer for several hours.
Once cake balls are chilled, remove from the refrigerator and start making the icing. Add an equal amount of pink, yellow, and white candy melts to a 2-cup glass measuring cup (or something similar). Microwave according to the package directions; the mixture should be glossy and smooth and result in a nude color.
Dip skewer into the icing before adding a cake ball — this will act as a glue. Next, take a cake ball and push it through a bamboo skewer, leaving some of the skewer exposed at the top. Dip the cake ball into the melted candy; lay on wax paper to dry. Repeat the process with the remaining cake balls.
Once the icing has set on the cake balls, melt one cup of the brown candy melts. Use a toothpick and apply the chocolate for the hair and beard on the cake pops. The chocolate layer will dry quickly; continue to add more chocolate to dry layers for texture. You may need to reheat the chocolate throughout the process.
Once the chocolate is dry, use the food marker to draw the face on the cake pops.
Melt 1 cup of red candy melts for the "blood" that will sit above and below the head. Dip the top of each skewer in the red icing, and use a toothpick to apply red icing below the heads.
Let icing set before serving and enjoy!
Information
Category

Desserts, Cake

Cuisine

North American

Yield

40 cake pops

Total Time

1 hour, 59 minutes, 59 seconds