Giant Ice Cream Sandwich | Food Video
SUPERSIZE a Chocolate Chip Cookie Ice Cream Sandwich
We're calling this one giant ice cream sandwich part two! When we were thinking about which dessert to supersize, we decided to go with our rectangular friend first but couldn't help ourselves and wanted to make some giant chocolate chip cookies as well — so sit back, relax, and enjoy this supersize cookiewich!
On Brandi: Black Halo
Giant Chocolate Chip "Cookiewich"
From Skylar Thomson, POPSUGAR Food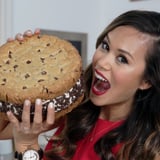 Ingredients
For ice cream filling:
2 quarts vanilla ice cream, softened
For the cookie crust:
Nonstick cooking spray
1 1/2 cups unsalted butter, softened
1 1/2 cups light brown sugar
1/2 cup granulated sugar
3 large eggs
1 tablespoon vanilla extract
3 cups all-purpose flour
2 teaspoons baking powder
1 teaspoon kosher salt
3 cups semisweet chocolate chips
To garnish:
1 cup mini chocolate chips
Directions
To make filling layer: Line a 9-inch springform pan with plastic wrap and spoon the softened ice cream into the pan. Use a spatula to create a smooth, even surface.
Place the pan in the freezer for at least 30 minutes or until the ice cream becomes firm. Remove the ice cream disc, wrap with excess plastic wrap, and place in the freezer until you're ready to assemble.
To make cookies: Preheat oven to 350ºF. Line 2 9-inch springform pans with parchment paper and nonstick cooking spray and set aside.
Using a hand mixer or stand-up mixer with a paddle attachment, cream together butter, brown sugar, and granulated sugar for about 5 minutes or until the mixture is light and fluffy.
Reduce speed and add eggs and vanilla extract. Keep mixing until incorporated.
In a separate bowl, whisk together flour, baking powder, and salt. Slowly add the dry ingredients to the wet ingredients, scraping down the sides to ensure the dough is mixed well.
Use a rubber spatula or wooden spoon to fold in chocolate chips.
Transfer half of the dough to each of the prepared pans and press down slightly. Bake for 35 minutes or until the cookies are golden brown and slightly firm in the center. Remove from the oven and allow to cool to room temperature in the pan. Remove cookies from the pan and let cool completely.
To assemble: Line the same springform pan with plastic wrap and place the bottom cookie upside down in the pan. Remove ice cream from the freezer and unwrap the disk. Place on top of the cookie and then top with the second chocolate chip cookie. Press down slightly to remove any excess air. Store in the freezer until ready to serve.
When ready to serve, remove from the springform pan and unwrap. Press mini chocolate chips or sprinkles onto the ice cream layer of the sandwich and serve immediately.
Information
Category

Desserts, Cookies

Yield

12 servings

Total Time

1 hour, 29 minutes, 59 seconds