Giant Oreo Cookie Recipe
Supersize Your Oreo Cookie!
You know how much I love Oreos — from Oreo churros to deep-fried ones so it only makes sense that I'd want to supersize one, right? Well get ready for all your Oreo dreams to come true because that's exactly what I'm doing today. Check it out!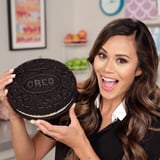 Ingredients
For the dough:
1 1/2 cups Hershey's special dark cocoa, sifted
1 1/2 cups all-purpose flour, sifted
1/4 teaspoon salt
1 cup butter, softened
2 cups granulated sugar
2 large eggs, whisked
1 1/2 teaspoons vanilla extract
For the filling:
1 cup butter, softened
4 cups powdered sugar, sifted
2 teaspoons vanilla bean paste
2 tablespoons milk
For the decorations:
1/2 cup chocolate frosting
Special equipment:
Two 8" round tart pan
Alphabet cookie cutters
Square cookie cutters
Directions
Preheat the oven to 325ºF.
In a medium mixing bowl, sift together cocoa powder, flour, and salt. Set aside.
Into a large bowl, cream together butter and sugar. Add eggs and vanilla and continue mixing. Add the dry ingredients a little at a time and mix on medium speed just until combined.
Spray pans with nonstick cooking spray. Place about 2 cups of dough into each pan leaving 1/4" from the top. Wrap leftover dough in plastic wrap and place in refrigerator for 20 minutes to firm up. Bake pans for 45 minutes until cookie is baked through and a toothpick inserted comes out clean.
To make Oreo decorations: Dust work surface with flour and roll out the leftover cookie dough until 1/4" thick. Cut out triangles and letters. Roll pieces of dough into a rope to make the remaining cookie accents. Place cut out cookie accents on parchment paper lined baking sheet and refrigerate for 15 minutes. Bake at 325ºF for 8-10 minutes or until set.
To make filling: In a large bowl, cream together butter, sugar, vanilla bean paste, and milk using a hand mixer set to medium. Line an 8" round cake pan with parchment paper and fill pan with filling using a spatula to make even and smooth. Place in refrigerator for at least 1 hour to set.
To assemble the cookie: Place one large cookie, wider side up on a plate. Remove filling from cake pan and place on top of the cookie. Flip the second large cookie over and place on top of the filling. To add the decorations, use chocolate frosting as the "glue" to attach the accents. Enjoy and serve with lots of milk!

Information
Category

Desserts, Cookies

Yield

10 to 12 servings

Total Time

1 hour, 14 minutes, 59 seconds