Giant Spaghetti-Stuffed Meatball | Food Video
Eat the Trend: Giant Meatball Stuffed With Spaghetti
You read that right! This is a giant meatball stuffed with spaghetti! We've basically made it a reverse spaghetti and meatballs . . . and then supersized it. This dish is guaranteed to wow friends at your next dinner party. If your food-gasm Instagram posts haven't been on point lately, this will definitely help you step up your game. Oh yeah, this is just as delicious as it is trendy.
Spaghetti-Stuffed Giant Meatball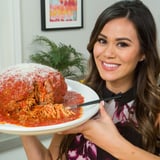 Ingredients
For the pasta:
4 ounces angel hair pasta
1/4 cup extra virgin olive oil
1 teaspoon crushed garlic
1 (28-ounce) can tomato sauce
1 (28-ounce) can crushed tomatoes with basil
6 basil leaves, chiffonade
1 teaspoon Kosher salt
1 pinch crushed red pepper
1 teaspoon dried oregano
For the meatball:
3 pounds ground beef, 80 percent lean
1/2 yellow onion, small dice
1 tablespoon fresh parsley, chopped
1 teaspoon crushed garlic
2 eggs
1 tablespoon plain seltzer
1 teaspoon Kosher salt
1/2 cup Italian breadcrumbs
1/4 cup pecorino romano cheese
1 tablespoon Worcestershire sauce
Parmesan, for garnish
Directions
Cook angel hair pasta until al dente. Strain and set aside.
In a large sauce pot set over medium heat, sauté olive oil with crushed garlic for a minute, until fragrant. Add tomato sauce and crushed tomatoes. Bring mixture to a boil and add basil, salt, red pepper, and dried oregano. Stir everything together and reduce the heat to bring the sauce to a simmer. Let cook until slightly thickened and remove from heat.
Mix approximately 1 to 1 1/2 cups of sauce with pasta, until coated.
In a large bowl mix together ground beef, onion, parsley, garlic, eggs, seltzer water, salt, breadcrumbs, pecorino romano cheese, and Worcestershire sauce until incorporated. Remove about 1/3 of the meat and set aside. Put aluminum foil into the bottom of an oven-safe bowl and form 2/3 of the meat into a hollow meat bowl. Make sure to keep the sides thick enough to hold the pasta. Fill with pasta and then use the remaining meat to cover the open top of the meatball and carefully use the bowl to help mold the meat into a large ball. Use the extra foil to cover the top of the meatball, leaving an opening for a vent.
Preheat the oven to 350°F.
Bake the meatball for about an hour to an hour and 15 minutes, or until a meat thermometer reaches 160°F.
Carefully remove the bowl from the oven and drain any excess liquid. Invert the meatball onto a large platter and cover with remaining sauce and parmesan cheese. Serve warm.
Information
Category

Main Dishes

Cuisine

Italian

Yield

4-8 servings

Total Time

1 hour, 44 minutes, 59 seconds