Gordon Ramsay's Sticky Toffee Pudding Recipe
Gordon Ramsay's Banana Sticky Toffee Pudding Recipe Will Instantly Make Your Mouth Water
A spongy pudding topped with a buttery toffee sauce? There is literally nothing not to love about the classic sticky toffee pudding dessert — especially when the recipe comes from celebrity chef Gordon Ramsay. The tasty treat is both delicious and easy to make. Think of it as a cakey banana pudding, but slightly better and not exactly diet-friendly. The ingredients list is simple, it won't take up too much time, and at the end, you get to indulge in something that'll make you feel like royalty. Sticky toffee pudding clearly deserves a spot at your next dinner party, and this a recipe worth saving. Bon appétit!
Gordon Ramsay's Banana Sticky Toffee Pudding
Gordon Ramsay Restaurants
Notes
The restaurant serves it with banana ice cream — the hot-cold contrast is amazing!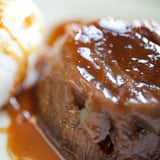 Ingredients
For the sticky toffee pudding:
110g soft dark brown sugar
110g unsalted butter
1 egg
110g plain flour
8g baking powder
1 ripe banana (sliced)
For the toffee sauce:
50g caster sugar
50g unsalted butter
85g golden syrup
120ml whipping cream
Directions
1. Preheat oven to 180 degrees Celsius.
2. First make the sponge. Cream butter and sugar. Add the egg.
3. Fold in the dry ingredients and banana (mashed).
4. Transfer into a lined baking tray.
5. Bake for 10 minutes, then reduce the temp to 150 degrees Celsius and bake for a further hour, or until a skewer comes out clean when inserted into the center of the sponge.
6. For the sauce, boil the sugar, butter, and syrup until a dark caramel is achieved.
7. Add the cream and pass through a fine sieve.
8. Pour the hot sauce over the sponge and serve.
Information
Yield

6

Prep Time

10 minutes

Cook Time

1 hour 10 minutes

Total Time

1 hour, 19 minutes, 59 seconds