Gourmet Pot Brownies Recipe
These "Booty Call Brownies" Will Get You High on Life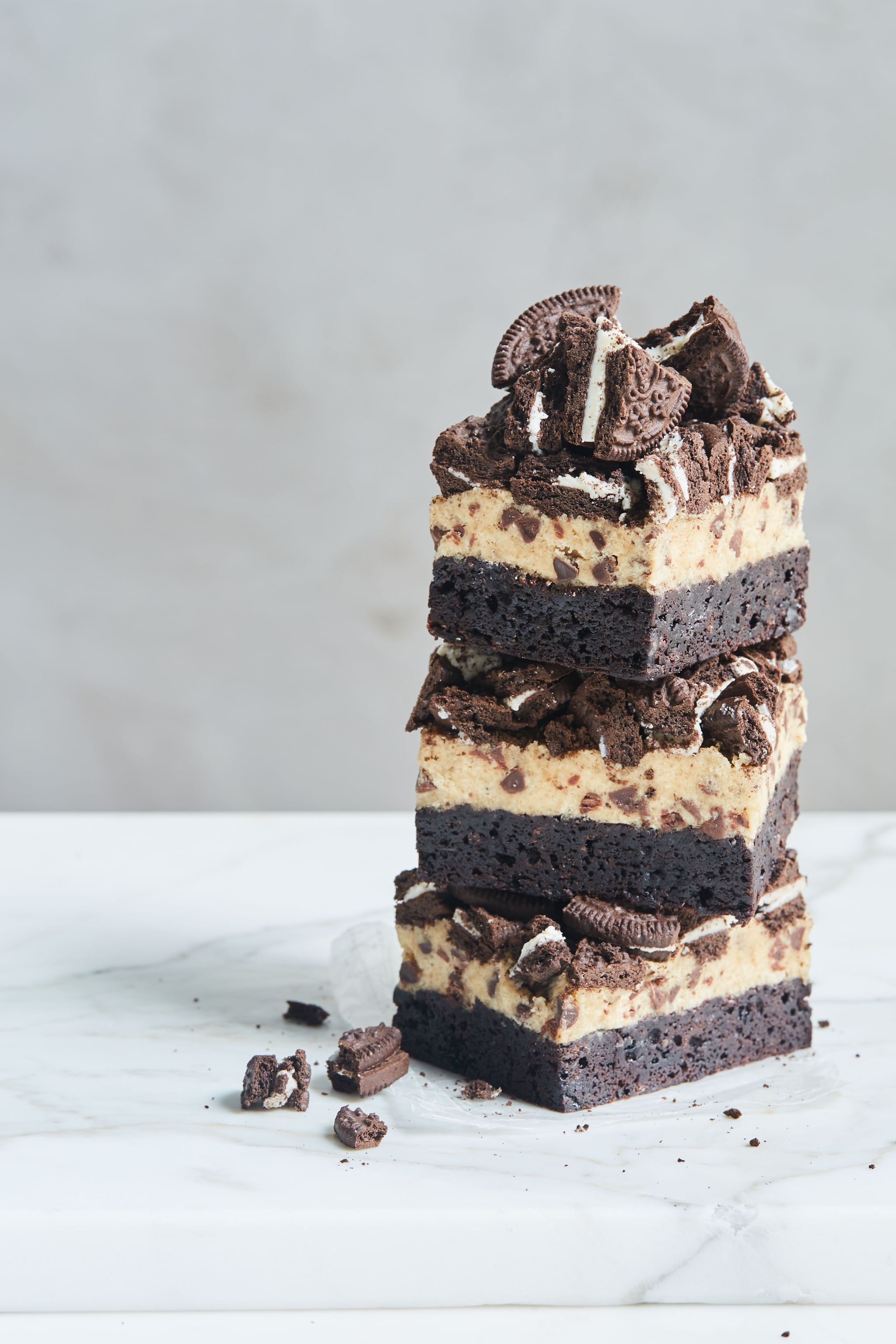 Depending on who you ask, marijuana can enhance your sex life, so these Booty Call Brownies could not be more aptly named. If you're a cannabis consumer who likes to bake, the Edibles: Small Bites for the Modern Cannabis Kitchen cookbook is what you need. This cookbook, which comes out on Nov. 6, offers 30 recipes for bite-size, low-dose elevated cannabis treats — both savory and sweet. Not sure if you are ready for these over-the-top, irresistible cannabis treats? Trust me, for once caving into your indulgences is the way to go.
Booty Call Brownies
Edibles: Small Bites for the Modern Cannabis Kitchen by Stephanie Hua and Coreen Carroll
Notes
Canna Butter:
For our recipe we use standard American butter, which typically clocks in at around 80 percent butterfat. European-style butter will have upwards of 82 percent butterfat, which may give you a higher potency than what we've tested.
Booty Call Brownie:
Cocoa powders can vary in density, so, if possible, weighing this ingredient is best.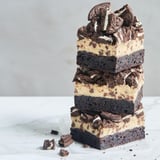 Ingredients
For the Canna Butter:
1/4 ounces (7 grams) decarboxylated cannabis flower
12 ounces (340 grams) cold unsalted butter (see note)
2 cups (473 grams) cold water
For the Booty Call Brownies:
Fudgy Brownie
8 ounces (230 grams) unsalted butter
1 1/2 cups plus 3 tablespoons (345 grams) sugar
1/2 cup plus 1/3 cup (98 grams) unsweetened Dutch-process cocoa powder (see Note)
1 teaspoon kosher salt
1 teaspoon vanilla extract
3 large eggs
3/4 cup (105 grams) all-purpose flour
Cookie Dough Spread
1 cup (140 grams) all-purpose flour
6 oz. (170 grams) unsalted butter, at room temperature
2 3/4 teaspoon (12 grams) Canna Butter (recipe above)
1/2 cup (100 grams) sugar
1 cup (200 grams) packed light brown sugar
1/2 teaspoon kosher salt
2 tablespoons heavy cream or whole milk
1 teaspoon vanilla extract
3/4 cup (135 grams) mini chocolate chips
Finishing Touches
3 1/2 cups (250 grams) roughly chopped chocolate sandwich cookies
Directions
For the Canna Butter
In a medium saucepan over medium heat, combine the cannabis, butter, and water. Bring to just below boiling, 200°F to 210°F [95°C to 99°C], without stirring. We recommend using a candy thermometer for precision. Adjust the heat to low. Keep the mixture at this temperature for 4 hours. Using a rubber spatula, scrape down the sides of the pan if you start to see bits of herb sticking to it. The liquid will be at a constant gentle simmer. A few bubbles will break through the fat layer, but the mixture should never come to a rolling boil. If you notice the water getting low from evaporation, add 1 cup [237 g.] hot tap water to prevent the mixture from burning.
After 4 hours, remove the pan from heat and let cool for 10 minutes.
Place a fine-mesh strainer over a large bowl, and line the strainer with cheesecloth. Carefully pour in the cannabis-butter mixture. Use a rubber spatula to scrape out the pot, making sure you get all the butter and herb particles. With the spatula or the back of a ladle, press the mixture against the strainer to squeeze out all the liquid you can. Gather up the cheesecloth, and give it another good press against the sieve to make sure you get out as much liquid as possible. Discard the leftover debris. (If you are making a larger batch, you may find it helpful to use a potato ricer to efficiently compress the cheesecloth-wrapped herb.)
Pour the butter-water liquid into a tall container — make sure the container isn't too wide or your butter block will be too thin and difficult to remove. Use a rubber spatula to clean the bowl; make sure you get every last bit — that's liquid gold in there! Cover and refrigerate for 24 hours.
Once the mixture cools, the butter and water will separate. Remove the butter block from the container and pat dry with a paper towel. You may have to cut around the edges or lightly push down on the sides to loosen it. If your block breaks while pulling it out, don't worry. Just make sure to get all the butter pieces out. Use a small strainer to scoop up any remaining butter bits.
On the bottom of the butter block, you will see a green film. Using the back of a knife, scrape off this film, and toss it along with the remaining water down the drain.
In a small pot over low heat, melt the canna butter. Once melted, immediately turn off the heat, and pour the butter into the glass jar, and seal the lid. Label the jar with the date and contents. Refrigerate for up to one month, or freeze for up to six months.
Special Equipment
Candy thermometer (optional)
Fine-mesh strainer
Cheesecloth
Tall 1-quart [960 ml.] deli container or measuring cup
½ pint [240 ml.] glass Mason jar with tight-fitting lid
Active Time: 30 minutes
Inactive Time: 28 hours
Makes: 1 cup (206 grams)
For the Brownies
To Make the Fudgy Brownie:
Preheat the oven to 325°F (165°C).
Line a 9-by-13-inch [23-by-33-centimeter] pan with parchment paper.
In a medium heatproof bowl over a double boiler, melt together the butter, sugar, cocoa powder, and salt.
Cook for about 10 minutes, using a rubber spatula to stir the mixture occasionally until the butter melts and the batter starts to come together. It will look thick and grainy and may even seem curdled. Don't worry, it will smooth out later.
Remove the bowl from the heat, and let cool for 5 minutes. Stir in the vanilla. Transfer the batter to the bowl of a stand mixer fitted with the paddle attachment.
One egg at a time, beat in the eggs on low speed, waiting until one is incorporated before adding the next, 1 to 2 minutes. Scrape down the bowl with a rubber spatula about halfway through.
When the batter looks shiny and smooth, add the flour. Mix for about 1 minute on low speed until it is incorporated and looks like the luscious, velvety, brownie batter of your dreams. Alternatively, mix everything the old-fashioned way with a wooden spoon and some elbow grease.
Pour the brownie batter into the prepared baking pan, scraping out the bowl with a rubber spatula. Bake for about 25 minutes until set. Let cool until you can touch the pan. Transfer to the refrigerator to cool faster.
To Make the Cookie Dough Spread:
Lower the oven temperature to 250°F (120°C). Line a rimmed baking sheet with parchment paper.
Spread the flour on the prepared sheet. Bake for 15 minutes, stirring halfway through the baking time. Let the toasted flour cool before using.
In the bowl of a stand mixer fitted with the paddle attachment, combine the butter, canna butter, sugar, brown sugar, and salt. Cream the mixture for about 2 minutes on medium speed until light and fluffy, pausing halfway through mixing to scrape down the sides of the bowl with a rubber spatula.
Add the cream and vanilla, and continue mixing until incorporated. Scrape down the sides of the bowl again with a rubber spatula.
Adjust the speed to low, add the toasted flour, and mix for about 1 minute until it is evenly combined. Stir in the chocolate chips. Set aside at room temperature until the brownies have cooled.

To Assemble:

Using an offset spatula or pastry scraper, spread the cookie dough topping over the cooled brownies.
Place a piece of plastic wrap over the cookie dough. Use your hands to press the dough into an even layer. Remove the plastic. Scatter the cookie pieces on top. Gently press them into the cookie dough spread.
Chill the brownies thoroughly (this is important to get clean cuts) for about 30 minutes before cutting. Run a knife along the sides of the brownie pan, and use the parchment paper to lift the brownies out of the pan. Cut the brownies into 18 3-by-2⅛-inch (7.5-by-5-centimeter) pieces. Wipe your knife between cuts to keep the cuts sharp and clean.
These are best enjoyed right away (as if you could resist!). Refrigerate any leftovers in an airtight container for one to two days, or freeze for up to one month. Thaw at room temperature before serving.

Make-ahead Tip
You can bake the brownies and toast the flour one day in advance. Cover the brownies with plastic wrap, and refrigerate them. Store the flour in an airtight container at room temperature.

Special Equipment
Double boiler

Active Time: 45 minutes
Inactive Time: 1 hour, 15 minutes
Information
Category

Desserts, Brownies

Yield

18 3-by-2 inch brownies