Grapefruit Sorbet Recipe
The Ice Cream Queen's Splendid Grapefruit Sorbet Recipe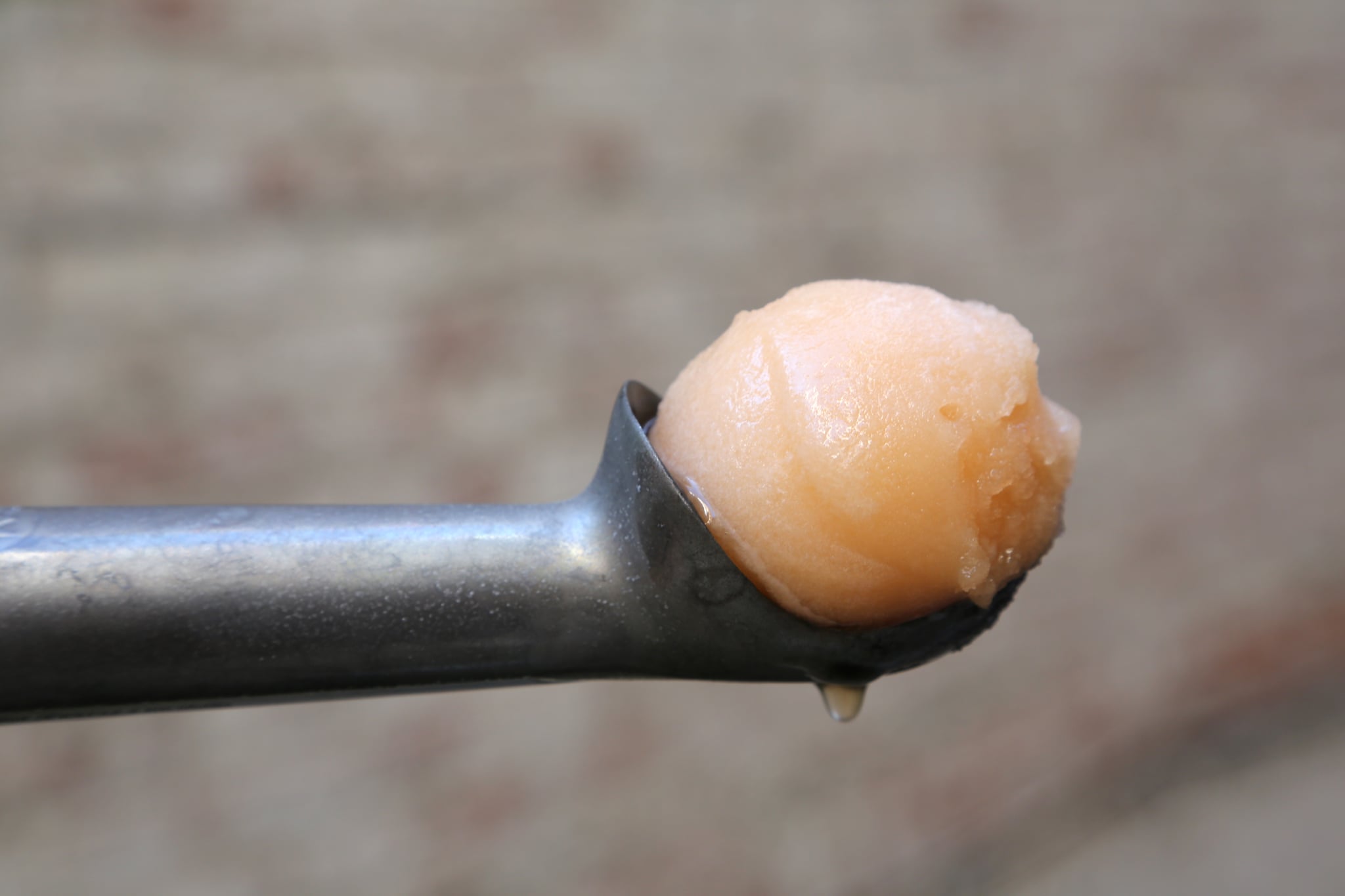 When ice cream queen Jeni Britton Bauer released Jeni's Splendid Ice Cream Desserts ($15, originally $24) this Summer, I did not expect to land on a sorbet recipe. But I had to know: could she achieve the same wonderful, chewy mouthfeel and tastebud-sparking flavor as her ice creams?
Her technique for making sorbet does have similarities to her basic ice cream base. It calls for corn syrup, which repels water and gives ice cream and sorbet a gummy, rather than icy, consistency. And by cooking the sugar-juice mixture on the stovetop (like she does with her sugar-cream), the sugar molecules bond with the water in the juice and allow some of the water to evaporate. "Ice cream making is all about tying up the water," Jeni told me, and the same applies to sorbet. I opted to include lavender in my batch to amplify the sophistication of the flavor. It's not Jeni's without a fancy, unexpected twist!
When my sorbet had sufficiently churned and firmed up, I took the pint outside to enjoy a few scoops in the sun. A past sorbet naysayer myself, I couldn't believe how fluffy and easy to scoop the sorbet is, probably due to the addition of vodka. Texture-wise, this is not your brick-hard, icy sorbet that you're used to. Instead, it's smooth and silky. I have never paired lavender and grapefruit before, but the two deserve a lifelong marriage when it comes to desserts. Yes, Jeni's sorbet is just as splendid as her ice cream.
Notes
Editor's note: The sorbet may take longer than 4 hours to completely firm up. Freeze it overnight if it looks and feels too soft to scoop.
Ingredients
4 grapefruits
3 tablespoons fresh lemon juice
1⁄2 cup light corn syrup
2/3 cup sugar
Optional aromatics: A few sprigs of tarragon, basil, or lavender; or 1⁄2 half vanilla bean split, seeds removed
1⁄4 cup vodka
Directions
Prep: With a peeler, remove 3 strips of zest from 1 grapefruit. Cut all of the grapefruits in half and squeeze 3 cups of juice from them.
Cook: Combine the grapefruit juice, zest, lemon juice, corn syrup, and sugar in a 4-quart saucepan and bring to a boil over medium-high heat, stirring to dissolve the sugar. Transfer to a medium bowl, add the aromatics, if using, and let cool.
Chill: Remove the grapefruit zest. Place the sorbet base in the refrigerator and chill for at least 2 hours.
Freeze: Remove the sorbet base from the refrigerator and strain out any aromatics. Add the vodka. Remove the frozen canister from the freezer, assemble your ice cream machine, and turn it on. Pour the sorbet base into
the canister and spin just until it is the consistency of very softly whipped cream. Pack the sorbet into a storage container. Press a sheet of parchment directly against the surface, and seal with an airtight lid. Freeze in the coldest part of your freezer until firm, at least 4 hours.
Excerpted from Jeni's Splendid Ice Cream Desserts by Jeni Britton Bauer (Artisan Books). Copyright ©
Information
Category

Desserts, Frozen

Cuisine

French

Yield

Makes about 1 quart