Grits Congee Recipe
A Soothing Chinese Breakfast Staple Gets a Southern Spin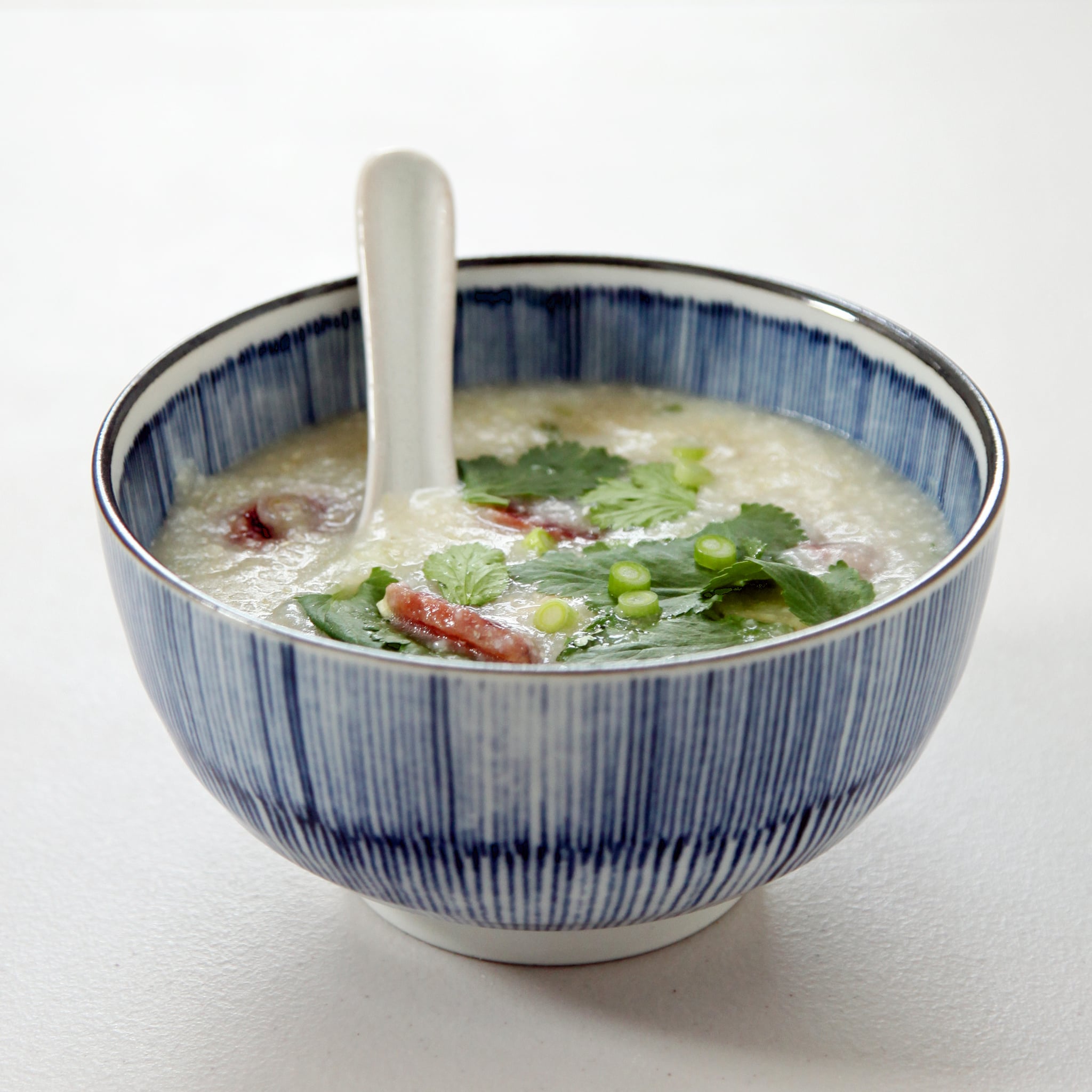 You might not be familiar with congee — a Chinese rice porridge typically served at breakfast — but I'd argue it's high time you became acquainted with a bowl. In China, this soothingly subtle, savory breakfast is as common (really, more so) than the American tradition of waking up to a short stack of pancakes. And it's easy to see why: each bite is like going on a treasure hunt, for housed right below its creamy-white surface are a variety of tempting toppings.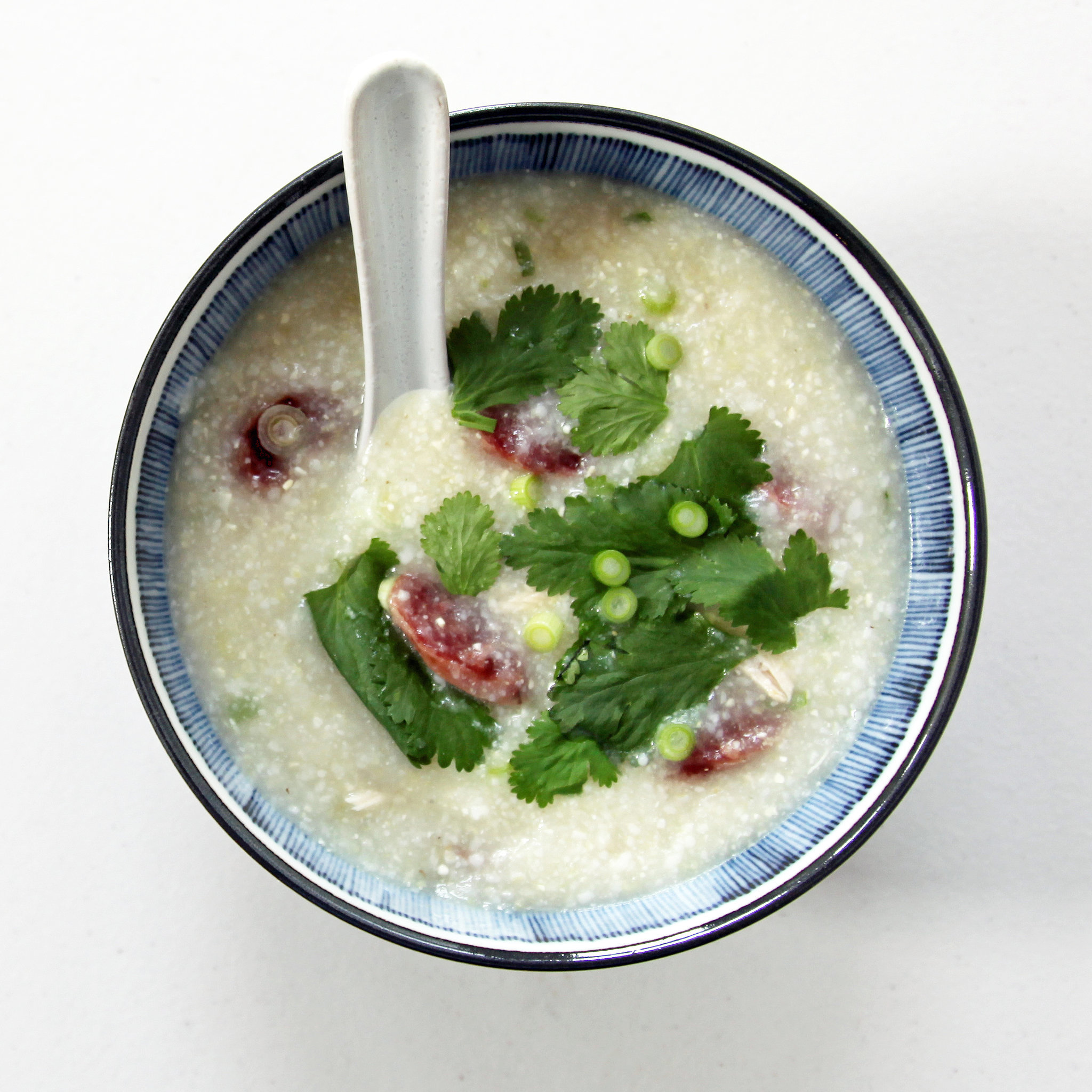 In this case, you'll find nuggets of lap cheong (an irresistibly salty-sweet Chinese pork sausage), poached chicken, and a smattering of minced ginger and scallions. As for the Southern spin: this version subs white grits for its traditional grain base (rice). You might think that it would make a huge flavor and textural difference, but it's surprisingly subtle and a fun way to add a pinch of Americana to a classic Chinese dish.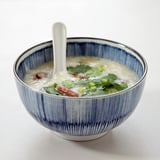 Ingredients
7 scallions
1 (4-pound) chicken, cut into 8 pieces, including back and neck
1/2 cup medium-dry sherry (such as Amontillado)
4 1/4-inch slices fresh ginger, plus 1 tablespoon, finely chopped
Kosher salt
3 Chinese sausage links (about 4 1/2 ounces)
1 cup white stone-ground grits
Rice wine vinegar, to taste, optional
1 small bunch cilantro, leaves only
Asian sesame oil, for serving
Directions
Cut 3 of the scallions in half lengthwise, and smash them with the flat side of a heavy knife. Chop the white and light green parts of the remaining 4 scallions.
In a large pot, combine the chicken, sherry, ginger slices, halved scallions, 16 cups of water, and 1 teaspoon salt. Bring to a boil, then reduce to a simmer. Poach the chicken until it's cooked through and the juices run clear when pierced with a knife, about 30 minutes. In the last 10 minutes of cooking, add the Chinese sausage, and cook until it's firm.
Transfer the chicken and sausage to a rimmed baking sheet, and let cool. Thinly slice the sausage on the bias, and set aside. Once the chicken has cooled enough to touch, remove the meat and discard the skin and bones. Use your fingers to shred the meat into bite-size pieces. Cover, and refrigerate. Bring the chicken to room temperature half an hour before you're ready to use it.
Meanwhile, skim the scum off of the surface the poaching liquid, and then strain it through a fine-mesh sieve into a bowl, and discard the solids. Clean the pot, then return 8 cups of the liquid to it. (Reserve the remaining broth for another use.) Bring to a boil over high heat. Stir in the grits, and return to a boil. Season with salt and pepper. Reduce the heat to low, and simmer, covered, until very soupy and almost sauce-like, about 1 hour, stirring frequently during the last hour of cooking. Add the reserved chicken, sausage, chopped ginger, and half of the chopped scallions, and cook until heated through, about 5 minutes. (The congee will continue to thicken as it stands. Thin with reserved stock if necessary.) Season to taste with salt and a splash of rice wine vinegar (if using).
Ladle the congee into bowls, and garnish with remaining chopped scallions and cilantro leaves. Drizzle with sesame oil, and serve immediately.
Information
Category

Other, Breakfast/Brunch

Cuisine

Chinese

Yield

6 sevings