Ham and Cheese Souffle
Take Dinner to New Heights With Ham and Cheese Soufflés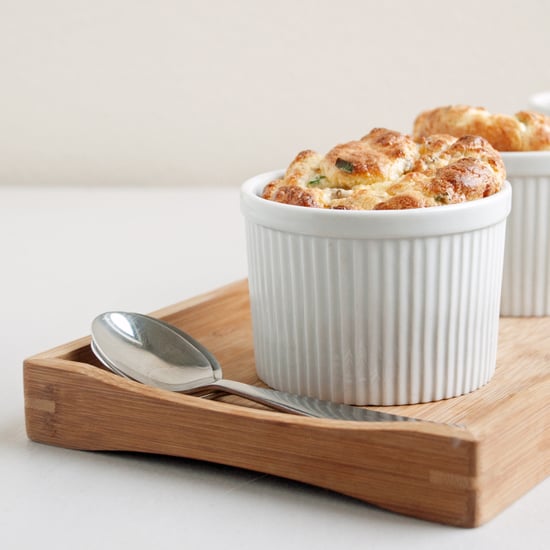 I'd hardly turn my nose up at a box of luxe chocolates, a bottle of bubbly, or a bouquet of flowers, but what I'm really after this Valentine's Day is something simultaneously comforting and exciting; an ethereal ham and cheese soufflé certainly fits the bill. Full of classic French flavors (think ham and cheese croissant), these individual soufflés would make for a perfect light first course for any meal, but would be particularly at home as part of a Valentine's Day dinner to remember.
To address the elephant in the room, making a soufflé isn't exactly a slap-dash affair, but it's not terribly difficult either, provided you keep in mind a few simple rules. So what are you waiting for? Wow your sweetheart with these delightfully decadent treats.
Ham and Cheese Soufflés
Adapted from Saveur
Notes
For a luxe touch, swap out the ham in favor of prosciutto.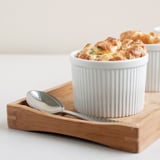 Ingredients
3 tablespoons unsalted butter, plus extra for greasing the ramekins
1 shallot, minced
2 tablespoons all-purpose flour
1-1⁄2 cups whole milk
4 ounces grated sharp white cheddar
1⁄2 teaspoon dry mustard powder
1⁄8 teaspoon cayenne
1⁄8 teaspoon freshly ground nutmeg
6 eggs, separated
Kosher salt and freshly ground black pepper
4 ounces finely chopped ham
1-1⁄2 tablespoons finely chopped chives
1⁄4 cup finely grated Parmesan
Directions
Melt the butter in a small saucepan over medium-high heat. Add the shallots and cook until softened and slightly translucent, about 2 minutes.
Whisk in the flour to make a paste; cook for 1 minute. Gradually drizzle in the milk while whisking to incorporate it into the

roux

. Bring to a simmer, stirring occasionally, and cook until thickened, about 5 minutes.
Take the pan off of the heat and add the cheddar, mustard, cayenne, nutmeg, egg yolks, a pinch of salt and a few cracks of pepper. Whisk until no streaks of yolk remain. Return the pan to the burner and cook until just steaming, whisking constantly.
Transfer the custard base to a large mixing bowl and add the ham and chives; chill for 30 minutes.
While the custard chills, preheat the oven to 375°F.
Brush the bottom and sides of six 8-ounce ramekins with melted butter. Coat the insides of the ramekin with Parmesan cheese by adding a bit of cheese to a ramekin and then tilting the ramekin so that cheese falls on all of the buttered surface. Tap out any excess cheese into the next ramekin, firmly rapping against the bottom of the ramekin to remove any excess. Repeat with all of the ramekins.
Whip the egg whites to stiff peaks.
Mix about 1/4 of the egg whites into the custard base. This helps lighten the custard base allowing for the remainder of the delicate egg whites to be folded in with a minimum of deflation. Add the remaining egg whites in three additions, folding them in gently until only slightly streaky before each addition, fold until no streaks of white remain on the final addition.
Gently spoon the soufflé batter into the ramekins, wipe the rim of the ramekins clean, and cook on a half-sheet pan for 25-30 minutes or until puffed and golden brown.
Serve immediately.
Information
Category

Main Dishes, Eggs

Cuisine

French

Yield

Serves 6
Image Source: POPSUGAR Photography / Nicole Perry