How Chefs Cook With Peaches
This Is How All Your Favorite Chefs Cook With Peaches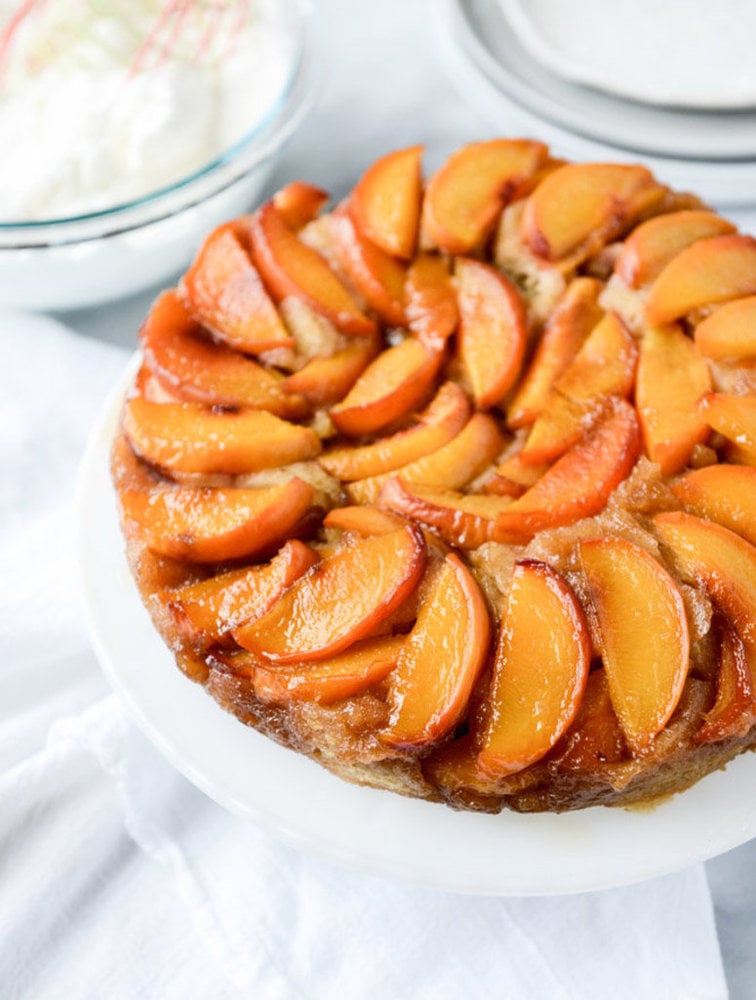 If you're not stocking up on fresh peaches all Summer long, you're doing it wrong. And if you are but you're just not sure what to do with them beyond snacking (and this upside down cake from How Sweet It Is), you're in the right place. We've turned to some of our favorite Food Network hosts and celebrity chefs for inspiration to take our peach desserts (or not dessert, in Chrissy Teigen's case) to the next level. Impress your guests — and yourself — with one of these expert-approved ways to cook with peaches before Summer's end.
Giada De Laurentiis: Pie With a Twist
Giada adds Italian flair to her peach pie by grilling the fruit with olive oil and balsamic vinegar. Her grilled peach and caramel crostata is an easy and crowd-pleasing pie — the open-faced dessert means you don't have to worry about a perfect crust and can let the peaches shine.
Alton Brown: Individual Upside Down Cakes
If you're only making dessert for yourself or a few people, Alton Brown's individual peach upside down cakes are the way to go. All you have to do is divvy up peaches and pantry ingredients into four ramekins, and you're 25 minutes away from a freshly baked solo dessert.
Chrissy Teigen: With Brie in Grilled Cheese
Chrissy Teigen is all about recipes you'll actually crave, so she's definitely not interested in using peaches in a salad. For her sweet and spicy brie grilled cheese sandwich on her blog, So Delushious, she wrote, "You bought those ripe juicy peaches to just eat plain and be healthy, but that's just boring-bordering-on-sad. So this sandwich. It's as simple as buttering up some white bread, piling on the good stuff, and smashing it into a hot pan until it's toasty meltey perfection." If a sweet and savory sandwich isn't your thing, try the cookbook author's other peach favorite: baked oatmeal with peaches and raspberries.
Ree Drummond: Classic Peach Crisp
Comforting and classic is the name of the game in The Pioneer Woman's popular peach crisp recipe. Essentially everything that makes a good dessert (flour, sugar, butter, cinnamon, whipping cream, and more) comes together for a traditional peach crisp topped with crumbly browned bits and a luscious maple cream drizzle.
Ina Garten: Baked in a Cake
Ina Garten's fresh peach cake has a five-star rating for a reason. As with most Ina Garten recipes, this one is both sophisticated and easy to follow. The secret ingredient to creating a moist cake that's the perfect bed for the peaches is . . . sour cream.
Gordon Ramsay

: Roasted With Rum

Leave it to Gordon Ramsay to have a completely badass cooking method for peaches: roasted peaches in rum. Imagine peaches swimming in a bath of caramelized sugar and then topped with rum and butter . . . and whipped cream. It's the definition of indulgence, and you definitely deserve it.