How to Organize Tupperware
How to Organize Reusable Plastic Containers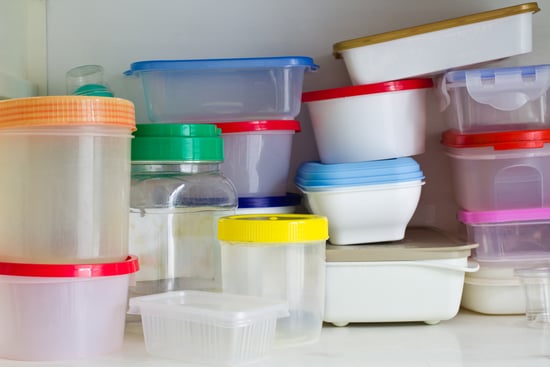 Does your current organizational system for reusable plastic containers resemble an overflowing mountain of mess? Fret not! We've come to the rescue with a game plan on how best to tackle mismatched lids and containers and get your collection into ship shape.
Assess the situation: Before you even begin, it's important to know what you have, what might benefit from replacement, and what you're missing. If you use reusable containers to tote lunch to work, then check your office kitchen for any straggling containers before you tackle this project. Lay out the entirety of your collection, sort it into two piles — container and lids — and then match them up. Discard any containers that don't have a mate or no longer have a proper seal; purchase any additional containers as needed.
Find a home for your collection: If your containers don't already have a set home, then dedicate a shelf or section of your pantry to their housing.
Tuck the containers away: If your containers are of a like make — which is common if you've recently started stocking up — then nestle them together; many containers are meant to be stacked, and even have nesting lids. For a varied assortment, tuck smaller containers of a similar shape within each other where necessary. Store like with like: round with round, square with square, etc. For those that don't nest, keep the lids separate from the bottoms, and either store the lids in an appropriately sized bin, in a larger reusable plastic container, in a large resealable plastic bag, or between the slots of a file organizer by size of lid. Store containers (and their matching lids) that are used most frequently toward to front of their shelf, with those used less frequently in the back.
Admire your handiwork: Take a deep breath and enjoy the neatly organized assortment; now is the time to commit to maintaining order!