Leek and Quail Egg Salad Recipe
A Dainty, Restaurant-Quality Salad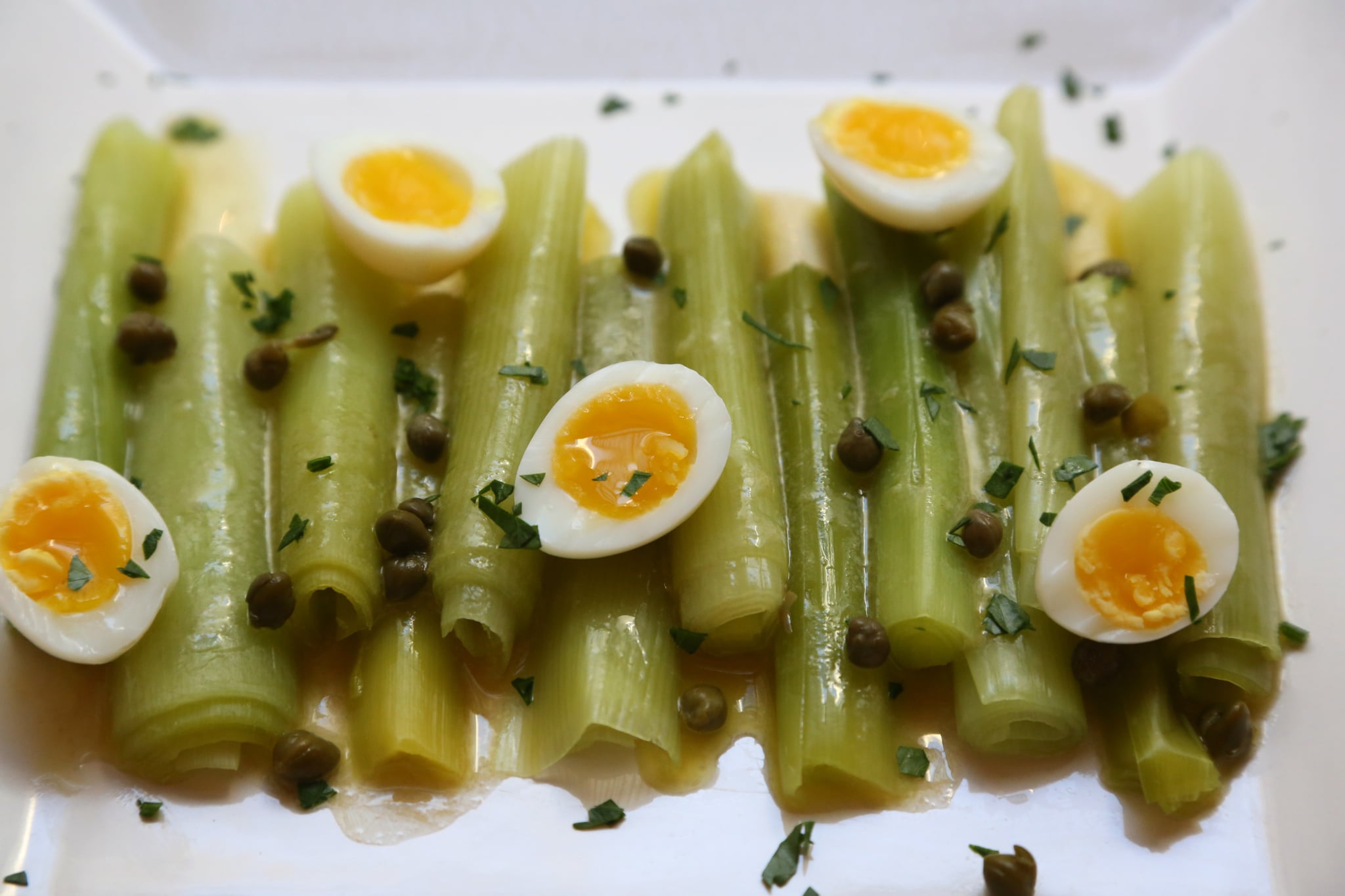 We've seen menus across the States offer the wondrous "egg on top" of everything — from burgers to BLTs to pizza — but now there's a whole cookbook dedicated to the concept: Eggs on Top ($25) by Andrea Slonecker. The cookbook goes beyond what you'd imagine to include tips for cooking eggs in every fashion: poached, fried, boiled, broiled, and even preserved. In addition, there are recipes for more-unusual types of eggs, like quail. This recipe for leeks vinaigrette with herbed quail eggs caught our attention. The tiny quail egg halves daintily adorn the plate and provide a rich pop against the sweet leeks. If leeks aren't your thing, you can substitute them with baby romaine. The salad dressing, capers, and herbed quail eggs are a combination not to be missed.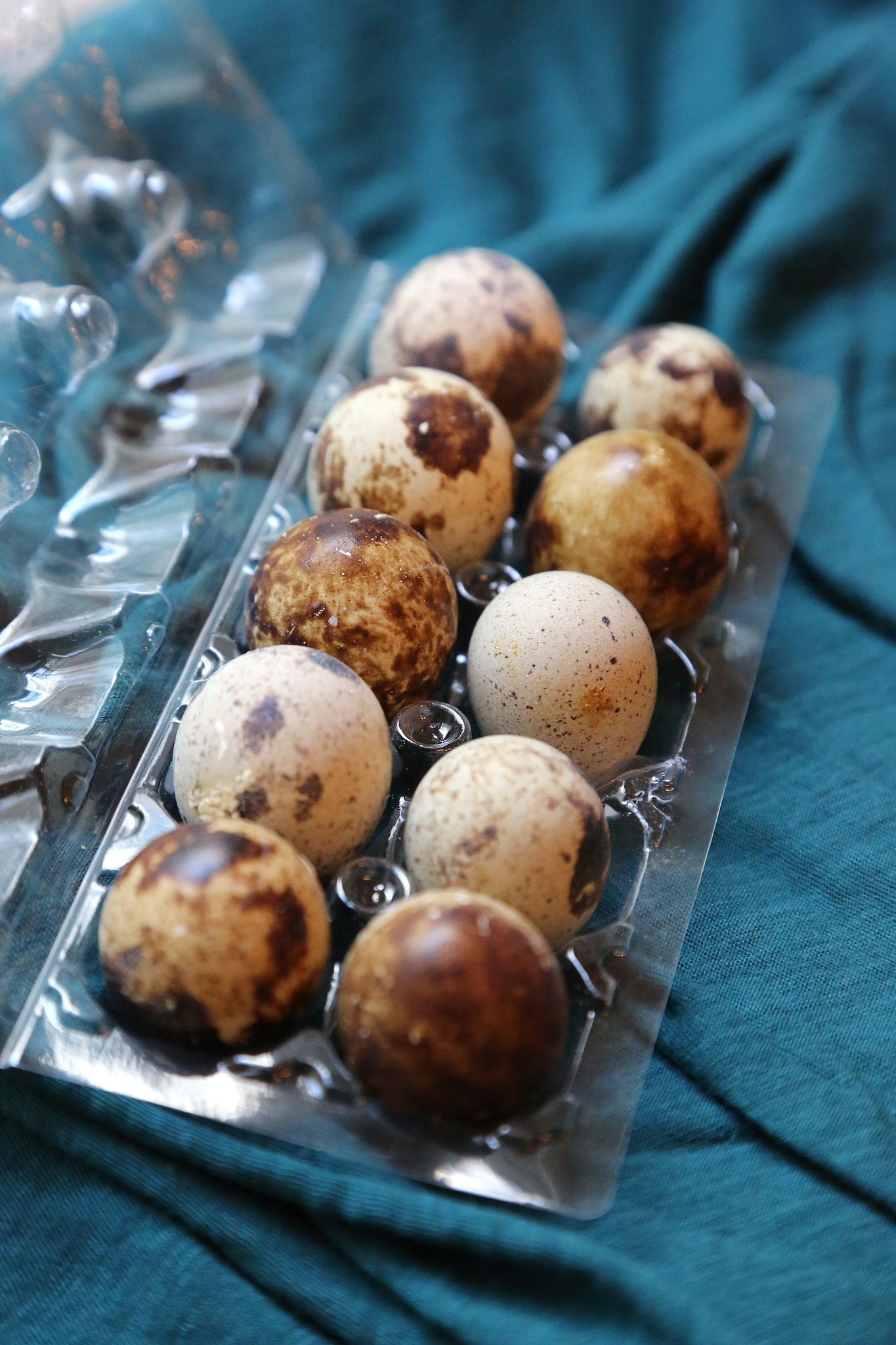 Though quail eggs are a bit tough to track down (we found ours at a Korean supermarket), they are absolutely worth the hunt. The size of peanut M&M's, the quail eggs cook in a flash, only 2 1/2 minutes for a soft boil. Andrea recommends shocking the eggs in ice water to halt the cooking and to quickly cool down the eggs for easy peeling.
Leeks Vinaigrette With Herbed Quail Eggs
From Eggs on Top by Andrea Slonecker
Notes
To drink: Champagne.
Egg tip: If the quail eggs aren't precooked and sitting in your refrigerator waiting to be used, then they can be cooked in the boiling water before the leeks. I prefer them soft-cooked in this recipe; creamy yolks yield richness next to the tart vinaigrette. But hard-cooked quail eggs are good too.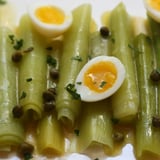 Ingredients
1 tablespoon Champagne vinegar or white-wine vinegar
1 tablespoon fresh lemon juice
1 tablespoon Dijon mustard
Pepper, freshly ground
1/3 cup extra-virgin olive oil
4 large or 8 small leeks
1 1/2 tablespoons capers, rinsed and drained
3 tablespoons fresh tender herbs, such as dill, tarragon, chervil, or parsley, finely chopped
6 (2-1/2-minute) boiled quail eggs
Directions
Fill a large pot 2/3 full of water, season well with salt, and bring to a boil over high heat.
Whisk together vinegar, lemon juice, mustard, 1/4 teaspoon salt, and 1/8 teaspoon pepper in a medium bowl. Slowly drizzle in the oil while whisking constantly until the dressing is fully blended. Taste, and add more salt and pepper as needed. The vinaigrette should be thickened and homogenous with a fairly strong, sour flavor that will be balanced by the sweet leeks.
Prepare the leeks by trimming the roots and dark green ends, so you're left with just the light green and white parts. Cut the leeks in half lengthwise and then crosswise, so they are each about 4 to 5 inches long. If the leek halves are wider than 1 inch, cut them in half again lengthwise. Rinse under cold running water, getting between the leaves to remove any dirt but keeping them intact. Tie the leeks in four bundles with kitchen twine. When the water is boiling, add the leeks. Reduce the heat to maintain a steady simmer, and cook until the leeks are very tender and sweet, 7 to 10 minutes. Drain in a colander in the sink until they are dry and cooled to just above room temperature.
Arrange the leeks on a long platter, so they are all pointing in the same direction. Pour the vinaigrette down the center of the row of leeks, and sprinkle on the capers. Peel the quail eggs. Put the herbs on a small plate, and one at a time, roll the eggs in them to coat thoroughly. Slice the eggs in half lengthwise, and dot them on top of the leeks. Garnish with pepper, and serve family-style at the table.
Information
Category

Side Dishes

Cuisine

French

Yield

4 servings