Leftover Pumpkin Recipes
7 Leftover-Pumpkin Hacks
Many people can't help but generously stock their pantry with can after can of pumpkin puree. You would think there's a pumpkin shortage! Does this sound familiar? Sure, there's pumpkin pie, but the puree can go so much further. These seven inspired ideas will help you use up leftover pumpkin in mouthwatering ways. On Brandi: Mod Owl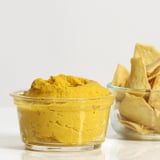 Ingredients
2 tablespoons tahini
2 tablespoons lemon juice
1 teaspoon cumin, ground
1 teaspoon olive oil
3/4 teaspoon salt
1/8 teaspoon red pepper, ground
15 ounces pumpkin puree
1 garlic clove, chopped
2 tablespoons flat-leaf parsley, chopped
Pumpkin seeds
Olive oil
Directions
Place tahini, lemon juice, cumin, olive oil, salt, red pepper, pumpkin, and garlic into a food processor, and process until smooth. Add parsley and pulse until blended. Spoon hummus into a serving bowl, and garnish with pumpkin seeds and a drizzle of olive oil. Serve with pita chips.
Information
Category

Dips, Appetizers

Cuisine

North American

Yield

4 to 6 servings

Total Time

14 minutes, 59 seconds
Ingredients
For the filling:
1 1/2 cups pumpkin puree
1 egg yolk
2 tablespoons parmigiano-reggiano, grated
1/4 teaspoon nutmeg
1/4 teaspoon salt
1 1/2 tablespoons bread crumbs
For the pasta:
1 1/4 cups all-purpose flour
1/8 teaspoon salt
2 eggs
1 teaspoon olive oil
For the sauce:
5 tablespoons butter
12 fresh sage leaves
2 tablespoons salt
Grated parmigiano-reggiano
Directions
To make filling: In a large bowl, mix together pumpkin puree, egg yolk, parmesan, nutmeg, and sea salt. Mix well, and slowly add bread crumbs until the mixture holds together. Cover filling, and set aside.
To make pasta: Fit a food processor with a metal blade. Add 1 cup of flour, salt, eggs, and olive oil to the bowl, and process until the dough comes together. Turn out the dough onto a floured work surface, and knead for 1 minute or until the dough holds its shape. Flatten the dough into a disk, and let rest for at least 15 minutes before you roll it out.
Using a pasta machine, roll out the dough until it is 1/32-inch thick. Place pasta onto a floured work surface, and spoon filling out into evenly spaced balls on one sheet of pasta. Cover with another sheet of pasta, and press down around each side of the filling, creating your ravioli. Use a ravioli cutter to cut out pasta.
To make sauce: Pour butter into a small fry pan over low heat, and let melt. Bring butter to a simmer, and fry the sage leaves for 30 seconds until crisped. Place sage leaves on a paper-towel-lined plate to drain, and continue to simmer butter until it has turned slightly brown in color. Remove from heat, but keep warm.
In a large pot over high heat, bring 5 quarts of water to a rapid boil. Add salt, and gently drop in the ravioli. Cover and cook for 3 to 5 minutes or until the pasta is cooked through. Using a large slotted spoon, remove ravioli from water and place in a large, shallow serving bowl. Top with browned butter, and garnish with fried sage leaves and cheese. Serve immediately.
Information
Category

Pasta, Main Dishes

Cuisine

North American

Yield

4 servings
Pumpkin Yogurt Parfait
From POPSUGAR Food
Ingredients
1/2 cup pumpkin puree
1 teaspoon pumpkin spice
2 cups plain yogurt
1 cup granola
Directions
Mix pumpkin puree with pumpkin spice. Fold mixture into yogurt. Layer pumpkin yogurt with granola into a parfait glass, being sure to top the parfait with granola. Serve immediately.
Information
Category

Breakfast/Brunch, Granola

Cuisine

North American

Yield

1 serving

Total Time

4 minutes, 59 seconds
Notes
The dough, icing, and cinnamon sugar filling can be made the night before, so this recipe will only take an hour the morning you make the rolls. Store the icing as well as the dough in the refrigerator overnight. When you wake up, all you have to do is roll out and assemble the rolls, which takes 20-30 minutes — tops. Let the icing thaw slightly as you prep and bake the dough.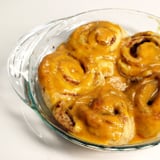 Ingredients
For dough:
3 1/2 cups all-purpose flour, plus more as needed
2 teaspoons instant yeast
2 teaspoons salt
1 tablespoon sugar
2 tablespoons butter, cold
2 eggs
1 cup milk
For filling:
4 tablespoons butter, melted
3/4 cup sugar
1 tablespoon plus 1 teaspoon cinnamon
For icing:
1 1/4 cups powdered sugar, sifted
2 tablespoons milk
4 ounces pumpkin puree
Directions
To make dough: Combine flour, yeast, salt, sugar, and butter in a food processor. Pulse machine to cut butter throughout flour. Add eggs, and pulse a few times. With machine running, slowly pour in 3/4 cup milk through feed tube. Process for about 30 seconds. Add more milk, if necessary, 1 tablespoon at a time, until mixture forms a slightly sticky ball. If dough is too wet, then add more flour, 1 tablespoon at a time.
Turn dough out onto floured work surface, and knead by hand for about 5 minutes. Form a smooth, round dough ball, return it to the bowl, and cover with plastic wrap. Let dough rise in a warm area for 1 to 2 hours, or until it doubles in size. Alternatively, for a slow rise, store in refrigerator overnight (up to 6 to 8 hours).
Preheat oven to 350°F. Melt 4 tablespoons of butter. Use a pastry brush to apply butter to the insides of a 9-by-13-inch casserole dish. In a separate bowl, combine 3/4 cup sugar and cinnamon. Set aside.
To assemble: Turn risen dough out onto a floured surface, and roll dough out until it is 1/4 inch thick. Use a pastry brush to liberally apply melted butter all over the top. Then sprinkle cinnamon sugar mixture on top of dough, making sure to leave 1/4-inch borders without sugar. Spread sugar evenly around the dough using a plastic bowl scraper, and then press it into the dough using a fork. Use bowl scraper to help you roll the dough into a tight log. Slice it into 20 pieces (about 1/2 inch thick). Transfer dough pieces with bowl scraper (so cinnamon sugar does not pour out), and place them cut side up into prepared baking dish. Once all pieces are placed side by side, apply remaining melted butter on top of the dough with a pastry brush. Bake for 20-25 minutes or until dough begins to turn golden brown on top.
To ice: While dough is baking, mix powdered sugar with milk until a glaze forms. Add pumpkin puree, and keep mixing until incorporated. Pour icing over hot cinnamon rolls, and use a spatula to spread icing over cinnamon rolls. Serve immediately.
Information
Category

Breakfast/Brunch

Cuisine

North American

Yield

Makes 20 cinnamon rolls
Ingredients
1 1/4 cups all-purpose flour
2 tablespoons sugar
2 teaspoons baking powder
1/2 teaspoon cinnamon
1/2 teaspoon ground ginger
1/2 teaspoon salt
1/8 teaspoon nutmeg
1 cup milk
6 tablespoons pumpkin puree
2 tablespoons butter, melted
1 egg
Powdered sugar
Maple syrup
Directions
In a bowl, mix together flour, sugar, baking powder, and dry seasonings.
In a separate bowl, whisk together milk, pumpkin, butter, and an egg. Fold the mixture into the dry ingredients.
Place a skillet over medium heat, and spray with nonstick cooking spray. Pour 1/4 cup of the batter into the center of the skillet, and cook about 3 minutes on each side until done. Serve warm with powdered sugar and maple syrup.
Information
Category

Breakfast/Brunch, Pancakes/Waffles

Cuisine

North American

Yield

8 to 10 pancakes

Total Time

19 minutes, 59 seconds
Ingredients
4 cups pumpkin puree
1/3 cup honey
1 teaspoon red chili flakes
4 naan flatbreads
30 fresh sage leaves
4 tablespoons olive oil
1 cup shaved parmesan cheese
Salt, to taste
Pepper, to taste
Directions
Preheat oven to 400ºF.
Mix pumpkin puree with honey and red chili flakes. Spread 1 cup of pumpkin onto each flatbread, and place flatbreads on an aluminum-foil-lined baking sheet. Bake for 5 minutes or until naan is warmed through.
Heat olive oil in a small sauté pan over a medium-high heat. Add sage leaves, and fry for approximately 30 seconds or until lightly crisped. Place on a paper-towel-lined plate to drain oil.
Top pumpkin flatbread with crispy sage, shaved parmesan, and salt and pepper to taste. Serve immediately.
Information
Category

Main Dishes, Pizza

Cuisine

North American

Yield

4 servings

Total Time

34 minutes, 59 seconds