Pepper Jelly Recipe
This Pepper Jelly Recipe Will Make You a Fan For Life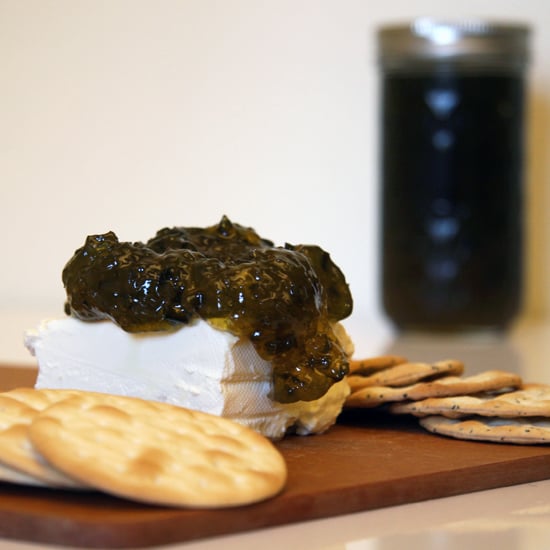 No Southern holiday party is complete without green pepper jelly mounted high atop a slab of cream cheese, which is why it's a festive gift to offer friends and family.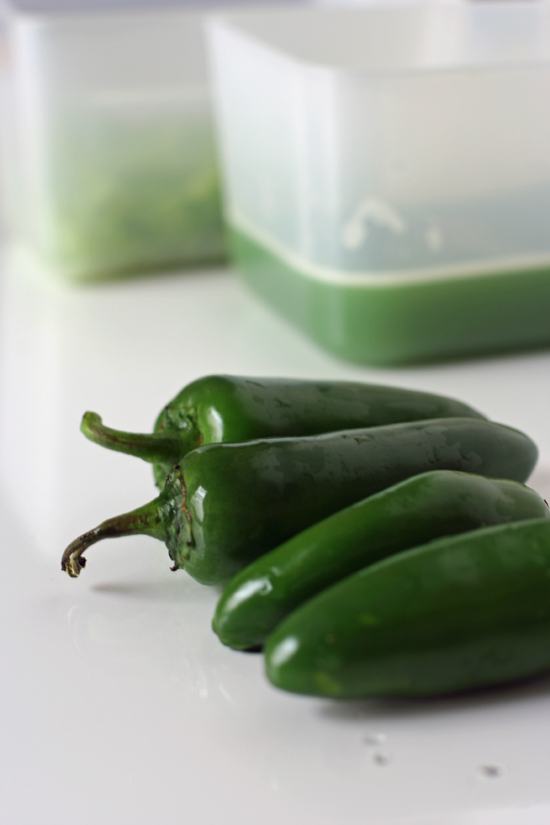 If you're not from the South, then this might seem like an unusual flavored jelly. Made from green bell peppers, jalapeños, apple cider vinegar, and sugar, it tastes similar to a sweet/spicy Indian chutney. To me, it tastes like pickled jalapeños in a jelly form. In a good way, of course!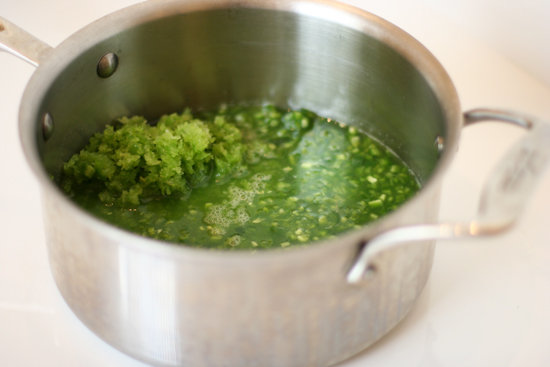 I'll be the first to admit that pepper jelly may look a whole lot like Ghostbusters green slime, but it only takes one bite of the sweet, peppery jelly atop cream cheese and a cracker to become a pepper jelly fan for life.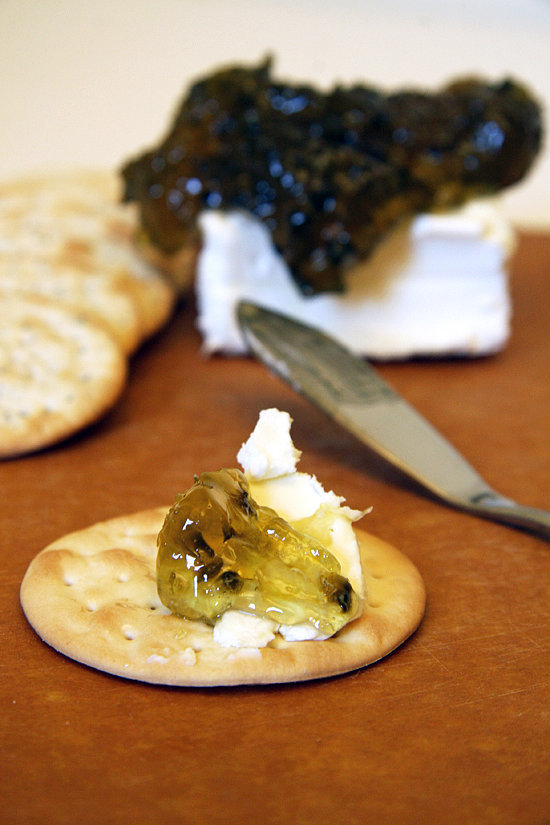 Pepper Jelly
From Anna Monette Roberts, POPSUGAR Food
Notes
For a spicier jelly, dice one or two (of the four) whole jalapeños, ribs and seeds included, and add them to the pot.
I used a juicer to juice the green bell peppers, reserving both the juice and the pulp. It extracts the most liquid from the vegetables plus finely grates the fibrous material. However, this is absolutely optional. Alternatively, finely chop the bell pepper in a food processor.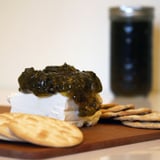 Ingredients
2 green bell peppers, stems, seeds, and ribs removed, cut into large slivers
4 jalapeños, stems, seeds, and ribs removed, finely chopped
3/4 cup apple cider vinegar
3 cups sugar
2 tablespoons fruit pectin
Directions
To sterilize mason jar: In a very large pot, bring water to a boil. Submerge glass mason jar and lid, and continue boiling for at least 12 minutes to sterilize. Use tongs to remove jar and lid, and place on a clean kitchen towel to dry. Keep large pot on the stove to process jar later.
To make jelly: If using a juicer, juice bell peppers; reserve juice and bell pepper pulp and set aside. Otherwise, use a food processor to finely mince bell peppers.
Place a small plate in the freezer. In a large, heavy-bottomed saucepan, combine bell pepper juice and pulp (or minced peppers), chopped jalapeños, apple cider vinegar, and sugar. Bring to a rolling boil over high heat and boil for 10 minutes, stirring often. Add fruit pectin, stirring constantly for 1 minute. Take chilled plate out of freezer and dab a small amount of jelly on plate. Return plate to freezer for 1 minute. If jelly has jelled and does not slide down when the plate is tilted, then it is done. However, if the jelly slides down, continue to cook for another minute, and try the freezer test again. Continue cooking until jelly reaches the desired consistency.
Ladle hot jelly into hot jars using a funnel, leaving at least 1/4 inch of head space. Wipe rims clean, apply lids, and screw metal bands on firmly.
To process jar: In the large pot of boiling water, lower jarred jelly, submerging jar in at least 2 inches of water. Process for 10 minutes. Use canning tongs to carefully remove hot jar, and then set it in a cool, dark place. As the jar cools, listen for the lid to snap, signaling a proper seal. If jar does not seal correctly, then refrigerate once it cools to room temperature and use within two weeks. Refrigerate upon opening. Discard opened jar after two weeks.
Information
Category

Condiments/Sauces, Jellies/Jams

Cuisine

North American

Yield

Makes 2 (12-ounce) jam jars
Image Source: POPSUGAR Photography / Anna Monette Roberts