Pie in a Cake Recipe | Video
Put the Key Lime Pie in the Coconut Cake

Can't decide between a slice of fluffy frosted cake and a piece of pie? You don't have to, at least, not anymore, thanks this devilish pie-brid that puts an entire pie inside a cake. Or, as we like to think of it, the key lime pie in the coconut. (And eat it all up.) Intrigued? Watch the video to see how this lovechild of a dessert is made.


Key Lime Pie in a Coconut Cake
From POPSUGAR Food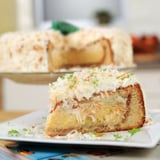 Ingredients
1 key lime pie, homemade or store-bought
For the cake:
1 stick butter, at room temperature
1 cup granulated sugar
2 large eggs
1 1/2 cups self-rising four, sifted
1/2 cup coconut milk
1/2 teaspoon vanilla extract
For the frosting:
1 cup heavy whipping cream
1 cup cream of coconut
2 tablespoons granulated sugar
1 cup toasted coconut flakes
Lime zest, for garnish
Lime gummies, optional
Directions
If making the key lime pie from scratch, allow it to chill for 8 hours, overnight, or until firm.
Make the cake: Preheat the oven to 350°F. Grease and flour a 9-inch springform cake pan.
Cream together the butter and sugar using a stand or hand mixer, until light and fluffy. Add the eggs one at a time, and beat until incorporated. Alternate between adding the self-rising flour and coconut milk, in two additions. Add the vanilla.
Spread about 1/3 of the cake batter on the bottom of the cake pan. Carefully transfer the pie to the pan. Slowly pour the rest of the cake batter over the pie. Spread it over the top and sides of the cake.
Bake the cake for 70 to 75 minutes or until golden brown and firm. To check to see if the cake is baked, insert a toothpick into the side of the cake to avoid the pie center. Allow the cake to cool completely before frosting.
Make the frosting: Mix together the whipping cream and cream of coconut with a stand or hand mixer. Add the sugar, and whip until firm peaks form.
Frost the cake, and cover with coconut flakes. Garnish with lime zest and lime gummies.
Information
Category

Desserts, Cake

Cuisine

North American

Yield

1 cake
On Brandi: Equipment