Pumpkin Macaroni and Cheese Muffins
These Pumpkin Macaroni and Cheese "Muffins" Are the Perfect Fall Finger Food
These savory pumpkin mac and cheese muffins deliver plenty of that coveted gourd's flavor. The cheese sauce starts with a base of pumpkin puree. Smoked gouda cheese complements the cubes of pumpkin folded in the batch. Velveeta cheese and heavy cream offer unbeatable creaminess. To bind it all together, sandwich the goodness between garlicky breadcrumbs, inspired by Chrissy Teigen's mac.
This pumpkin mac and cheese recipe doubles as a crave-worthy crowd-pleaser and ultracomforting weeknight dinner, depending on the presentation. If you're making a meal for the family, skip the muffin step and simply serve the mac and cheese topped with breadcrumbs in bowls. But if you're planning for a party, transforming the pumpkin-y mac into muffins means less dishes for you and an easy finger-food dining experience for your guests.
Notes
I recommend planning ahead and roasting the pumpkin (or butternut squash) the day before.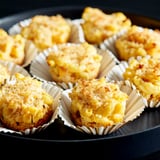 Ingredients
For the breadcrumbs:
3 tablespoons salted butter
4 cloves garlic, minced
4 pieces white bread, processed into crumbs
1 1/2 ounces aged gouda cheese, casing removed and finely shredded (about 1 loosely packed cup)
For the macaroni and cheese:
Salt
1 (8-ounce) box elbow macaroni
2 tablespoons salted butter, plus 1 tablespoon melted butter for greasing the tins
2 tablespoons pumpkin puree
3/4 cup heavy whipping cream (or milk)
2 1/4 ounces smoked gouda cheese, casing removed and shredded (about 1 1/2 loosely packed cups)
5 ounces Velveeta cheese, roughly cut into cubes
1 heaping cup roasted butternut squash or pumpkin (using the same method), cooled and cut into small dice
Pepper, to taste
Directions
To make breadcrumbs: In a nonstick skillet, melt butter then add garlic. Cook for 1 to 2 minutes, until garlic becomes fragrant and slightly toasted. Add breadcrumbs and cook, stirring occasionally until breadcrumbs are coated in garlicky butter and are toasted throughout.
Remove from heat and transfer to a bowl. Stir in aged gouda cheese. Allow to cool.
To make macaroni and cheese: Preheat the oven to 425°F. Line the wells of a 12-cup nonstick muffin tin with cupcake liners. Divide half of the breadcrumb mixture between the 12 tins, pressing it firmly down into the bottom of the cups and up the sides of the wells.
Meanwhile, in a large pot of boiling salted water, cook the macaroni until al dente. Drain and rinse with cold water until macaroni is at room temperature. Set aside.
In a large saucepan, melt butter over medium heat. Whisk in pumpkin puree and cook for 2 minutes. Whisk in heavy cream and cook, whisking constantly, until scalding (small bubbles form on the outer rim of the pan) and thickened, about 5 minutes. Whisk in smoked gouda and Velveeta until melted. Turn off heat and stir in cooked macaroni and roasted pumpkin (or butternut squash). Salt and pepper to taste.
Divide macaroni between the wells of the muffin tins, using damp fingertips to pack the macaroni tightly into the tins. Sprinkle the remaining breadcrumb mixture on top of each muffin.
Bake for about 10 to 15 minutes, until golden and sizzling, rotating the pans halfway through cooking. Let cool for 5 minutes before removing from muffin tin and serving warm. For a clean, fresh presentation, consider placing mac and cheese muffins in a second cupcake liner before transferring to a serving dish.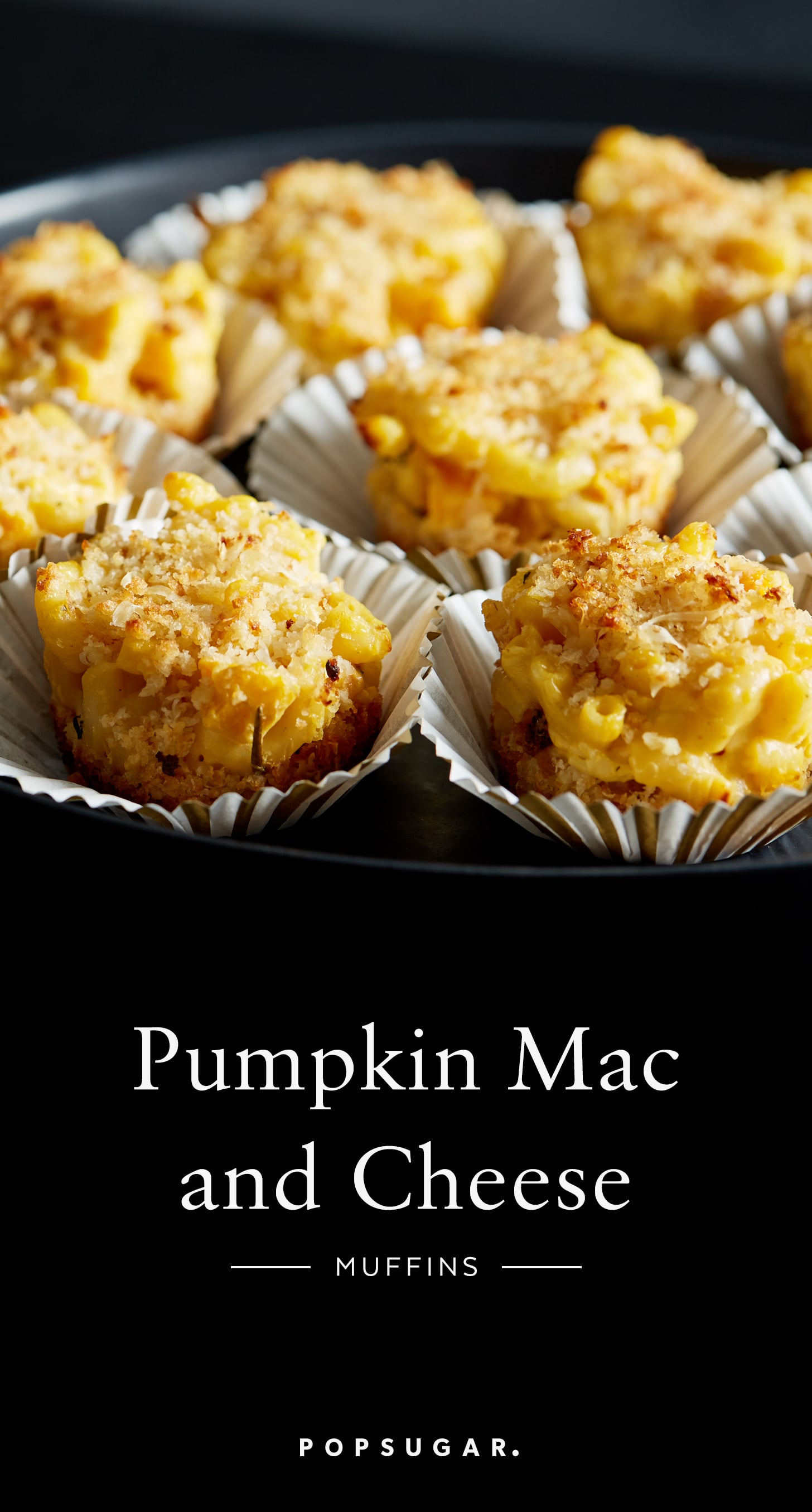 Information
Category

Appetizers

Cuisine

North American

Yield

12 servings
Image Source: POPSUGAR Photography / Arturo Torres