Quinoa and Oatmeal Breakfast Porridge
Quinoatmeal: Hard to Say, Amazing to Eat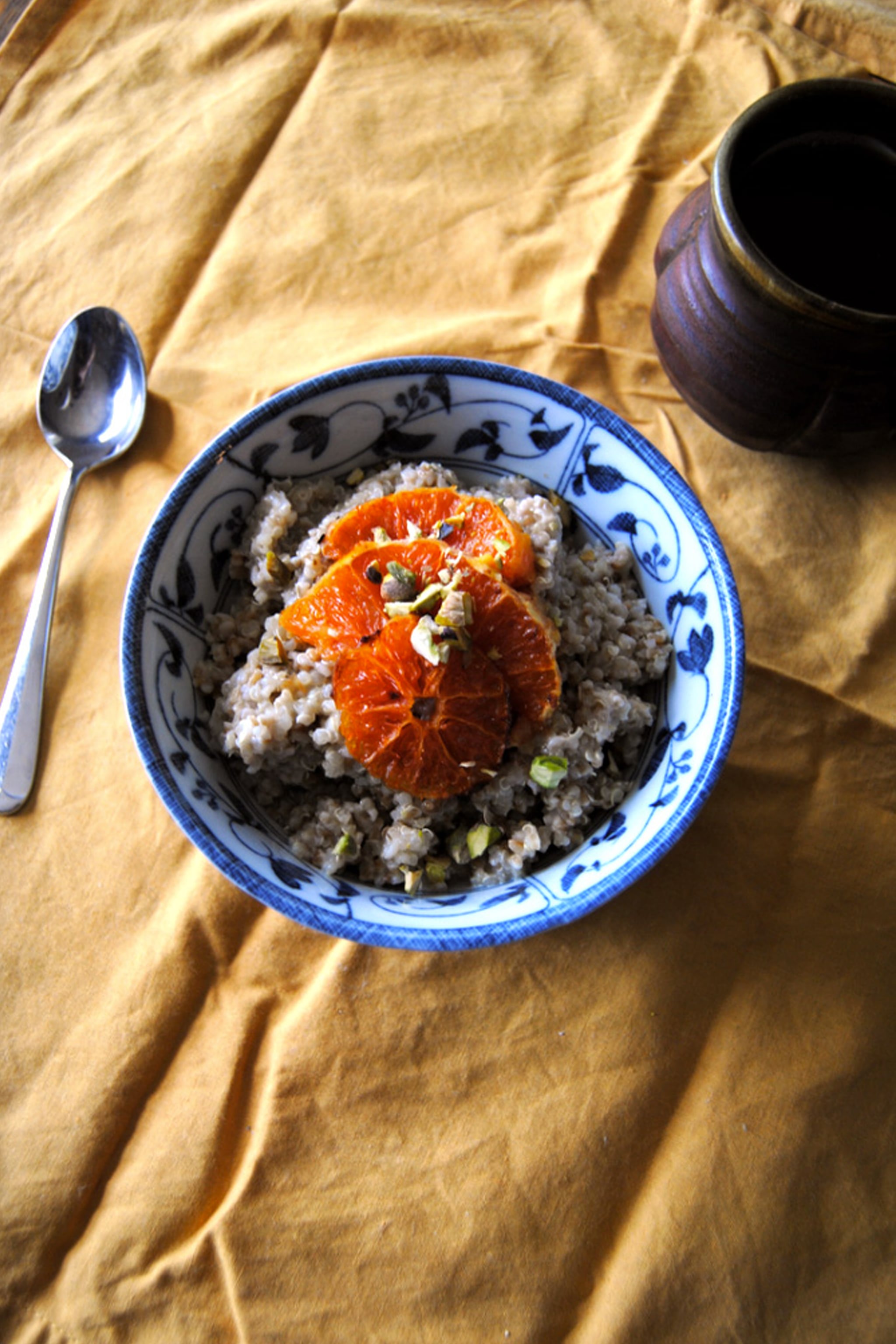 Quinoatmeal is my favorite word. Not only because it's wildly fun to say, but also because it's probably the greatest breakfast ever. Unlike a bowl of cereal or a granola bar, this meal is energy-inducing, low in sugar, and filling (without being so filling you feel like you need a post-breakfast nap.)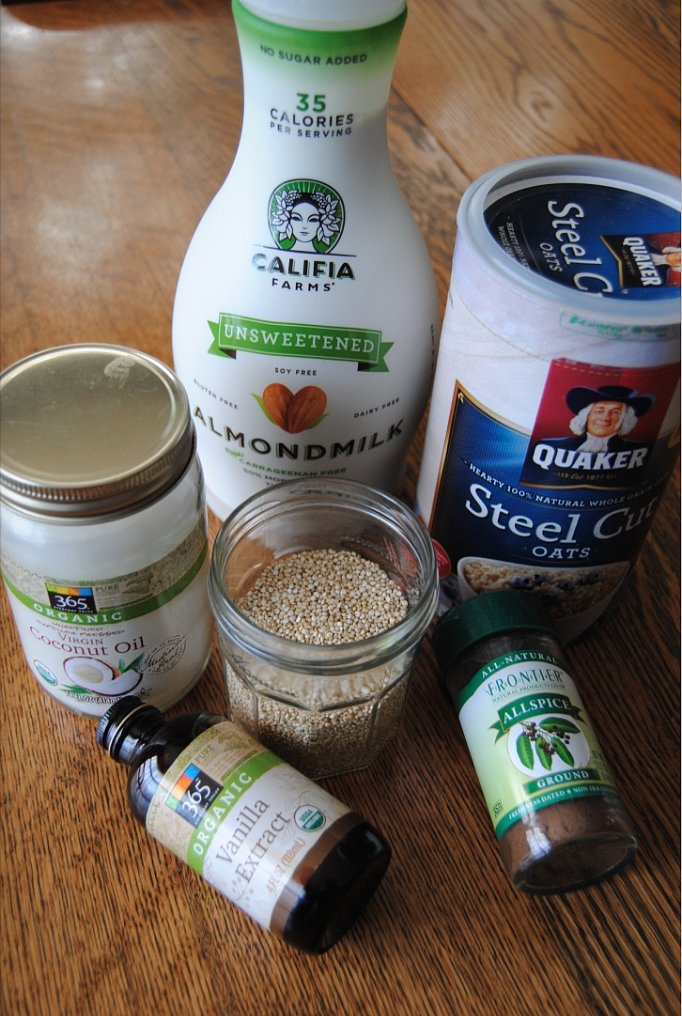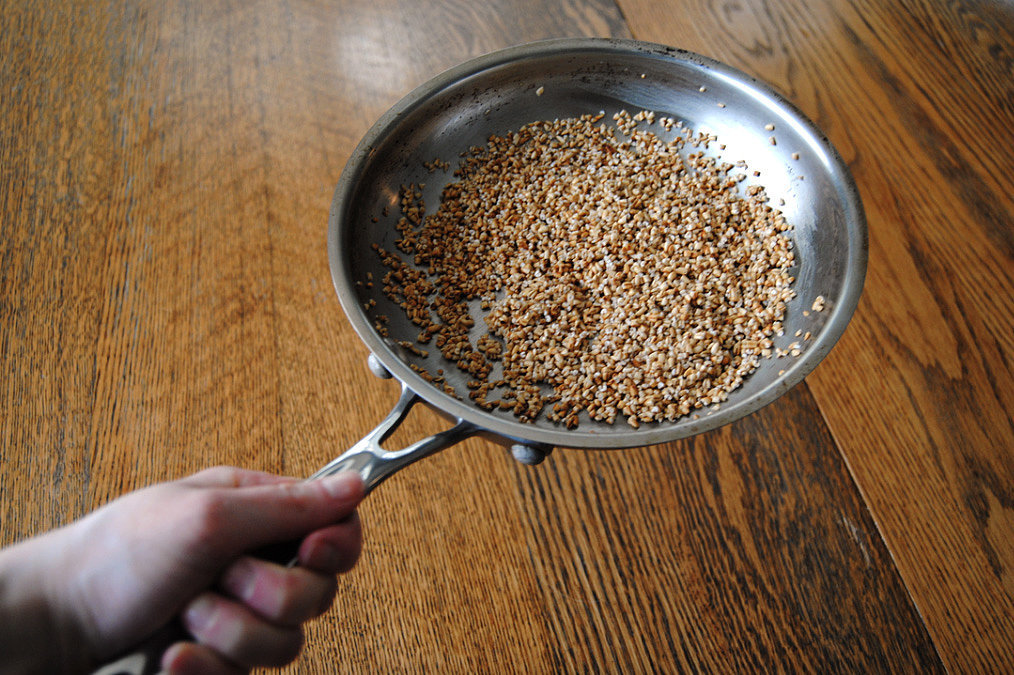 I'm firmly in favor of baby-food-textured eats: mashed veggies, pudding, applesauce, any kind of porridge. While I realized I don't have much company in this genre of food, don't knock quinoatmeal until you try it. Quinoatmeal is not like the typical bowl of oatmeal, which can run the gamut of unappetizing comparisons from gluey blobs to one soupy mass, all in a fairly off-putting shade of beige. This recipe uses toasted steel-cut oats and quinoa, rendering the grains is nutty in flavor with a texture akin to al dente pasta, not papier maché.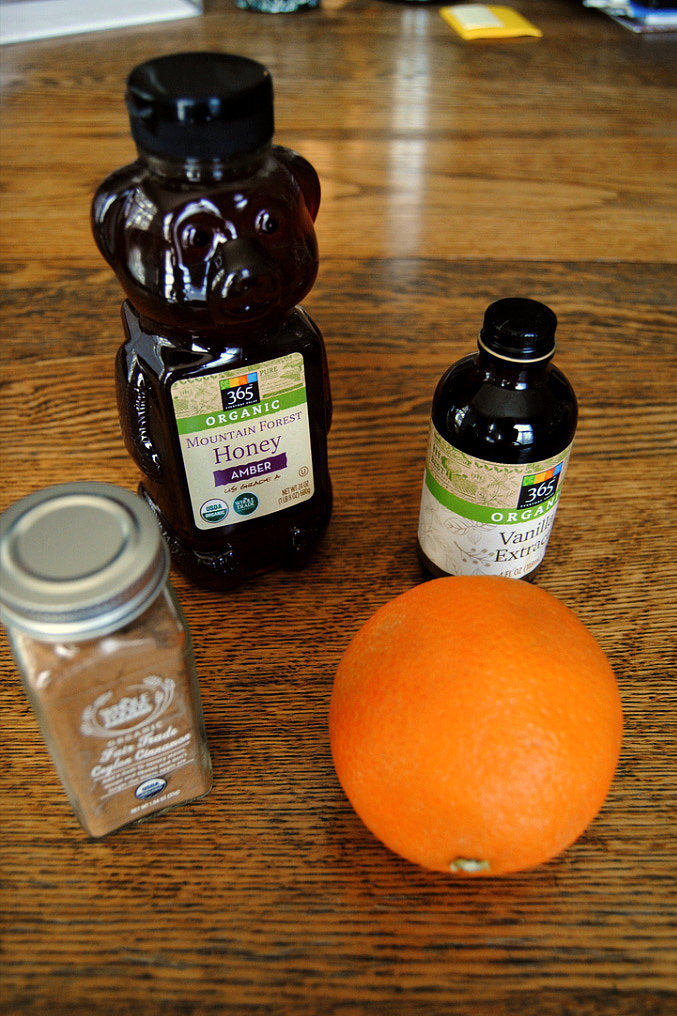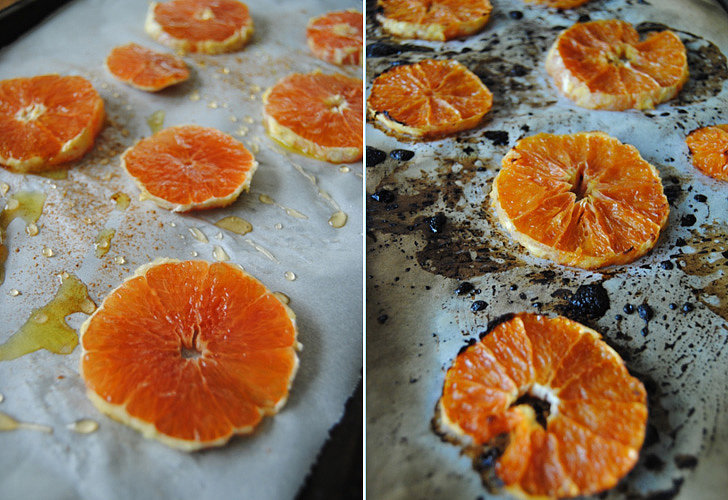 This meal becomes even more exciting when topped with roasted blood oranges and a sprinkling of pistachios, because the color of undressed quinoatmeal leaves even me (breakfast porridge's biggest fan/president of the mushy foods club) feeling underwhelmed. This method will work with any citrus fruit — just make sure you remove any seeds!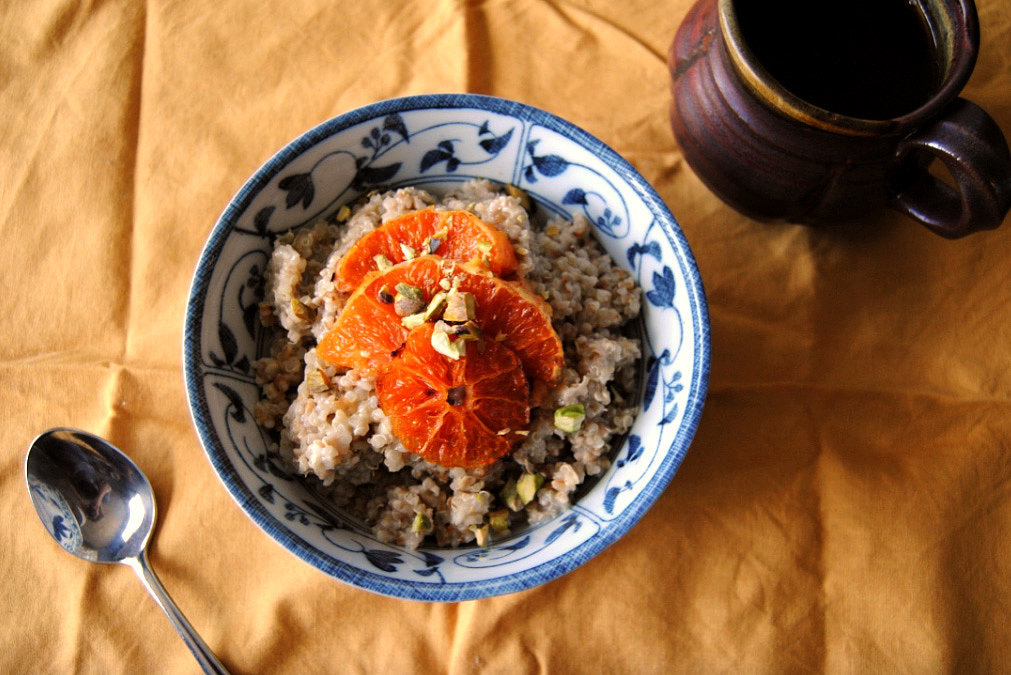 Quinoatmeal With Roasted Blood Oranges
From Rebecca Firkser, POPSUGAR Food
Notes
Use gluten-free oats to make this dish certified GF.
Porridge will keep in the fridge for a few days and is easily reheated on the stove or in the microwave.
The roasted oranges contain honey. If you are a vegan who doesn't eat honey, use maple syrup instead.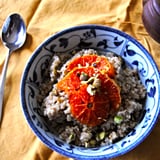 Ingredients
For the quinoatmeal:
1/4 cup quinoa
1-1 3/4 cups water
1/2 cup almond milk, plus more for serving
1/2 teaspoon coconut or olive oil
1/2 cup steel cut oats
1/2 teaspoon allspice
1 teaspoon vanilla extract
For the roasted blood oranges:
1 blood orange (or any citrus fruit)
1 teaspoon olive oil
A few pinches of cinnamon
1 teaspoon honey
1/4 teaspoon vanilla extract
A handful of chopped pistachios, for topping
Directions
To make the quinoatmeal: Place the quinoa in a fine-mesh sieve and rinse for about 2 minutes. Place in a medium saucepan with the water and milk.
Heat the coconut or olive oil in a small pan and toast the oats on medium until they begin to smell nutty.
Add oats to the saucepan with quinoa and liquid. Add the allspice and vanilla extract. Bring to a boil. Cover the saucepan. Reduce heat to low and cook for another 10 to 15 minutes, depending on your desired texture. Stir every 5 minutes, adding more water if the mixture seems dry. Turn off the heat and let sit, covered, for another 5 minutes.
To make the oranges: While the quinoa is sitting, preheat the broiler (or heat your oven to at least 475°F. Line a baking sheet with parchment paper. Peel the orange and cut into 1/4-inch slices.
Place the orange slices on the baking sheet and drizzle with oil, cinnamon, honey, and vanilla. Toss oranges to coat. Broil for 5 minutes, then check the fruit. Continue to bake until the oranges are roasted to your liking. Remove from oven and let cool slightly.
To serve: Transfer quinoatmeal to a bowl and top with a few orange slices, chopped pistachios, and more almond milk.
Information
Category

Breakfast/Brunch

Cuisine

North American

Yield

2-3 servings

Total Time

29 minutes, 59 seconds
Image Source: POPSUGAR Photography / Rebecca Firkser