Ramenritto Recipe
Prepare to Salivate: It's Our Take on the Ramenritto
Did you know that ramen is mentioned more frequently on the Internet than grilled cheese, Cronuts, and sriracha combined? Ramen-mania has spurred the creation of crazy food hybrids like the ramen burger and ramen-crusted chicken wings; it was only a matter of time before these delicious noodles worked their way into a burrito. We've teamed up with our friends at Foodbeast to create our take on this epic mashup; watch the video to see how it's done, including how to roll the perfect burrito.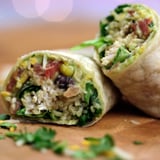 Ingredients
For the ramen:
1 package ramen noodles, such as Top Ramen
2 tablespoons peanut oil
1/2 teaspoon minced garlic
2 tablespoons chopped cilantro
For the ramenritto:
3 burrito-size flour tortillas, warmed
Optional toppings:
Guacamole
Shredded cheddar cheese
Shredded chicken
Spam, diced
Pico de gallo
Corn, cut off the cob
Fried egg
Sriracha
Ranch dressing
Refried beans
Directions
Make the ramen: Boil 2 cups of water in a medium saucepan; once the water comes to a boil, break the ramen into 4 chunks and add the ramen noodles and half of the seasoning packet to the water; cook for two minutes. Drain.
Add oil, garlic, and cilantro to a skillet set over high heat, and heat for about a minute, or until the garlic is sizzling. Add noodles and the other half of the seasoning packet. Cook for an additional minute until the noodles are warmed through.
Assemble the ramenritto: Add 1/4 cup of noodles to a warmed tortilla, and fill it with your choice of toppings. Roll up the burrito. Repeat with remaining ingredients, and serve immediately.
Information
Category

Main Dishes, Sandwiches

Cuisine

North American

Yield

Serves 3

Total Time

14 minutes, 59 seconds