Red Velvet French Toast
Red Velvet Addicts Will Go Crazy For This French Toast Recipe
Enjoy this decadent red velvet french toast recipe from Cafe Delites!
More cake for breakfast anyone? Lately, Pinterest has been swimming with red velvet everything. But. One thing I haven't seen is french toast. Scrap that. A red velvet french toast recipe stuffed with a creamy cheesecake filling.
So, my mission began.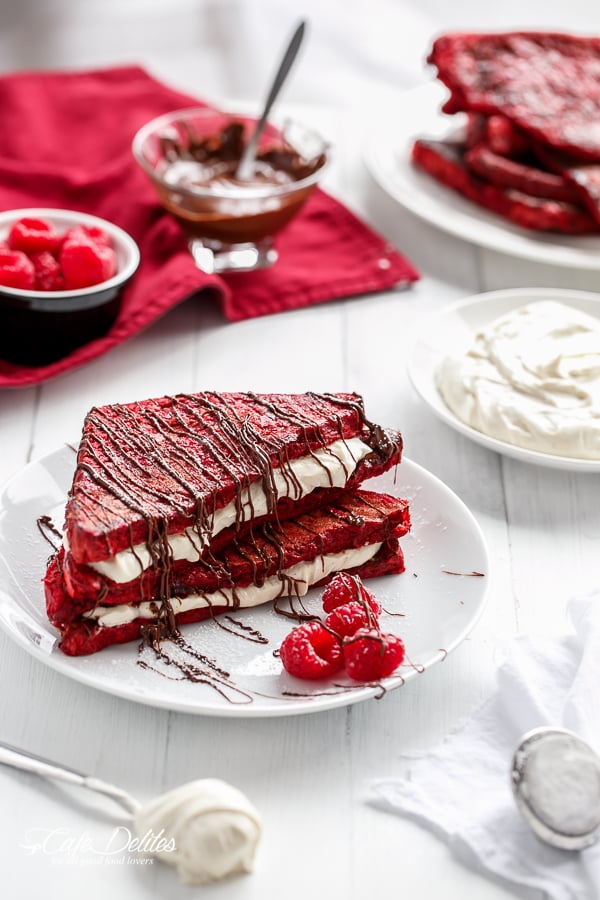 Not only did this red velvet french toast happen — because cake for breakfast is one of my favorite ways to make french toast; I decided to stuff this one with vanilla bean cheesecake. The no bake kind.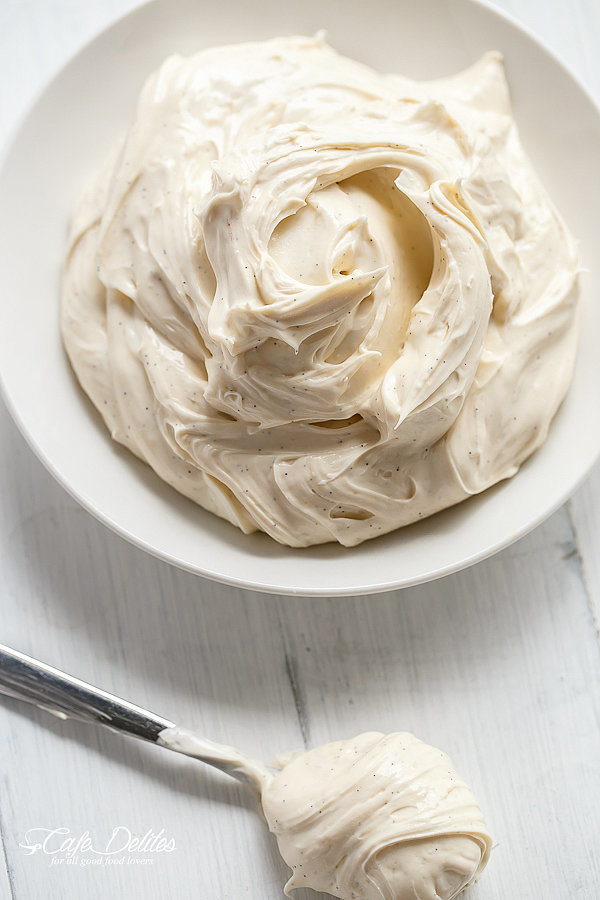 Extra creamy; light and whipped. The most beautiful accompaniment to red velvet.
Can you see the red velvet straight through the french toast pieces? The soaking part (lightly pressing the bread into the egg wash a couple times) works.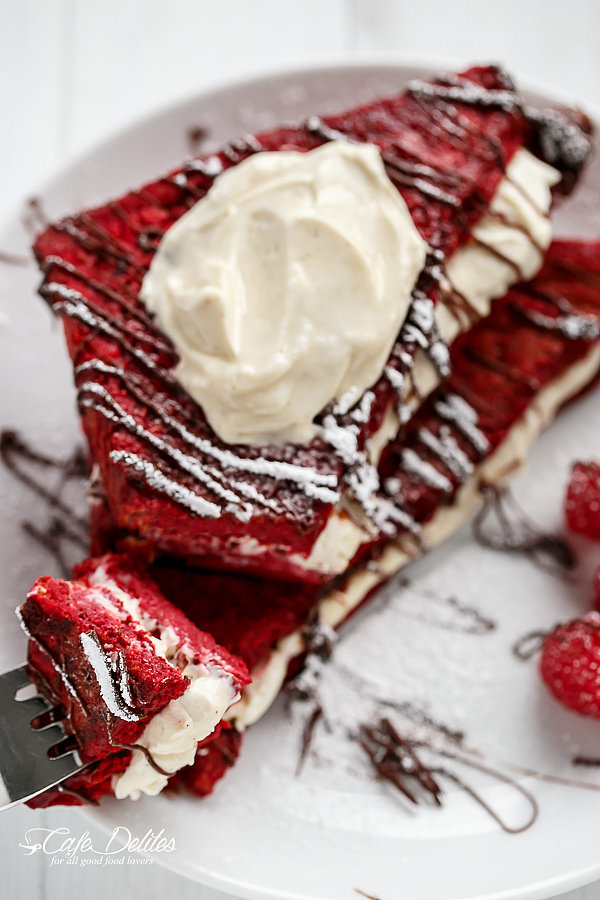 The first time making this egg wash meant cocoa powder dust flying around the air like it just didn't care in and up our nostrils. The second time around I dumped all the ingredients into my magic bullet blender — um, minus the bread — and in less than 10 seconds the smoothest, silkiest and creamiest red velvet egg wash was born. Stuff I only dream about.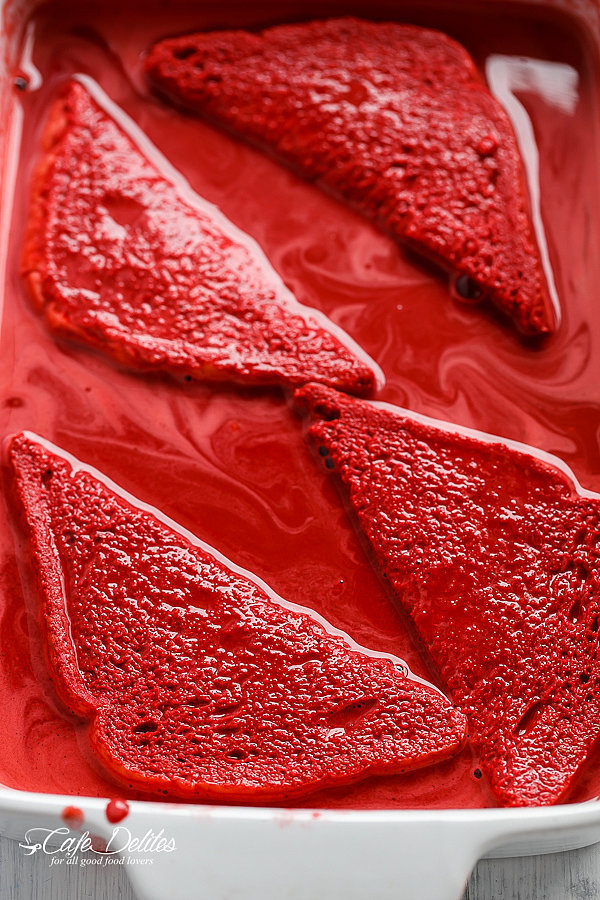 BUT! Normal milk in the egg wash meant a thinner and "pink velvet" finish. Not.happy. With some buttermilk hanging around my refrigerator from the no yeast strawberries and cream cinnamon rolls, I tried that instead and like magic . . . these were coated in the reddest velvet I've ever seen besides cake.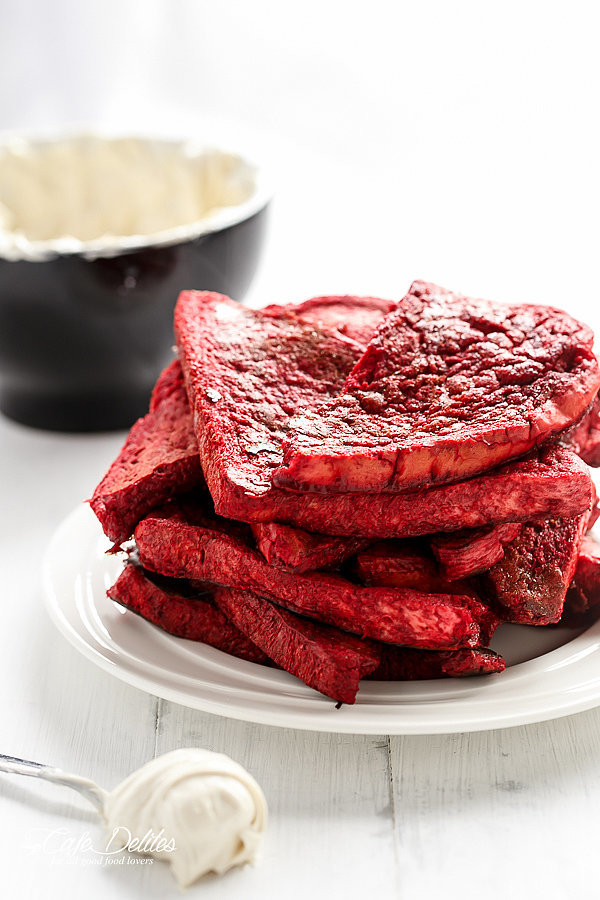 At this point (after stuffing of course), you can either leave them plain; drizzle them with melted chocolate (or NUTELLA — sorry for yelling); dust with icing sugar . . .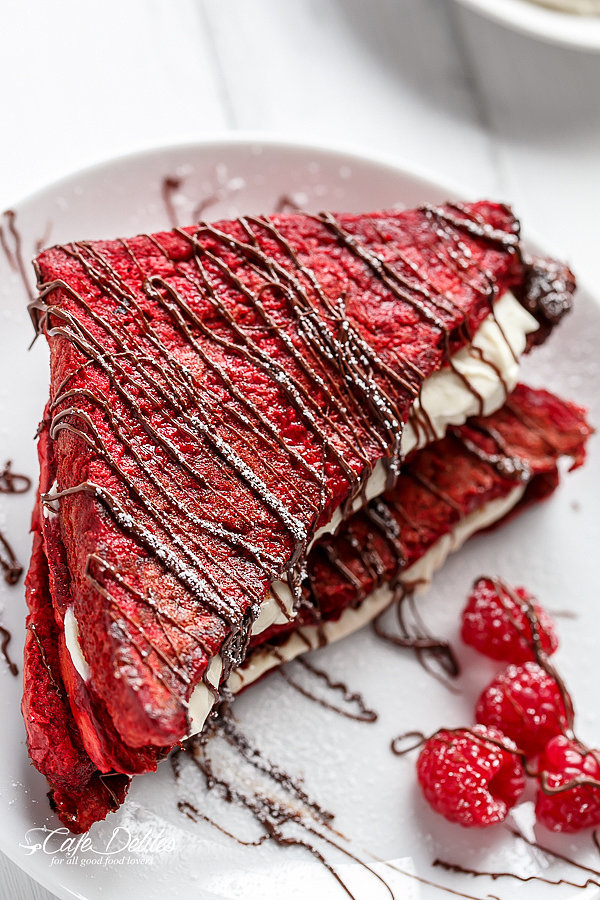 . . . or top with extra cream cheese. It just so happens I love all three options.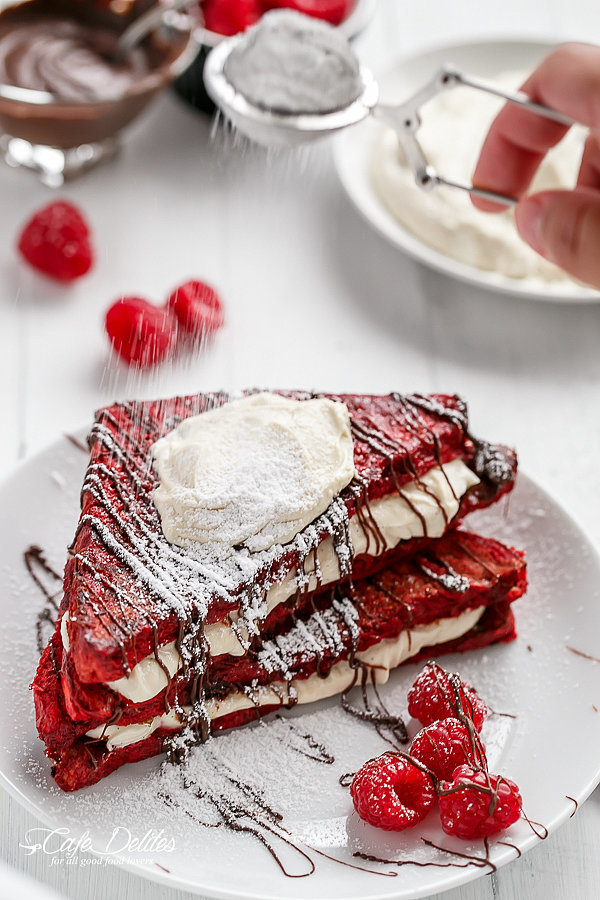 Give your families this recipe and put your feet up with a bottle of vodka . . . I mean orange juice. See? Red velvet alllllll throughout the bread. I don't lie.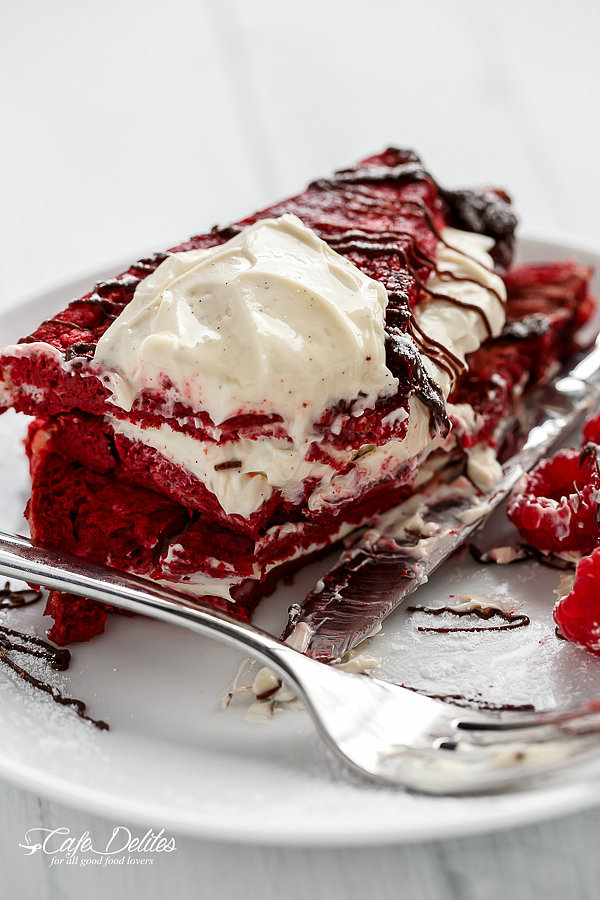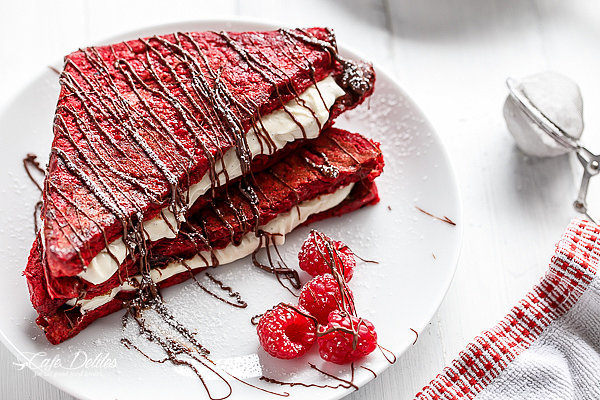 Red Velvet French Toast With Vanilla Bean Cheesecake Filling
From Cafe Delites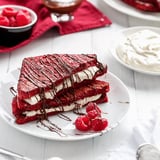 Ingredients
Red Velvet French Toast:
4 eggs
1 cup buttermilk (or 1 cup milk + 1 tablespoon vinegar set aside and allowed to "sour" for 5 minutes)
2 tablespoons sugar (or natural granulated sweetener)
2 teaspoons pure vanilla extract
2 tablespoons unsweetened cocoa powder
1 tablespoon + 2 teaspoons red food colouring (30 mls | 1oz)
8 slices bread, halved (so you end up with 16 bread halves)
Vanilla Bean Cheesecake Filling:
8oz (250g) tub reduced fat cream cheese
2 tablespoons sugar (or natural granulated sweetener)
1 teaspoon vanilla bean paste
Fresh raspberries
Directions
For French Toast: Whisk together the eggs, buttermilk, sugar, vanilla, food coloring and cocoa in a shallow bowl until smooth and lump free.
Alternatively, combine these ingredients in a small blender or magic bullet cup; blend until smooth and transfer the egg wash to a large shallow bowl.
Dip bread slices into egg wash and press lightly a few times to soak through completely. Flip each slice and repeat with each bread until slices all are evenly coated.
Heat a large nonstick pan/skillet over low-medium heat and fry the bread in batches of 3 or 4, turning once until just cooked through. Remove and place onto a warmed plate.
For Cheesecake Filling: While french toast is frying, make your cheesecake filling. Combine the cream cheese, sugar and vanilla paste in a medium sized bowl, and whip until light and fluffy. Spoon 1-2 tablespoons of filling onto 6 toast halves; spread to evenly coat; top with remaining toast halves to create a sandwich. Drizzle with melted chocolate; top with remaining cream (optional); dust with icing/confectioners sugar and serve with berries.
Information
Category

Breakfast/Brunch, French Toast

Cuisine

North American

Yield

4 servings