Salted Caramel-Stuffed Chocolate Cookies
Bye, Chocolate Chip: All Eyes Are on These Caramel-Stuffed Cookies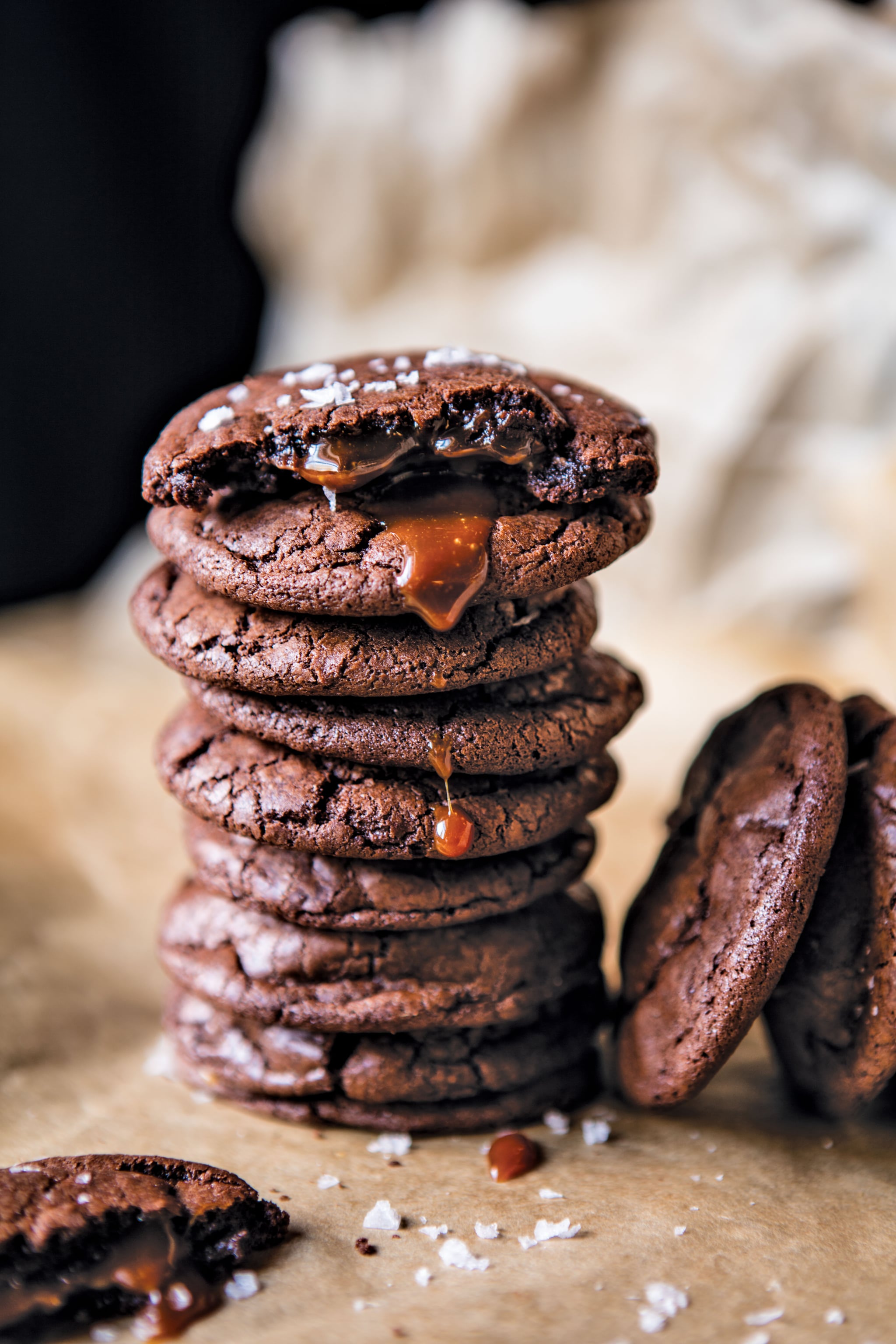 Beloved blogger Tieghan Gerard has debuted her first cookbook entitled Half Baked Harvest Cookbook ($30). While every page contains rich comfort foods, if we had to settle on just one recipe to make out of it, it has to be these cookies. Chocolate cookies stuffed with a Dove Milk Chocolate Caramel and garnished with flaky salt . . . what part of that can you not get on board with?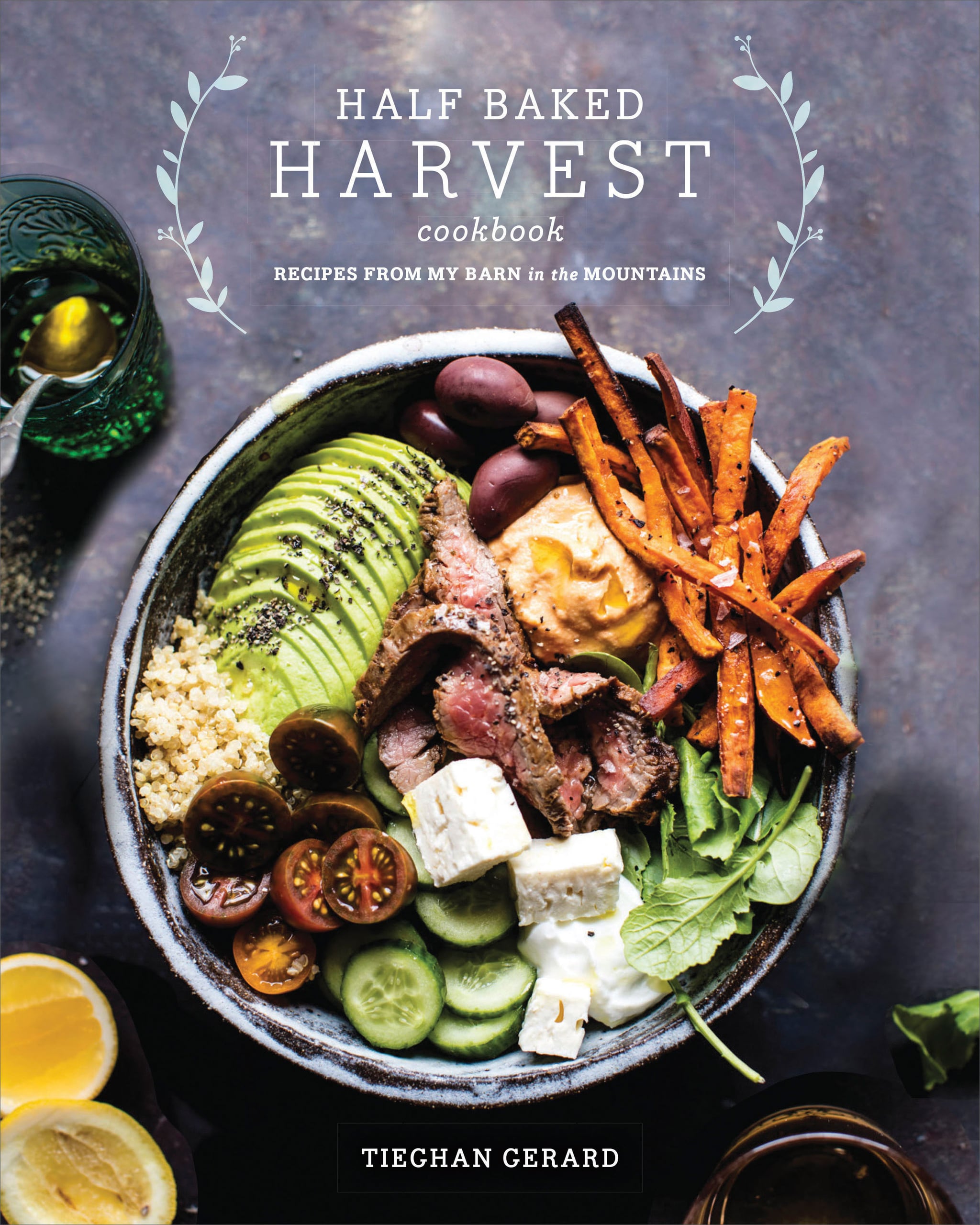 Notes
My brother Malachi, or Kai, is probably one of the toughest critics when it comes to food, and especially cookies. He's all about the old-fashioned chocolate chip cookie, and who can blame him, really? But he'll be the first to tell you that these cookies are the best ever. And not a single person has ever argued that fact with him. Hello, soft chocolate cookie, stuffed with milk chocolate caramels and sprinkled with flaky sea salt! And as a bonus, they're super easy to make! Warning: addiction ahead.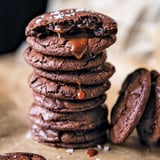 Ingredients
6 tablespoons (3/4 stick) unsalted butter
4 ounces bittersweet chocolate, chopped
2 cups semisweet chocolate chips
3 large eggs
1/2 cup granulated sugar
2 teaspoons pure vanilla extract
1/2 cup plus 2 tablespoons all-purpose flour
2 tablespoons unsweetened cocoa powder
1/4 teaspoon baking soda
1/4 teaspoon kosher salt
Canola oil or nonstick cooking spray, for greasing
24 to 28 milk chocolate caramels (I like Dove)
Flaky sea salt, for topping
Directions
Preheat the oven to 325ºF. Line a baking sheet with parchment paper.
In a small saucepan, combine the butter, bittersweet chocolate, and chocolate chips. Cook over low heat, stirring often, until fully melted and combined — the chocolate will be thick. Remove the pan from the heat and let the chocolate cool slightly.
In a small bowl, using a handheld mixer, beat the eggs and sugar together on high until light and fluffy, 2 to 3 minutes. Add the vanilla and the melted chocolate mixture and beat for 1 to 2 minutes more, until combined, scraping down the sides of the bowl as needed. Add the flour, cocoa powder, baking soda, and kosher salt and beat until fully combined and smooth, about 3 minutes. The batter should be thick but pourable. Cover the bowl and chill in the fridge for at least 1 hour or up to overnight.
Scoop out scant 2 tablespoons of dough and place them about 2 inches apart on the prepared baking sheet. Grease your hands with a little canola oil or cooking spray, then flatten the dough into small disks, about 2 inches in diameter, and place a caramel in the center. Scoop out a rounded teaspoon of dough and flatten into it into a disk. Place the disk over the caramel, pinching the layers of dough together.
Bake for 10 to 12 minutes, until just set on the edges. Remove from the oven and sprinkle each cookie with a little flaky salt. Let cool for at least 5 minutes on the baking sheet before serving.
Reprinted from Half Baked Harvest Cookbook. Copyright © 2017 by Tieghan Gerard. Published by Clarkson Potter/Publishers, an imprint of Penguin Random House, LLC.
Information
Category

Desserts, Cookies

Cuisine

North American

Yield

Makes 24 to 28 cookies
Image Source: Tieghan Gerard