S'mores Cups Recipe
This Bite-Size Recipe Proves There's S'more Reasons to Love Your Muffin Tin
When the s'mores cravings hit, you don't need a campfire or a broiler to satisfy them. Turns out, all you need is a muffin tin. This fast and easy recipe for s'mores cups from the new cookbook One Pan and Done by Molly Gilbert proves s'mores look even better as adorable, individual cups. In case you're unaware, Molly has completely revolutionized one-pan cooking. Her first cookbook, Sheet Pan Suppers, provides endless inspiration for weeknight dinners like spinach-stuffed sweet potatoes, and her new cookbook proves one-pan cooking goes beyond dinner and can apply to desserts, like this fun take on s'mores.
The s'mores cups have a graham-cracker base filled with gooey marshmallow fluff and bittersweet chocolate chips, and they're topped with a sprinkling of flaky sea salt to round out the sweetness. Not only are they insanely adorable, but they're also just as easy to make as a traditional s'more — and way less messy. This bite-size dessert is perfect for entertaining a crowd, or simply indulging your own sweet tooth and saving the rest for later.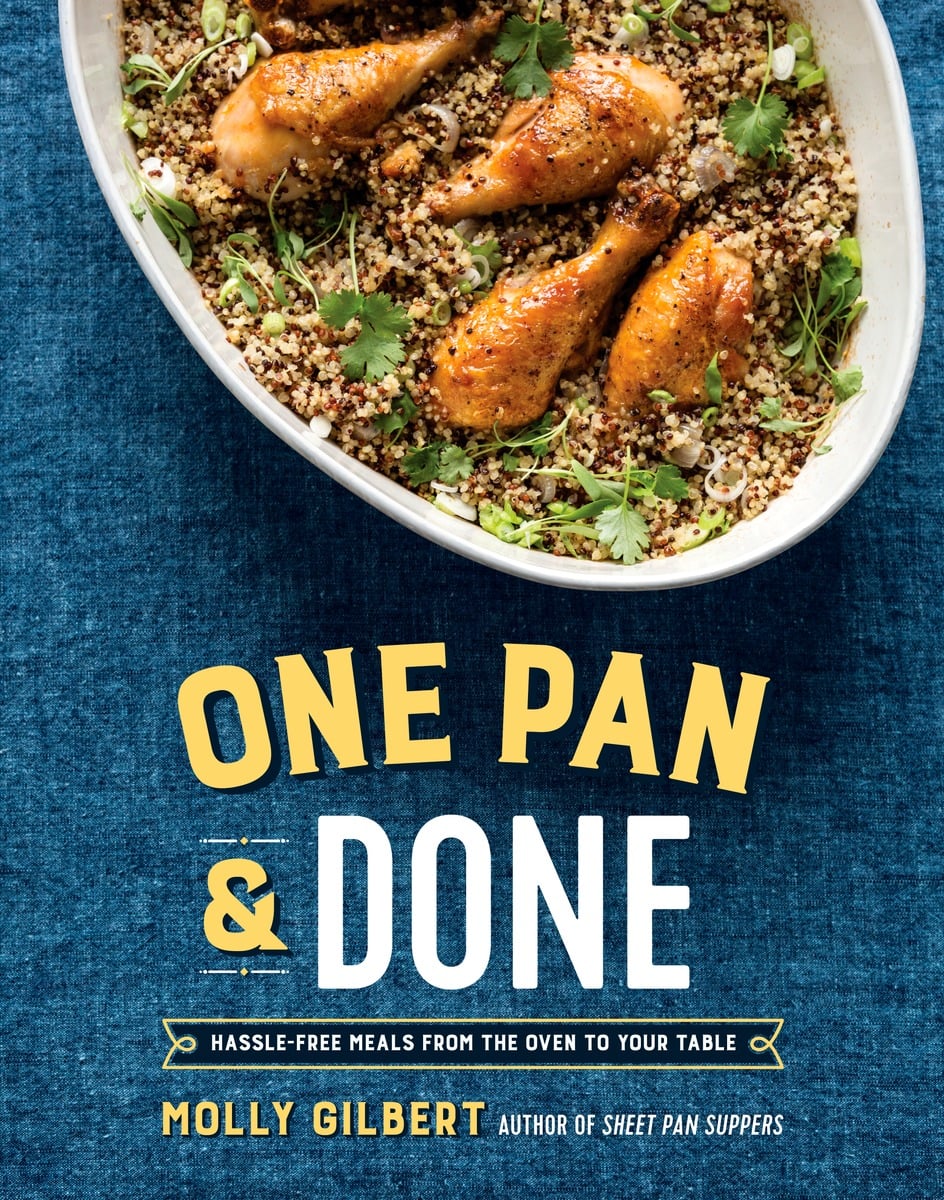 Notes
These little cups will have everyone begging for s'more. (Sorry. Had to.) They start with a graham cracker-infused short dough, which gets layered with marshmallow creme, bittersweet chocolate chips, and a pinch of salt to temper the sweetness. Traditional? Not so much. Playful and delicious? Bad puns and all, you bet.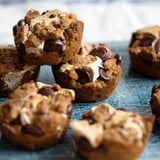 Ingredients
8 tablespoons (1 stick) unsalted butter, at room temperature, plus more for greasing the tins
3/4 cup packed light brown sugar
1 teaspoon pure vanilla extract
1 large egg
1 cup all-purpose flour
1 cup finely processed graham cracker crumbs
1/2 teaspoon baking powder
3/4 cup marshmallow crème (I like Fluff)
1/2 cup bittersweet chocolate chips
Flaky sea salt
Directions
Preheat the oven to 350°F, with a rack in the center position. Grease a 12-cup muffin tin with cooking spray or butter.
In a large bowl, cream together the butter and brown sugar until light and fluffy. Beat in the vanilla and egg.
In a smaller bowl, stir together the flour, graham cracker crumbs, and baking powder. Add the dry ingredients to the butter-sugar mixture and mix gently until just combined.
Measure out 1/2 cup of the dough and set aside for the topping. Press the remainder evenly into the prepared muffin cups, filling each about one-fourth full.
Spoon 1 tablespoon of the marshmallow crème over each cup, then top with a sprinkle of chocolate chips, dividing them evenly among the cups. Crumble the reserved dough over the chocolate chips, and top each cup with a pinch of sea salt.
Transfer to the oven and bake until the marshmallow crème is puffed and the dough is deeply golden brown, about 15 minutes.
Allow the cups to cool slightly before running a paring knife around the edges of each one to pop out of the pan. Serve warm or at room temperature.
Source: Reprinted from One Pan & Done. Copyright © 2017 by Molly Gilbert. Photographs copyright © 2017 by Aran Goyoaga. Published by Clarkson Potter/Publishers, an imprint of Penguin Random House, LLC.
Information
Category

Desserts, Chocolate

Cuisine

North American

Yield

12 servings