Spiced Apple-Cranberry Biscuit Pies
Spiced Apple-Cranberry Biscuit Pies
From Aida Mollencamp for Easy Home Meals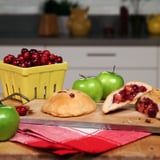 Ingredients
1 1/2 cups (6 ounces) frozen cranberries
1/2 cup apple juice
2/3 cup granulated sugar, plus 2 tablespoons for garnish
3/4 teaspoon ground cinnamon
1/2 cup pure maple syrup
5 tablespoons all-purpose flour, divided
4 medium (1 1/2 pounds) Granny Smith apples, peeled, cored, and cut into a small dice
2 tablespoons freshly squeezed lemon juice
1 teaspoon kosher salt
1 cup pecans, chopped
3 tablespoons cold unsalted butter, divided into 8 pieces
1 8-count container Pillsbury Grands Homestyle Buttermilk Biscuits
1/4 cup heavy cream
Whipped cream, for serving
Directions
In a medium saucepan, over medium high heat, combine cranberries, apple juice, 2/3 cup sugar, cinnamon, syrup, and 3 tablespoons flour. Cook, stirring occasionally, until mixture comes to boil and cranberries begin to pop, about 5 minutes. Add diced apples, lemon juice, and salt. Stir and cook until apples are just softened, about 5 minutes.
Remove from heat, and stir in pecans and remaining 2 tablespoons of flour. Set aside to cool, at least 10 minutes. Meanwhile, prepare the biscuits.
Unwrap the biscuits, and using a serrated knife, slice each biscuit in half to create 16 thin discs. Using a lightly floured rolling pin on a lightly floured cutting board, roll out each disc to form a 3-inch diameter. Store discs in the refrigerator until filling is cool.
Preheat oven to 350°F. Line two rimmed baking sheets with parchment paper. When filling is cool, top 8 biscuit discs with 2 1/2 tablespoons of cranberry mixture, leaving a 1/2-inch border around the edge. Dab tops with butter. Brush borders with heavy cream, and place the remaining discs on top of the cranberry mixture. Using a fork, press and crimp the border of the discs together. Using sharp kitchen scissors, cut 4 (1-inch) vents in an "X" shape. Brush the tops of the pies with cream, and then garnish with remaining sugar. Store pies in the freezer until the dough firms up, about 10 minutes.
Place pies in the oven, and bake, swapping the baking sheets halfway through cooking time, until biscuits are risen and golden brown on the bottom and the fruit mixture starts bubbling through the vent, about 35 to 40 minutes. Remove pies to wire racks, and serve with whipped cream.
Information
Category

Desserts, Pies/Tarts

Cuisine

North American

Yield

8 mini pies

Total Time

1 hour, 29 minutes, 59 seconds