Strawberry-Nutella French Toast Roll-Ups
Strawberry-Nutella French Toast Roll-Ups Will Delight Your Inner Child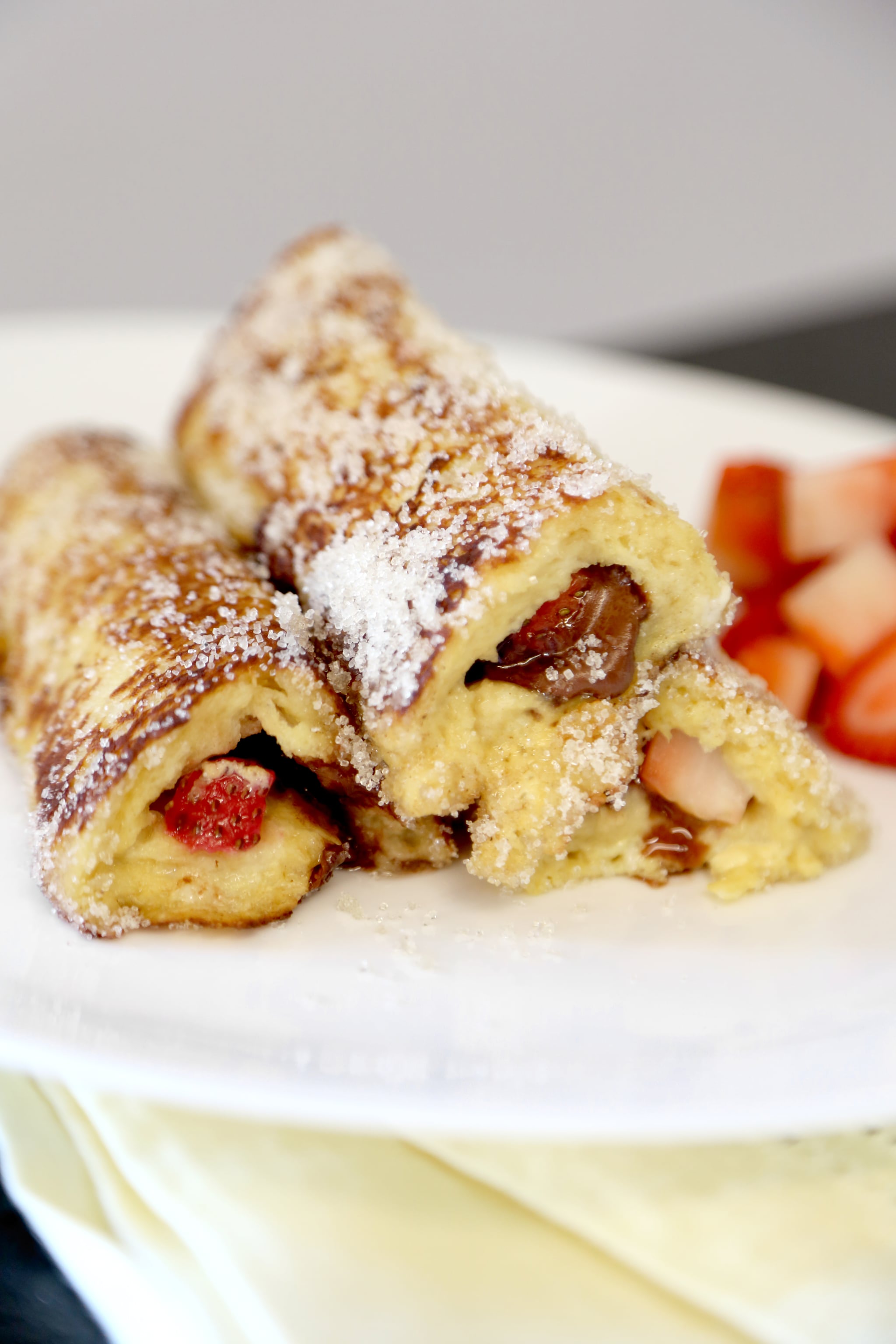 Unlike these adorable french toast roll-ups, I'm not going to sugar-coat the fact that this recipe is a bit of a challenge! I can't promise instant gratification, but I can assure you the melty Nutella-strawberries blanketed in what tastes like a churro doughnut are 100 percent worth the effort. These french toast roll-ups will make you weak in the knees and wonder why you've never thought to try this technique out before (unless you have already made grilled cheese roll-ups and are very familar with the magic).
There are a few essentials before you get to rolling. First, you must use Wonderbread or another supersquishy bread. Your fresh sourdough bread will not cut it. If you have trouble rolling your bread flat, try sprinkling a little bit of water on it. You can also use a little water to create a seal at the end of the rolls. Remember: practice some restraint when filling the rolls with Nutella and strawberries. When dipping the rolls, only do so for a flash. Have your pan heated and coated in butter and tongs ready. If you let the bread sit too long, it will soak up all of the batter and cause the roll to fall apart.
In case you haven't gathered, a sturdy set of tongs are your best friend for this recipe. Use them for every step! When it comes to searing all the sides, it's OK if your rolls end up a little triangular — that won't make them any less edible. Also, remember that there's no need to pry the rolls off the pan. When the surface has seared, they should easily flip over. Once you've cooked up all the sides to a golden brown, use tongs to transfer them into some granulated sugar, roll them around, and serve them up piping hot. These are the perfect balance of sweet and salty, so you shouldn't need any extra toppings other than more strawberries if you have some left over.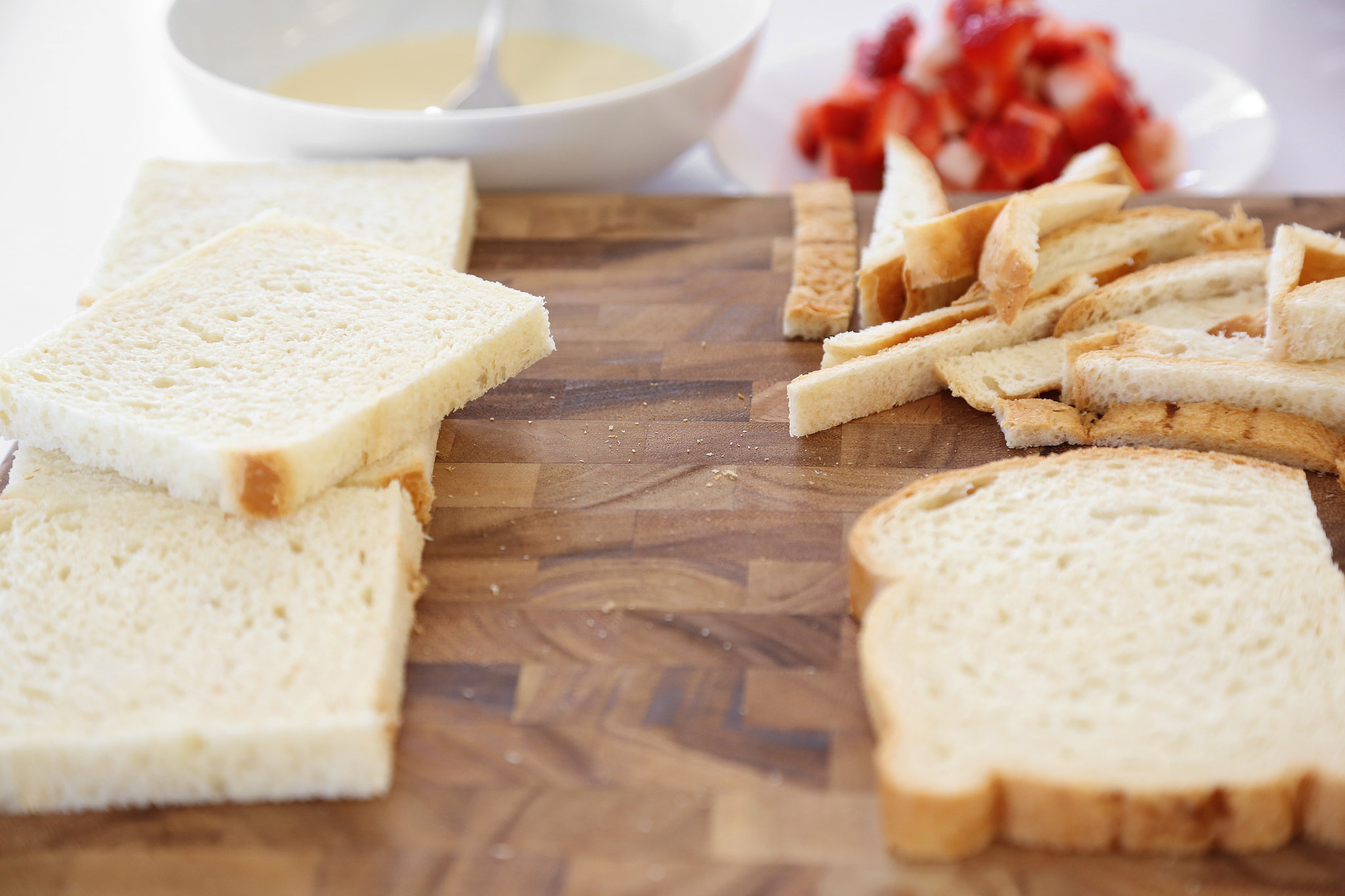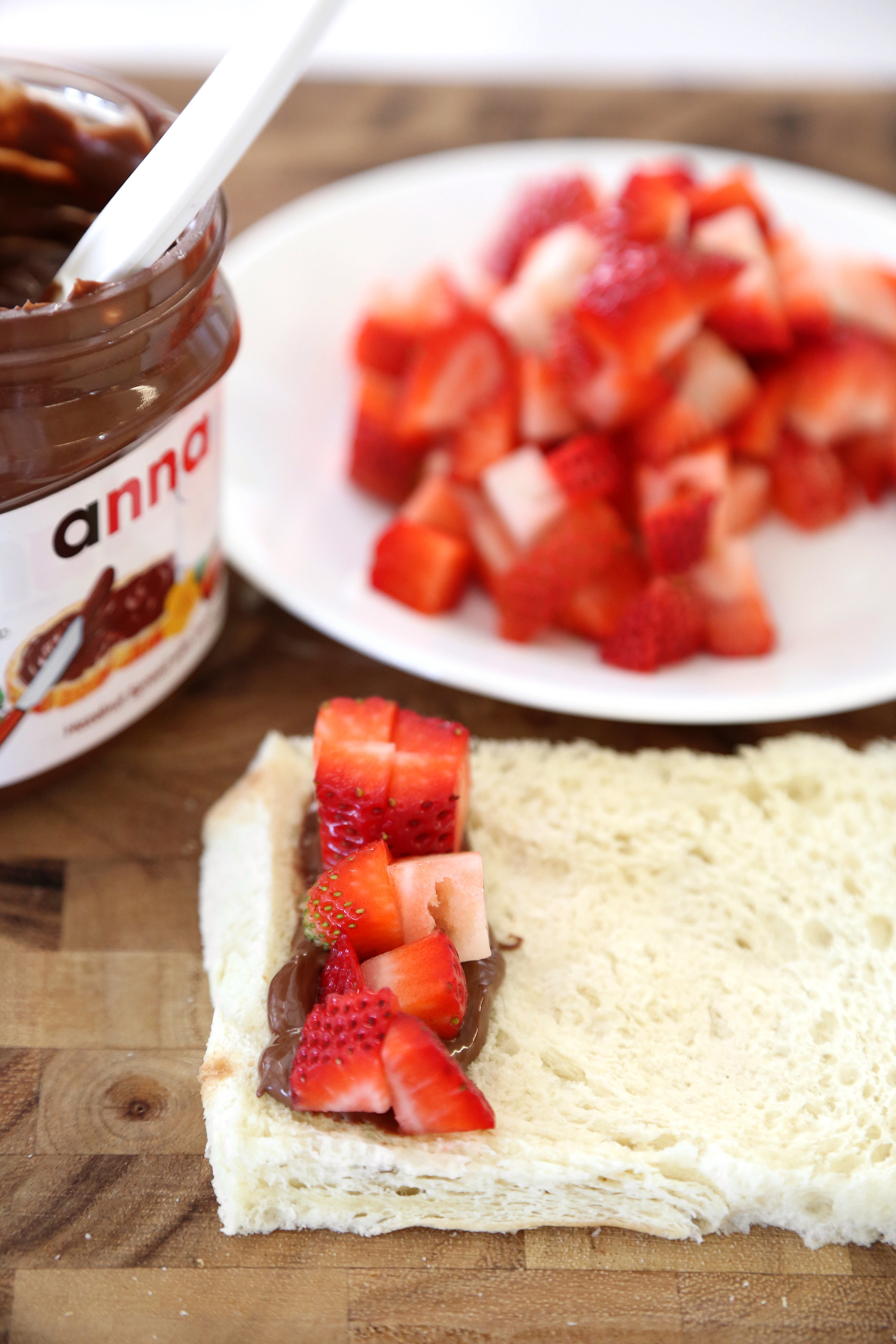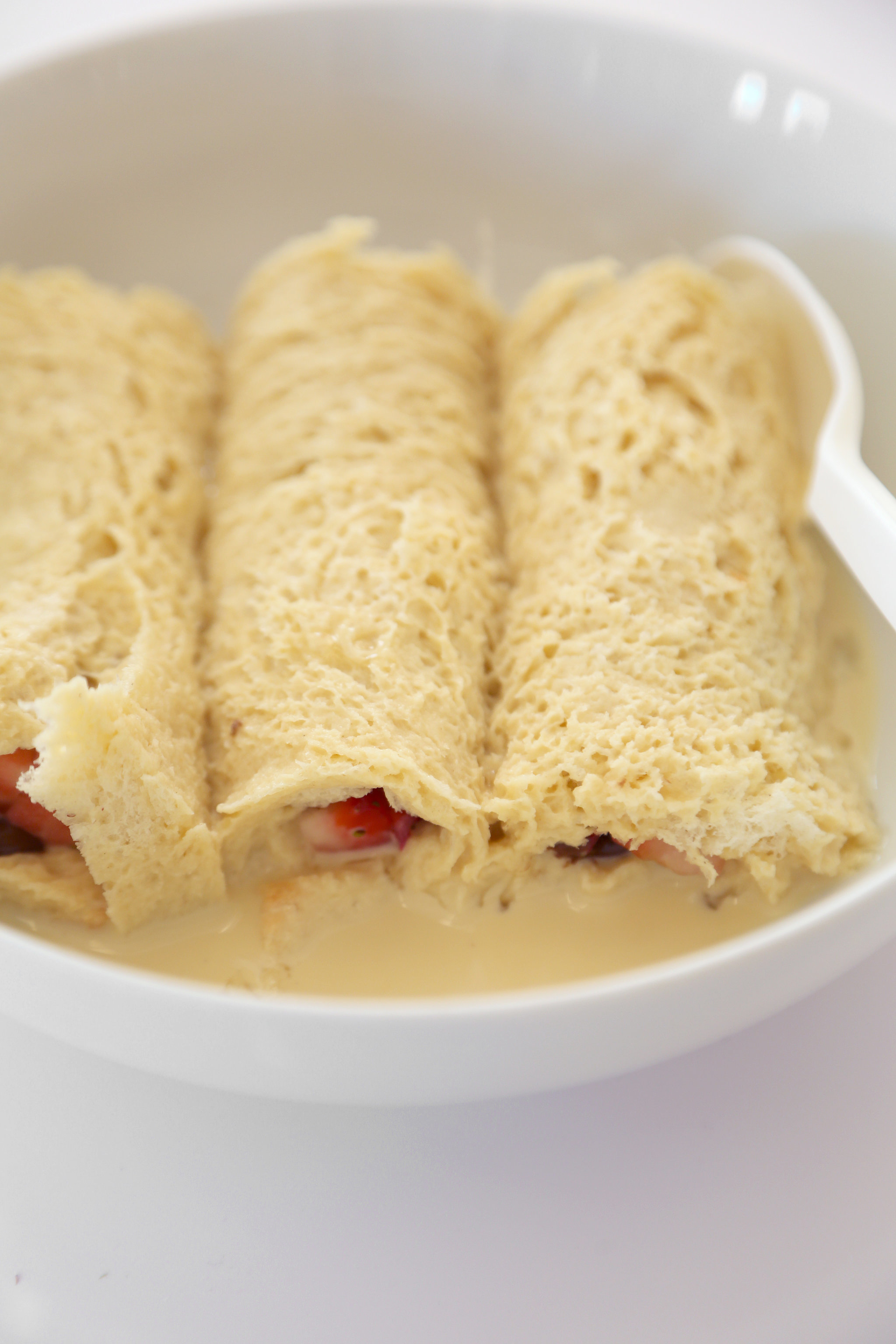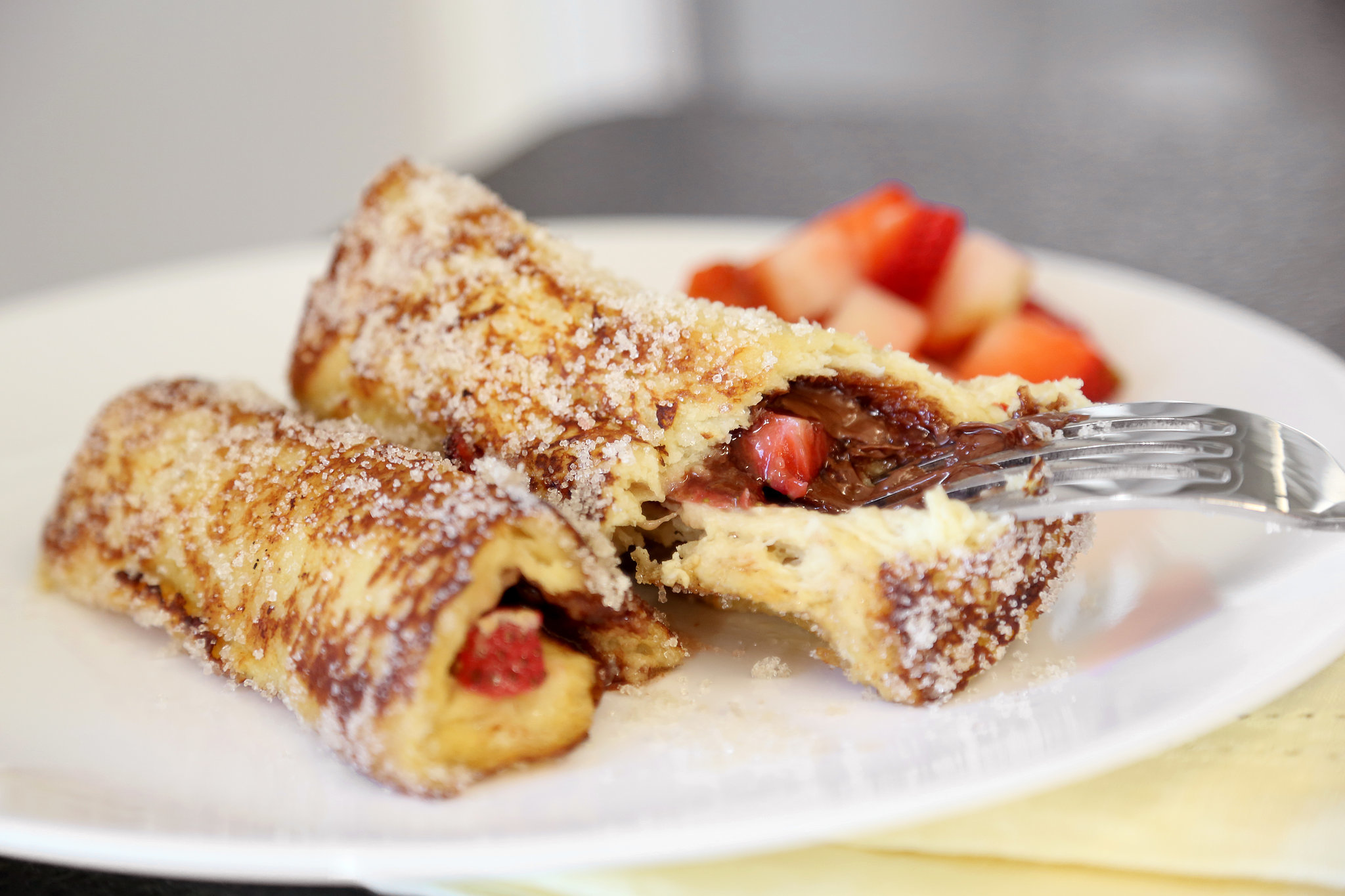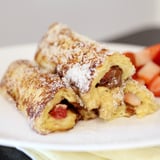 Ingredients
2 eggs
2/3 cup half-and-half
2 teaspoons vanilla extract
1/2 teaspoon salt
6 slices white bread
2 tablespoons Nutella
1/2 cup strawberries, hulled and cut into medium-sized cubes, plus more for topping
Clarified butter or salted butter, for cooking
Granulated white sugar, for rolling
Directions
In a large bowl, whisk eggs, then whisk in half-and-half, vanilla, and salt.
Cut off the crusts of the sandwich bread. Flatten the bread using a rolling pin. (This compresses the bread and gives it a slightly tacky texture, making it easier to roll up and seal closed.) Top each piece of flattened bread with small amount of Nutella and a few strawberries. Tightly roll each piece of bread into a cigar-like shape, ending seam-side down; press down gently to seal.
Heat a large nonstick skillet on the stove top over medium heat. Melt 1 tablespoon of clarified butter or salted butter in skillet.
Submerge a few rolls in french toast batter, spooning batter on top of rolls so all pieces are coated evenly. Quickly remove bread from french toast batter, tapping on the side of the bowl to release excess batter, and carefully add the roll-ups to the pan seam-side down. Cook on each of the 4 sides for 1 to 1 1/2 minutes or until deeply browned. If the roll-ups start to unroll and lose their shape, use the tongs to gently press all of the roll-ups together. Depending on the size of the skillet, it may fit 2-3 pieces of french toast.
Transfer cooked french toast rolls to a plate filled with sugar. Spoon sugar over the top of rolls so they are coated and transfer to a plate. Submerge remaining bread in french toast batter. Add more butter to the pan if needed and cook remaining french toast. Repeat process until all pieces of bread are cooked. On each plate, serve 2 slices of french toast rolls.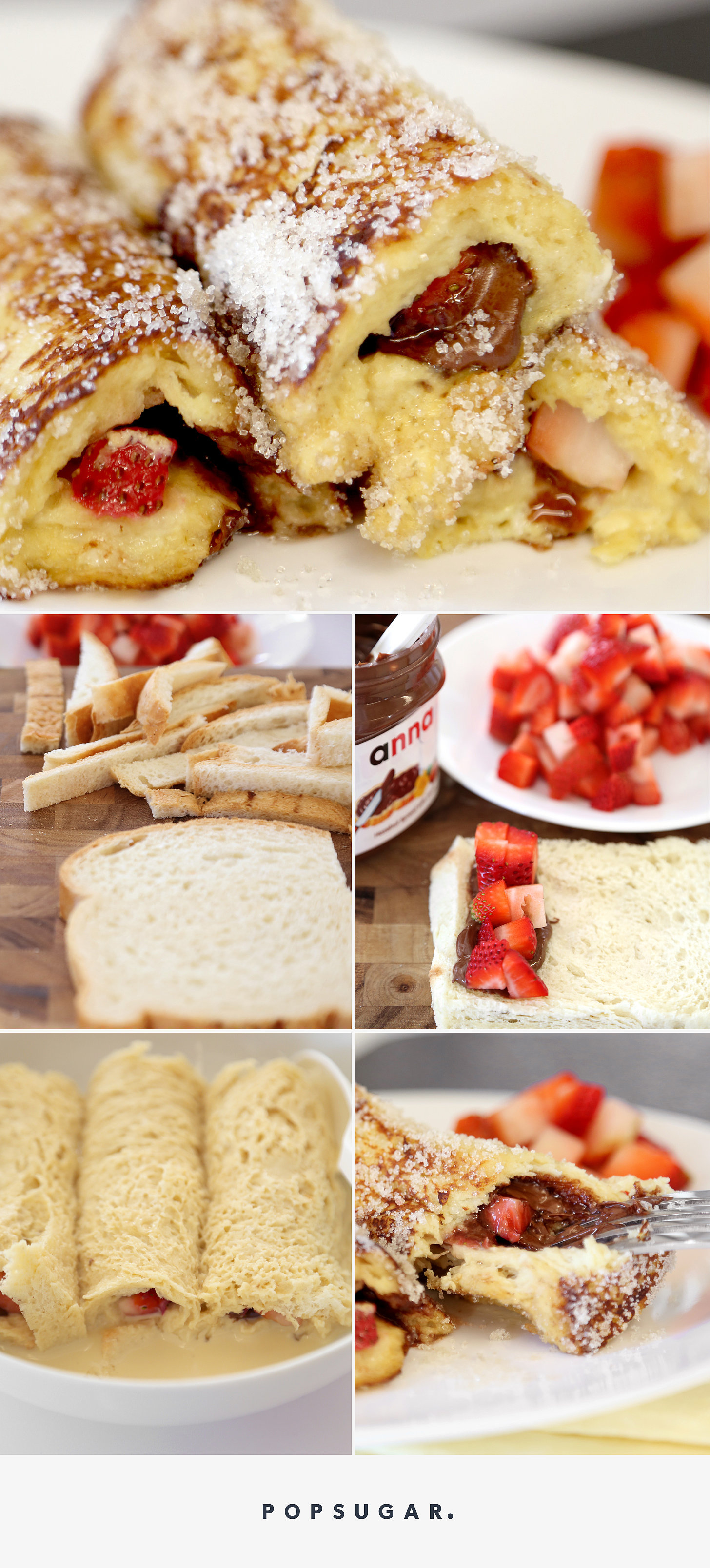 Information
Category

Breakfast/Brunch

Cuisine

North American

Yield

6 rolls
Image Source: POPSUGAR Photography / Anna Monette Roberts