Is Subway Chicken Healthy?
The Truth Behind the Chicken From Subway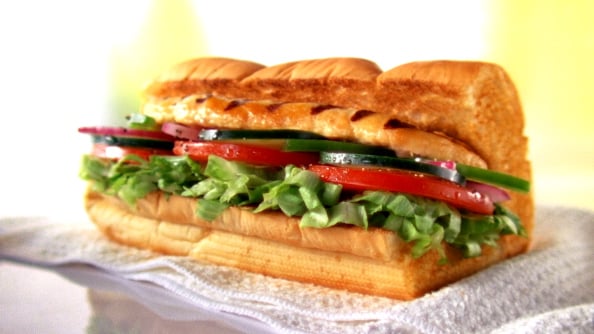 Update: Subway has responded to the following claims in an email to POPSUGAR. According to the email, Subway has tested its own chicken products in both the US and Canada and found that soy protein in the chicken made up less than 1 percent of the poultry. Subway president and CEO Suzanne Greco reassured customers that the CBC Marketplace findings are incorrect.
"The stunningly flawed test by Marketplace is a tremendous disservice to our customers. The safety, quality and integrity of our food is the foundation of our business. That's why we took extra caution to test and retest the chicken. Our customers can have confidence in our food. The allegation that our chicken is only 50 percent chicken is 100 percent wrong."
Dave Theno, the Chief of Food Safety at Subway, maintained that the chicken is 100 percent chicken, saying, "Our chicken is 100 percent white meat with seasonings, marinated, cooked, and delivered to our restaurants. The chicken has no artificial colors, flavors, or preservatives. Through years of testing, we've never seen results like the program claimed."
Original post:
If you order a chicken sandwich at Subway, you're not eating exactly what you think you're eating. In a shocking investigation, a CBC Marketplace analysis of poultry from six popular grilled chicken and sandwich wraps found that the chicken at Subway isn't entirely made of chicken. A DNA researcher at Trent University Wildlife Forensic DNA Laboratory tested the meat and found that the "oven-roasted chicken" was only 57 percent chicken, while the "chicken strips" contained only 43 percent chicken. The rest of the meat was made up of mostly soy.
When you buy chicken from the grocery store, you're most likely eating a product with 100 percent chicken DNA. According to the study, that percentage decreases when the meat is processed, seasoned, or marinated, making it likely that most fast food chicken contains a lower percentage of chicken DNA. However, other fast food chains' chicken offerings scored significantly higher on the tests than Subway. McDonald's Country Chicken scored 85 percent, A&W's Chicken Grill Deluxe 89 percent, Tim Horton's Chipotle Chicken Grilled Wrap 87 percent, and Wendy's Grilled Chicken sandwich 89 percent.
Subway responded to the investigation disagreeing with the findings and claiming that the company's chicken recipe "calls for one percent or less of soy protein." The popular chain has assured customers that it will "look into this again with our supplier to ensure the chicken is meeting the high standard we set for all our menu items and ingredients."
Image Source: Subway