Taco Bell Cheetos Crunchwrap | Food Video
The Best Drunk Food Decision: This Taco Bell Cheetos Crunchwrap Hack
We here at POPSUGAR love a good mashup. And when we heard that Taco Bell was slinging Cheetos Crunchwrap Sliders, we knew this would be the best thing since potato chips in our peanut butter and jelly sandwiches. But alas, you can only get them in Canada currently . . . well, there and right here on POPSUGAR!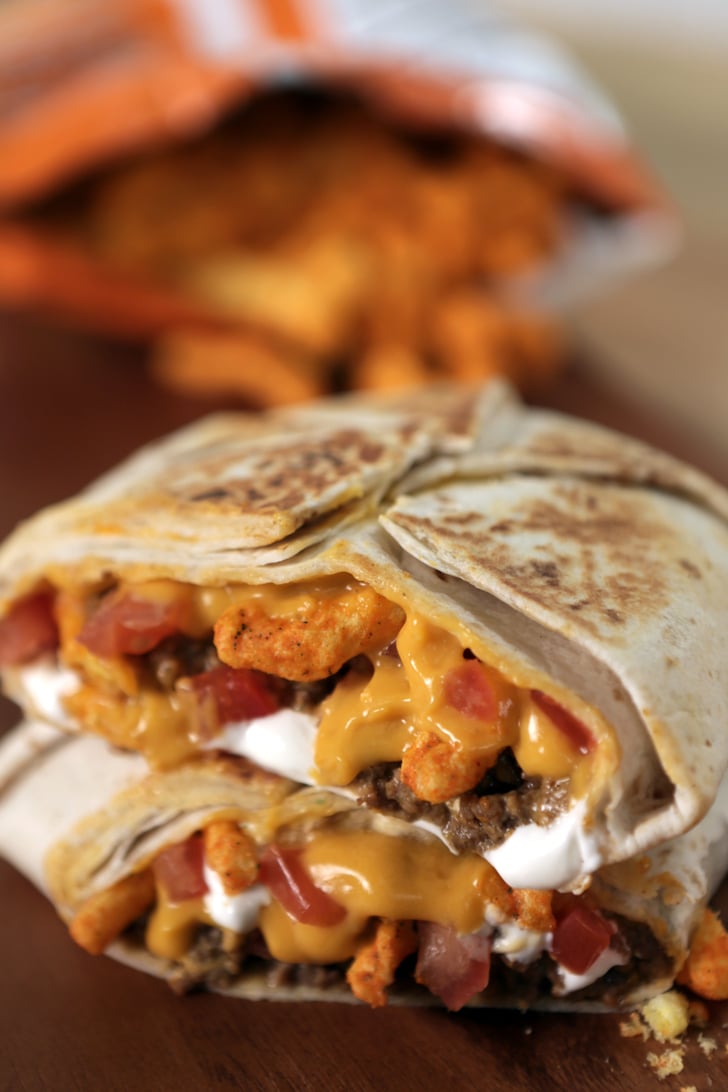 Brandi Wearing LOFT Top
Cheetos Taco Bell Crunchwrap Supreme Sliders
From Nicole Iizuka, POPSUGAR Food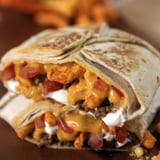 Ingredients
1 pound ground beef
1 packet taco seasoning mix
3/4 cup water
1 can nacho cheese
6 burrito-size flour tortillas
1 cup sour cream
1 cup tomatoes, diced
2 cups Cheetos® Crunchy Cheese Flavored Snacks
Cooking spray
Directions
In a large skillet over medium-high heat, cook and crumble ground beef until cooked through. Drain any excess grease and stir in the taco seasoning mix and water. Continue cooking according to package directions. Drain off any excess liquid.
Warm the nacho cheese sauce in a microwave-safe bowl. Place the flour tortillas on a large plate and microwave in 20-second intervals to warm them until they are soft and pliable.
Lay 1 flour tortilla on a flat surface and spread 1/3 cup of taco meat in the center of the tortilla. Drizzle with nacho cheese sauce and top with sour cream, tomatoes, and Cheetos®.
To fold the crunchwrap slider, start at the bottom of the flour tortilla and fold the edges up and over the center. Continue working your way around, folding the tortilla up and over the center fillings until the fillings are covered completely.
Spray a large nonstick skillet or griddle with cooking spray and heat to a medium heat. Place the crunchwrap seam-side down, and cook for 2 to 3 minutes, or until the tortilla is golden brown. Carefully flip the crunchwrap over and cook the other side until it is golden brown. Serve immediately.
Information
Category

Main Dishes

Yield

6 servings

Total Time

29 minutes, 59 seconds