In Netflix's original series American Barbecue Showdown, cooks from all over the country came together to see who truly is the best of the best in the world of barbecue. Contestants ranged from championship barbecuers to novice backyard cooks, but each of them brought heart and skill to the competition that was truly addicting to watch. Typically a landscape dominated by men, barbecuing is gradually seeing more and more women in the competition circuit — including on this show. Of the eight contestants, three are extremely talented women — one of whom actually wins the whole damn thing.
Tina Cannon, who is your typical Southern Belle from Georgia, has been a championship barbecuer for a decade, but her foray into barbecue was almost a happy accident. She went to culinary school but told POPSUGAR that her culinary background really hasn't had anything to do with her life in barbecuing. She'd seen some competitions and grew to admire world championship barbecuer Melissa Cookston. "I thought, oh my god, there's a woman that can do this, you know?" she told POPSUGAR. So what did she do? She turned in some of her credit card points, got herself a little smoker, and got to work.
But it hasn't always been an easy ride. Tina shared a fun little story about smoking some meat to make a meal for a group of men doing work on her house — Southern hospitality at its finest. She explained that when she and her husband served the workers the food, they automatically assumed her husband had made the meat. "One of the men said, 'This is some darn good barbecue,' and looked at my husband. My husband pointed at me and said, 'Well she did it.'" It was her first encounter with taking on a field dominated by men and seeing the reaction. It fueled her, though, especially because it was one of those men who gave her the application form for her first barbecue competition — and she won.
From there, she continued to compete and landed herself a spot on Netflix's American Barbecue Showdown, where her original barbecue idol Melissa Cookston was a judge, bringing it all full circle for her. It was all made even better when she took home the title. We caught up with Tina after her big win to find out more about how hard it is to be taken seriously in a male-dominated industry, what it's like to be on Netflix, and more.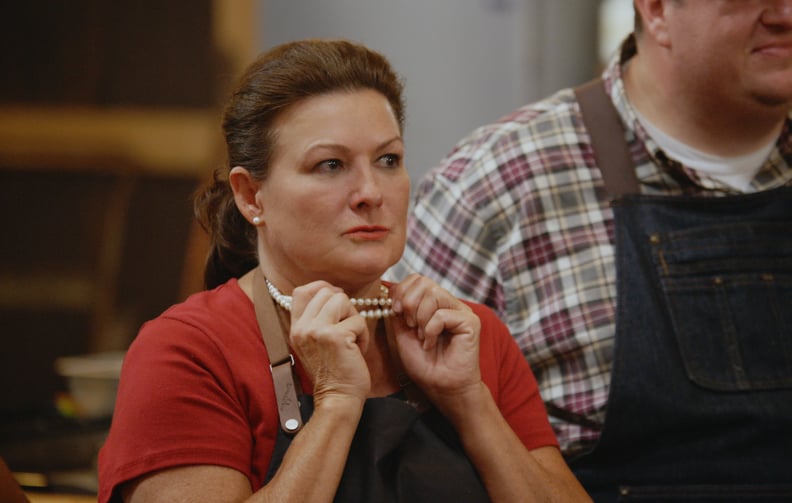 On What It's Like to Be a Woman in a Male-Dominated Field
Tina has been competing for years and still deals with people not taking her seriously when she shows up to barbecue. "I've had little local newspapers walk up at a contest and start talking to [my husband], and he doesn't know a lot of that stuff," she told POPSUGAR. "He'll say, 'Let me get my wife for you,' and they literally have walked away. Turned around and walked away."
She added, "Barbecue is a social thing, even in a contest," and said that men would walk right by her, not acknowledging her or her food. "And it feels kind of weird. You're there working hard." Some contests are in tight quarters, so her station would be set up right next to someone else's, but too often, she'd be ignored. "They'll be right next to you and not even make eye contact. It was crazy."
Once she started winning, she was taken more seriously, though. "I've got my crowd that know me, and they hang out and talk to me. But there's always the good ol' boy network, and it'll always be that way I guess down here in the South."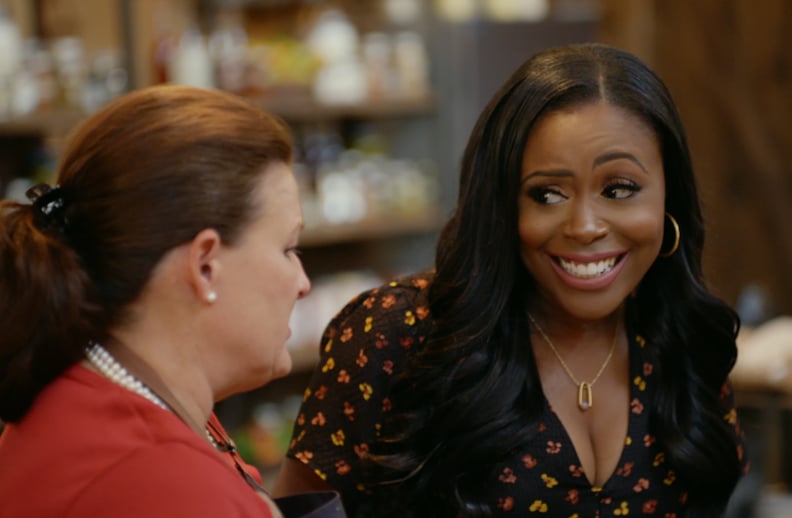 On What It's Like Working With Netflix
There was one stark difference from regular competitions that Tina noticed right away when she started to film American Barbecue Showdown with Netflix: everyone was ridiculously nice. She was overwhelmed by the sheer size of production and said, "Everything worked. And to get that many people to do what you're supposed to do and then be nice to all of us? It was so sweet," she told POPSUGAR.
Tina was also really pleasantly surprised to see such a large number of women working on production as well, something she thinks of often, being a woman in barbecue. "I love it that they employ so many women, and younger women too — the producers, so many of them were young women," she said. She also added that seeing such a large company employing so many women from so many different backgrounds gives her hope for all these industries typically dominated by men — and our country as a whole. "I have renewed hope that our country's not going anywhere in a hand basket, because there were so many women doing it, you know what I mean?"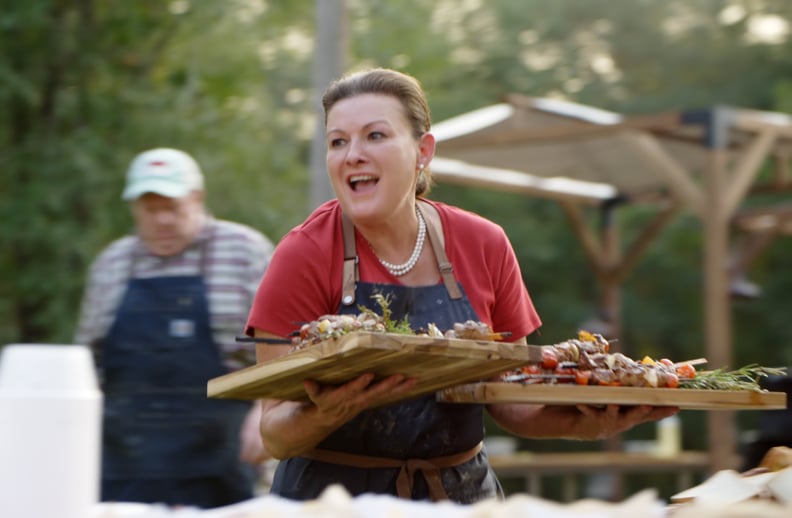 On Her Advice For Other Female Cooks
Being a woman in an industry that's full of men hasn't been easy for Tina, but she's a big personality who adapted fairly quickly and developed a thick skin. She knows, though, that it's not always that easy for other women. More and more women are showing up in barbecue, though, and Tina said that even since she started, it's improved immensely. But she still wants to see more women out there. "If it's what you love, you just do it," she told POPSUGAR as a message to any women who may hesitate over trying barbecue. "You just got to get out and do it. And it's just cooking, if you think about it. [If you cook at home], you just got to say, 'Well, we're just going to do this outside today. Right?'" Right.
On Where to Get the Best Barbecue
Being from Georgia, Tina, of course, loves traditional Georgia barbecued pork, especially her own. However, she's also happy to enjoy barbecue from other regions, because everywhere has their own unique style. "I love vinegar sauce," she told POPSUGAR. "That's Carolina style. Everywhere here, you get the sweeter sauce, and I do love tangy ingredients. I should say Georgia is my favorite, but I really love vinegar sauce!" But not to lean too far into one specific favorite, she added, "I do love me some Texas brisket, too."