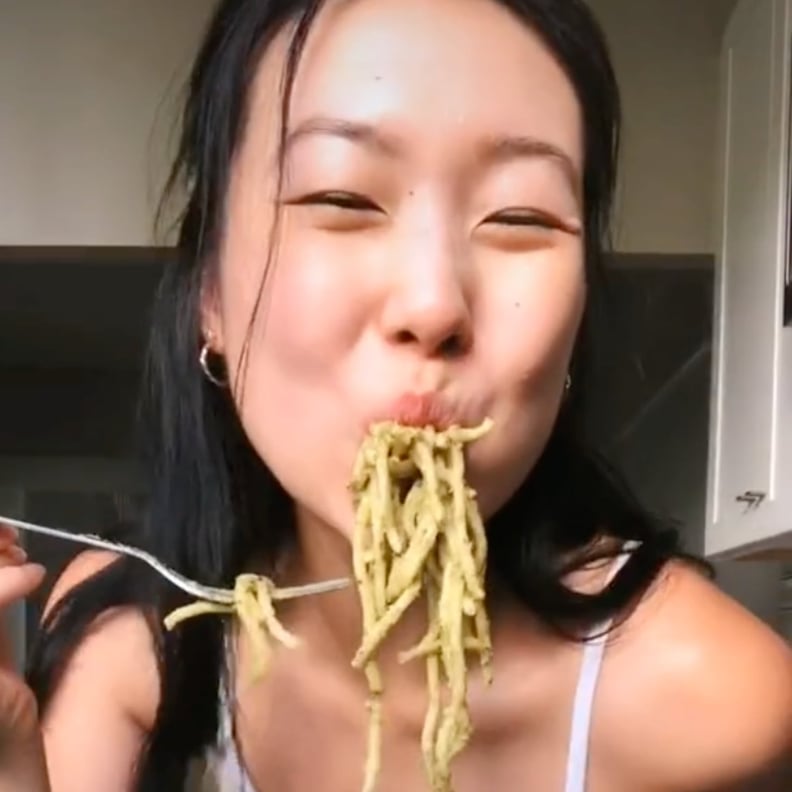 It's 2021, which means out with cookbooks and in with TikTok. The social media platform is home to some of the most creative, unique, and trendsetting recipes of our time, with pasta recipes at the forefront of the foodie fandom. Gigi Hadid's now-famous spicy vodka pasta circulated the app, inspiring at-home chefs to try out their own takes on the recipe. Right behind her drool-worthy recipe came the baked feta pasta that dominated the app and motivated millions of users to try it for themselves. But, as any good TikToker is sure to know, the recipes don't stop there — not even close.
Thousands of users have shared their most mouthwatering pasta recipes, with everything from the Cheesecake Factory's Louisiana Chicken Pasta to a baked rigatoni that looks as good as it tastes. If you're all about noods, these recipes will bring your kitchen to life with the best of carbs, flavors, and fun. Whether you want to hop on the next trend before it starts (we see green temptation pasta really taking off) or you want to shake up the traditional spaghetti and meatballs, these delicious recipes are all you need to get inspiration in the kitchen. Keep reading to see the best pasta recipes that TikTokers have shared, ahead.
01
Mozzarella Baked Pasta
Put a spin on the famous baked feta pasta when you try using mozzarella cheese instead. This recipe is seriously creamy, and dang, is it good. Complete with loaded ravioli, you'll want to whip this up every chance you get.
02
Creamy Chicken Spaghetti
If you haven't had chicken spaghetti, you're missing out! This recipe features bell peppers, onions, cream of mushroom soup, and Velveeta cheese, so you already know it's about to be hearty. Baked to perfection and topped with cheese, you'll be dreaming about this every night of the week.
03
Cheesecake Factory Louisiana Chicken Pasta
OK, this is the recipe you need in your life if you're really a pasta-lover. It features veggies, garlic, chicken, shrimp, and a cajun seasoning that'll make your taste buds shout for joy. Pair it with some garlic bread, and your dinner is complete.
04
Pesto Pasta
Pesto seems intimidating to make, but this recipe is as easy as can be. Just grab your favorite pesto sauce, some cherry tomatoes, and a dash of parmesan cheese to make this recipe come to life. Not only is it easy, but it's also so tasty!
05
5-Cheese Mac and Cheese
Does it get any better than mac and cheese? We think not. This supercreamy and ultracheesy recipe is baked and seasoned to perfection. It's so rich that you'll want to enjoy it fully on its own without anything else. Dig in!
06
Creamy Kimchi Carbonara
Bacon, kimchi, and parmesan cheese are the superstars of this easy pasta recipe. Pair those with a couple dashes of pasta water, and you're left with a creamy dish that could melt in your mouth it's so good.
07
Shrimp Vodka Pasta
Take Gigi Hadid's famous pasta recipe to the next level when you add shrimp to the mix. The juicy seafood bits make every bite burst with flavor. If you're not a fan of shrimp, you could always substitute it out for chicken.
08
Bucatini and Shrimp
If you want dinner and you want dinner fast, this recipe is all you need. It features juicy shrimp and a rich cream sauce that will make every bite come to life. You can use any kind of noodle you like, so feel free to get creative.
09
Spicy Chicken Pasta
This TikToker refers to this as "seriously the best pasta I have ever had," so right off the bat you know you want to try it. Spicy, creamy, and filled with shrimp, this recipe will go down in cookbooks as one to remember.
10
Upgraded Spaghetti
Shhh, this spaghetti recipe is a secret, and for good reason — it's almost too genius! Take your typical spaghetti to the next level when you add pasta water to the marinara sauce and burrata to your plate. This adds new flavors that will make you drool on the spot.
11
Pasta al Limone
Bright, light, and perfectly zesty, this rich pasta al limone will make your taste buds swoon. You can use any kind of noodle you want, but be sure to top it off with fresh parsley for best results. Dig in!
12
Gigi Hadid's Spicy Vodka Pasta
Not only is Gigi a model, a mother, and a fashion icon, but it turns out she's also an amazing chef. Her spicy vodka pasta recipe has been circulating for weeks, and it's not going anywhere anytime soon. This rich pasta is a carb-lover's dream come true, so be sure to make it for your favorite foodie.
13
Creamy Cajun Shrimp Pasta
Imagine: pasta inside a bread bowl. Yup. This creamy cajun pasta is filled with shrimp, garlic, cream cheese, and parmesan cheese, meaning it's all things rich and delicious. Paired with the warm bread bowl, it doesn't get much better.
14
Creamy Chicken Pasta
Here's a dynamic duo you need to know: tomato sauce and cream. Sometimes people forget what an amazing duo the two are, but this recipe will remind you. Chicken and veggies give the pasta a kick, making this a meal you won't soon forget.
15
Baked Rigatoni
This baked rigatoni is cheesy. With all kinds of cheese and seasonings, the flavor notes in this dish will make you swoon. It's coated in marinara and baked to perfection, and wow, is it good. Warning: you'll be eating this out of the baking dish for days to come.
16
Green Temptation Pasta
Her name is The Pasta Queen for a reason! This healthy pasta sauce includes kale, broccoli, and spinach, all of which will melt in your mouth. Paired with some cream and noodles, this recipe is as green as pesto, but so much more exciting.
17
Better Than Olive Garden Crispy Chicken Alfredo
Olive Garden has got some competition! This easy-to-make-at-home recipe is so good that everyone will be asking for it all the time, so be sure to keep spare noodles in your pantry! With bits of crispy chicken and a pasta sauce that will hook you, please enjoy your new favorite recipe.
18
White Cheddar Truffle Mac and Cheese
Take mac and cheese to the next level when you bake it and add white cheddar to the mix. Smoked gouda and truffle oil go hand in hand to create a flavor combo like never before. The only thing that will make this meal better is if you add some warm bread to your plate so you can scrape it all up.
19
Baked Feta Pasta
Unless you live under a rock, you've seen this recipe at least once. Baked feta pasta has made its rounds on TikTok and that's because it's simply delicious. Creamy, rich, and full of flavor, this is the pasta dish above all other pasta dishes. You can get creative with the recipe by trying out different cheeses like brie, Boursin, and more.
20
Meghan Markle's Zucchini Pasta
With minimal ingredients, this secret pasta recipe from Meghan Markle is a breeze to make. It does take a couple hours to cook, so be sure allocate enough time in the kitchen. But since the flavors are so good, it's worth every minute of prep.
21
Vegan Basil Pasta
Calling anyone who's vegan! This is the recipe you need. It only requires a handful of ingredients, and can be made in no time. Garnish it with fresh basil for best results.
22
Simple Light Summer Pasta
This light pasta recipe makes Italian sausage the star of the show. Made in one pot, this recipe can be cooked and cleaned up in no time at all. If you don't like mushrooms, @chucksflavortrain recommends using bell peppers or a different veggie — this recipe is easy to tweak!
23
Cheesecake Factory Spicy Chicken Chipotle Pasta
Complete with asparagus, onions, bell peppers, and cilantro, this copycat recipe is about as good as it gets. With the addition of perfectly seasoned chicken thighs and tasty noodles, you'll forget about takeout all together.
24
Baked Mac and Cheese
Sour cream and seasonings make this mac and cheese recipe outta this world. Effortlessly baked and perfectly crispy on the top, this dish will be your new go-to for potlucks, special occasions, and more.
25
Spicy Peri-Peri Pasta
Creamy, spicy, and filled with chunks of sausage, this rich pasta will be a hit. You can use any kind of noodle you'd like, but this TikToker suggests linguine. Feel free to pair the dish with a side salad or bread to make it a full meal.
26
Creamy Tortellini
What is tortellini, you ask? Nothing but pure love for your taste buds. This delicious recipe features a drool-worthy cream sauce that absorbs into the tortellini shells just right. Topped with cheese and parsley, this dish will impress all those who feast on it.
27
Healthy Chicken Pasta
Arugula, pesto, and drool-worthy chicken work together to make this pasta recipe a dream come true. It's lighter than a normal pasta dish and only takes 20 minutes to make. Need we say more?
28
9-Minute 1-Pan Pasta
Linguine, tomatoes, red peppers, and garlic work together to make this one-pot dinner a dream come true. Complete with basil and garlic, these mouthwatering flavors are about to change the way you do dinner.
29
Healthy Pasta Salad
Tomatoes, bell peppers, onions, and steamed broccoli make this pasta salad a treat for your taste buds. The light rotini pasta only has 400 calories per bag, meaning you can enjoy this dish without feeling overly full. We suggest making this recipe when you need something new and exciting to meal prep.
30
Creamy Mushroom Pasta
If you want to enjoy dinner in less than 15 minutes, we've got the recipe for you. This creamy mushroom dish has hints of parmesan, parsley, and garlic that are sure to make your mouth water. If you have garlic bread, that'll make this meal even better.
31
15-Minute Pasta
Looking for an easy weeknight recipe? We've got you covered. This pasta only takes 15 minutes to make, and wow, is it good. With a rich and creamy sauce, this recipe will impress anyone who tries it.
32
Healthy Vegan Alfredo
Mushrooms, cashews, almond milk, and garlic create the pasta sauce of any vegan's dreams. This low-cal Alfredo recipe features light kelp noodles that soak up the flavors perfectly.