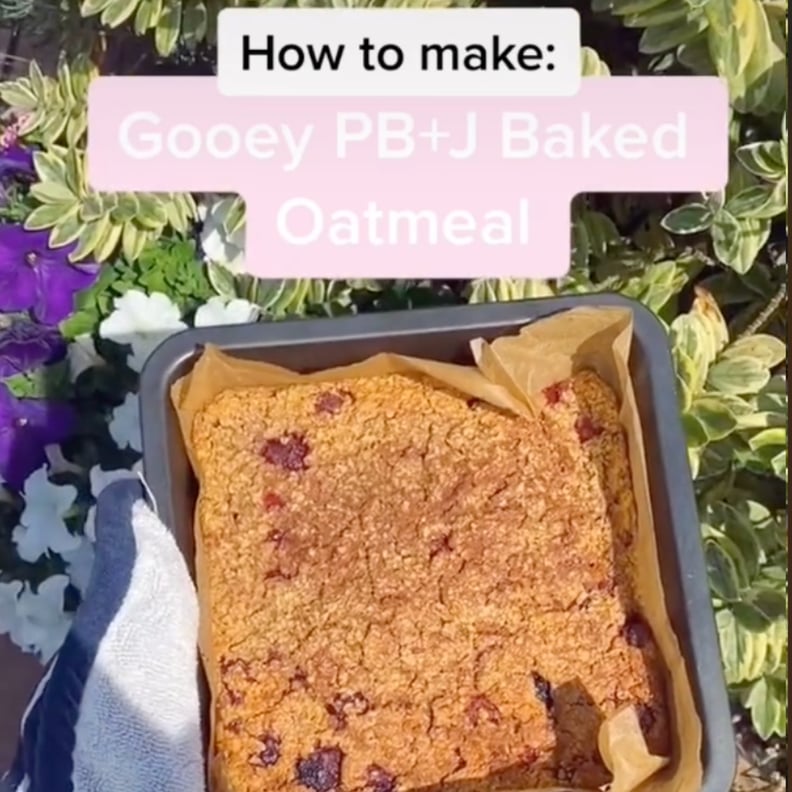 TikTokers, meet your new favorite breakfast. The social media platform is home to some of the most drool-inducing recipes (hello, baked feta pasta), and this week users have forgone the noodles in favor of baked oats. When you hear the word "oats," your mind might immediately jump to being forced to eat way-too-hot and lumpy oatmeal before school — at least, that's where mine goes. Anyway, push that image aside because the good news is that these recipes are nothing of the sort. TikTokers know what it takes to create a good recipe, and these baked oat ideas are sure to make every breakfast-lover swoon before they even get out of bed.
If you're looking to make the best baked oat recipes from TikTok, this curated list will introduce you to everything from peanut butter and banana options to a Funfetti dish that'll make breakfast the most exciting meal of the day. Keep reading to discover your new favorite breakie recipes, ahead.
01
Chocolate Chip Baked Oats
If you like chocolate cake, you're going to love this recipe. It uses little to no sugar, no oil or butter, and even the egg can be taken out. Complete with fresh oats and rich chocolate, this recipe will make breakfast so much better.
02
Baked Chocolate Oats
Craving chocolate? This easy recipe is for you. All you need are oats, hot chocolate powder, milk, vanilla extract, and baking powder to recreate these in the comfort of your own kitchen. Then, follow @abigail_sophiaa's easy step-by-step instructions, and breakfast is served!
03
Blueberry Muffin Baked Oats
Creamy, delicious, and as good as a fresh blueberry muffin, this baked oats recipe will make you drool on the spot. What you need to do is blend together half cup of oats, half tablespoon of baking powder, half scoop of vanilla protein, salt, half cup of almond milk, dash of vanilla, and one teaspoon of maple syrup together. Then, add blueberries and pour the mixture into an oven-safe bowl. Put it in the oven at 400 degrees for 20 minutes, and your work here is done.
04
Peanut Butter Banana Berry Baked Oatmeal
This vegan recipe is packed with good-for-you-ingredients like bananas, peanut butter, oats, and almond milk, meaning you'll stay full for much longer than you would if you just had a bowl of cereal. It's also easy to meal prep so you can enjoy a hearty breakfast any day of the week.
05
Funfetti Baked Oats
It's like cake, but better! These baked oats are cute, colorful, and bursting with flavor. To make them, you'll need oats, vanilla protein powder, vanilla extract, milk, yogurt, salt, and a dash of baking powder. Once those ingredients are mixed together, put them in a dish, and place it in the oven at 350 degrees for 15 minutes. Enjoy!
06
Chocolate Strawberry Baked Oats
Want to make a breakfast that will impress? We've got you covered. This baked oats recipe requires a banana, eggs, oats, vanilla extract, baking powder, cinnamon, cocoa powder, almond milk, and flour. Top it off with strawberries, honey, and whatever else you please.
07
Vanilla Cupcake Baked Oats
This vegan and dairy-free recipe is about to sweep you off your feet. Complete with protein powder and a hint of maple syrup, these oats are sweet, hearty, and too good to be true. Bake them for 25 minutes, and then dig in!
08
Carrot Cake Baked Oats
Rise, shine, and eat cake for breakfast! This carrot cake-inspired recipe will wow anyone, so be sure to make it when you have someone special over. Pair the oats with a cup of coffee, and your morning is complete.
09
Lemon Drizzle Baked Oats
Oats plus lemons equal a breakfast like no other. This recipe involves chia seeds, meaning you'll stay full all the way until lunchtime. Pair it with a cold glass of lemon water for best results.
10
Strawberry Cheesecake Baked Oats
Um, did someone say cheesecake? This mouthwatering recipe will make any morning amazing, so be sure to whip it up whenever you get the chance. You'll get spoonfuls of berries, oats, and cream cheese that'll make you wish it was breakfast all the time.
11
Chocolate Peanut Butter Baked Oats
Chocolate chips, oats, and nuts work together to make this recipe one to remember. With a banana and almond milk base, this recipe is healthy, satisfying, and too good to be true. Who's hungry?
12
Peanut Butter Cookie Baked Oats
Cookies for breakfast? Yes, please. Complete with only six ingredients, this baked oats recipe is easier than ever to recreate in your kitchen. Enjoy the finished product with a cup of coffee, and your day will be off to a good start.
13
Chocolate Banana Baked Oats
If you like chocolate-covered bananas, then this recipe will hook you. The sweet flavors of the banana mixes perfectly with the smooth chocolate, making every bite of these a dream come true. Feel free to add as many chocolate chips as you please.
14
Salted Chocolate and Banana Baked Oats
Vegan and gluten-free, this recipe is about to be your new go-to. With sweet chocolate flavors and a dash of salt, your taste buds won't be ready for this amount of deliciousness. Don't say we didn't warn you!
15
Chocolate Brownie Baked Oats
If we aren't having brownies for breakfast, we don't want it. This recipe combines the two best things in life — chocolate and fruit — leaving you with a meal that's unparalleled. Topped with chocolate drizzle and raspberries, the only thing that would make this better is a hint of whipped cream.
16
Chocolate Orange Baked Oats
Wake up your taste buds in the best way possible with this zesty recipe. It's warm, gooey, and perfectly chocolatey, giving your morning routine a whole new meaning. Just add a cup of tea to make your meal complete.
17
Strawberries and Cream Baked Oats
There's something about strawberries in the morning that's just peak perfection. Complete with white chocolate chips, this baked oats recipe will not only make your whole kitchen smell good, but it will also give you the fuel you need to start your day.
18
Nutella Baked Oats
Yup, you already know this recipe is about to be real good. Nutella, oats, and cocoa powder come together to give you the sweetest breakfast of all. We suggest even making this after dinner if you're in the mood for something delicious and nutritious.
19
Cinnamon Roll Baked Oatmeal
This recipe features a maple cream cheese frosting that's so good, you'll be tempted to eat it for every meal. The cinnamon-flavored oats pack a big punch, meaning this recipe is all you need to make your morning complete.
20
Banana Bread Baked Oats
What do you get when you mix banana bread with oats? An irresistible breakfast, that's what. Sweet bananas and filling oats quickly turn into an easy meal that you can enjoy any day of the week. Top your creation off with fruit, honey, Nutella, and more.
21
Biscoff Baked Oats
Got a sweet tooth? Good, because this recipe is for you. Just combine oats, cocoa powder, baking powder, milk, and Biscoff together, then bake it at 200 degrees for five minutes. Does it get any easier? We think not.
22
Caramel Banana Baked Oatmeal
If you're not a morning person, you will be after you nosh on this. Gooey caramel, fresh bananas, and thick oats work together to make this dish one that's hard to forget.
23
Apple Pie Bakes Oats
This vegan baked oats recipe is healthy, hearty, and oh-so fresh. You'll taste bits of apple sauce, cinnamon, and oats that make every bite a treat. Top it off with peanut butter, honey, almond drizzle, and more to make it even better.
24
Cake Batter Baked Oatmeal
Welp, you had us at "cake batter." This baked oats recipe is so easy, you'll wonder why you haven't been making it for breakfast every day. Cashews, cinnamon, and sprinkles make these bites ultra drool-worthy.
25
Pumpkin Pie Baked Oats
Let's face it, even when it's not pumpkin pie season we're still thinking about it. If you need your pumpkin fix, try this recipe. It's sweet and delicious while also being healthy and vegan. Yum!
26
White Chocolate and Orange Baked Oats
Ready to get cooking? Good! Tangy orange flavors and sweet chocolate effortlessly work together in this recipe giving you the best of both worlds.
27
Peanut Butter and Jam Baked Oats
Versatile, easy, and absolutely mouthwatering, diving into gooey peanut butter and sweet jam makes this recipe a hit. Complete with protein-packed ingredients, this breakfast idea will make you drool before you even get out of bed.
28
Raspberry Melting Peanut Butter Baked Oats
If you like the sweet zest of raspberries (who doesn't?), this is a must-try recipe. Eating it warm is the best way to do it because the melty peanut butter is oh-so good. Enjoy it whenever the cravings strike.
29
Oreo Baked Oats
When Oreos are involved, you know you're in for something good. Oats, cocoa powder, and smashed Oreos make every bite taste like a treat for your taste buds, so dig in!
30
Mixed Berry Baked Oatmeal
These easy bites can be made in minutes, and are great when you need something on the go. With fresh berries and tasty oats, this will be your must-have breakfast item every day of the week.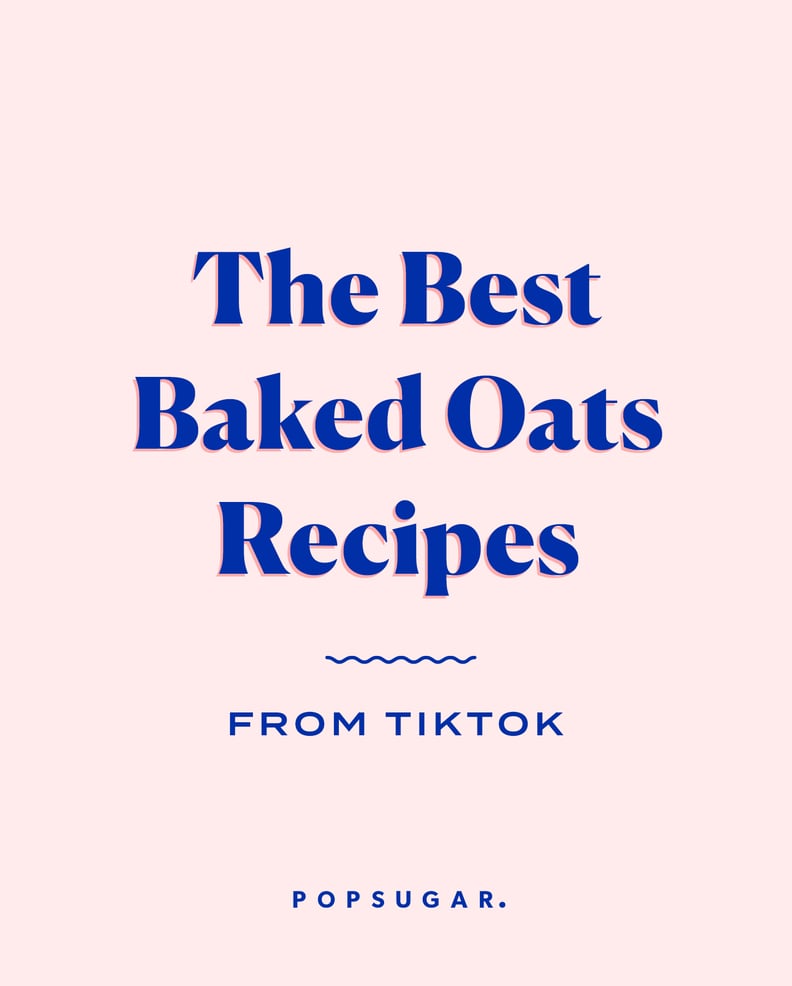 Pin It!