When it comes to hosting gatherings, Trader Joe's party foods can really save the day. With a wide selection of easy-to-make frozen options and savory sweets that'll have everyone reaching for more, this affordable supermarket has everything you need to throw the party of the year while still staying on a budget. And whether you're a first-time host or just looking to refresh your menu for the night, you've come to the right place, because we've chosen our favorite Trader Joe's party food items that are sure to light up your table.
Whether your guests are craving crunchy mac-and-cheese bites or are leaning more toward a light dip, these TJ's items will become a staple at every event from here on out. Truth is, your food options can make or break a get-together, but it's not like you have time to whip up homemade everything before your friends come over. That's why we love these premade, easy-to-make snacks, hors d'oeuvres, and bite-size delights, which are truly so tasty, you might even be tempted to hold some back for leftovers tomorrow. (We promise not to tell your guests.) Read ahead to see our favorite Trader Joe's party food picks, and don't forget to grab a couple of bottles of cheap wine while you're at it!
Prices and products may vary by Trader Joe's location.
— Additional reporting by Erin Cullum, Lauren Harano, and Maggie Ryan
01
Trader Joe's Fancy Cheese Crunchies
Think of these delicious Fancy Cheese Crunchies as a step up from your traditional Cheetos or pretzel appetizers, but without sacrificing any of that cheesy, comfort-food deliciousness. Plus, they're the perfect Trader Joe's party food, since they require zero effort and are a total crowd pleaser: just pour them into a bowl and get snacking.
02
Trader Joe's Pão D'Água Rolls
Pop these tasty rolls in the oven for a few minutes and serve them next to your favorite TJ's dip or spread for a light and satisfying side dish. Even better? Throw together a TikTok-approved butter board.
03
Trader Joe's Mini Maple Walnut Biscotti
The crunchy, maple-y goodness of Trader Joe's Mini Maple Walnut Biscotti just can't be topped. Serve it with some postdinner coffee or as a light dessert to satisfy your sweet tooth.
04
Trader Joe's Crispy Rice Salmon Bites
Give your guests the fish fix they are looking for when you present them with these crispy salmon balls. Made with tender Atlantic salmon battered in wheat flour and rice batter, it's safe to say that these will melt in anyone's mouth. Pair with the dip of your choice.
05
Trader Joe's Cranberry Baked Camembert Cheese
Similar to Brie, just made in a different part of France, this creamy, flavored-filled cheese makes a fancy and easy appetizer for any gathering. Just bake for a bit, and add nuts, honey, and jam to make this Trader Joe's party food complete.
06
Trader Joe's Mini Cheesecake Cones
Stuffed to the brim with rich cheesecake, these handheld almond cones are sure to be a party favorite.
07
Trader Joe's Artisan Honey Baguette
No cheese board is complete without a fluffy baguette! This honey-flavored bread goes hand-in-hand with butters, jams, cheeses, and even on its own.
08
Trader Joe's Turkey Meatballs
Swap red meat for these tasty Trader Joe's Turkey Meatballs. Since they're pre-cooked, placing them on a platter and serving them as appetizers for guests doesn't get any easier.
09
Trader Joe's Oven-Baked Cheese Bites
Trader Joe's crispy cheese bites are made with 100-percent cheese, making them the perfect Trader Joe's party snack for guests who are keto or gluten-free.
10
Trader Joe's Cornbread Bites
Stuffed with pepper jack cheese and serrano chile peppers, the Trader Joe's cornbread bites have a spicy kick. The gooey filling alone will have your guests swooning, and their crunchy exterior makes them that much more delicious.
11
Trader Joe's Breaded Mozzarella Cheese Sticks
We're not going to lie: we've definitely eaten Trader Joe's Breaded Mozzarella Cheese Sticks for dinner. But they work just as well as party food!
12
Trader Joe's Pastry Pups
If you're in a pinch and need a tasty appetizer that requires zero effort, try the Trader Joe's Pastry Pups. They're essentially pigs in a blanket, but without the added effort of wrapping hot dogs in croissant rolls.
13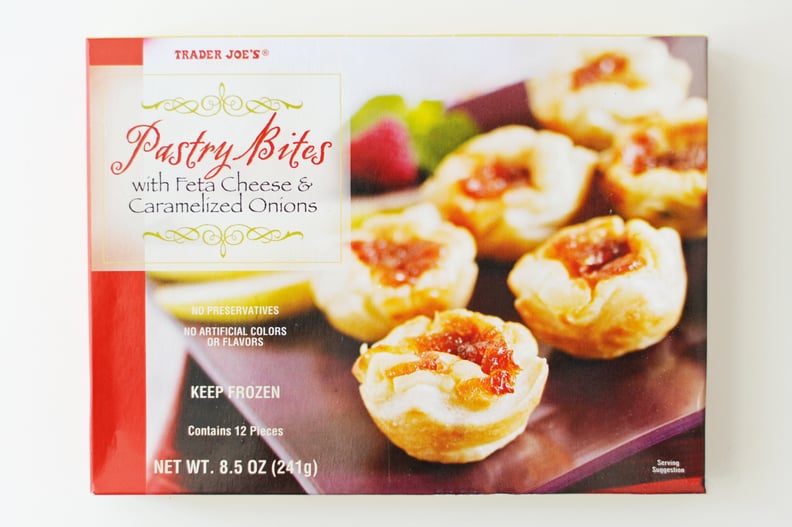 Trader Joe's Pastry Bites With Feta Cheese and Caramelized Onions
These feta and caramelized onion bites are totally addicting, and they just look like they belong in a spread of appetizers.
14
Trader Joe's Mini Quiche
Trader Joe's Mini Quiches will be the talk of your next party. Filled with mushrooms, swiss cheese, bacon, and sweet onions, they're mouthwatering apps whether you're hosting brunch or happy hour.
15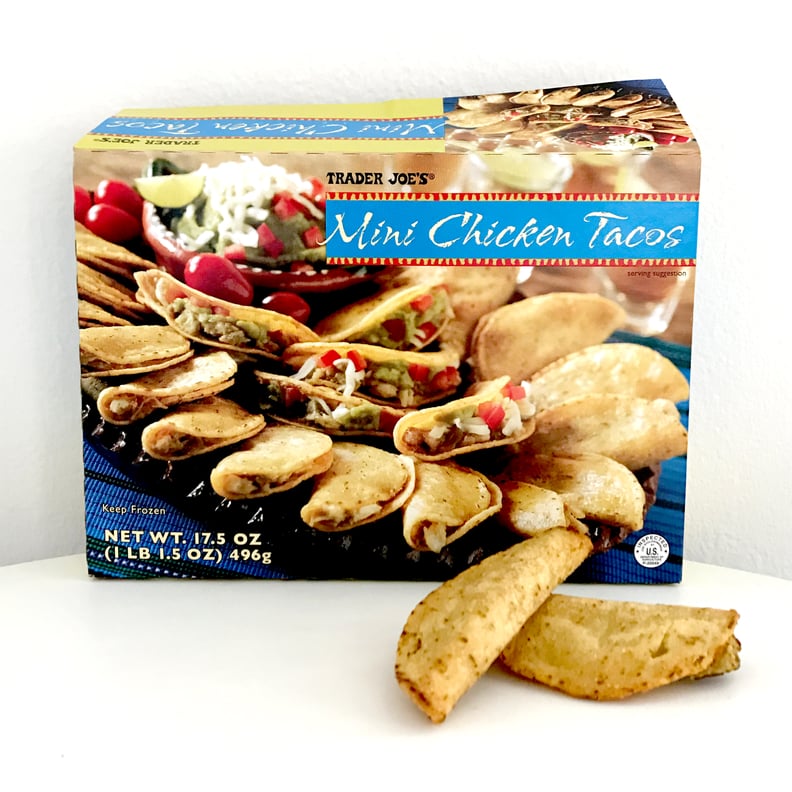 Trader Joe's Mini Chicken Tacos
How cute are these?! Corn tortillas filled with chicken, green chiles, jalapeños, and cilantro, Trader Joe's Mini Chicken Tacos are flavorful enough to serve on their own. You can also dress them up with individual cups of guacamole or salsa to make them even more party-ready.
16
Trader Joe's Spizzico di Pizza
There's no need to be fancy with appetizers, especially when almost everyone loves pizza. Ideal for game days, dinner parties, or whatever else you have in store, these Trader Joe's Spizzico di Pizza bites will be a fan favorite.
17
Trader Joe's Pimento Cheese Puffs
A puff pastry filled with pimento cheese, uncured bacon, and caramelized onions? Sign us up. These frozen pastries taste amazing crisped in the oven and make a great Trader Joe's party appetizer.
18
Trader Joe's Mac and Cheese Bites
These mac and cheese balls are dangerously delicious. If you're grabbing this Trader Joe's product for a party, make sure you buy extra — they'll be gone in a flash.
19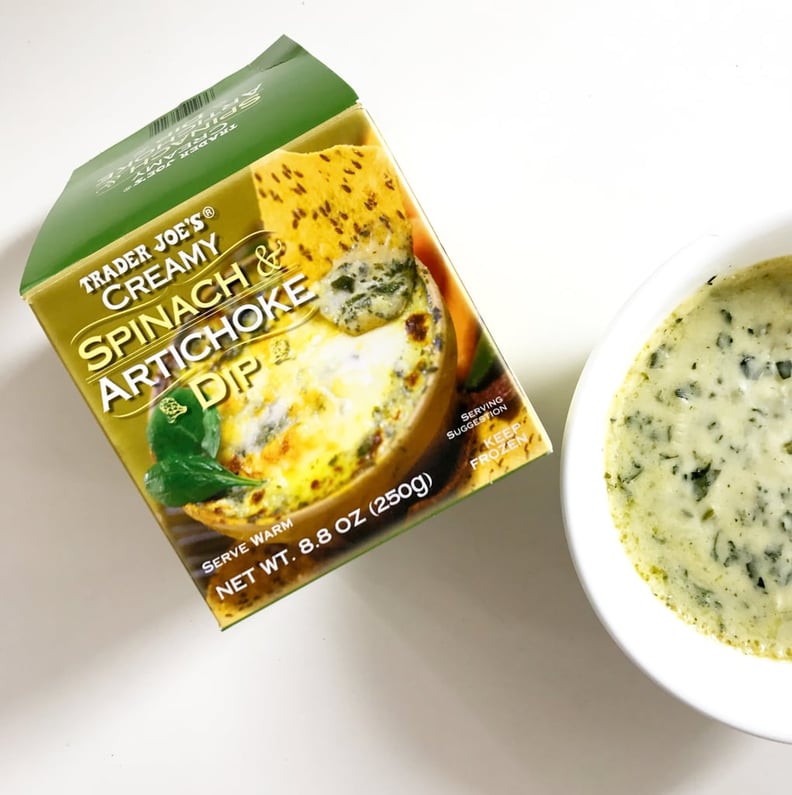 Trader Joe's Spinach and Artichoke Dip
This spinach and artichoke dip will satisfy all your party-goers, whether it's with chips, veggies, or pita bread.
20
Trader Joe's Roasted Garlic Hummus
Roasted garlic hummus (with an unbeatable price) is always sure to win over a crowd! Be sure to grab some pita chips if you're serving this Trader Joe's party food at your next shindig.
21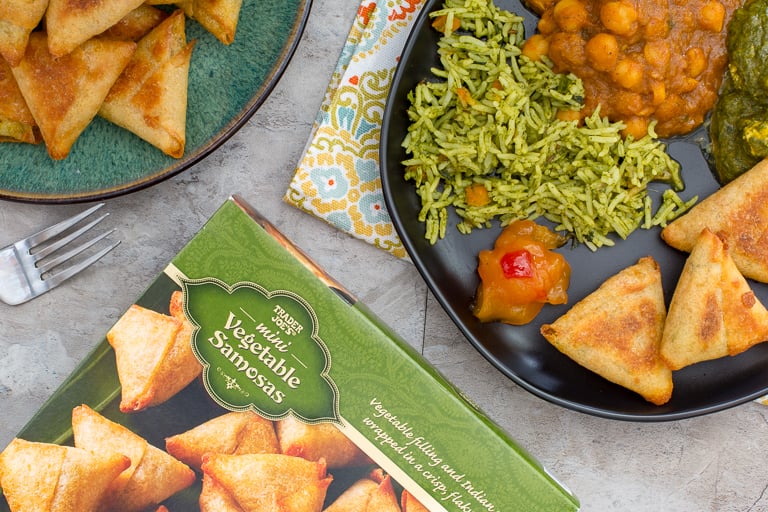 Trader Joe's Mini Vegetable Samosas
TJ's veggie samosas taste like they're made from scratch, but can be made in a fraction of the time. Not to mention, they're vegetarian-friendly!
22
Trader Joe's Everything but the Bagel Greek Style Yogurt Dip
TJ's Everything but the Bagel dip — made with the beloved Everything but the Bagel seasoning — is the perfect addition to any charcuterie spread. With a creamy texture and tons of flavor, it's exactly what you want from a party dip.
23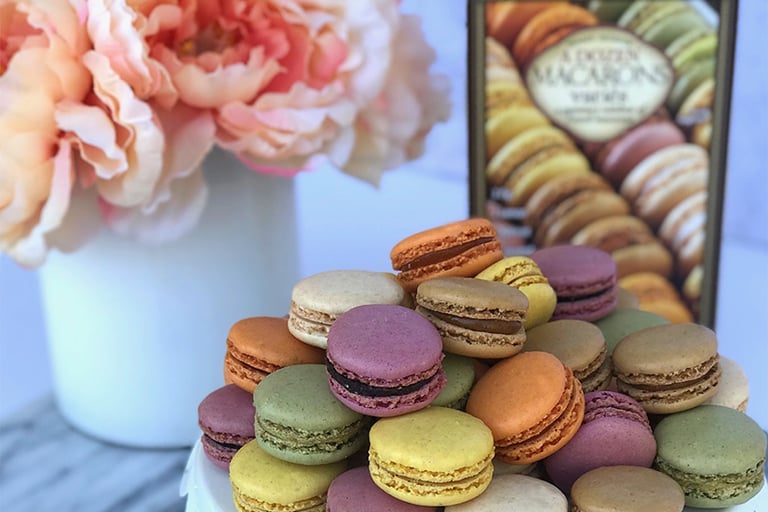 Trader Joe's Frozen Macarons Variés
You'd be shocked that after defrosting these French macarons, they look and taste as if they came from a fancy bakery.
24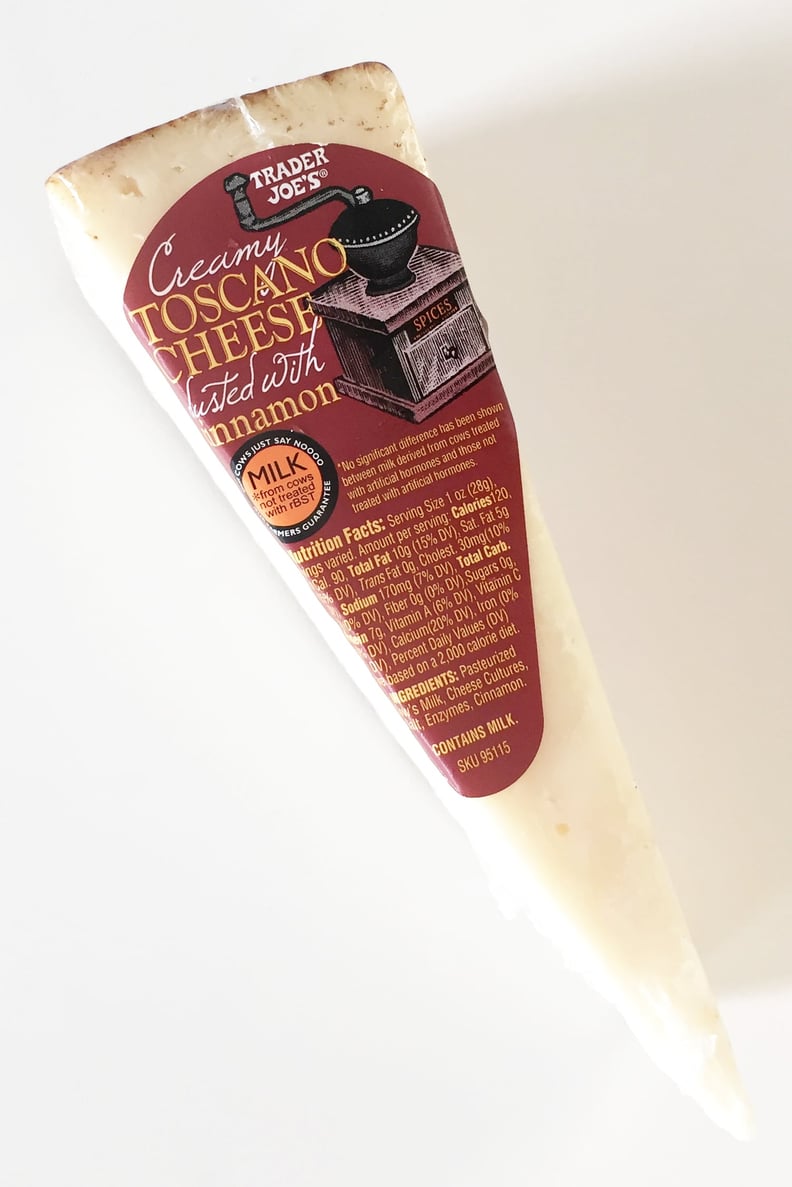 Trader Joe's Creamy Toscano Cheese Dusted With Cinnamon
A charcuterie board must-have, this Toscano cheese is lightly flavored with cinnamon, making it a treat for your taste buds. The cinnamon spices seep into the creamy cheese to create a mouthwatering affair.
25
Trader Joe's Burrata, Prosciutto & Arugula Flatbread
You can't beat the price of this delicious oven flatbread, especially since it's ready in just 12 minutes. Pop it in the oven before guests come over, and you'll have the perfect Trader Joe's party food ready to go.
26
Trader Joe's White Truffle Potato Chips
Satisfy your savory cravings with these organic white truffle potato chips. Be sure to choose a good Trader Joe's dip to pair them with!
27
Trader Joe's Organic Salty Squares
TJ's organic salty squares are just like a saltine and great for combining with cheese. Keep these on hand for when unexpected company shows up.