TikTok's Breakfast Quiche-Stuffed Bagel Recipe With Photos
These TikTok Quiche-Stuffed Bagels Are My New Favorite Breakfast Recipe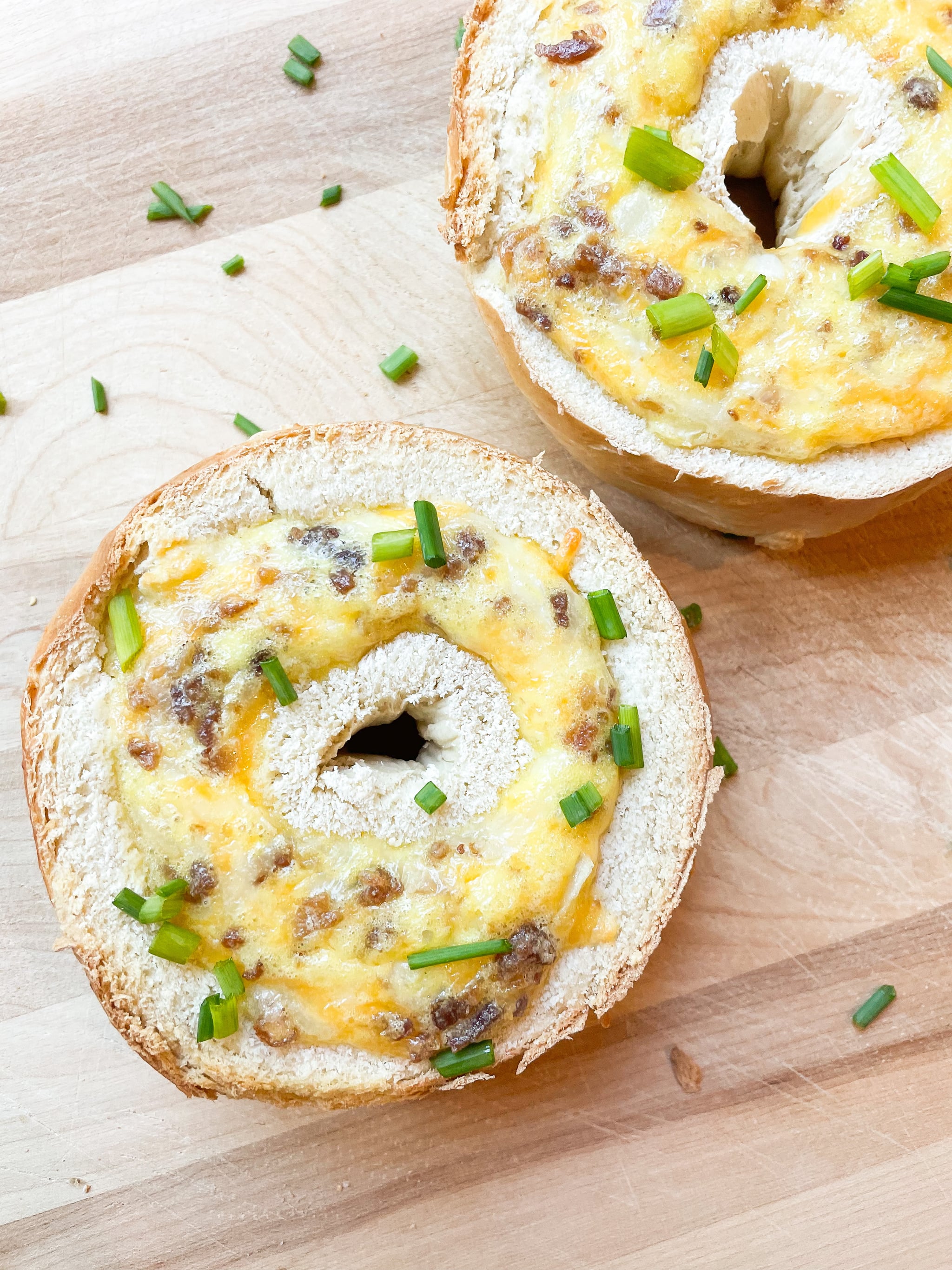 Unless I'm dining out, my breakfast routine is pretty subpar. And by "routine," I mean a tall glass of iced coffee and maybe a slice of toast or a granola bar. I know, I know, breakfast is the most important meal of the day, but it can be hard to carve out the time to make anything more than that, even while working from home.
Luckily for me and breakfast-lovers everywhere, TikToker Chris Collins is here to help. His 30-minute recipe for breakfast quiche-stuffed bagels is a breeze to whip up, and can easily be adjusted to fit your preferred cravings. Not a big sausage fan? Double up on the bacon! (I highly recommend this.) Onions not your veggie of choice? Swap them out for bell peppers, mushrooms, or spinach. Chris uses plain bagels, but if you've got your eyes set on an everything bagel or asiago cheese bagel, go for it!
When it came time to carve the inside of the bagel, I was a little nervous I'd puncture the bottom or rip the inner circle. To my surprise, I didn't. Using bagels that were still soft to the touch made all the difference because I didn't have to apply as much force with the knife. As I moved, the bagels moved with me. Another thing that helped was that I decided to scoop out the bread rather than push it to the outside. Doing this not only prevented me from disfiguring the bagel, but it left more room for quiche filling, too.
Overall, this quiche-stuffed bagel recipe was deceptively easy to make. The directions were incredibly straightforward, and even the bake time was perfect; my bagel was done in 15 minutes on the dot. For taste, I'd rate it four out of five stars, and I'm only docking one star because I want to try making these again with my choice of ingredients. I'd love to add chorizo and a different blend of cheeses. Yum!
With little prep time involved, this meal is ideal for those who find themselves multitasking most mornings. The oven basically does all the work for you. Round up your favorite quiche ingredients and check out the full recipe below.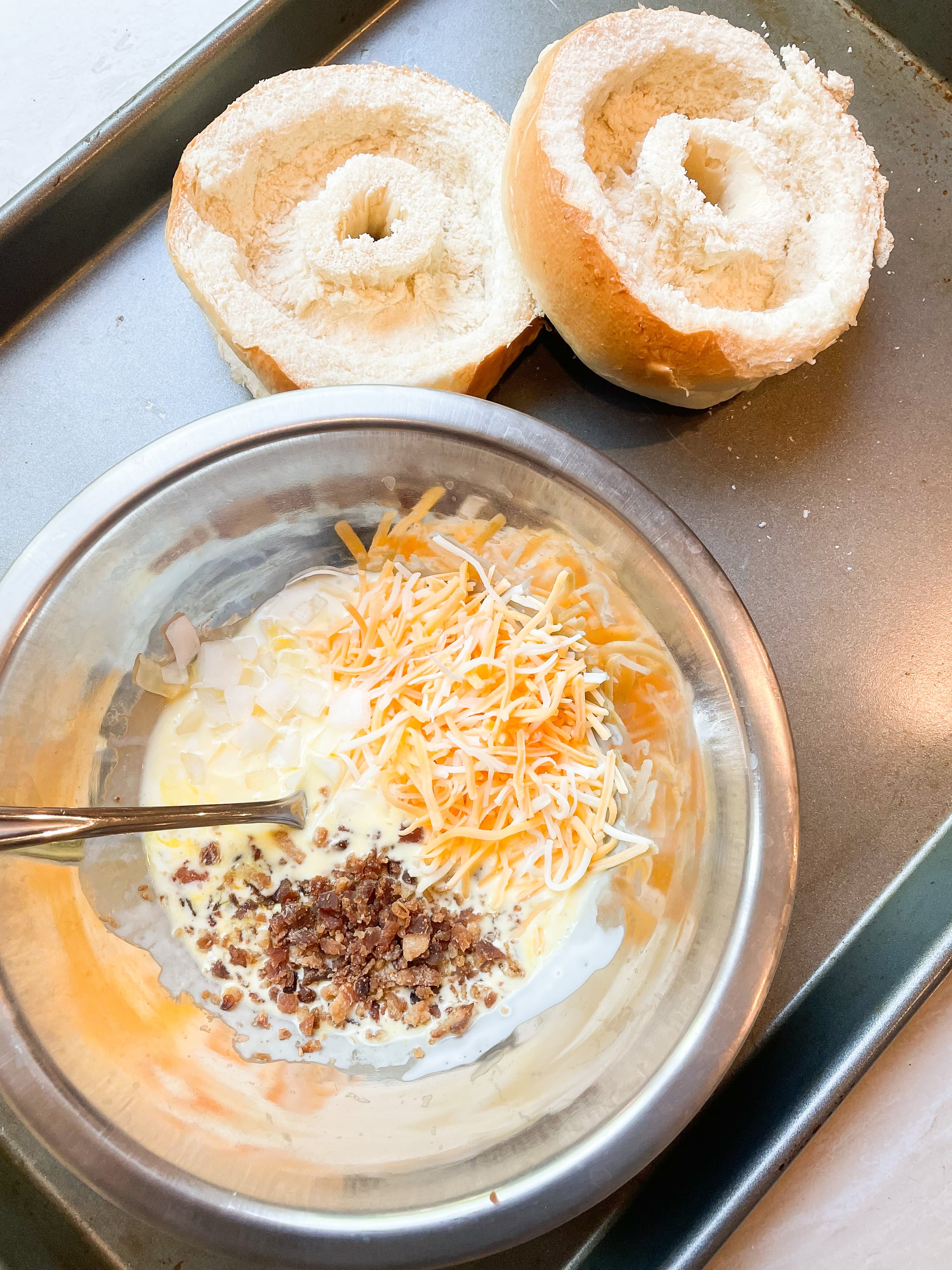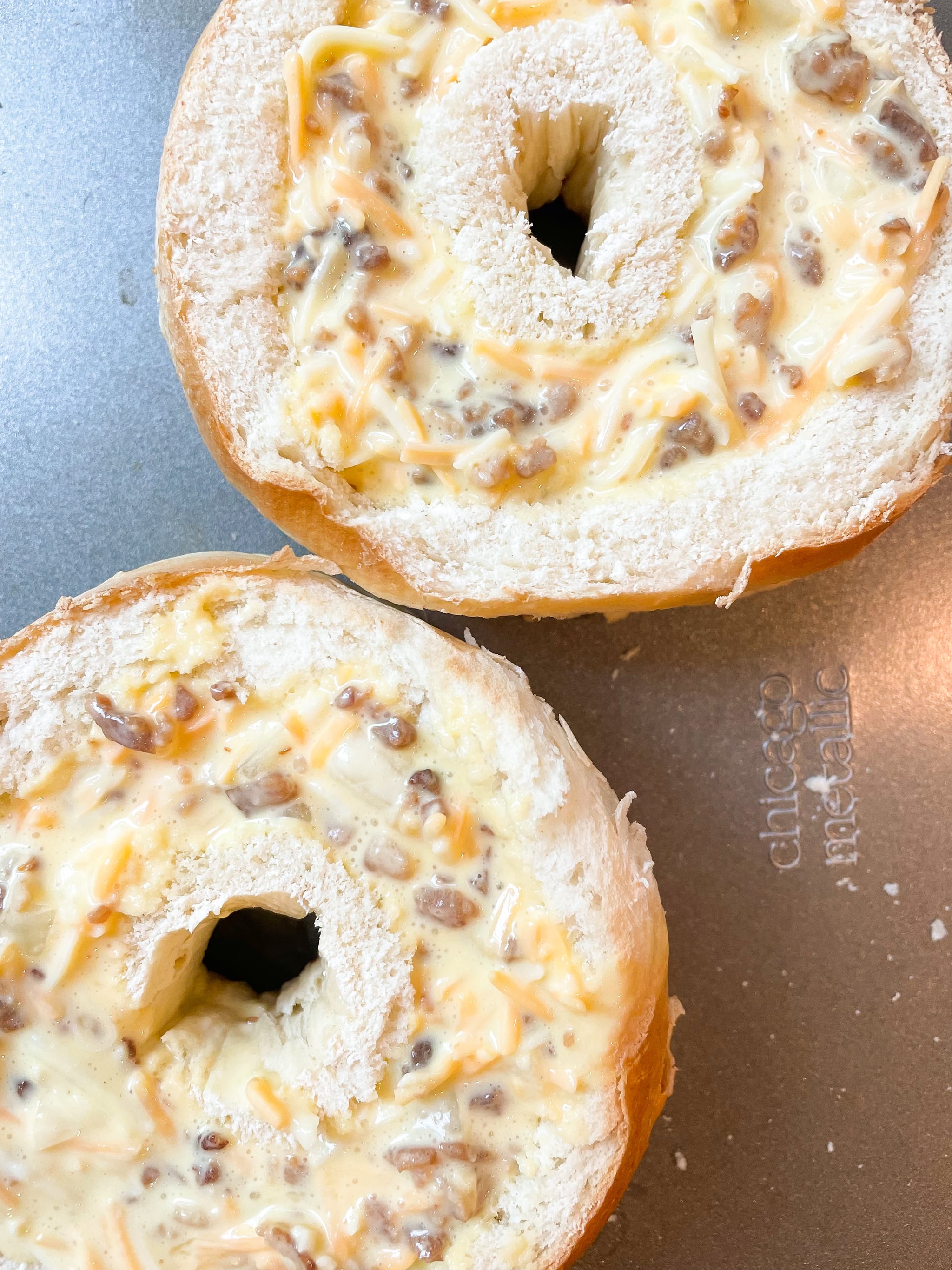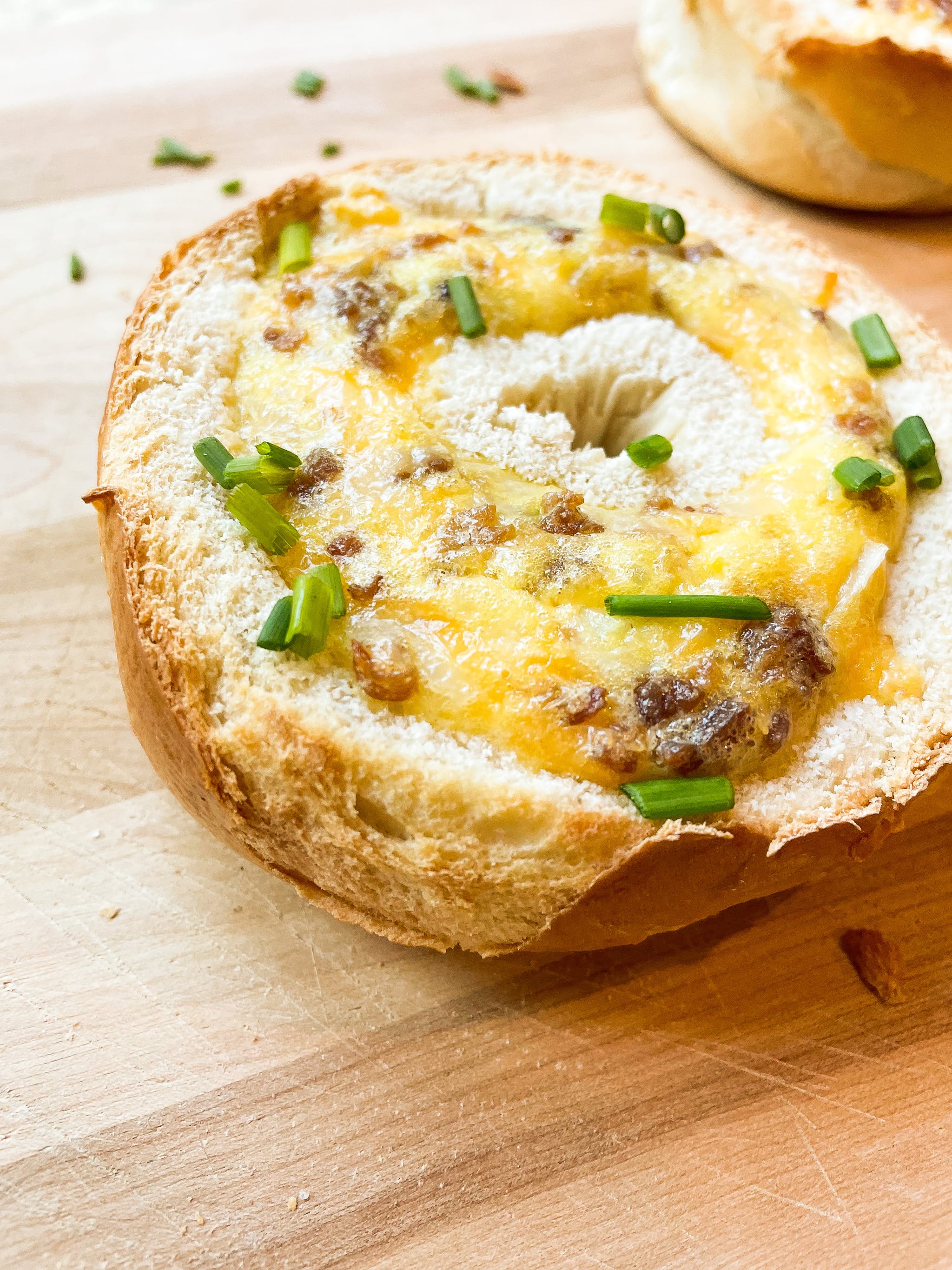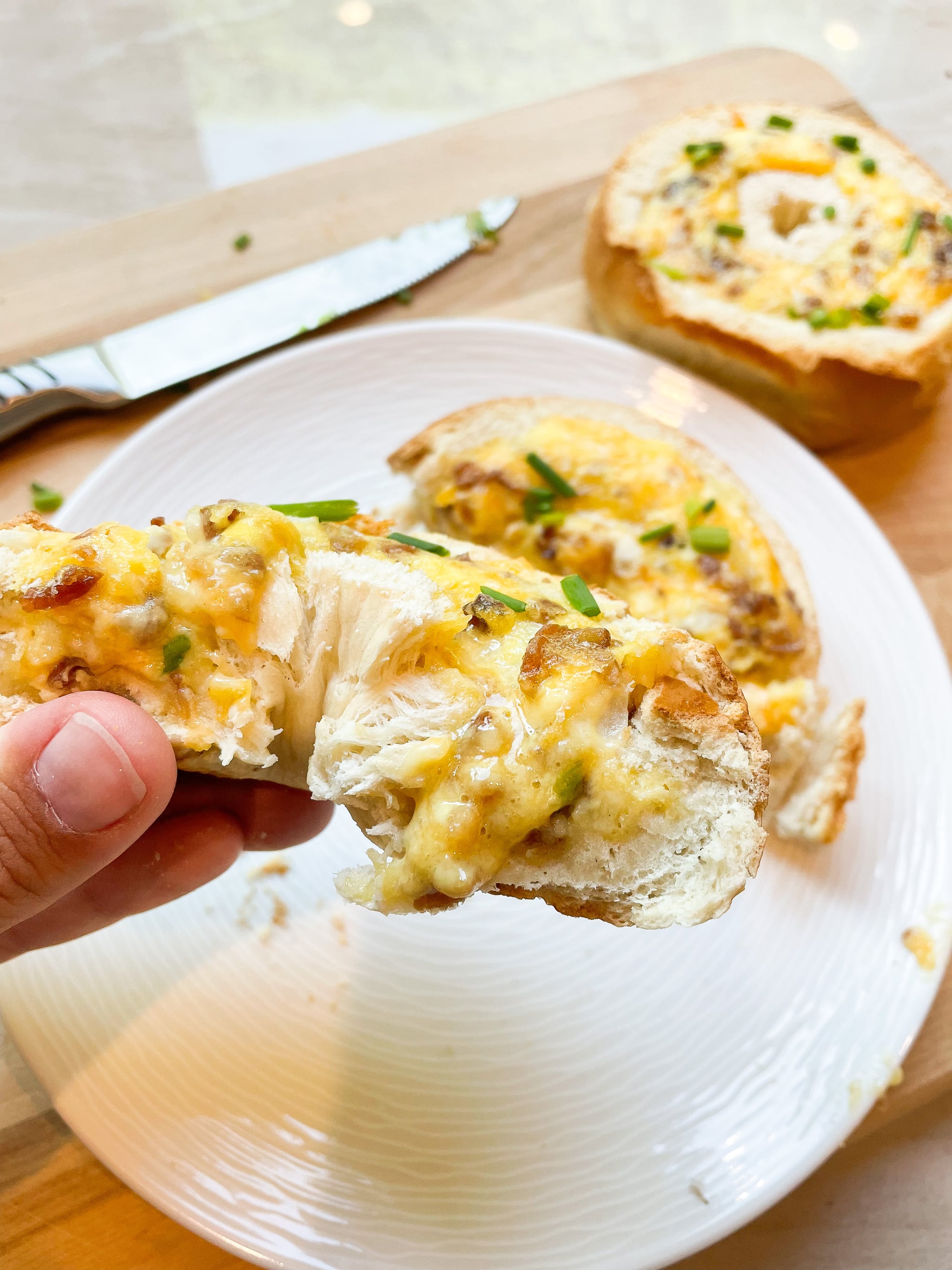 Breakfast Quiche-Stuffed Bagels
TikTok User Chris Collins (@dontgobaconmyheart_)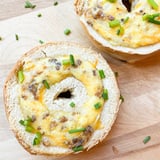 Ingredients
4 whole plain bagels
1.4 ounces cheddar cheese
6 tablespoons heavy cream
4 strips bacon, cooked and chopped
2 eggs, beaten
2 pork sausages, cooked
1/2 small red onion, diced
Salt and pepper to taste
Fresh chives to garnish
Ketchup or sriracha for dipping (optional)
Directions
Preheat your oven to 375°F. In a bowl, whisk together eggs and cream. Add sausage, bacon, cheese, onion, and seasonings to taste, and mix until incorporated. Set aside.
Slice the tops off your bagels — not in half, just a tiny sliver. Then, run a knife around the bagel's inner ring and gently push the bread to the outside of the bagel to make room for your egg filling. Or, if you prefer, you can carefully remove the insides of the bagels completely. Discard the bagel tops.
Place the bagels onto a baking tray (no need to spray) and spoon the quiche filling into your makeshift bagel moats.
Bake for 15 minutes or until the bagels are crispy. Tip: Insert a toothpick to see if the quiche filling is cooked completely. If it comes out clean, it's ready.
Best served immediately and topped with chives. Dunk in your favorite dip (optional).
Information
Category

Breakfast/Brunch

Yield

4 servings

Prep Time

15 minutes

Cook Time

15 minutes

Total Time

29 minutes, 59 seconds
Image Source: POPSUGAR Photography / Emily Weaver