Cameron Diaz's Fall Green Salad and Homemade Croutons Recipe
Cameron Diaz's Crunchy Fall Salad Calls For Avocado and a Drizzly Mustard Dressing
If you're like me, you probably have an ongoing mental list of celebrities whose tables you'd love to be seated at for breakfast, lunch, and dinner. As far as lunch is concerned, Cameron Diaz might have just won me over with a "homegrown" version of her favorite salad from Jean-Georges at the Waldorf Astoria in Beverly Hills. Unlike her Roasted-Corn-and-Pea Salad, the Green Fall Salad is made with kale, broccoli (aka "nature's broom"), avocado, Manchego cheese, homemade garlic croutons, and a champagne vinegar dressing. "This is what I love about it: the crunch of the croutons, the crunch of the broccoli, with the creaminess of the avocado . . . I love crunch," Cameron said.
To give extra dimension to the meal and turn it into a "weirdo salad," Cameron likes to add a pickled egg, which she easily makes by soaking boiled eggs in leftover pickle juice for a few days. Once it's all tossed together, the salad creates a flavorful combination of the vinegary dressing, creamy avocado, soft egg yolk, and fresh mint. So, yes, I've already added all of these ingredients to my shopping list. Check out Cameron's crunchy fall salad recipe ahead, and don't forget the (secret) first step: pour yourself a glass of wine!
Green Fall Salad With Homemade Croutons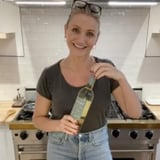 Ingredients
For the Salad:
Broccoli
Avocado
Pickled egg
Kale
Garlic
Red Wine Vinegar
Toasted bread
Butter (or vegan substitute)
Manchego (or your favorite) cheese
Fresh mint
For the Dressing:
Grainy mustard
Champagne vinegar
Olive oil
Directions
Chop up a clove of garlic and let it soak in a small bowl of red wine vinegar. Set aside.
Strip the kale leaves from the stems and tear them into bite-sized pieces before placing them into your salad bowl.
Tear a head of broccoli into small florets, about half an inch long, and place them in the bowl with the kale.
Chop your pickled egg and avocado into small cubes and add them to your salad bowl.
Toast up a slice of bread until crispy all over.
Remove the crusts and cut the remainder of the toast into small, bite-sized cubes.
Heat some butter (or vegan substitute of your choice) in a small saucepan to medium heat and add in your toast cubes.
To the pan, add the garlic you soaked earlier (not the liquid) and a spoonful of the red wine vinegar itself.
Cook the toast cubes until extra crispy, about five minutes.
For the dressing, whisk together your grainy mustard, champagne vinegar, and a drizzle of olive oil. Add salt to taste.
Top the salad with your homemade croutons, grated Manchego (or hard cheese of your choice), and some torn up mint leaves.
Pour the dressing over your salad. Toss to coat, and enjoy!
Image Source: Instagram user camerondiaz
Information
Category

Salads, Main Dishes

Total Time

9 minutes, 59 seconds