TikTok Chicken Kale Summer Salad Recipe With Photos
Grab Your Biggest Salad Bowl: This Chicken Kale Salad Will Be the Star of Your Next Meal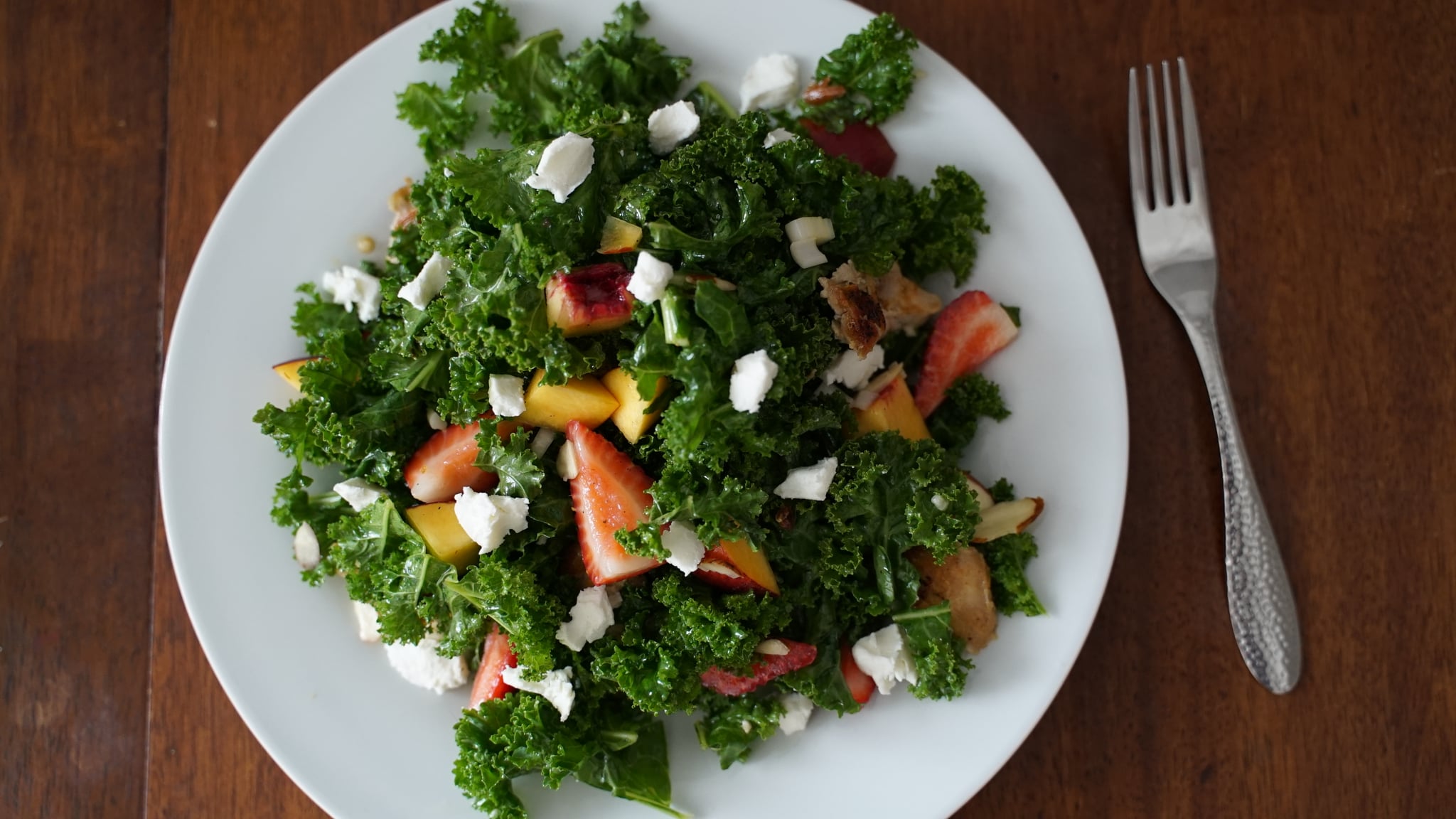 If you're not normally a fan of kale, this salad might change your mind. Kale has a reputation for being on the more bitter and tough side when raw, and it's technically a winter vegetable, best paired with roasted vegetables or included in hearty soups. When used in a salad, kale is often toned down with a mix of other greens and seasoned to bring out its savory qualities.
But this recipe from TikTok user @Violet.Cooks truly lets the kale shine. It's sweeter and brighter than a typical kale salad, and it practically tastes like sunshine in a bowl. That's all thanks to the refreshing combination of flavors and textures: the vibrant peaches and strawberries perfectly balance out the tanginess of the lemon-Dijon-garlic vinaigrette and of course the strong earthiness of the kale.
To top it all off, there's also the creaminess of the goat cheese and the slight crunch of the sliced almonds. If you don't follow a plant-based diet, you can also top it with grilled chicken to add a bit of warmth and heartiness. Every single bite of this salad is an experience that's sure to satisfy your palate. Best of all, the prep work is minimal, and you can pull the whole thing together in 15 minutes. So get ready to enjoy this summertime chicken kale salad, which we're sure will become one of your go-to recipes.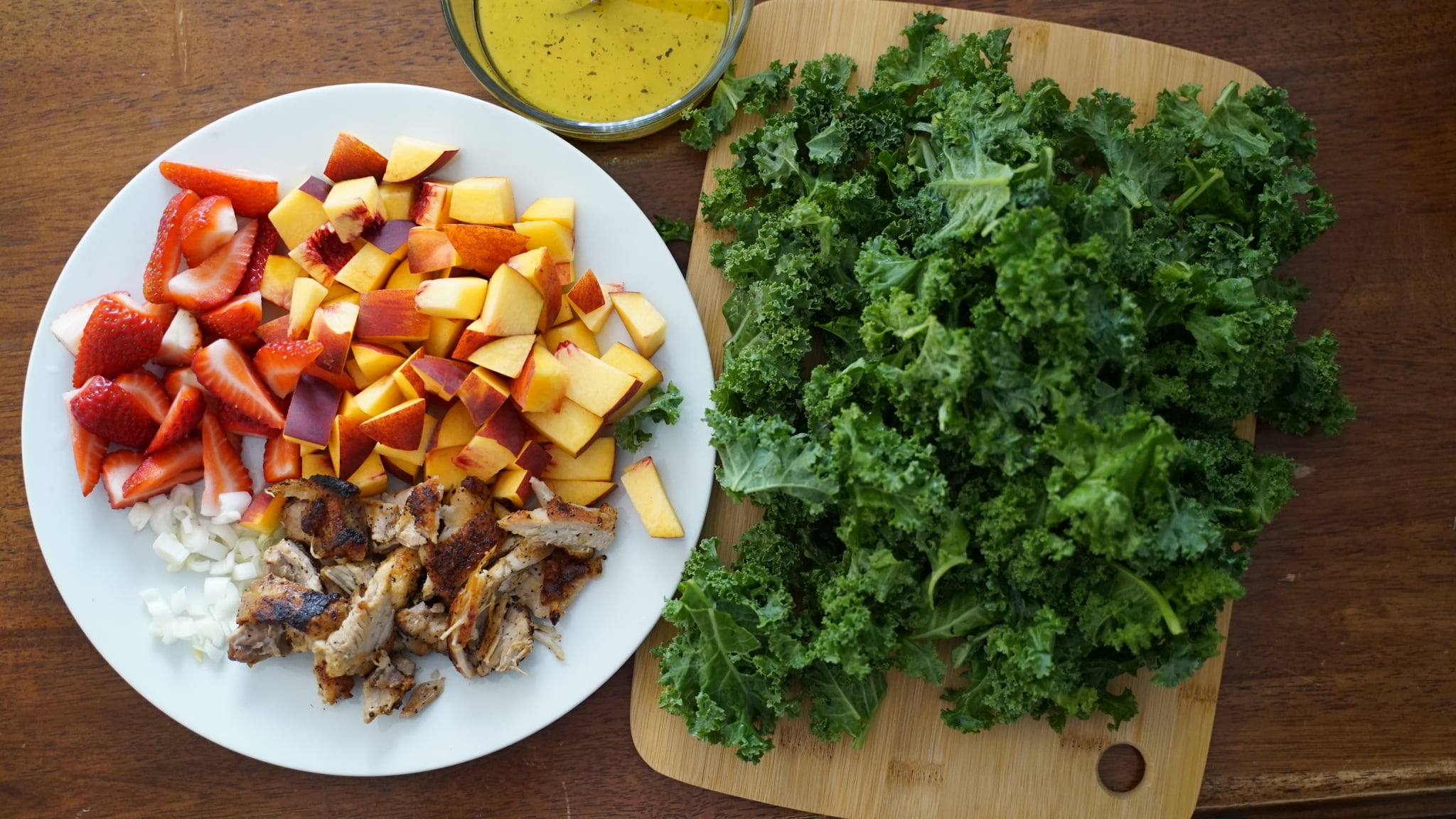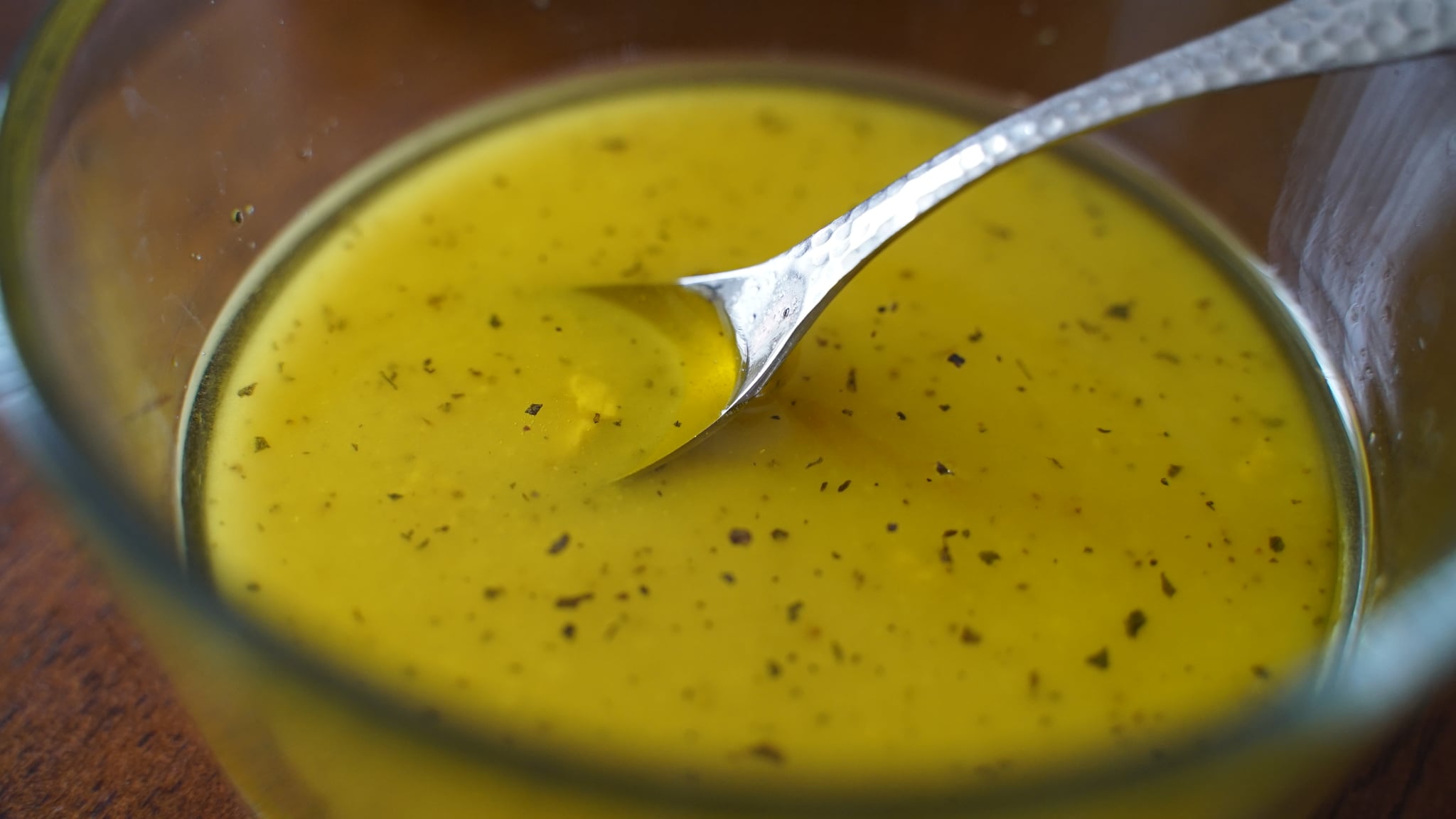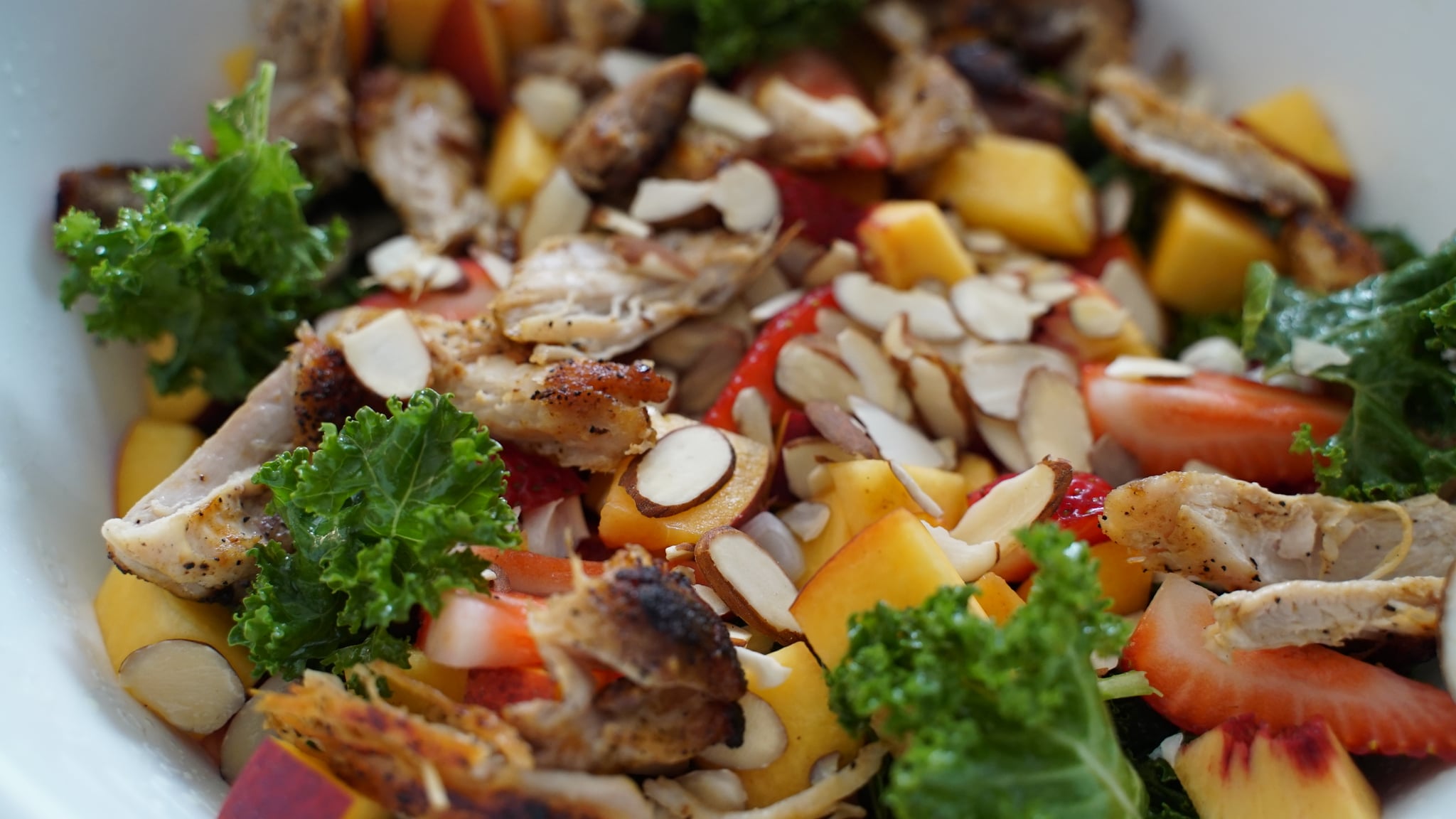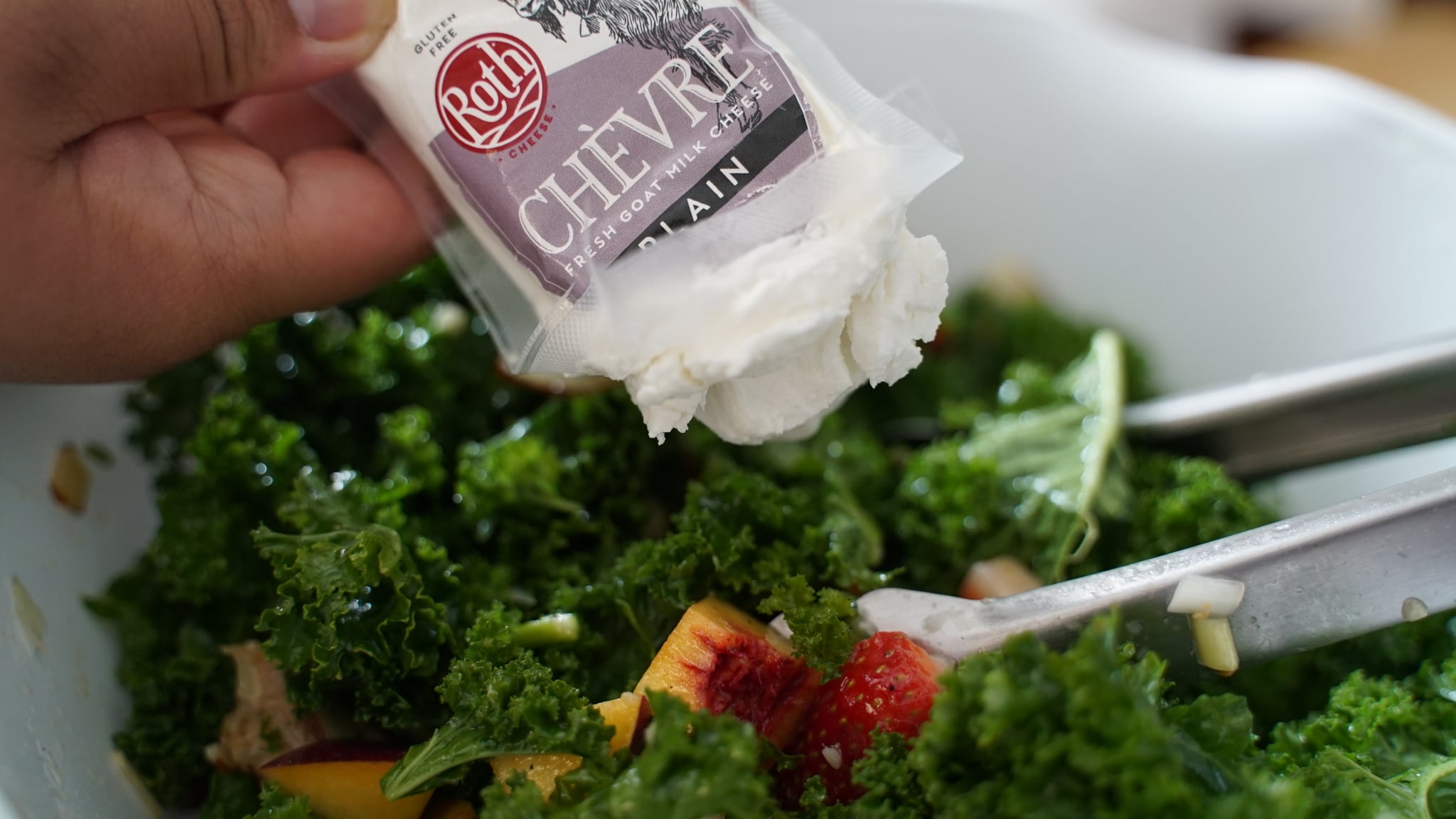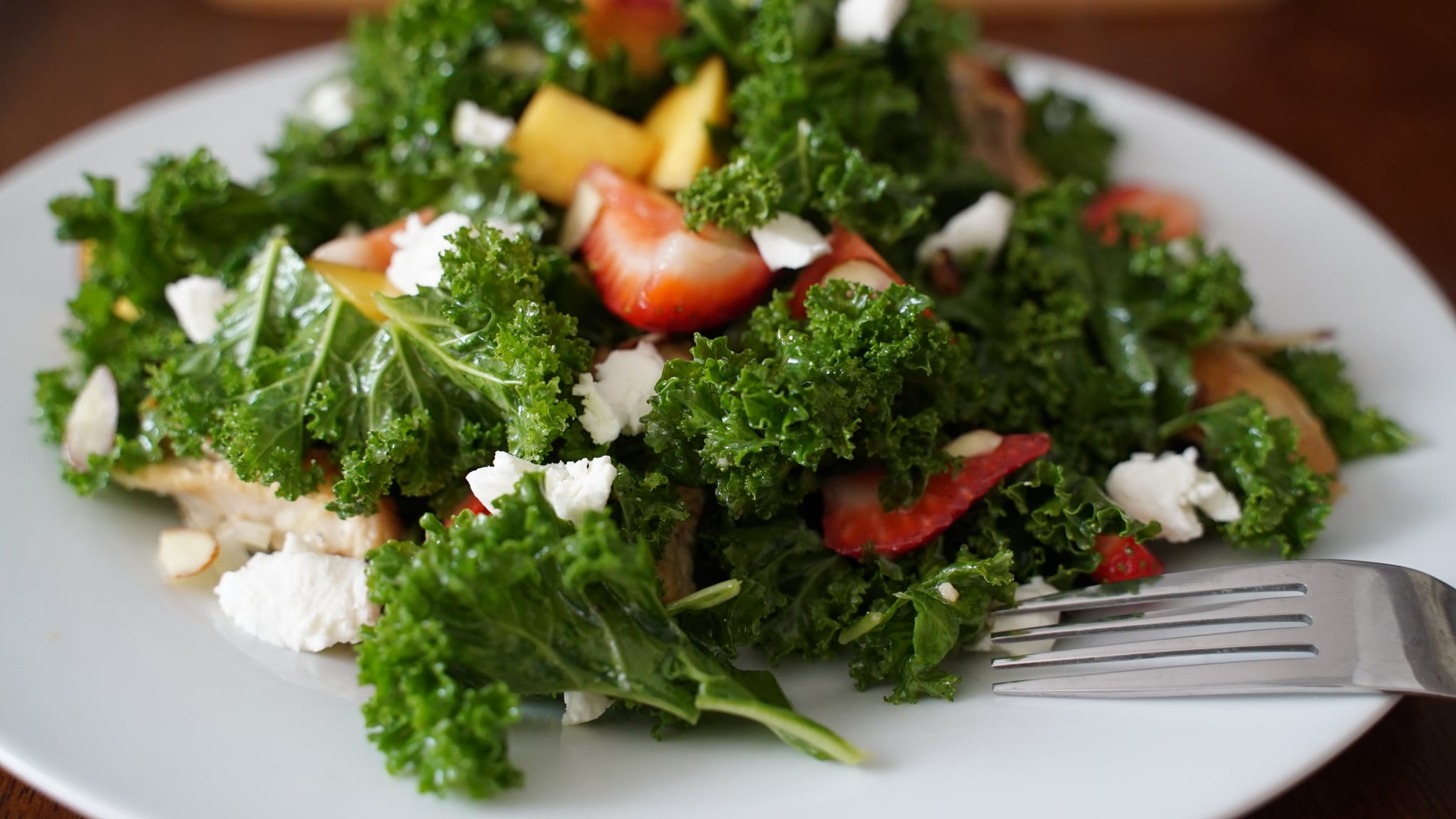 Chicken Kale Summer Salad
TikTok user @violet.cooks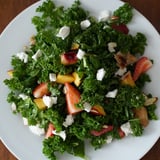 Ingredients
4 cloves garlic
1 tablespoon Dijon mustard
2 juiced lemons (6 tablespoons)
6 tablespoons extra virgin olive oil
1/8 teaspoon sea salt
1/8 teaspoon cracked black pepper
1/2 teaspoon honey
3 peaches
1/2 cup strawberries
1/2 shallot
2 bunches kale
1/2 cup sliced or slivered almonds
2 chicken breasts
Goat cheese to taste
Directions
To make the vinaigrette, mince garlic and combine with Dijon mustard, lemon juice, olive oil, salt, pepper, and honey.
Cut peaches into bite-size pieces, slice strawberries in half, and chop half a shallot.
In a large salad bowl, massage kale for a couple minutes (to tenderize and reduce bitterness) before adding vinaigrette and massaging more.
Add peaches, strawberries, shallots, and sliced almonds.
Grill chicken breasts with your choice of seasoning, and slice into small chunks when cooked through.
Add grilled chicken and goat cheese to salad bowl, and toss until all ingredients are fully combined.
Information
Category

Main Dishes

Yield

1 salad

Total Time

14 minutes, 59 seconds
Image Source: POPSUGAR Photography / Kalea Martin