How to Make Chipotle's Cilantro Lime Rice at Home
How to Make Chipotle's Signature Cilantro Lime Rice at Home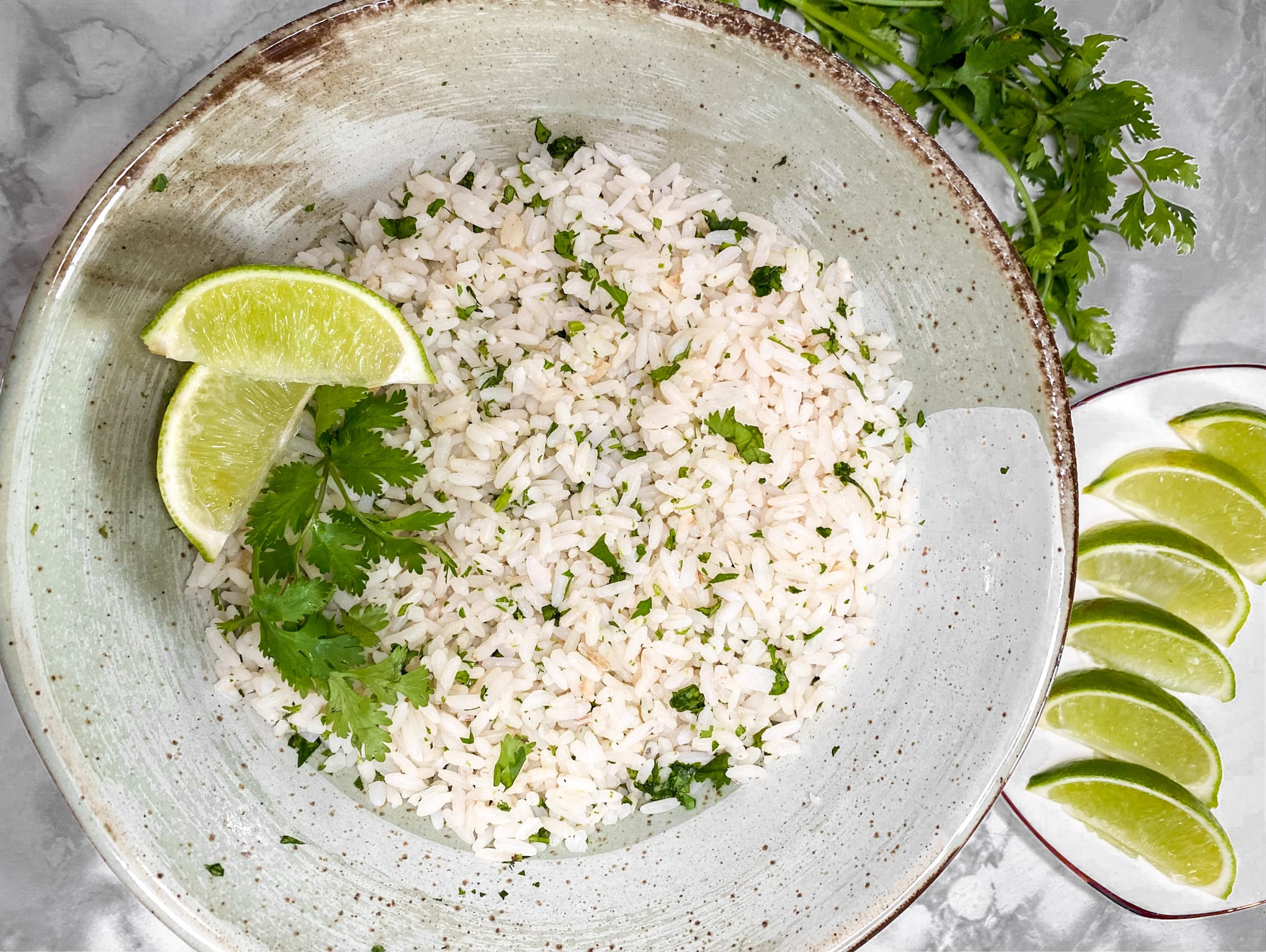 If you are sick of eating plain rice and want a more exiting twist on this classic side dish, then you need to try this copycat recipe for Chipotle's cilantro and lime rice ASAP. With just a few steps that involve minimal (or no) cooking, this rice variation is sure to become an instant classic in your meal-prep routine — at a fraction of the cost of ordering it in store.
Whether buried under a heaping pile of juicy barbacoa and creamy guac or wrapped tightly in an overstuffed burrito, Chipotle's cilantro and lime rice seems to add a certain je ne sais quoi to everything that the popular fast-dining restaurant has to offer. But one of the best parts about making it at home is being able to pair it with absolutely any protein and flavor profile that your heart desires.
From shrimp sautéed in a honey and garlic sauce to baked orange chicken, there's hardly a dish that can't be made better with a serving of refreshing cilantro lime rice alongside it. And I'm happy to report that it is just as easy to make as it sounds.
Depending on your level of comfort in the kitchen, you can decide how much cooking goes into making your cilantro lime rice at home. For a more robust flavor, you can lightly sauté your uncooked rice in oil with a ribbon or two of lime peel (big enough to be able to pick out after the cooking process is complete) before boiling it in water seasoned with salt, a squeeze of lime juice, and grated lime zest. Alternatively, you can skip the cooking process altogether and order a single serving of plain white, brown, or basmati rice from your restaurant of choice, and load it up with fresh lime juice and chopped cilantro at home.
Whatever you decide, the final result is an herbaceous yet tangy flavor profile that is truly unforgettable. Follow the steps ahead to learn how to make your own batch of Chipotle cilantro lime rice at home.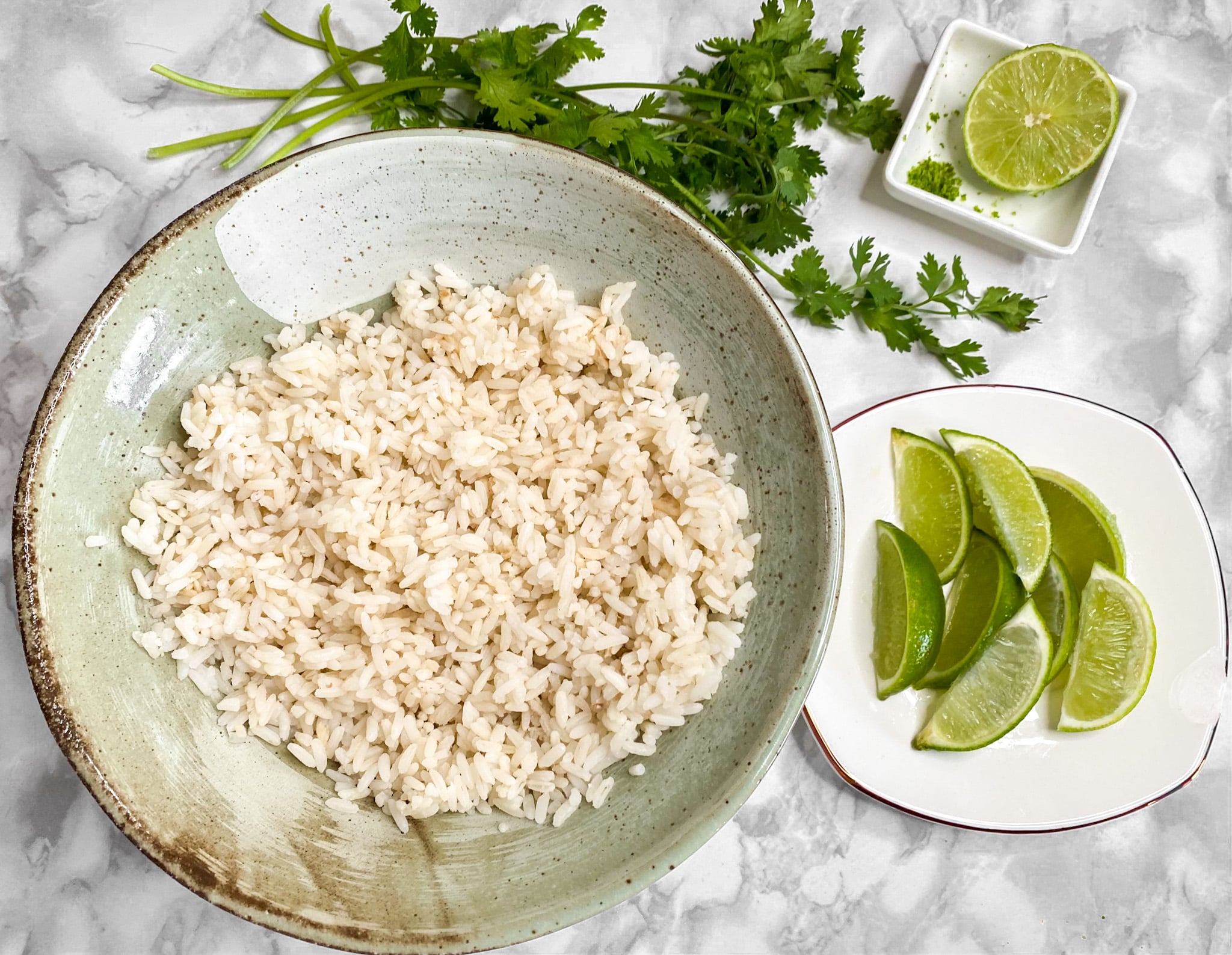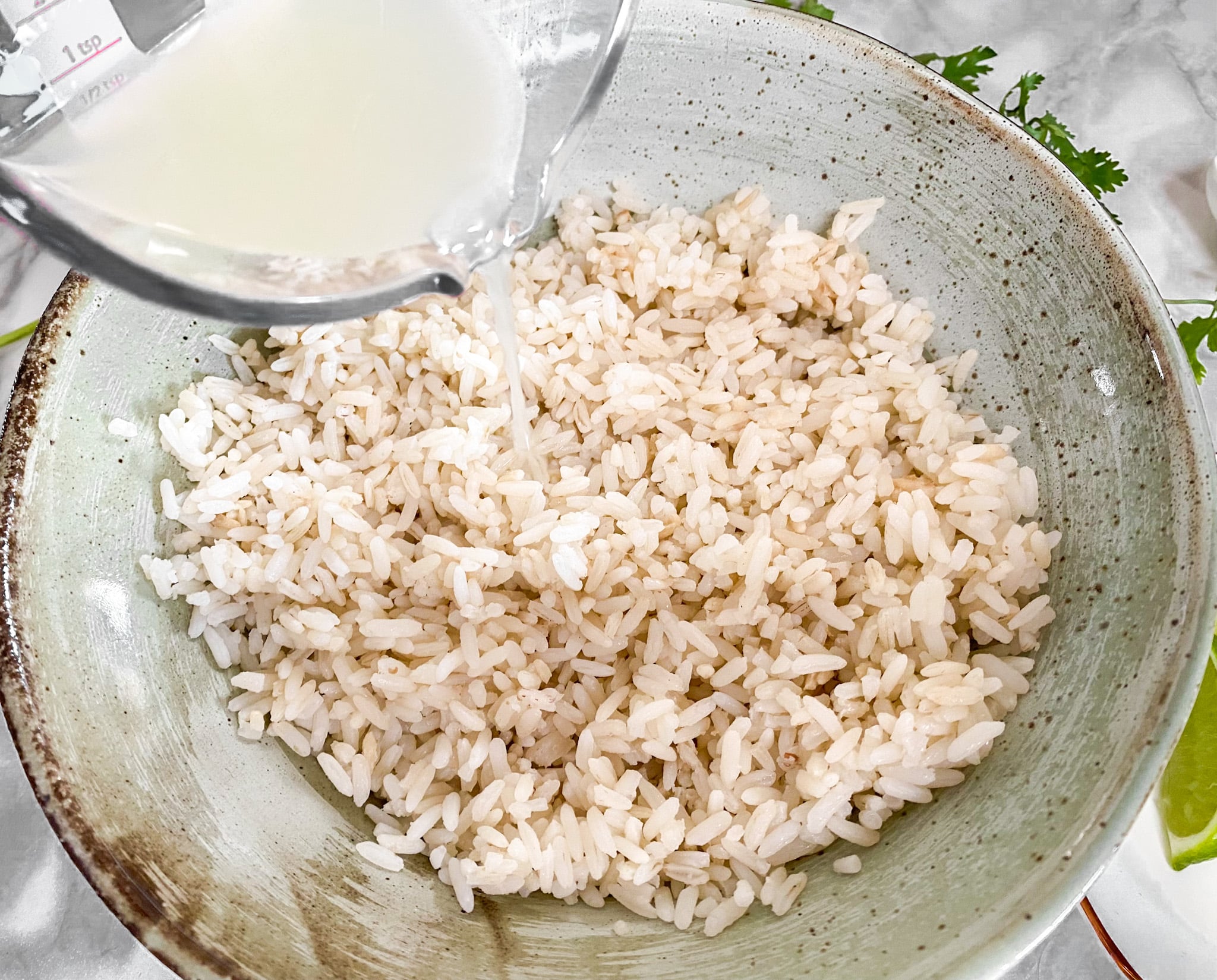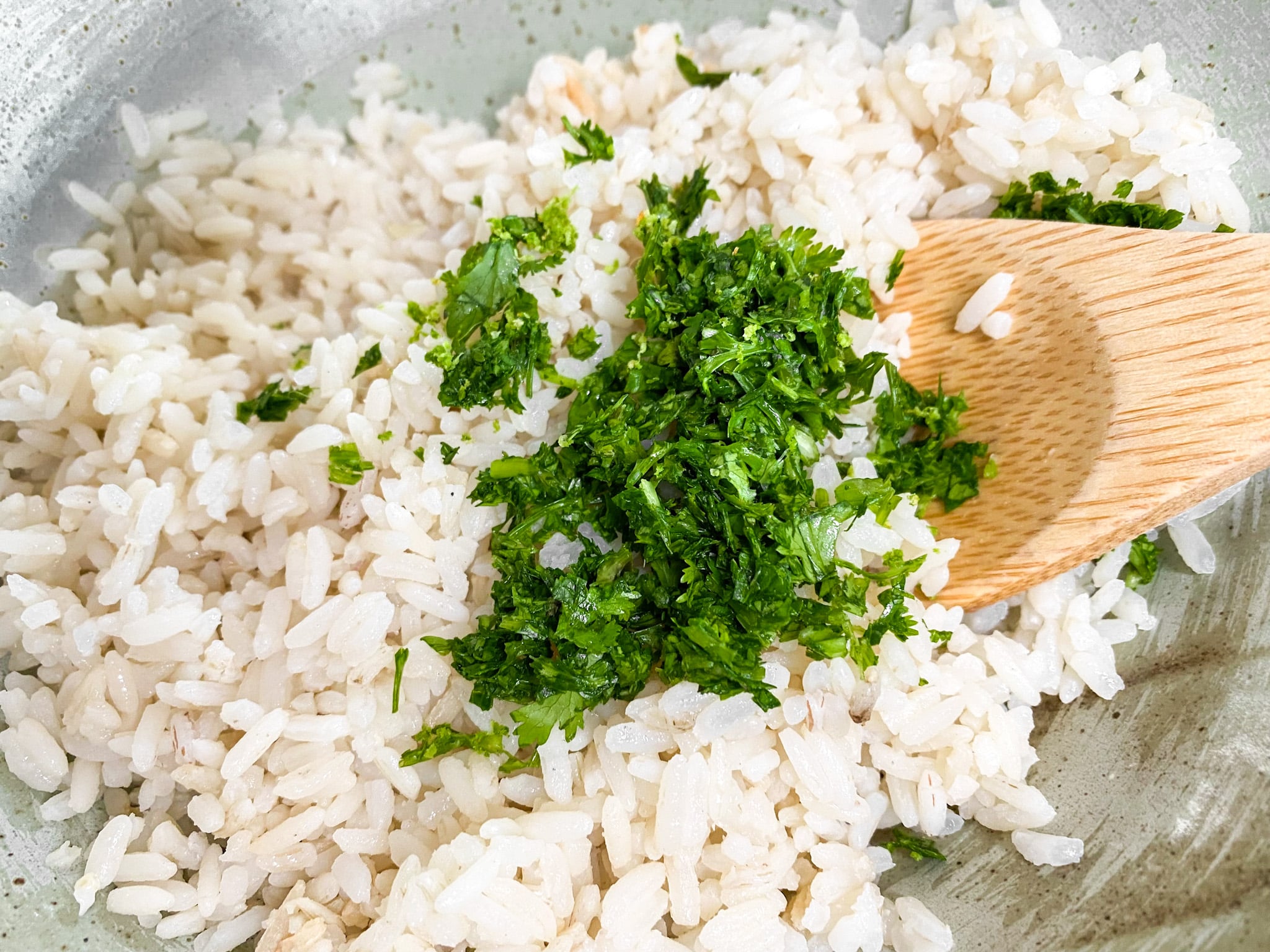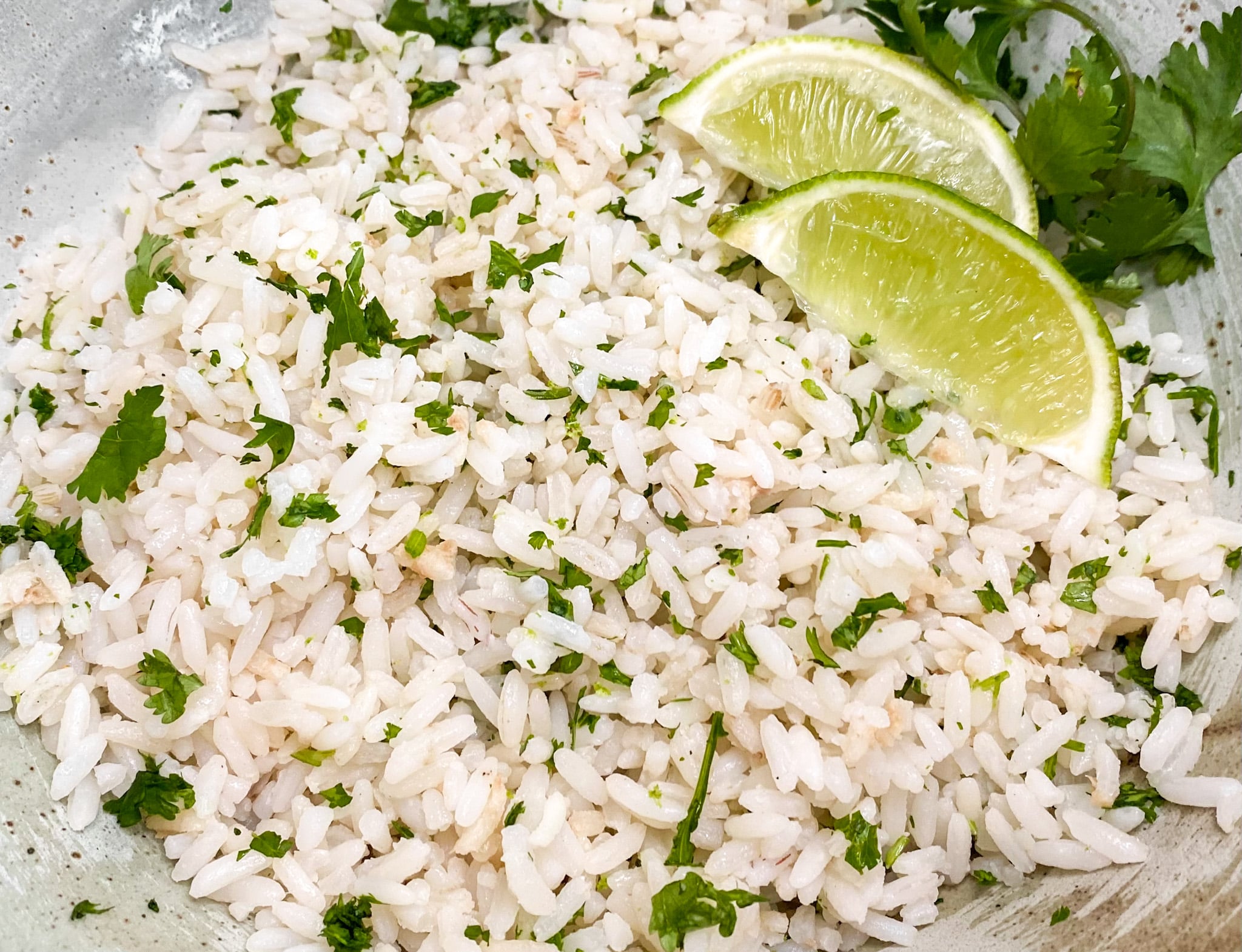 Chipotle Cilantro Lime Rice Copycat Recipe
Orignal Recipe
Notes
If you prefer to use leftover, takeout, or instant rice, simply warm 3-4 cups of cooked rice before continuing with the recipe. You can either microwave the rice in 30-second intervals until fully warmed or quickly heat it up in a skillet on the stovetop.
For 1 cup of white rice, use 2 cups of water.
For 1 cup of basmati rice, use 1 1/2 cups of water.
For 1 cup of brown rice, use and 2 1/2 cups of water.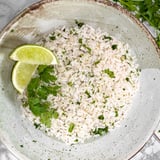 Ingredients
1 cup of uncooked rice (white, brown, or basmati)
2-3 limes, well scrubbed
1/4 cup cilantro, finely chopped
Pinch of salt
Directions
Sauté the uncooked rice in a skillet or heavy-bottomed pot over medium heat with a tablespoon of oil and large ribbon of lime peel until rice is just aromatic and light golden brown before adding water.
If you're using a rice cooker, transfer the toasted rice from the skillet to the rice cooker, then add the required amount of water and a generous squeeze of lime juice before covering with a lid and pressing "on." If you're making rice on a stovetop, add the water and lime juice to the pot of toasted rice, cover, and bring to a boil before reducing the heat and simmering for the amount of time indicated on the package.
Remove the zest from one lime using a Microplane or fine vegetable grater. Slice both limes in half, then squeeze the juice into a small measuring cup or ramekin, making sure to remove any seeds that fall in.
In a large bowl, combine the warm (not hot) cooked rice with the lime juice, zest, and most of the chopped cilantro, saving a teaspoon or so for garnish.
Mix the ingredients together until fully combined, then serve with an extra slice of lime and a sprinkle of cilantro on top.
Information
Category

Side Dishes

Yield

3-4 cups of rice

Prep Time

10 minutes

Cook Time

5 minutes

Total Time

14 minutes, 59 seconds
Image Source: POPSUGAR Photography / Ashley Ortiz