Chrissy Teigen's Coconut Rice Recipe With Pictures
I Don't Want You to Make Chrissy Teigen's Coconut Rice, Because Then There'll Be Less Rice For Me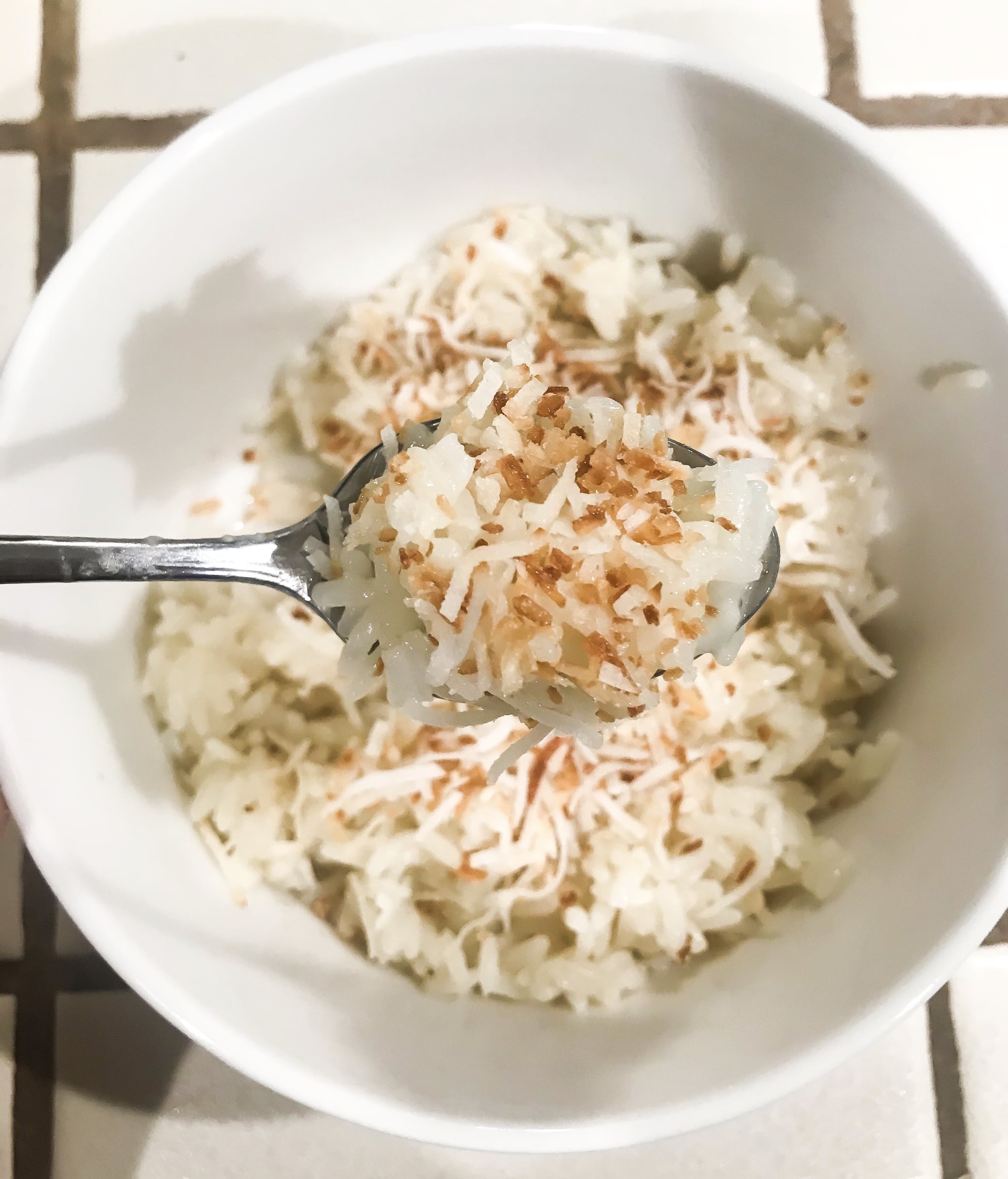 My first time trying coconut rice was on teriyaki chicken night in my college dining hall, and I was instantly obsessed. It felt like such a luxury side dish compared to the greasy foods we were often offered, so when I came across Chrissy Teigen's sweet and salty coconut rice recipe, I knew I had to try it.
I had no doubt the coconut rice would taste amazing — not only is Chrissy an expert in the kitchen, but if my college cafeteria rice impressed me, I knew this had to knock my socks off. The one thing that did pleasantly surprise me about this recipe, which is from Chrissy's Cravings cookbook, was the sweet lingering aroma it produced while cooking. I mean, my kitchen practically smelled like a Bath & Body Works candle (and I mean that in the most appetizing way!). Additionally, I loved how easy this dish was to make. Keep reading for the full recipe and a few additional tips!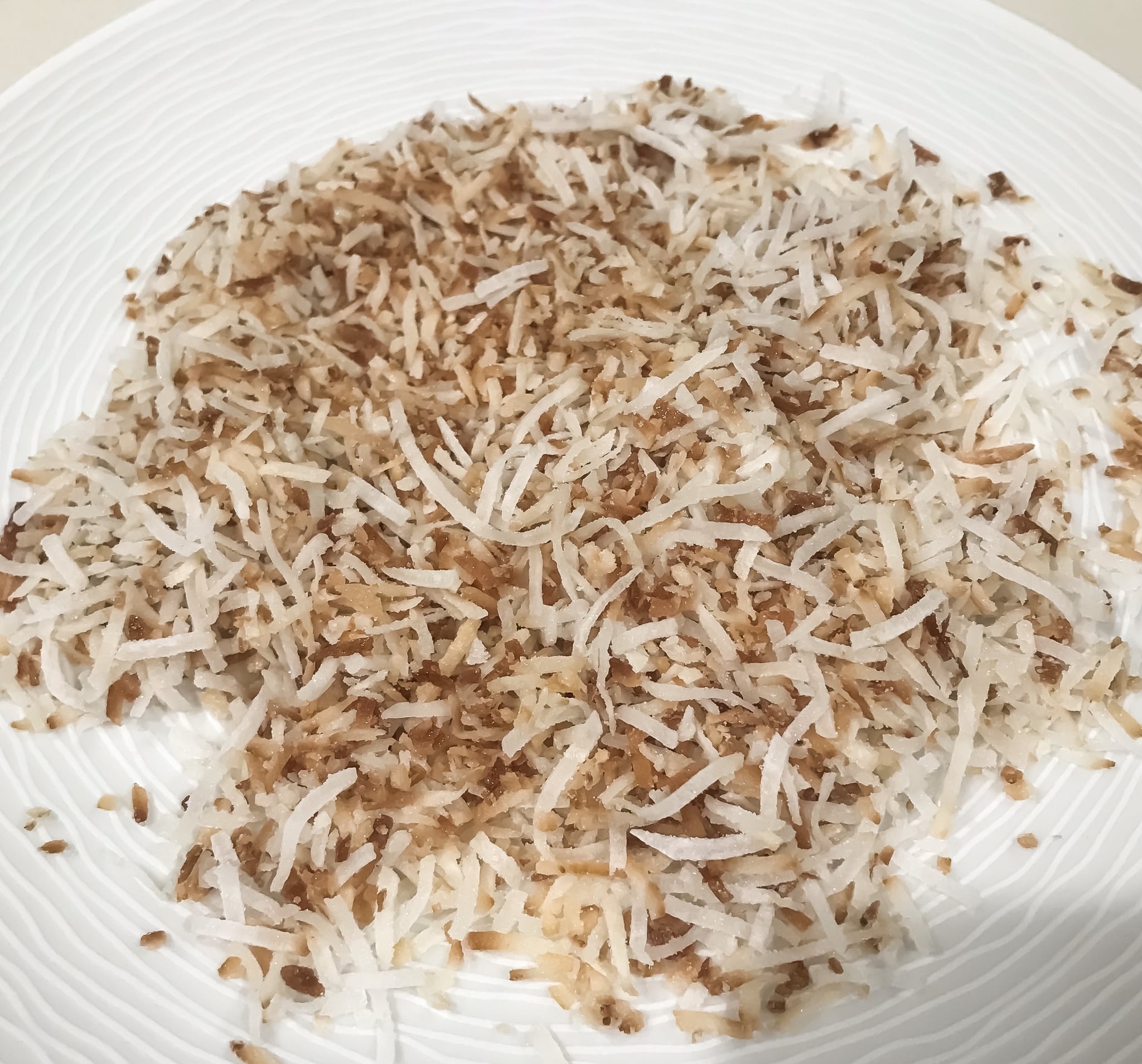 Keep a close eye on the coconut, as it can burn quickly if your stove is on a heat setting too high.
The recipe recommends simmering the rice and other ingredients for about 20 minutes; however, allow it to simmer until all liquid is absorbed or else you'll end up with soupy rice. In the end, I kept my coconut rice simmering for about 24 minutes. Then, I took it off the heat and allowed it to sit for five minutes.
Chrissy Teigen's Sweet and Salty Coconut Rice
Cravings
Ingredients
1/2 cup unsweetened shredded coconut
1 1/2 cups jasmine rice (rinsed and drained)
1 (14-ounce) can coconut milk (full-fat, not light)
1 3/4 cups water
1/4 cup sugar
1 1/2 teaspoons kosher salt
Directions
In a dry pan, toast coconut over medium-low heat, stirring until lightly browned and fragrant. About 4-5 minutes. Transfer to a plate to cool.
In a medium saucepan, combine all other ingredients including rice, coconut milk, water, sugar, and salt. Bring to a boil over high heat, stirring occasionally. Reduce heat to a barely bubbling simmer, cover, and simmer until rice is fully cooked and liquid absorbed. About 20 minutes. There may be a bubbly top layer of coconut cream; poke with a fork to make sure rice is cooked. Remove from heat and fluff with a fork. Then, re-cover the saucepan and let stand for 5 minutes.
Transfer to a serving bowl and top with toasted coconut.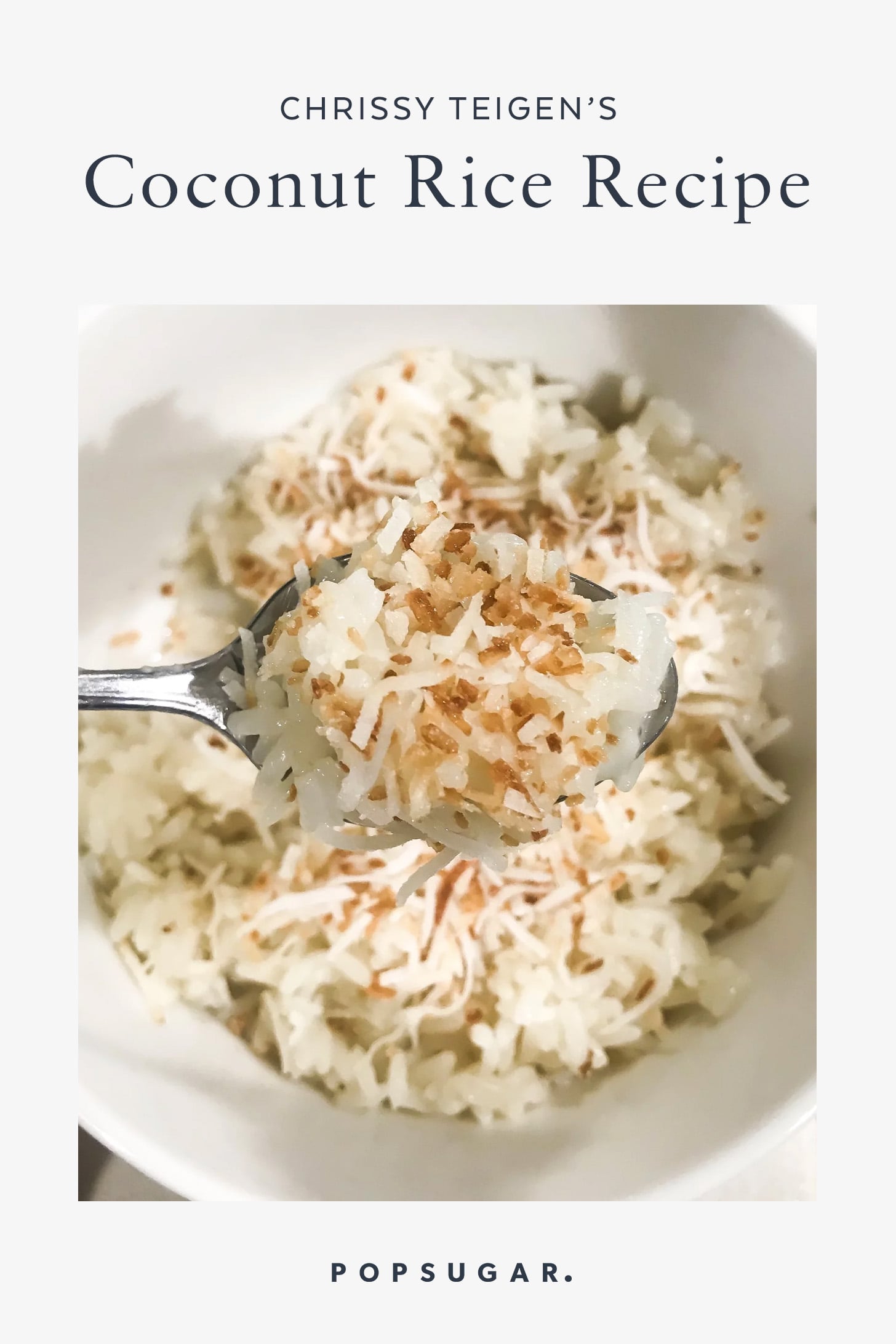 Information
Yield

4-6 servings

Prep Time

5 minutes

Cook Time

35 minutes

Total Time

39 minutes, 59 seconds
Image Source: POPSUGAR Photography / Emily Weaver