Chrissy Teigen Shared Her Spaghetti and Meatballs Recipe
Grab a Forkful of Comfort With Chrissy Teigen's Spaghetti-and-Meatballs Recipe
Chrissy Teigen knew we could all use a little comfort food in our lives right now, so she shared her spaghetti-and-meatballs recipe with the world. Looks like we've got our weeknight dinner plans sorted for the foreseeable future! In a recent post on her Cravings website, the cookbook author and mother of two gave fans the lowdown on how her version of the classic pasta dish comes together, and just reading the step-by-step directions has our stomachs grumbling.
Chrissy made sure to sprinkle in a few helpful tips she swears by, such as adding sugar to the tomato sauce to cut down on acidity, and refrigerating the meatballs before cooking them so they keep their shape. Check out her full homemade spaghetti-and-meatballs recipe ahead, and if you're still in the mood for more pasta-licious goodness after, learn how to make Chrissy's famous cacio e pepe.
Chrissy Teigen's Spaghetti and Meatballs
Cravings by Chrissy Teigen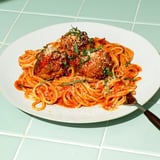 Ingredients
For the Meatballs:
1 pound ground beef
1 pound ground pork
1 cup finely shredded parmigiano-reggiano cheese, plus more for garnish
1 cup fresh breadcrumbs (made from 3-4 slices of white bread)
1/4 cup fine dry breadcrumbs
1 tablespoon minced garlic
1 1/2 teaspoons kosher salt
1/2 teaspoon chili flakes
2 eggs and 1 egg yolk
1/4 cup olive oil
For the Sauce:
2 28-ounce cans plus 1 14-ounce can crushed tomatoes
1/4 cup tomato paste
2 tablespoons minced garlic
1 large onion, diced
1 tablespoon kosher salt
1 tablespoon dried oregano
1 teaspoon dried thyme
1 teaspoon chili flakes
1 teaspoon dried parsley
1 teaspoon dried rosemary
2 teaspoons sugar
2 teaspoons red wine vinegar
3/4 pound dried spaghetti
Fresh basil for garnish
Finely grated parmesan for garnish
Directions
For the Meatballs:
Combine fresh breadcrumbs and milk in a large bowl. Allow crumbs to soak up milk.
Add beef, pork, cheese, garlic, chili flakes, eggs, egg yolk, and salt to bowl. Gently mix, being careful not to overwork the meat.
Form meat into 18 meatballs roughly the size of golfballs, and arrange on large baking sheet. Lightly sprinkle fine dry breadcrumbs on both sides.
Chill for 1 hour and up to one day to help the meatballs keep their shape while cooked.
Heat oil in large skillet over medium heat, and add meatballs. Brown on all sides, roughly eight minutes total. Lower temperature if needed to avoid burning.
Transfer cooked meatballs to large plate and cover to keep warm. Drain skillet, saving 1/4 cup leftover fat and oil.
For the Sauce:
Heat leftover fat and oil from meatballs in sauce pot over medium heat. Add onions and cook until soft and translucent, about 10 minutes. Add garlic and cook additional one minute.
Add tomato paste and stir while cooking until caramelized and absorbed, about two minutes.
Stir in crushed tomatoes, oregano, thyme, parsley, rosemary, salt, sugar, chili flakes, and vinegar.
Bring to a boil, reduce heat to low, and simmer until sauce thickens, about 25 to 30 minutes.
Final Steps:
Add meatballs to sauce, return to simmer, and cook until meatballs are fully cooked through and absorb sauce, about 20-25 minutes. Season with salt and pepper to taste.
As meatballs simmer in sauce, cook spaghetti until al dente. Drain and add to pot with meatballs and sauce, or parcel out individual portions on plates. Garnish with cheese and basil, and dive in.
Information
Category

Pasta, Main Dishes

Cuisine

Italian

Yield

4 servings