Chrissy Teigen's Spicy Miso Carbonara Pasta Recipe
John Legend Says Chrissy Teigen's Spicy Miso Pasta Is Magical, So I Obviously Need to Try It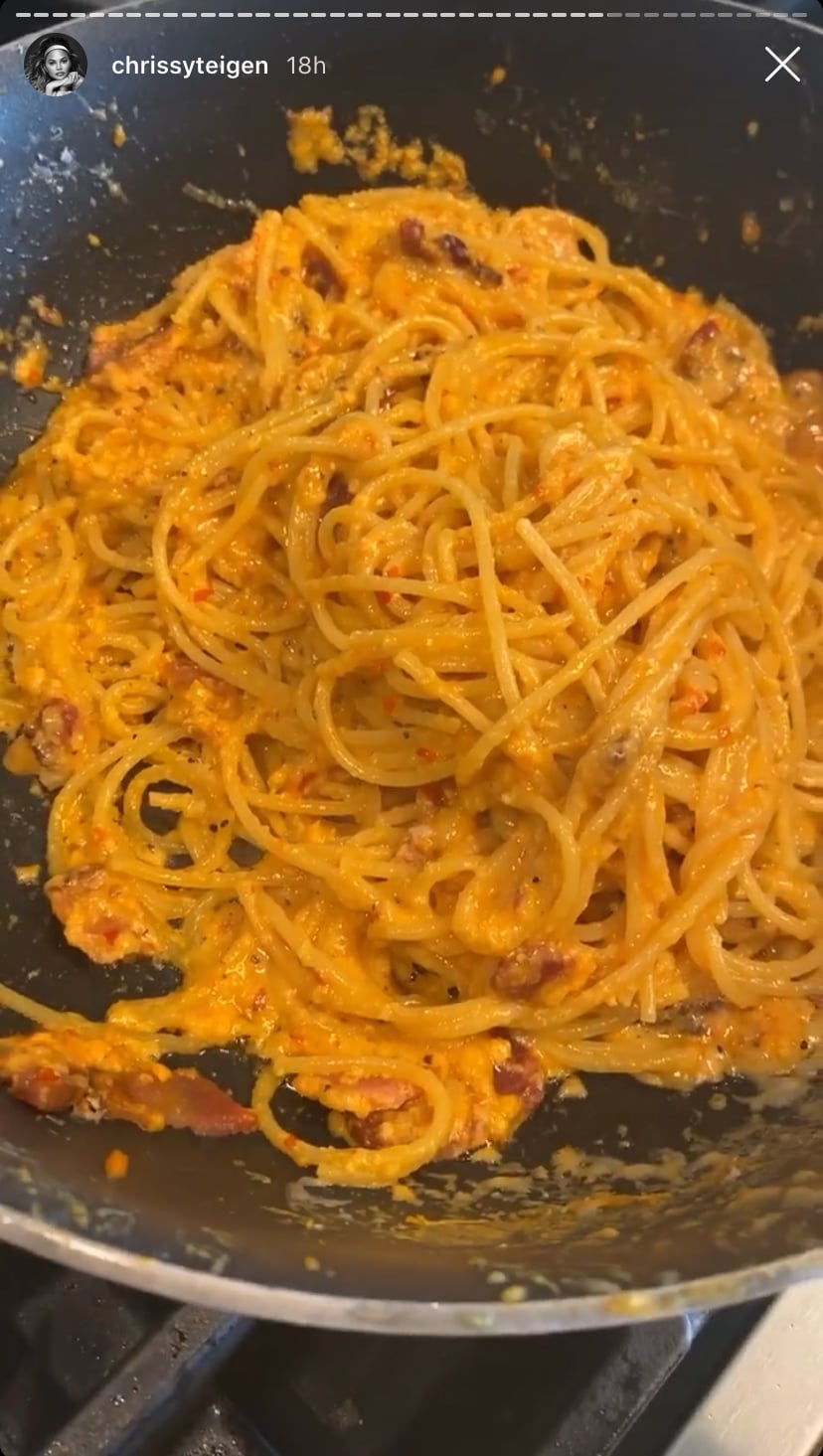 Anyone else feeling uninspired cooking the same dishes over and over again? Apparently, Chrissy Teigen is, too. On Tuesday night, the Cravings author whipped up a spicy miso pasta on her Instagram Stories, and wow, my mouth is watering just thinking about it.
The classic dish with an Asian twist pretty much only requires four ingredients besides the pasta — bacon, chili garlic sauce, miso, and parmesan cheese — and it actually looks really easy to make. (I will admit I watched all 30 of her Stories very closely to make sure.) If that wasn't convincing enough, the unique dish is also John Legend-approved. After Chrissy finished making (and beautifully plating) the pasta, her husband took a large bite and called it "magical." Yep, that's inspired me to add it to my dinner rotation. If you want to try out the dish for yourself, check out the full recipe below.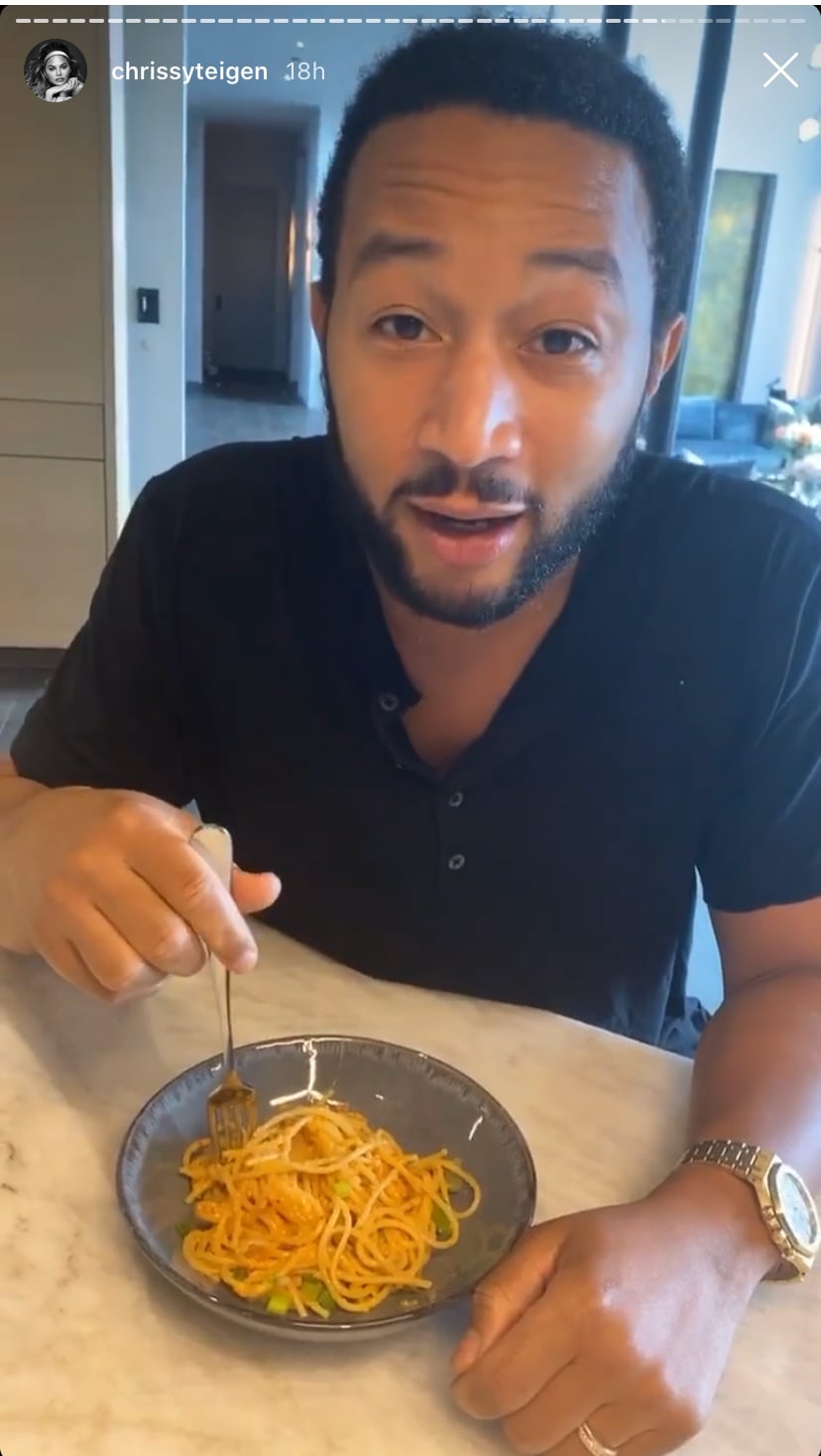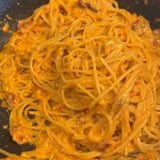 Ingredients
2 tablespoons olive oil
4 ounces thick-cut or regular bacon, diced (about 1 cup)
3 tablespoons chili garlic sauce (or sambal oelek and 1/2 teaspoon chili flakes), plus more to taste
2 tablespoons blond or light miso, plus more to taste
2 tablespoons hot water
3 eggs
3/4 pound dry spaghetti (or linguine or fettuccine)
2 ounces finely grated parmigiano reggiano cheese (about 1 1/4 cups), plus more for garnish
1 teaspoon freshly ground black pepper
1/2 cup sliced scallion greens, plus more for garnish
Directions
Bring a large pot of generously salted water to a low boil, cover, and keep hot on a low burner. Heat the oil over medium heat in a large skillet, then add the bacon and cook until crisped and the fat is rendered, 9 to 10 minutes. Remove from the heat and reserve.
Whisk together the chili garlic sauce, miso, and hot water until smooth, then beat in the eggs. Cook the pasta according to box instructions until al dente and drain, reserving 1/2 cup of the pasta cooking water.
Add the pasta to the skillet with the bacon and toss to combine. Heat over medium until everything is nice and hot. Add the egg mixture, reduce the heat to low, and quickly toss until the eggs coat the pasta but aren't scrambled.
Add the cheese, pepper, and pasta water as desired until the sauce reaches your desired flavor and consistency. Taste, and add more chili garlic sauce if you like things spicy. Toss in the scallions.
Divide among bowls, and garnish with more scallions and parm as desired.
Information
Category

Pasta, Main Dishes

Cuisine

Other Asian

Yield

Serves 3 to 4

Prep Time

15 minutes

Cook Time

30 minutes

Total Time

44 minutes, 59 seconds