Copycat Cinnabon Cinnamon Roll Recipe with Photos
This Copycat Cinnabon Recipe Will Transport You Right Back to the Mall Food Court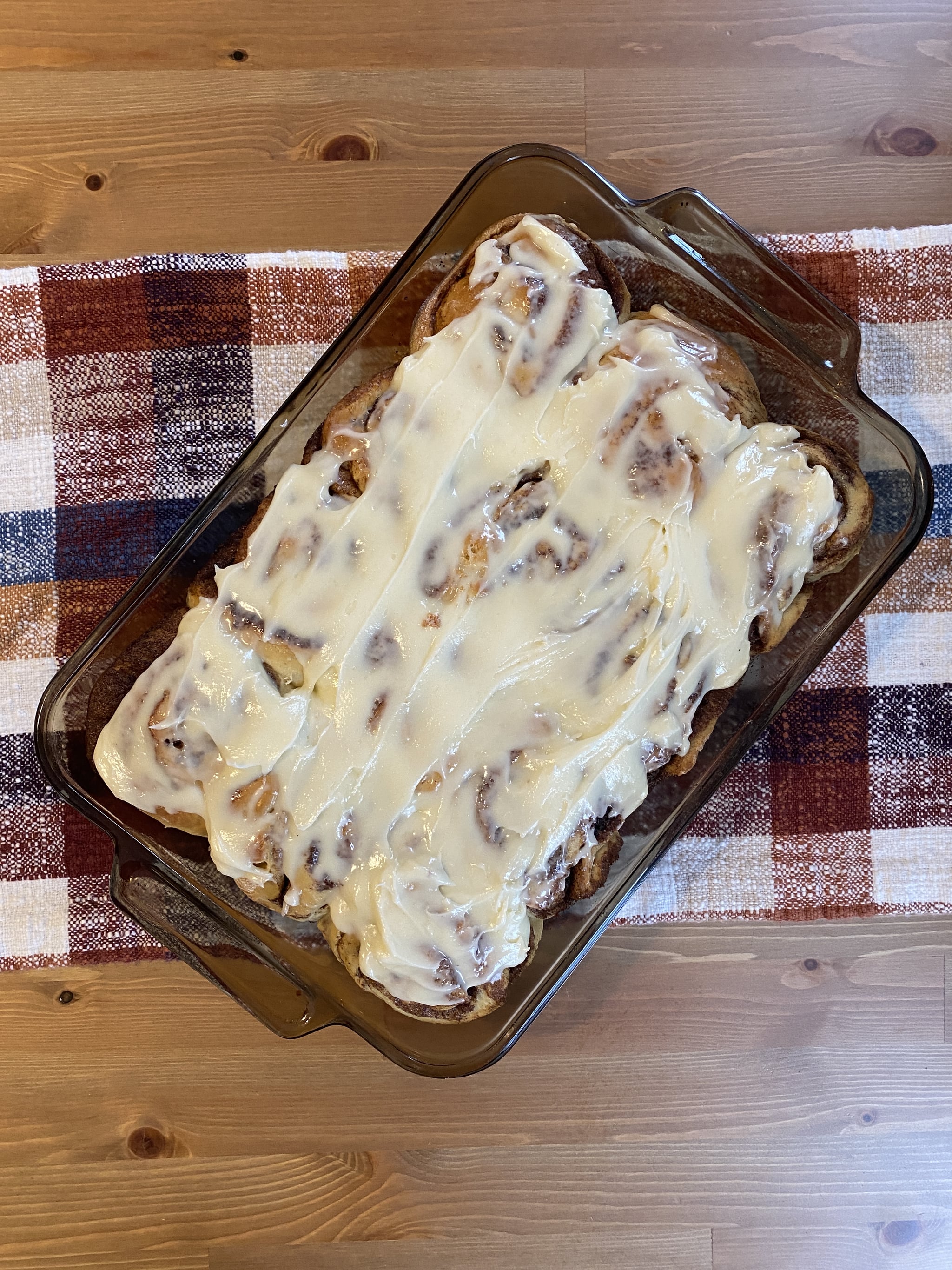 The smell of a warm, freshly baked Cinnabon cinnamon rolls always brings me back to my high school days spent in the local mall's food court. But while I no longer crave walking around the mall, Forever 21 bags in hand, waiting for my parents to pick me up, I'll never turn down a Cinnabon. With this recipe, you can have the tasty treat — tangy cream cheese icing and all — without ever leaving your house. And while it's labeled as a copycat Cinnabon recipe, it's no more work than your standard homemade cinnamon roll. That said, it's still a bit of work and involves double-proofing yeast, but it's totally, totally worth it.
This recipe follows a standard formula: let the yeast activate, mix in the rest of the ingredients, and let the dough rise for about an hour. Then comes the fun part: roll it out, spread butter and cinnamon sugar over everything, and roll it up into a log for slicing into rolls.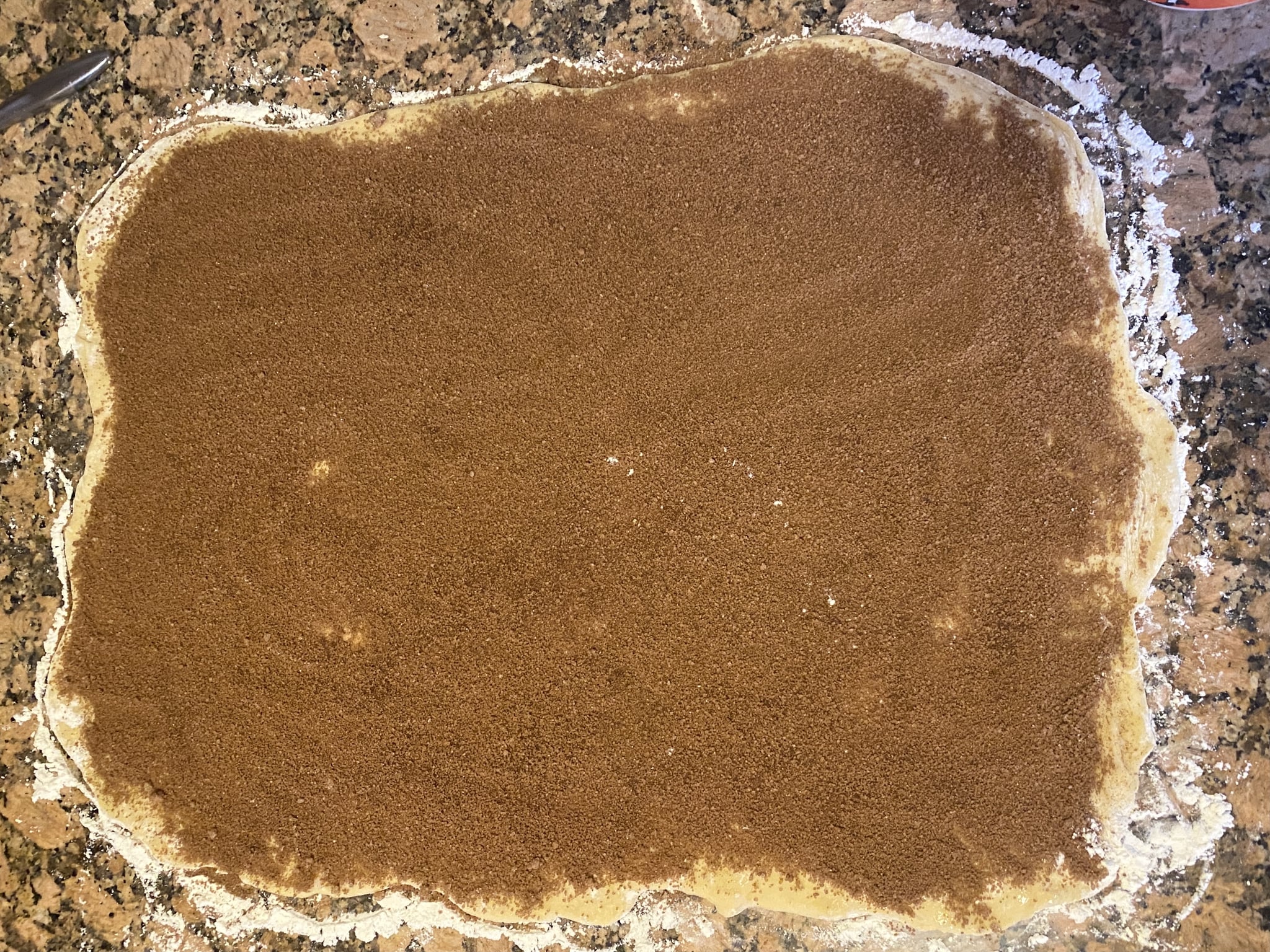 I recommend working with a well-floured surface when you're spreading the dough out and rolling it up. Otherwise, it sticks to the counter and is harder to roll into a log - you can see mine has some ragged spots as it used up most of the flour.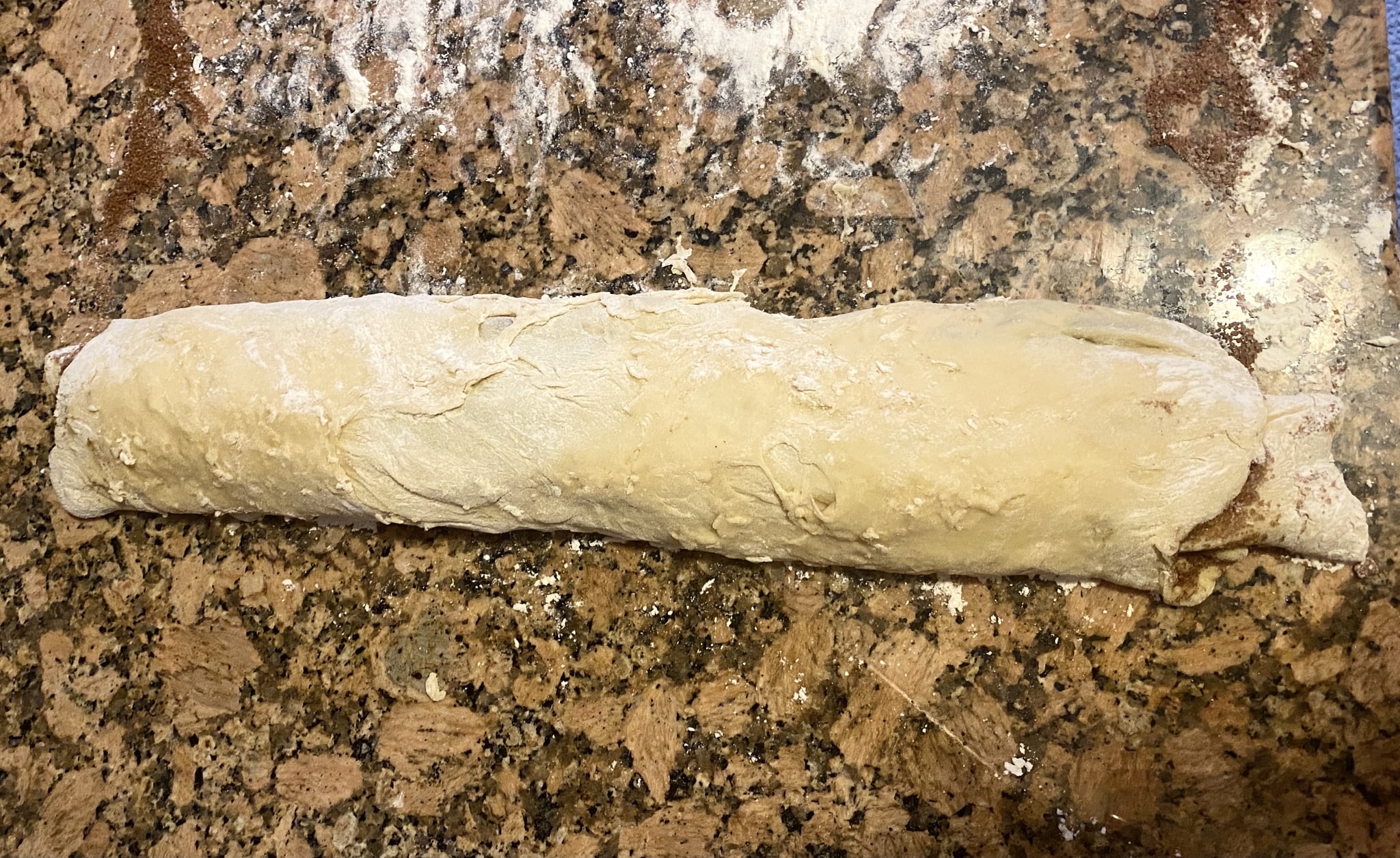 Of course, easily-rolled dough makes for prettier cinnamon rolls — mine turned out OK, and I know that the taste is what mattered, but I would have loved perfectly-coiled cinnamon swirls. That one at the middle right is from the end of the log!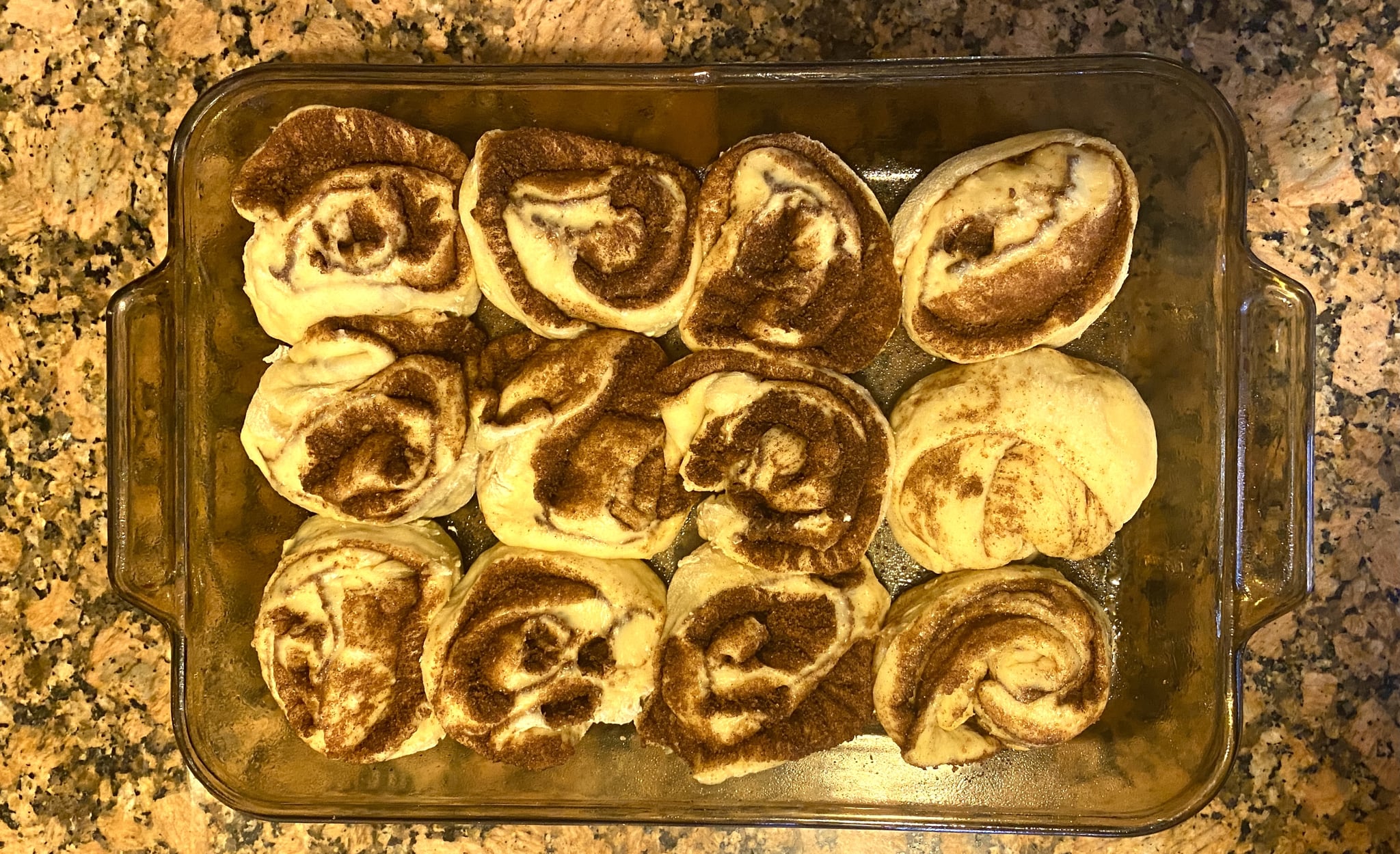 Once they're all set, let them proof one more time, for about 30 minutes or until they double in size. Like I said, this recipe takes some patience, but it's definitely worth it.
Thankfully, those misshapen cinnamon swirls didn't matter at all once they came out of the oven. While you'll probably wan to devour them straight out of the oven just from the heavenly smell alone, just wait — the copycat Cinnabon frosting is quite literally the icing on the cake. And if you're a Cinnabon pro like me, you know that it's best to eat these while they're still very warm since the icing can slightly melt and seep into all the grooves of the roll, which makes the gooey middle the best part!
Copycat Cinnabon Cinnamon Rolls
What Jo Cooks
Notes
If you don't have a dough hoo, you can knead by hand for step 3 for about five minutes or until the dough is smooth and elastic.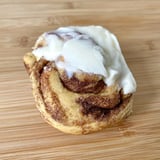 Ingredients
For the Dough:
2 1/4 tsp active dry yeast or instant yeast
1 cup milk, warm but not hot
1/2 cup granulated sugar
1/3 cup unsalted butter, softened
1 tsp salt
2 eggs
4 cups all-purpose flour
For the Filling:
1 cup brown sugar
3 tbsp cinnamon
1/3 cup unsalted butter, softened
For the Cream Cheese Icing:
6 tbsp unsalted butter, softened
1 1/2 cups powdered sugar
1/4 cup cream cheese, room temp
1/2 tsp vanilla extract
1/8 tsp salt
Directions
For the rolls, dissolve the yeast in the warm milk with a teaspoon of sugar (you can take a teaspoon out of the 1/2 cup of sugar) in a large bowl. Let it sit for about five minutes. If the yeast is good, it will start to froth or bubble up.
Add the sugar, butter, salt, eggs, and flour to an electric mixer and mix until well combined.
Pour the milk and yeast mixture over the flour mixture and using the dough hook, mix well until the dough comes clean from the side of the bowl.
Place the dough into an oiled bowl, cover, and let rise in a warm place about one hour or until the dough has doubled in size. Mine took an hour and a half.
Combine the brown sugar and cinnamon in a small bowl.
Grease a 9x13-inch baking dish with cooking spray or butter.
Roll the dough out on a lightly floured surface until it's approximately 16 inches long by 12 inches wide. It should be approximately 1/4 inch in thickness.
Spread the 1/3 cup of butter evenly over the dough, then sprinkle the cinnamon sugar over it. Make sure you get the edges!
Working carefully from the long edge, roll the dough into a log.
Using a very sharp knife, cut the dough into 12 slices and place in the greased baking pan.
Cover with a clean kitchen towel or plastic wrap and let them rise for another 30 minutes, or until doubled in size.
Once they've doubled in size, preheat the oven to 350 degrees. Place the baking pan in the oven and bake for 20 minutes or until golden brown. Mine took about 25 minutes.
While the rolls are baking, make the icing by mixing all the icing ingredients with an electric mixer until fluffy and smooth. It might not look like a lot of icing but I promise it's the perfect amount.
When the rolls are done, cover with icing and enjoy.
Information
Category

Breakfast/Brunch

Yield

12 cinnamon rolls

Prep Time

2 hours

Cook Time

20 minutes

Total Time

2 hours, 19 minutes, 59 seconds
Image Source: POPSUGAR Photography / Kaley Rohlinger