Easy Banana and Chocolate Crater Cake Recipe
Get Ready to Add "Crater Cake" to Your Baking Bucket List
Over the past few weeks, I've been baking more (I know I'm not alone!), and while my husband ate my banana bread and cinnamon rolls like the supportive spouse he is, the only baked good he was really hoping I'd make is crater cake.
I'm not really sure if it's a Canadian thing or not (he hails from British Columbia), but I'd never heard of this dessert until I met him, and he grew up having it at home (or after hockey practice). It's kind of like a coffee cake with its brown sugar and cinnamon crumble, but it also has bananas and chocolate chips in it like a banana bread. With every moist bite, you get melty chocolate chips, sweet banana cake, and crunchy crumble, thanks to a hidden middle layer of the brown sugar, cinnamon, and chocolate chips. As for the name? It's called "crater cake" because the center deflates after it comes out of the oven.
This is a pretty foolproof recipe that you can adjust based on your preference — how many bananas, how much chocolate, how gooey you want the center. It's great for a big family or gathering, and you can leave it out on your counter for several days (if it lasts that long!). Personally, I like to enjoy it with my coffee in the morning (dessert for breakfast, anyone?).
Keep reading for the recipe!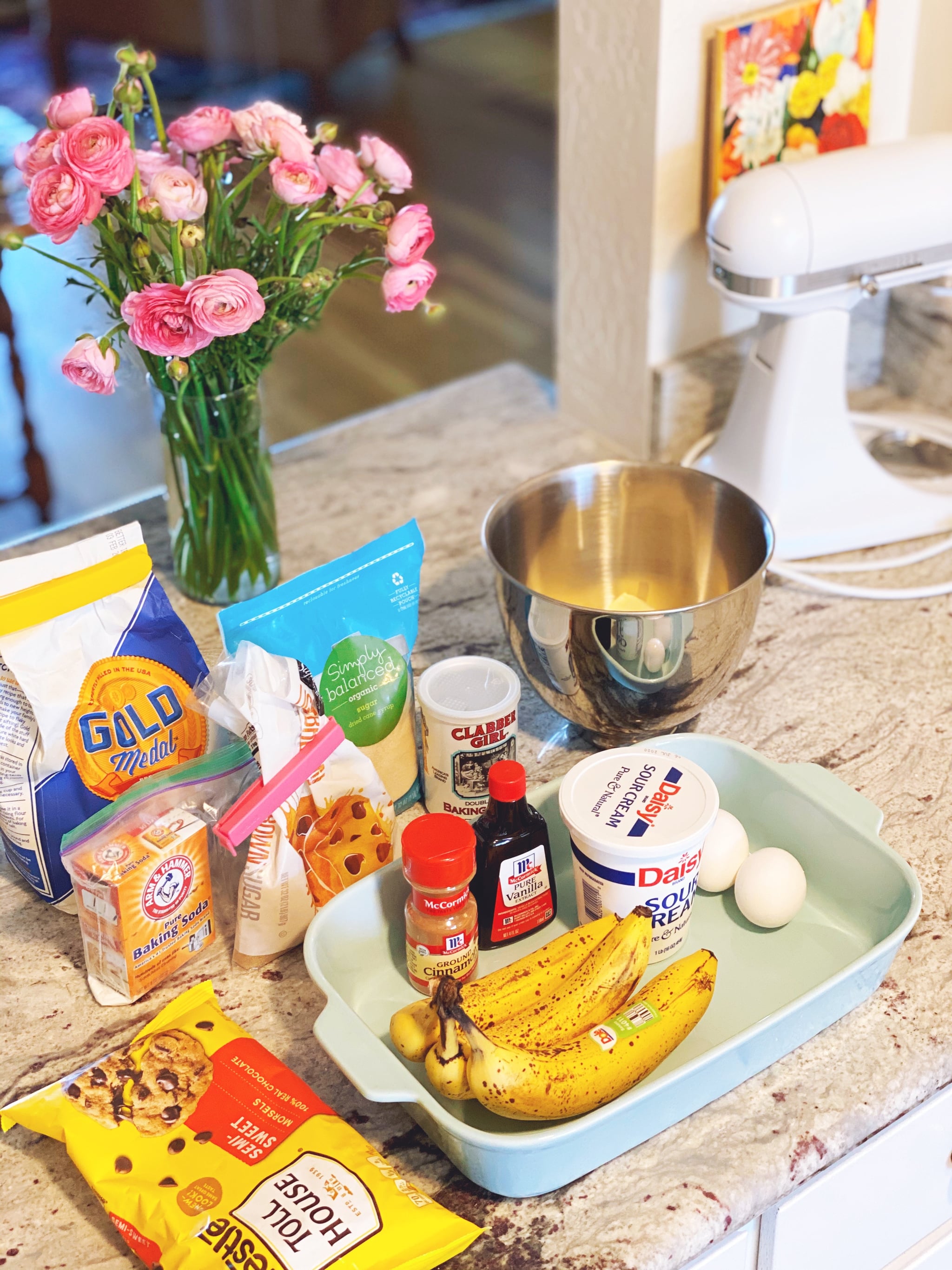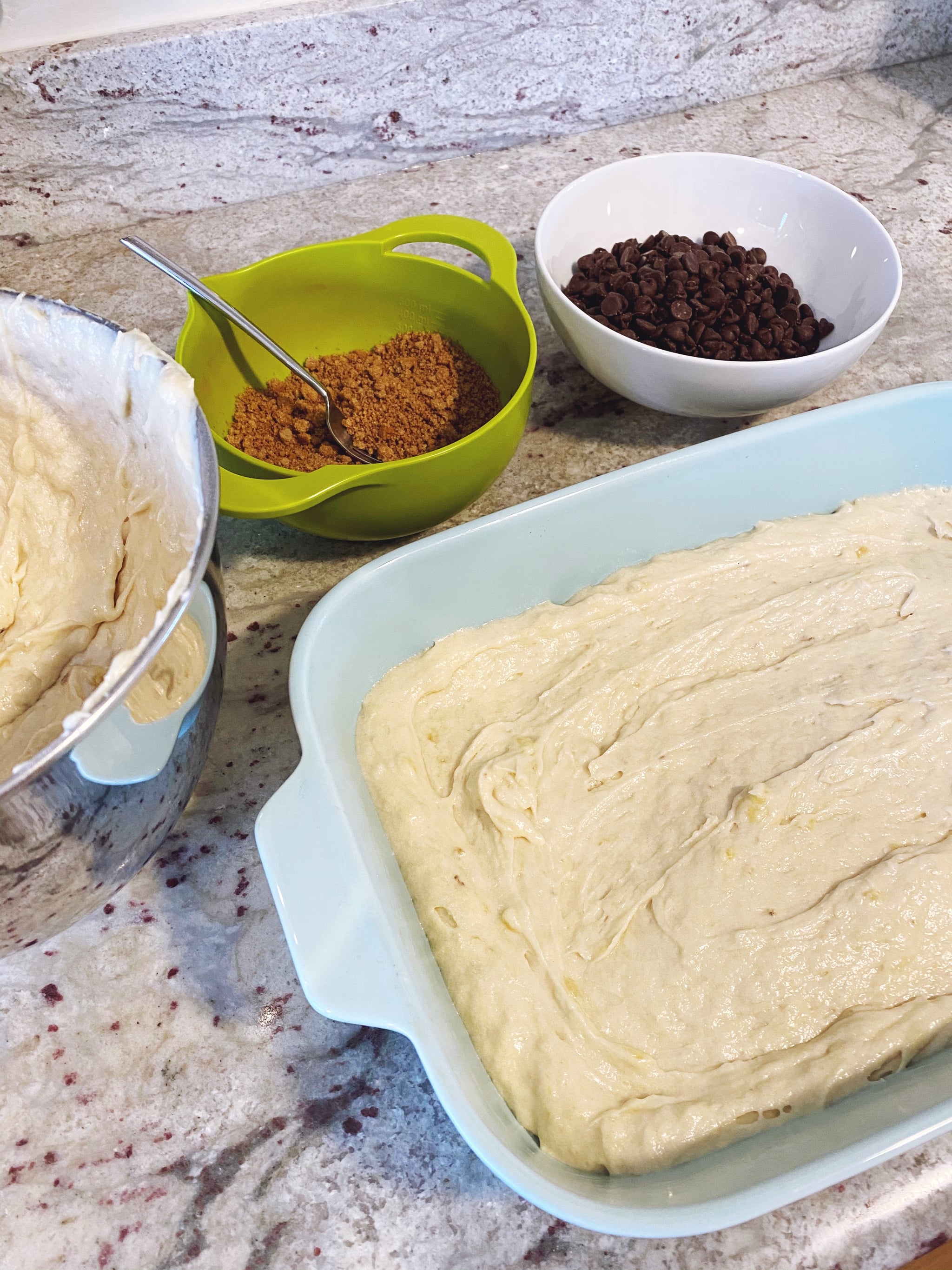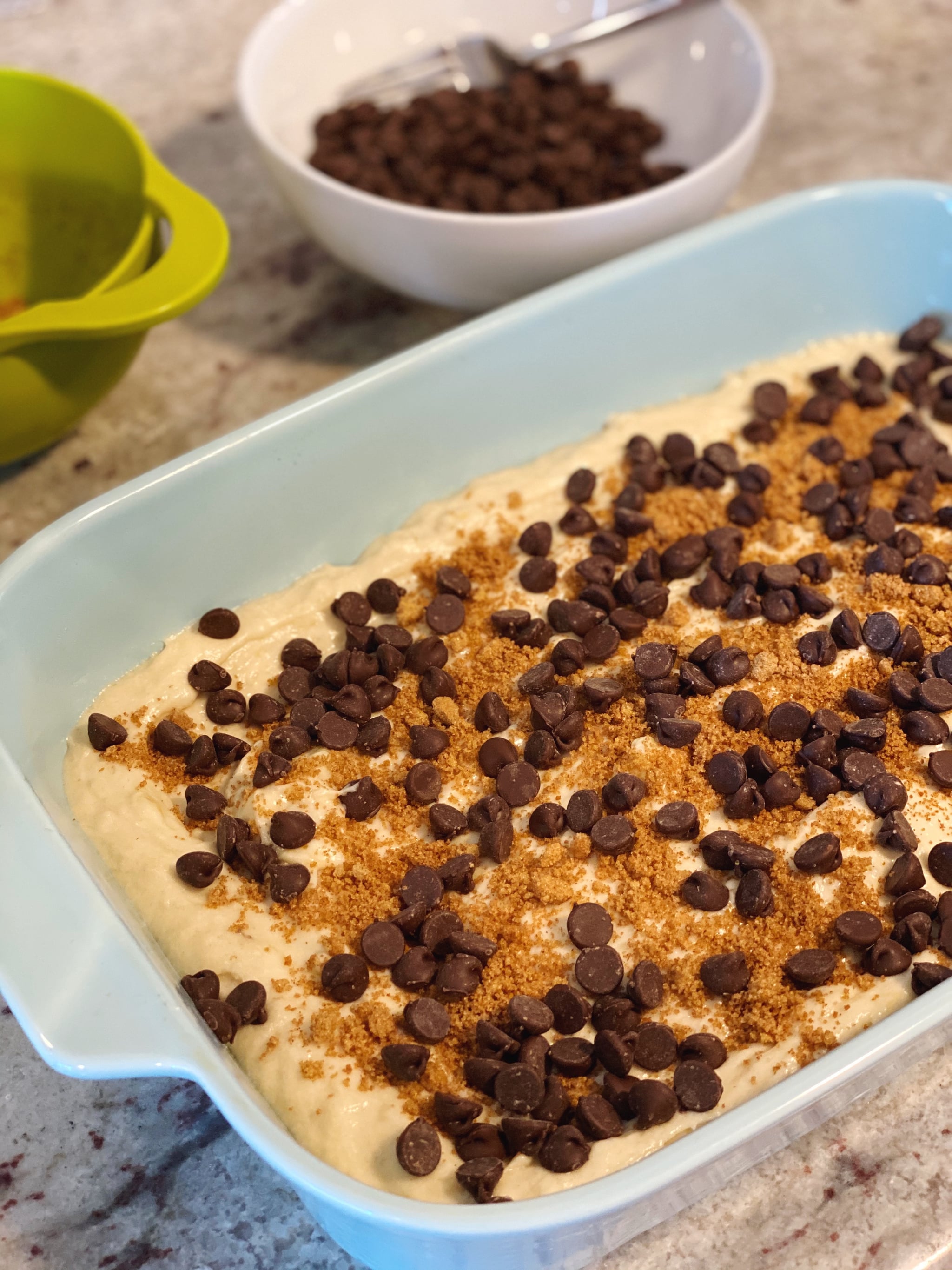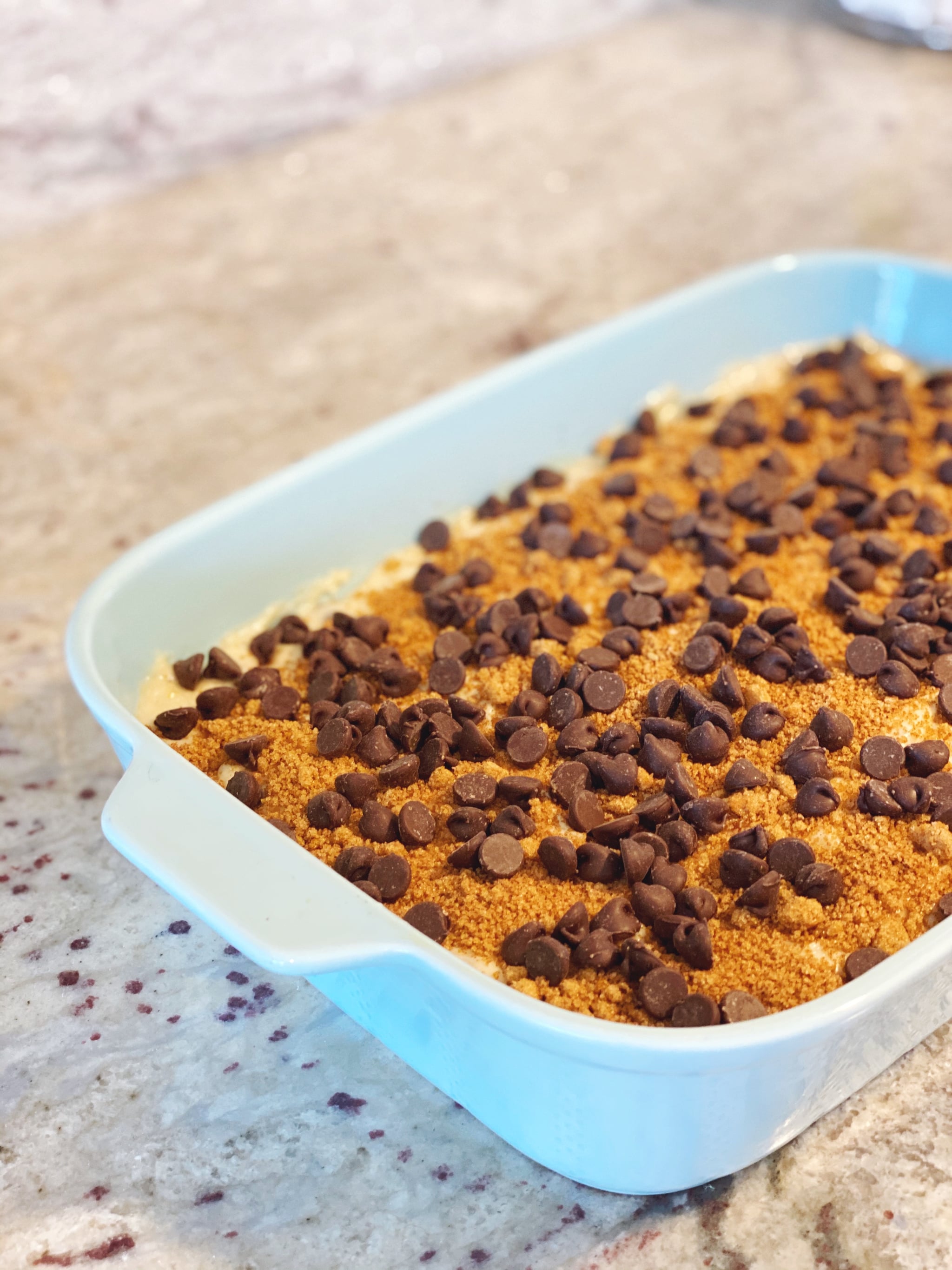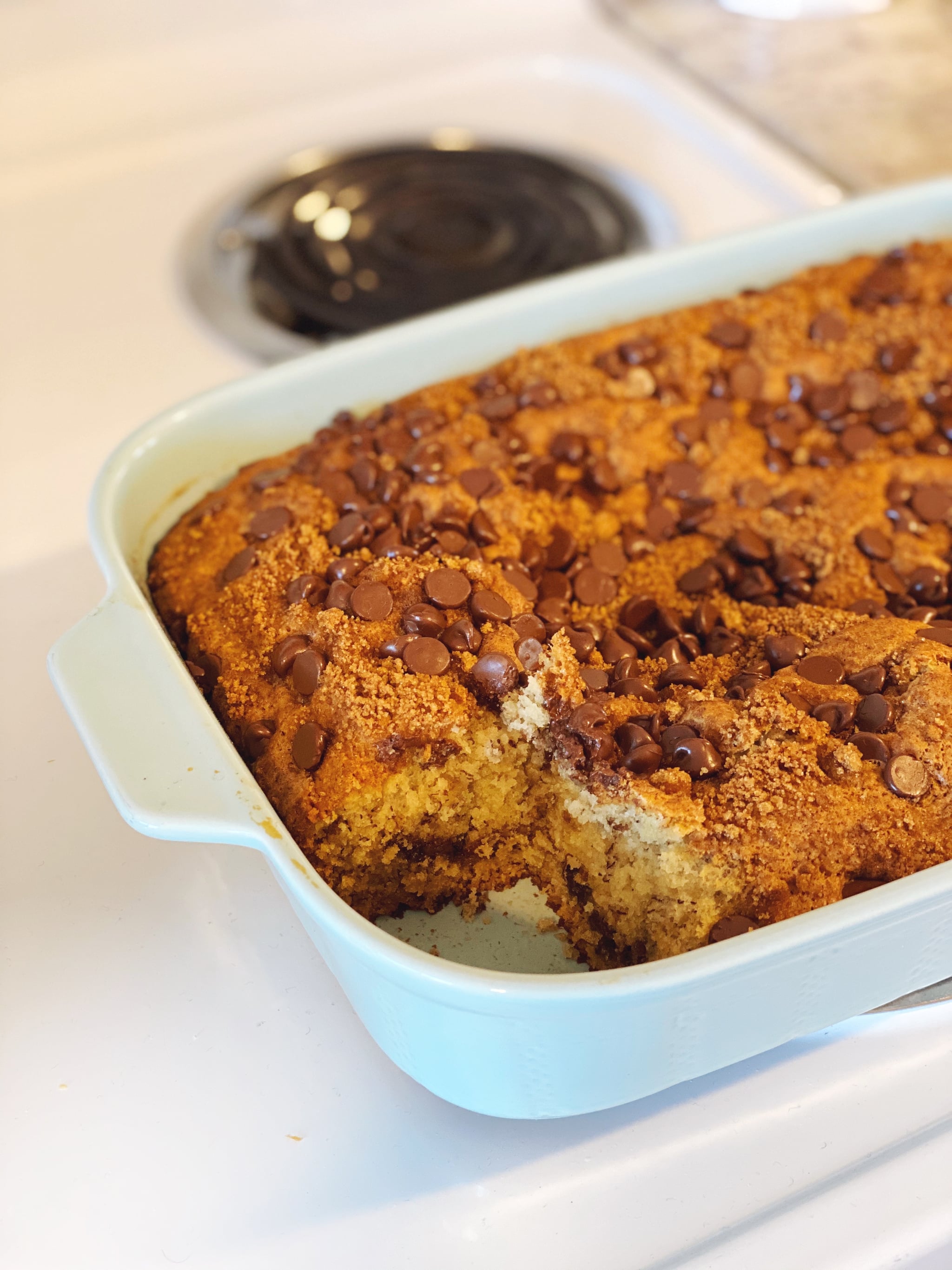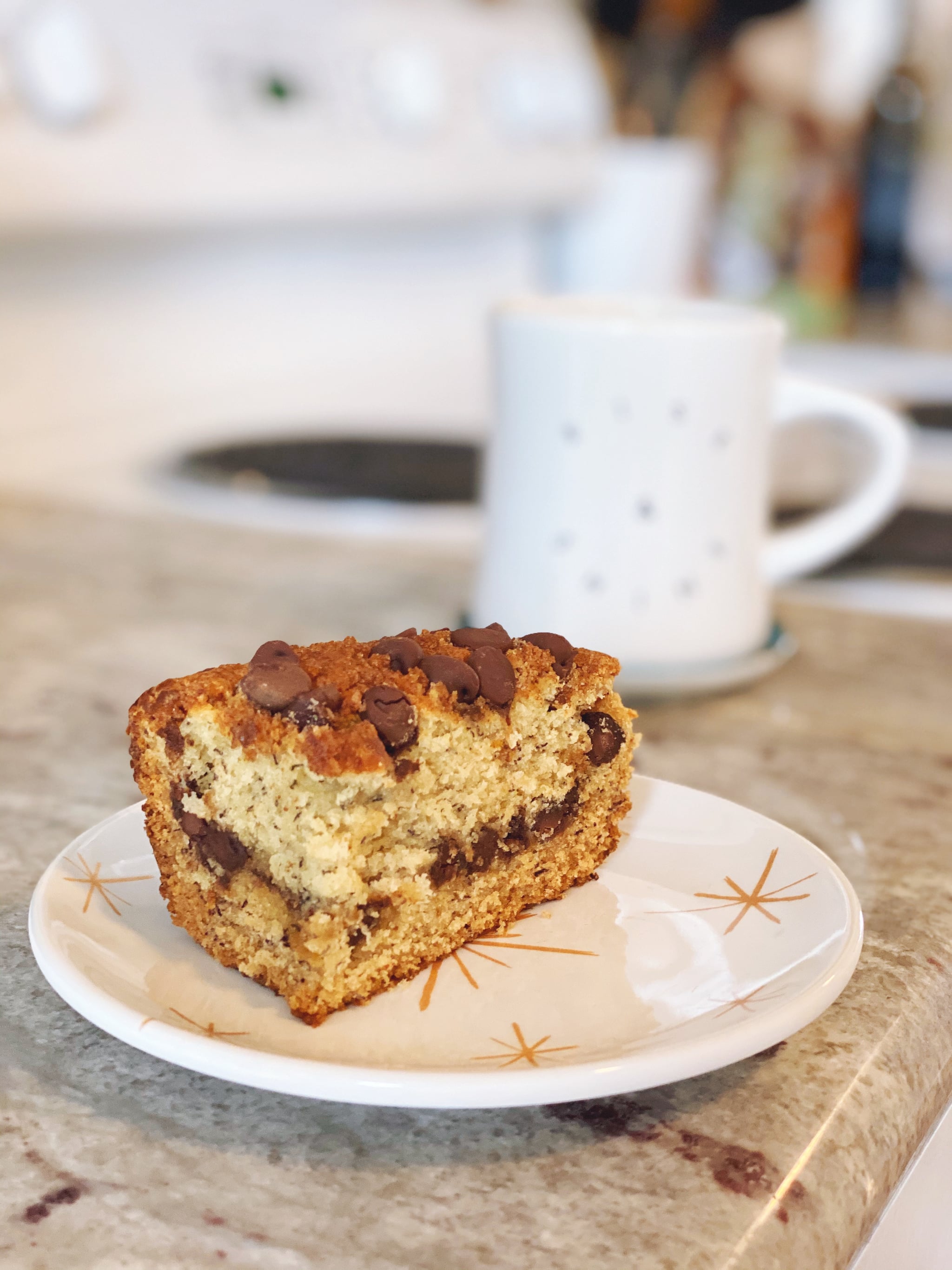 Easy Banana and Chocolate Crater Cake
Notes
You don't want to overbake this, but it's also a pretty forgiving recipe. Since the bananas are gooey, check a few spots with a toothpick to make sure you're not just getting banana. The outer edges should come out clean and if the middle isn't 100 percent done it's OK, it will cook a little in the dish while it's cooling.
Let it sit for at least an hour before eating. And yes, the middle will sink in, that's why it's called "crater cake"!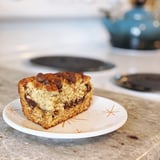 Ingredients
1 cup butter, room temperature
2 cups white sugar
2 eggs, beaten
2 teaspoons vanilla
3-4 very ripe bananas, mashed
3 cups flour
2 teaspoons baking soda
2 teaspoons baking powder
1 cup sour cream
1 1/2 teaspoons cinnamon
1/2 cup brown sugar
1 1/2 cups chocolate chips
Directions
Preheat your oven to 350°F. Grease the inside of a 9-x-13-inch baking pan with butter. In two separate bowls, mash the bananas and beat the eggs. Set aside.
Cream together room temperature butter and sugar with a hand mixer or with the paddle attachment of your stand mixer.
Add beaten eggs and beat this mixture until smooth.
Add vanilla and mashed bananas. It might look a little funky at this point, but that's OK! Mix again until smooth.
Sift flour, powder, and baking soda into a separate big bowl. Add this dry mixture to the banana mixture, alternating with sour cream. (Add a scoop of dry mixture, a scoop of sour cream, and keep mixing and repeating until all ingredients are used up.) It's best to have your mixer on the lowest setting for this, so it doesn't over mix.
Pour half the cake batter into the greased 9-x-13-inch baking pan.
In a small bowl, combine cinnamon and brown sugar with a fork, breaking up any clumps and making sure it's well incorporated. Sprinkle half the mixture over batter in pan. Top with half the chocolate chips. Repeat, so you have two layers of cake and two layers of cinnamon-brown sugar-chocolate (this will be your top layer, like a coffee cake).
Bake at 350 for 50-55 minutes, until the center of the cake is set. Don't overbake it, as the middle will cook a little even after it's taken out of the oven.
Information
Category

Desserts, Cake

Yield

12-20 cake slices

Prep Time

30 minutes

Cook Time

50 minutes

Total Time

1 hour, 19 minutes, 59 seconds
Image Source: POPSUGAR Photography / Tara Block