Dessert Version of Baked Feta Pasta With Fruit and Chocolate
This Dessert Version of the Viral Baked Feta Pasta Is Made With Fruit, Chocolate, and Cream Cheese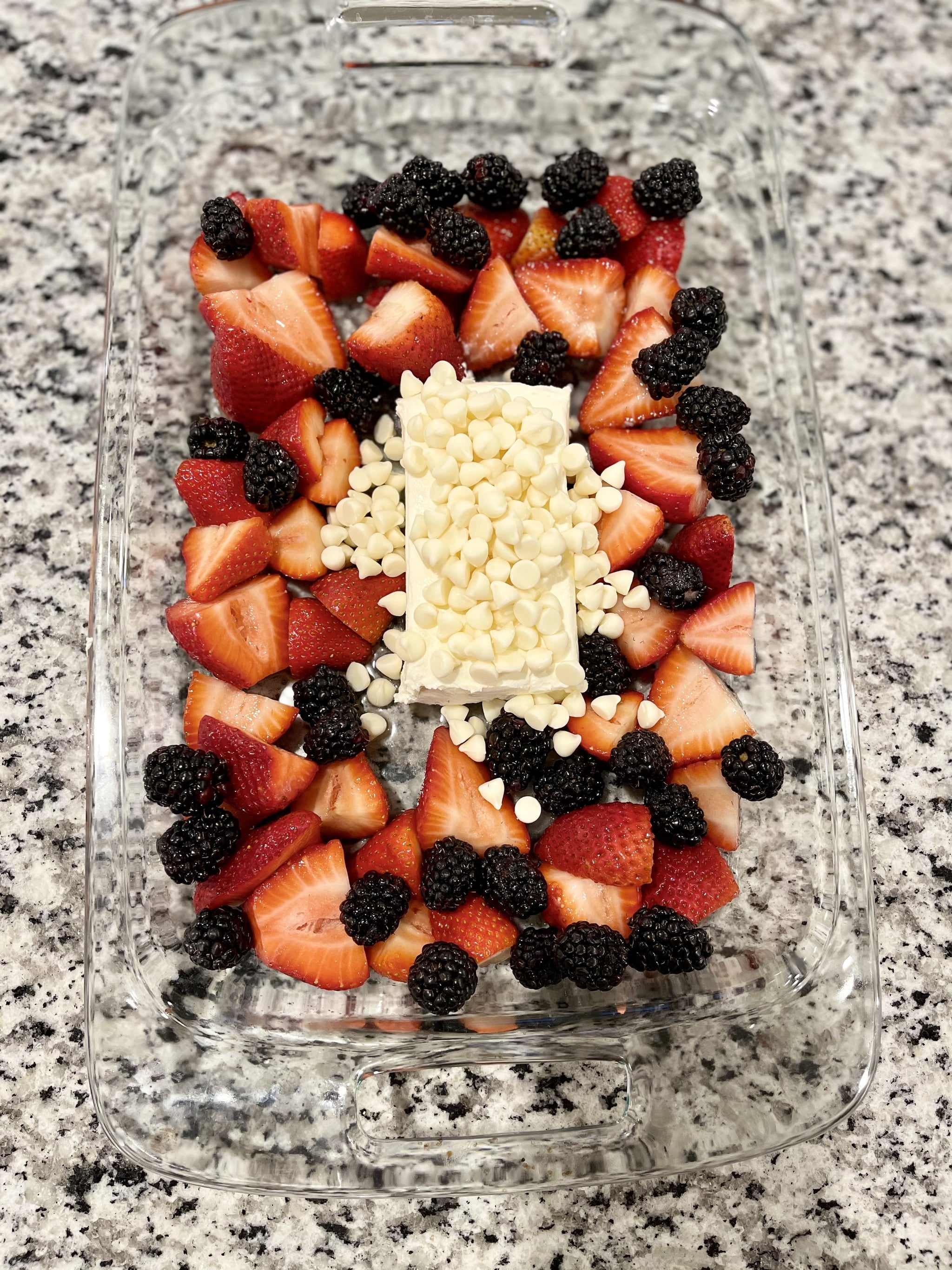 Now that the viral baked feta pasta recipe on TikTok is a permanent fixture on many of our weekly menus, it's the perfect time to try something new. Yes, we already tried the Boursin cheese and the buffalo mac and cheese versions of the baked pasta, and now we're craving something sweet! Thankfully, Delish created a dessert version of the iconic dish, featuring strawberries and blackberries instead of tomatoes, cream cheese and white chocolate chips instead of feta cheese, and muffins or scones instead of pasta. In a word, it's heavenly.
While this *may* not look extremely appetizing once you mix it all together after it bakes, I promise it really is delicious. And if the thought of warm fruit in a delicious sauce doesn't seem right, just think of pie! It's the same concept but even creamier. It's the perfect breakfast treat that is both indulgent and refreshing. I paired it with Southern-style biscuits, and I would 10/10 recommend it for either breakfast or dessert.
To make this recipe yourself, start by squeezing fresh lemons to make lemon juice and chopping up strawberries.
Wash fruit and cut strawberries.
Mix lemon juice and sugar.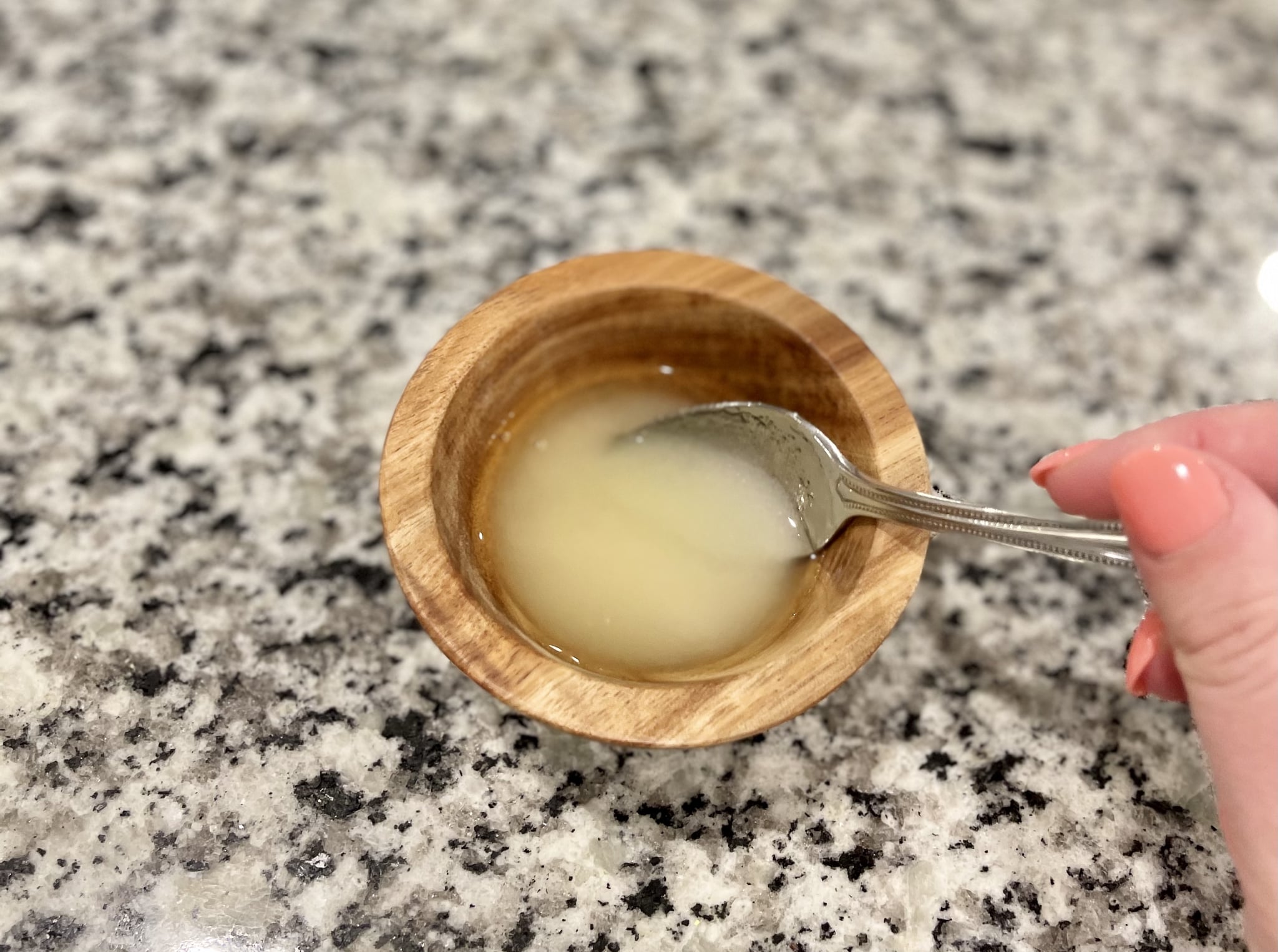 Arrange fruit in pan.
Drizzle with lemon-sugar mixture.
Put cream cheese in center.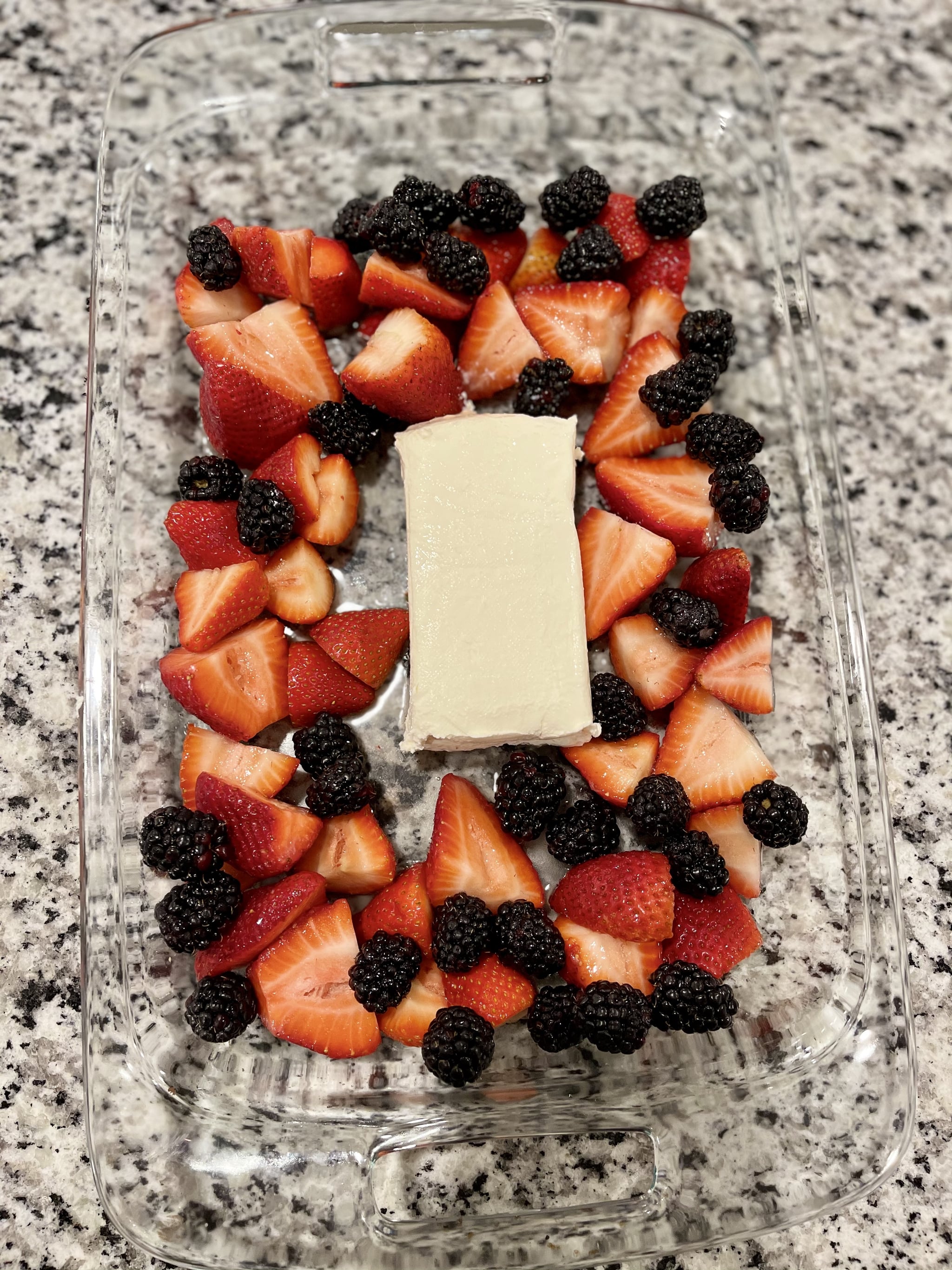 Add white chocolate chips.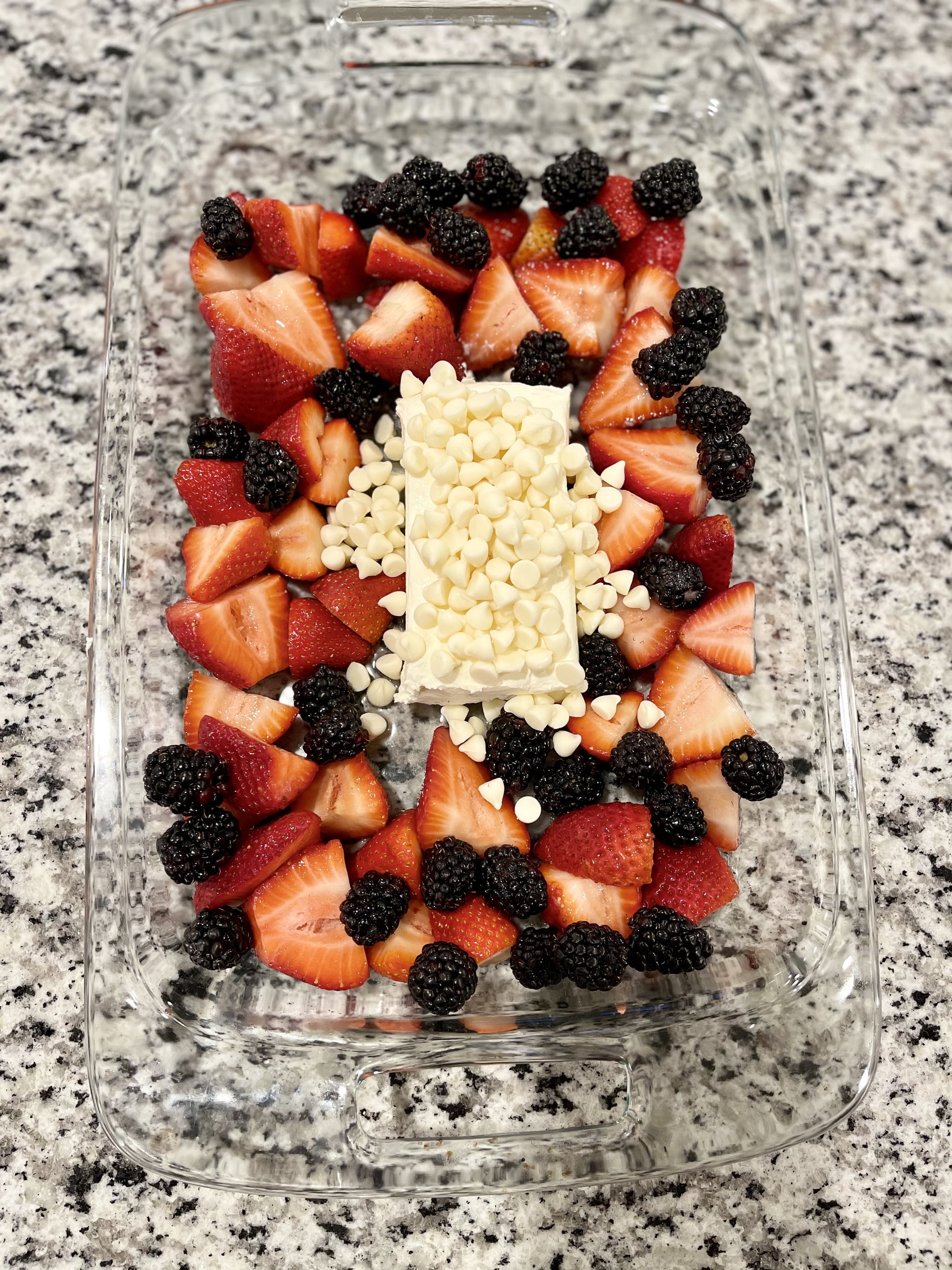 Bake at 425°F for 20 minutes.
Some of the white chocolate chips came out slightly burnt, so I scraped those off before mixing the cream cheese and chocolate mixture with the rest of the fruit. You can also pull your dish out of the oven a minute sooner or put some foil on top to avoid burning.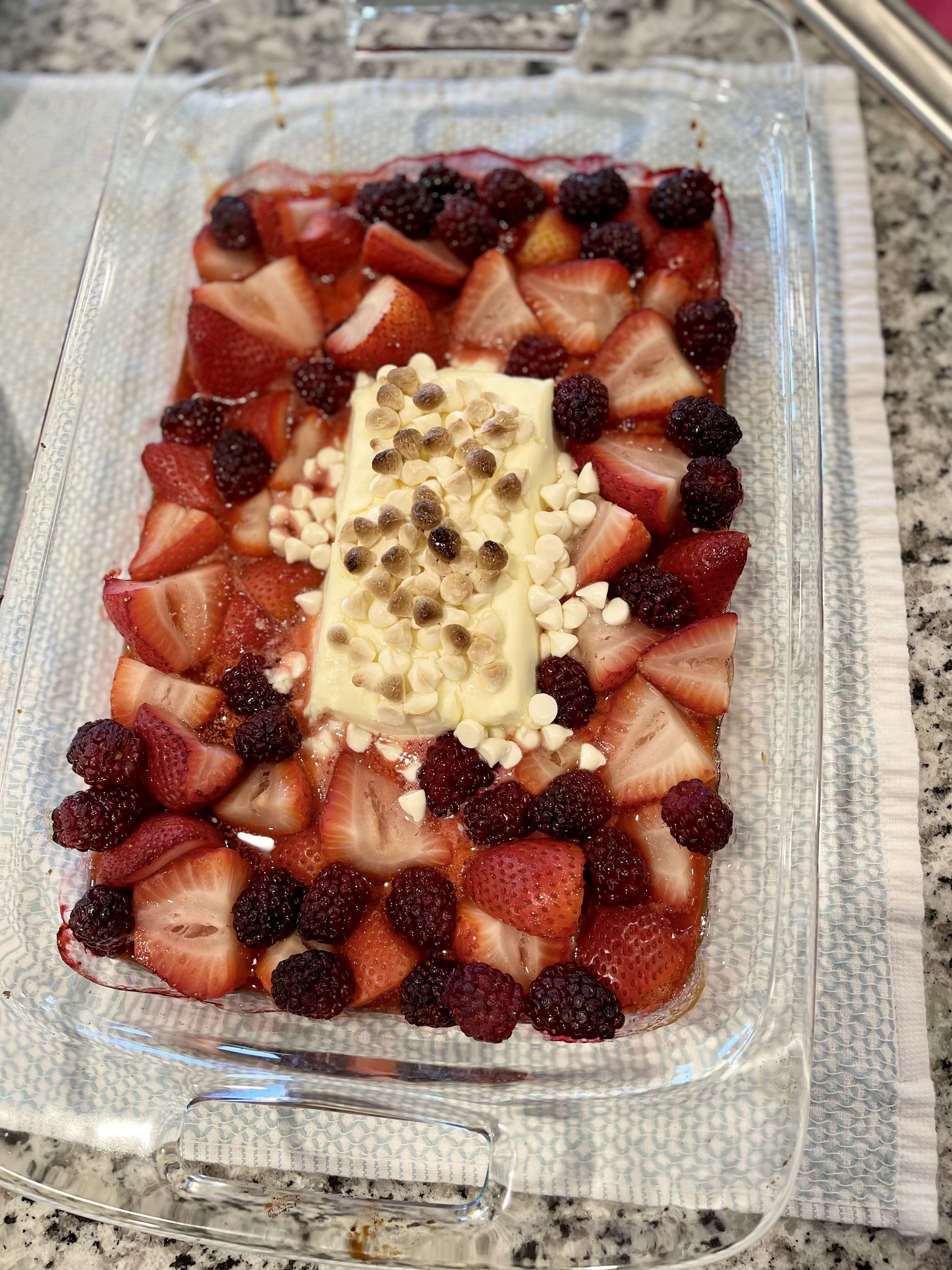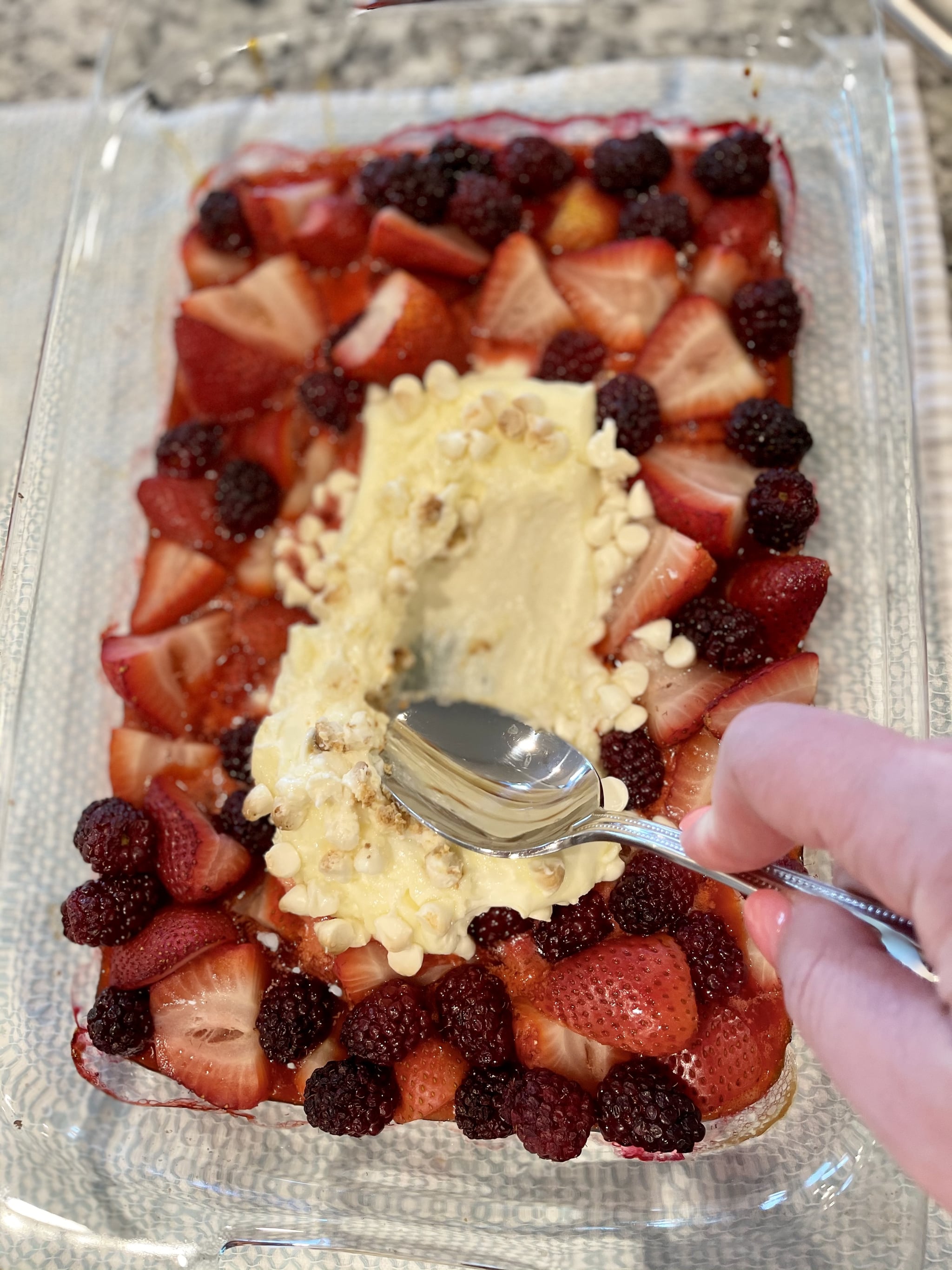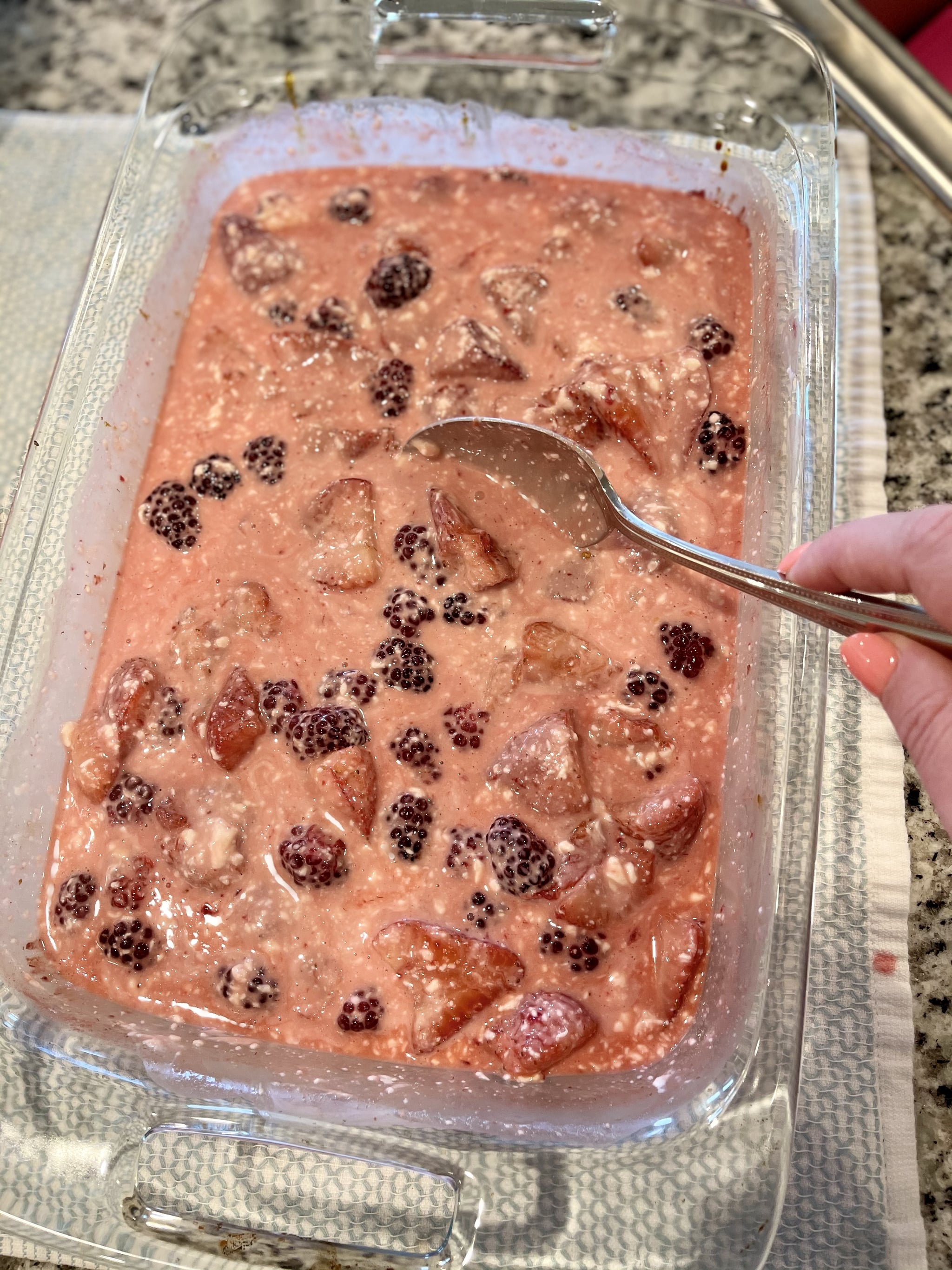 Scoop onto a plate, and eat it by itself or with your favorite pastry.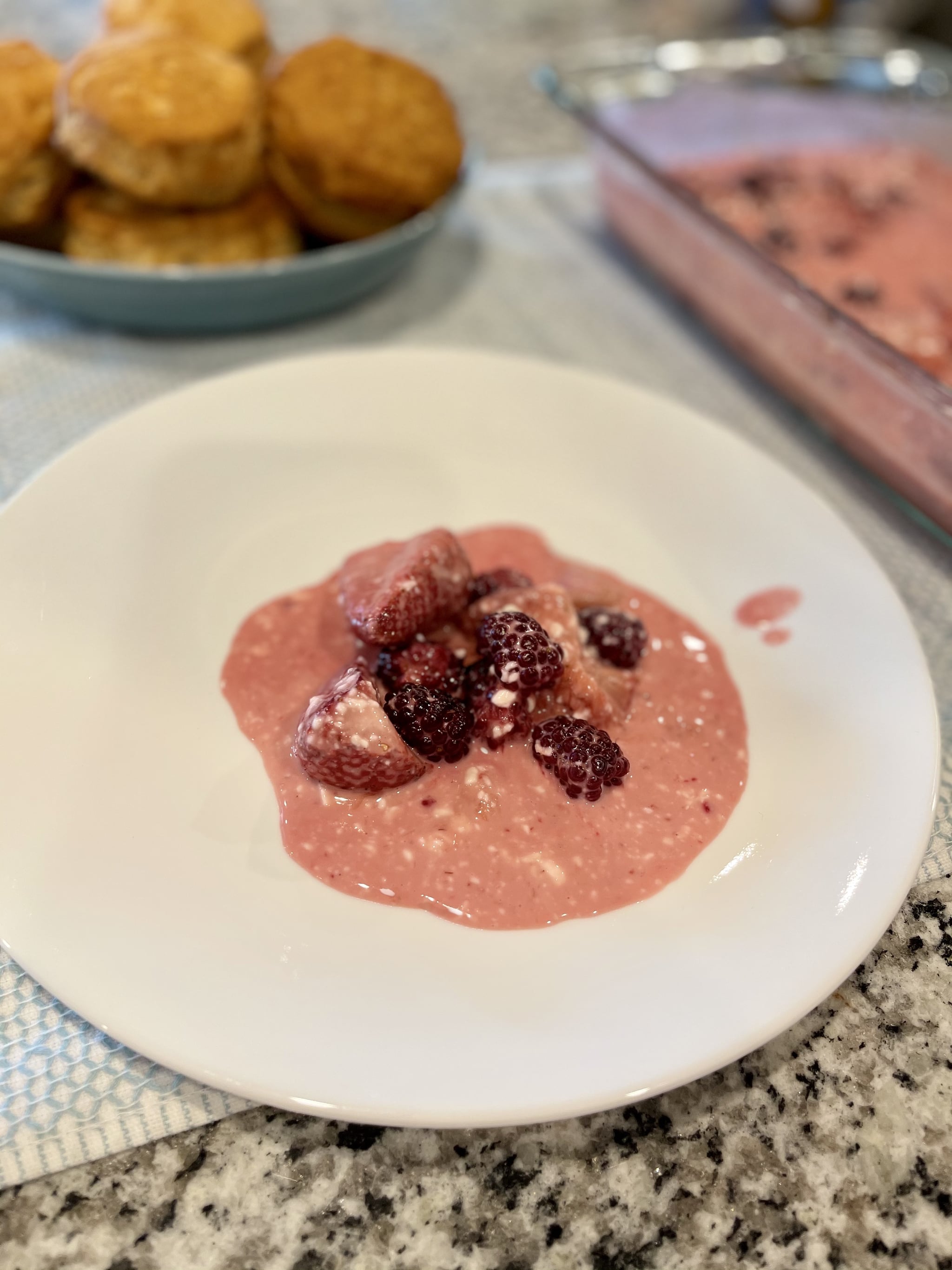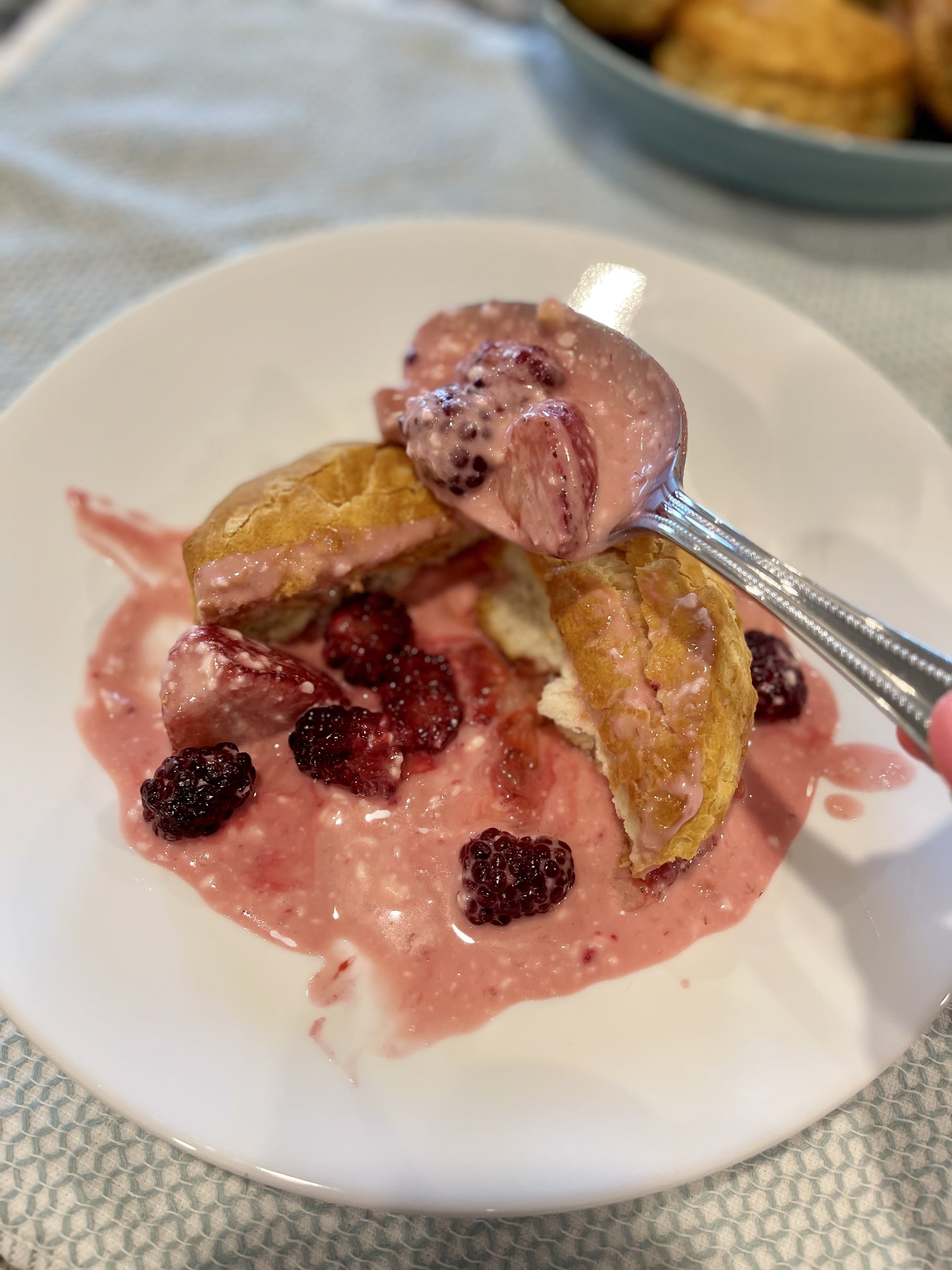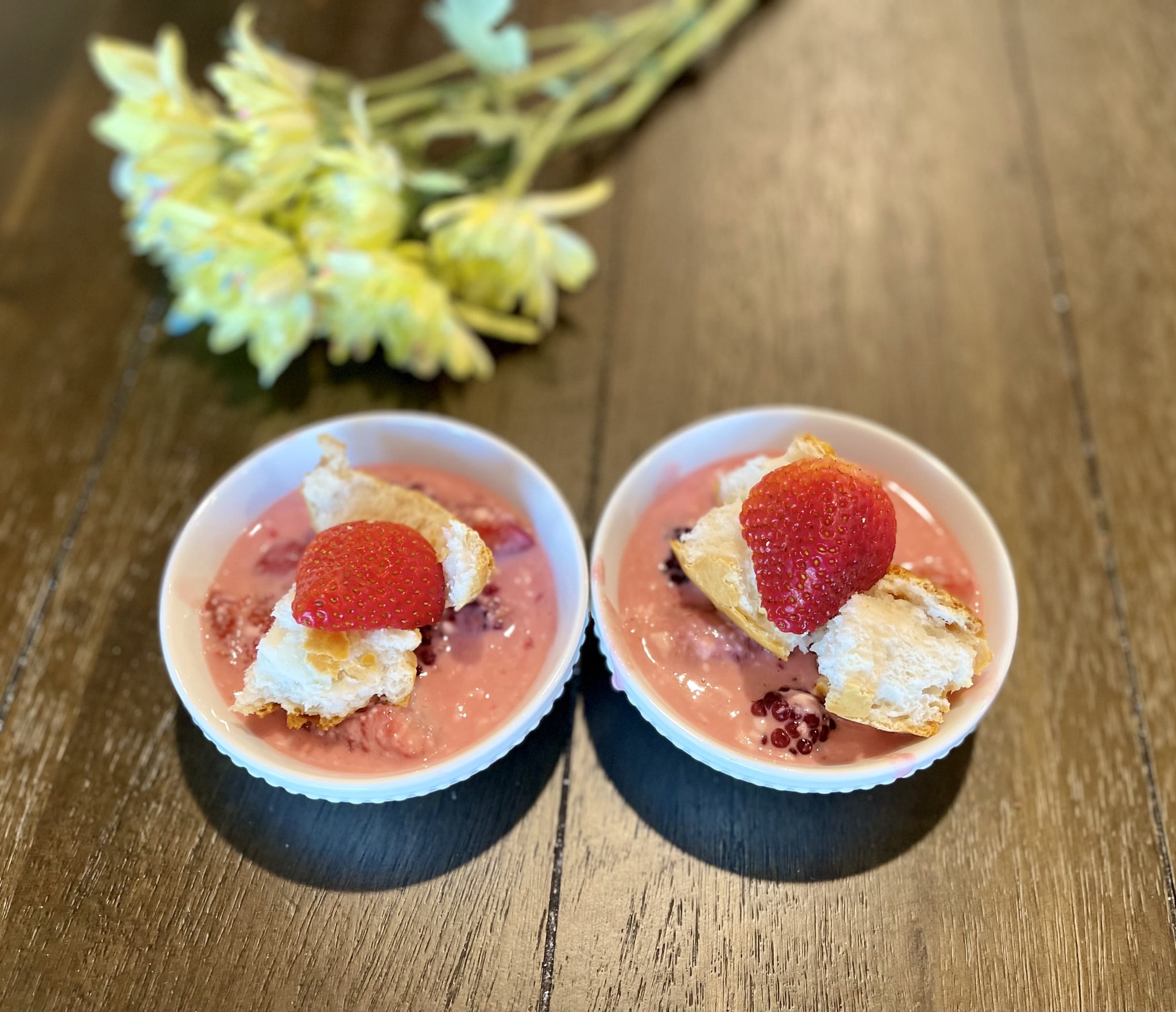 Ingredients
Strawberries
Blackberries
2 tablespoons lemon juice
2 tablespoons sugar
1/2 cup white chocolate chips
Biscuits or other pastry as desired
Directions
Cut leaves off strawberries, then chop them into bite-sized pieces.
Squeeze fresh lemons to make lemon juice.
Combine sugar with lemon juice and stir.
Spread strawberries and blackberries in a 13x9-inch pan, leaving a small hole in the middle.
Drizzle the lemon-sugar mixture over the fruit.
Add a block of cream cheese in the center.
Put half a cup of white chocolate chips on top.
Bake in the oven at 425 degrees for 18-20 minutes.
Stir the cream cheese and melted chocolate chips with the rest of the fruit.
Serve over biscuits, scones, pancakes, or by itself for a refreshing treat!
Information
Category

Desserts

Yield

4 bowls

Prep Time

10 minutes

Cook Time

20 minutes

Total Time

29 minutes, 59 seconds
Image Source: POPSUGAR Photography / Sydni Ellis