Details About the Disney World's Star Wars Hotel Restaurant
Disney's Star Wars Hotel Will Have a "Supper Club in Space," and We Can't Wait to Make Reservations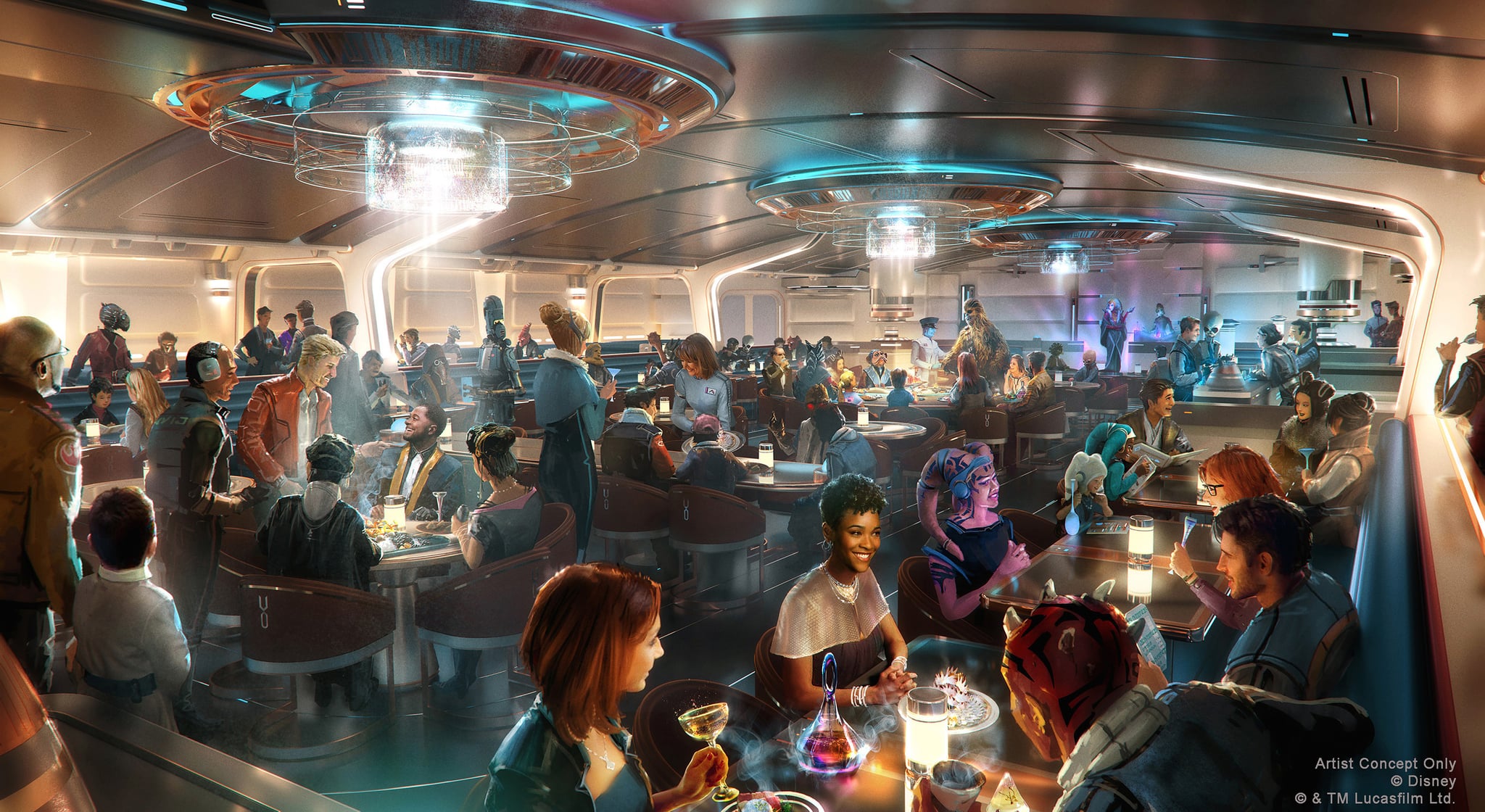 You can already immerse yourself in the world of Star Wars at Disney World's Star Wars: Galaxy's Edge, but when the park's newest hotel opens next year, you won't have to return to the real world at the end of the day. The Star Wars: Galactic Starcruiser is a two-day, immersive Star Wars experience aboard the Halcyon starcruiser that includes onboard activities, guest rooms designed to resemble starship cabins, and, of course, out-of-this-world food.
For Star Wars Day on May the 4th, Disney revealed a first look at the hotel's onboard restaurant, the Crown of Corellia Dining Room. Disney bills the Crown of Corellia as a "supper club" that will serve breakfast and lunch daily, but will then transform into a "lavish multi-course menu of both otherworldly and familiar origins" each evening. Disney hasn't revealed details on any specific dishes, but it sounds like they've kept both picky and adventurous eaters in mind when developing the menu.
During one of your two dinners onboard, you'll be treated to the musical stylings of a galactic singing sensation who, according to Disney, "can captivate an entire room with the crook of her jewel-encrusted purple Twi'lek finger." She is shown onstage in the artist rendering above and if you think she looks familiar, it's because she is of the same alien species as the singer who performed at Jabba's palace in Star Wars: Return of the Jedi.
The name is a reference to the planet Corellia, known throughout the galaxy for building well-known ships like the Millennium Falcon, as well as the one you'll be flying in, the Halcyon (all without ever leaving Orlando, of course).
The restaurant's floor-to-ceiling futuristic design extends to the sleek glassware and colorful lighting, but we spotted something even more exciting in the concept art – Star Wars characters. There's a Wookiee, a Sullustan, a Zabrak, and other familiar aliens, but even the diners who appear to be guests on the Halcyon are dressed in otherworldly garb. When plans were first announced for the Star Wars: Galactic Starcruiser in 2017, Disney revealed that you will be immersed in your very own Star Wars story from the moment you step onboard, including donning the proper attire, so we can't wait to get even more info in the coming months!
Disney has also shared there will be a family-friendly lounge onboard called The Sublight Lounge. You can't make reservations just yet and there's still plenty to be revealed, but if Wookiee dinner dates and a Star Wars makeover are on the menu, sign us up!