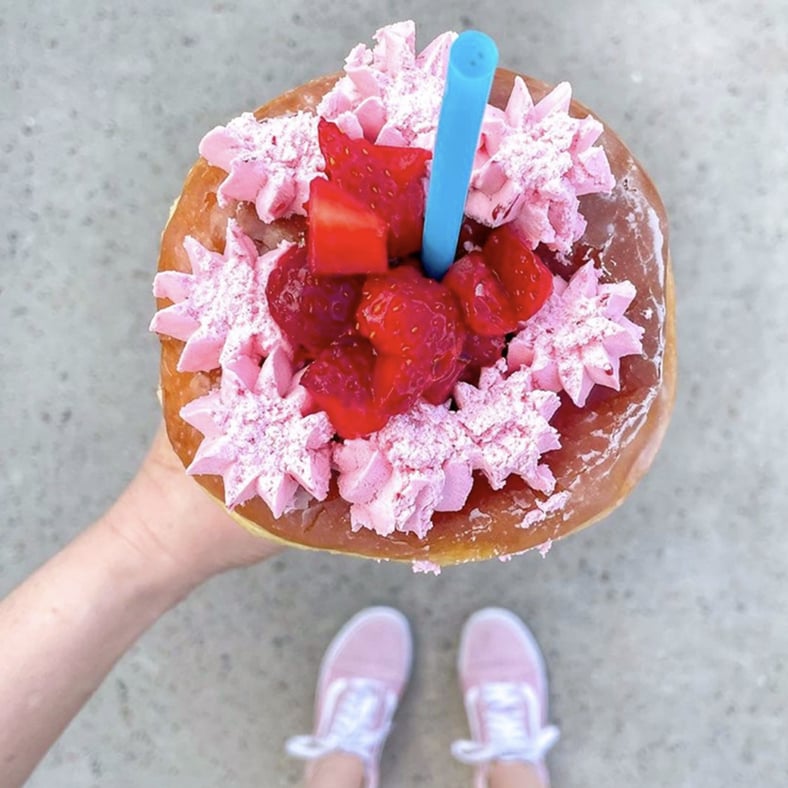 It's not a trip to Disney World without some freaking fantastic sweets — looking at you, Dole Whip, Mickey cookies, and churros. But while we love all of those classics that you can get inside the parks, there's a new sweet shop in town that'll have you setting your alarm much earlier than you normally do. Everglazed Donuts & Cold Brew opened in Disney Springs in January 2021, and based on the many, many mouthwatering social media photos, people are already loving these doughnuts. I mean . . . just look at them!
From Fruity Pebbles doughnuts to iced chocolate glazed doughnuts, there is nothing on this menu you won't like. Not to mention, Everglazed specializes in cold brew coffee and offers fantastic drink and doughnut combinations (like the Reese's Nitro — a decadent, sweet cold brew topped with a Peanut Butter Explosion Donut). Let that sink in for a second. Now you need to try it, right? While we don't have our next Disney trip planned quite yet, this definitely gives us something to look forward to! Keep reading for a full breakdown of all the delicious flavors we can't wait to try.
01
Strawberry Jelly Deluxe Donut
Strawberry fans, listen up: the Strawberry Jelly Deluxe Donut is filled with strawberry jelly and topped with strawberry buttercream, fresh strawberries, and vanilla icing drizzle. How amazing does that look?
02
Brooklyn Blackout Donut
Chocolate on chocolate on chocolate makes this Brooklyn Blackout Donut one to remember! It's a chocolate glazed doughnut with chocolate icing, mini chocolate chips, chocolate buttercream, and chocolate wafer cookies.
03
Fruity Pebbles Donut
If you loved the rainbow-colored cereal Fruity Pebbles as a kid (or even still as an adult, because same), then you'll love this Fruity Pebbles Donut, featuring strawberry icing, Fruity Pebbles, and a dollop of whipped cream.
04
Purple Reign
Just try not to sing "Purple Rain" by Prince when you order the Purple Reign. It comes with an iced chai tea made with purple ube coconut milk, coconut syrup, and an ube syrup swirl, which is topped with a Purple Glazed Ube Donut with buttercream.
05
Maple Double Bacon Donut
The Maple Double Bacon Donut is topped with maple icing and crispy candied bacon. It's brunch in a bite!
06
Reese's Nitro
Craving peanut butter? You can't go wrong with the Reese's Nitro. The drink is nitro cold brew with peanut butter and vanilla syrups, chocolate drizzle, and Reese's Peanut Butter Cups. This is topped with a Peanut Butter Explosion Donut, which has chocolate icing, peanut butter chips, crushed Reese's cups, and chocolate peanut butter frosting.
07
Mounds Coconut Dream Donut
A bite of tropical deliciousness awaits you when you order the Mounds Coconut Dream Donut. This doughnut is dipped in coconut-almond icing and topped with toasted coconut, chopped Mounds, cream cheese frosting, and vanilla icing drizzle.
08
Cookies and Cream Donut
Have a side of cookies with your doughnut when you order the Cookies and Cream Donut, featuring vanilla icing, Oreo cookie pieces, vanilla frosting, and one entire Oreo. Pair it with your favorite cold brew.
09
Cinnamon Toast Crunch Donut
The Cinnamon Toast Crunch Donut is topped with cinnamon icing, Cinnamon Toast Crunch cereal, cream cheese frosting, and a light dusting of cinnamon sugar. It's perfection!
10
Strawberry Iced Sprinkles Donut
Stick to the classics and order this Strawberry Iced Sprinkles Donut. You'll be treated to an explosion of sugary goodness as the strawberry icing and colorful sprinkles melt in your mouth.
11
Nutella Bella Donut
This Nutella Bella Donut is filled with Nutella cream, iced with chocolate, and topped with crushed hazelnuts.
12
Glazed Donut Grilled Cheeeeeese
This one looks too intriguing not to try! A glazed doughnut is sliced in half and loaded with tons of ooey, gooey cheese for a slightly sweet and oh-so-incredible treat.