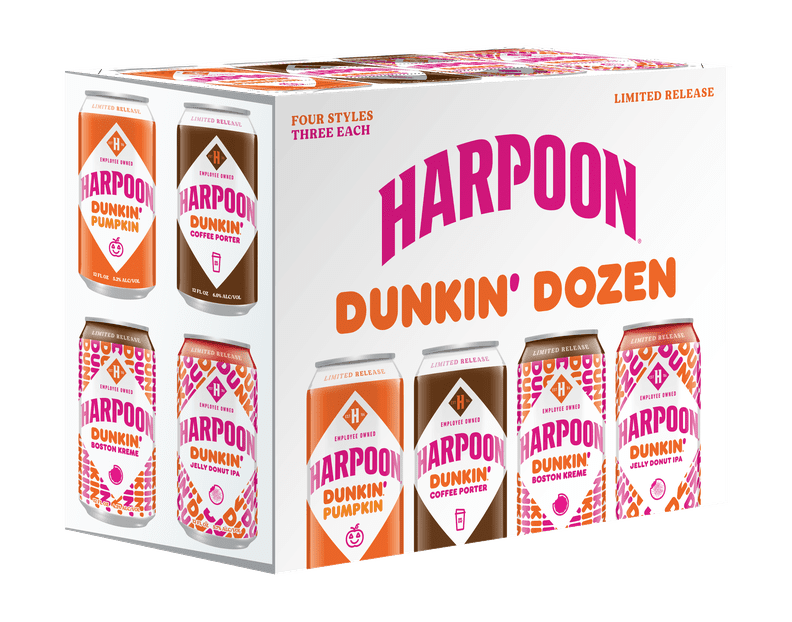 Dunkin' Donuts
Dunkin' and Harpoon Brewery have teamed up to launch doughnut-infused beers made out of real flavors from the coffee and doughnut chain. The new limited-edition beers — Jelly Donut IPA and Boston Kreme Stout — combine the sugary sweetness of classic Dunkin' bites with the maltiness of Harpoon's beers, making them the perfect drink (dessert?) for the fall. And if those weren't enough to get you in the autumn mood, the doughnut flavors are also joined by a new Pumpkin Spiced Latte Ale this September.
If you're wondering how these doughnut-beer combos might taste, Dunkin' described the Boston Kreme Stout as a "creamy Dry Irish Stout" brewed with real Dunkin' doughnuts and cacao nibs, while the Jelly Donut IPA is a "slightly hazy IPA" with "bright notes of jelly and citrus." As for the pumpkin spice ale, it's "brewed with real pumpkin, pumpkin pie spices, and a splash of coffee" for easy drinking. They all sound pretty dang delicious, if you ask me.
The limited-edition beers, in addition to the Harpoon Dunkin' Coffee Porter from previous years, will be available on grocery shelves in just a few days, in the form of a mixed 12-pack for about $15. The Pumpkin Spiced Latte Ale will also be sold on its own in a bottled six-pack, as well as on draft at some Harpoon Brewery locations. Get a closer look at the new Harpoon Dunkin' beers below.