As a lifelong Harry Potter fan, I can't help but imagine that the Golden Trio was brewing up way more than polyjuice potion after Hogwarts. I'm talking bottomless butterbeers and firewhiskey straight through to the epilogue. While drinking was forbidden during the Hogwarts days, "magical vlogger" Bri — aka @eatseemagic on Instagram — brewed up a few house-themed cocktails perfect for adult witches and wizards to enjoy while playing a Harry Potter drinking game.
"My love for the Harry Potter books and films paired with my love of creating cocktails inspired me to create these drinks," Bri told POPSUGAR via email. "I was recreating frozen butterbeer at home and thought, 'What if I make some colorful drinks for each house?' I thought about house colors, characters, and other wizarding facts when creating these drinks but also stayed true to my Caribbean roots by including tropical flavors."
"My drinks are strong and are only for the advanced wizards and any muggles that can handle a little magic."
The drinks range in flavor from sweet passionfruit concoctions to spicy mixtures made with jalapeño-infused vodka, but they all look delicious enough to appear in my Mirror of Erised reflection. Bri even mixed up a Hogwarts Elixir potion made specifically for professors to unwind after a day of grading Defense Against the Dark Arts essays and dealing with Dementors. The drink is strong, but something tells me Professor McGonagall would have thrown back more than a few of these when Fred and George were still causing mischief on the school grounds.
"I'm a Hufflepuff so I had the most fun creating the Hufflepuff Horizon," Bri added. "In my mind, that's the perfect drink to make after you borrow some herbs from Professor Sprout's Herbology class. If I'm talking about flavor, the most delicious drink is Gryffindor's Goblet of Fire (50 points for Gryffindor)!" Before you mix up a Hogwarts-inspired drink of your own, be warned that these aren't for just any wizards or witches. "My drinks are strong and are only for the advanced wizards and any muggles that can handle a little magic," Bri said. If you think you're up for it, keep reading to find your Harry Potter cocktail match.
Hufflepuff Horizon Harry Potter Cocktail
Get your brunch on with this Hufflepuff Horizon cocktail made for wizards and muggles alike to enjoy. "Make sure you visit Professor Sprouts to get some fresh herbs for this drink!" Bri captioned her post sharing the drink. Read up on the full recipe here.
Ingredients:
2 ounces passionfruit juice
2 ounces orange juice
3 ounces tequila
4 fresh basil leaves
2 sprigs fresh mint
2 tablespoons white sugar
1 lime, cut in quarters
Black salt (for the rim)
To try the drink for yourself, crush together one sprig of mint, the sugar, the basil leaves, and the lime juice, until all of the sugar is dissolved. In a shaker, add the passionfruit juice, orange juice, sugar-herb mix, and the tequila. Shake well and pour the mixture over ice. Serve the drink in a glass rimmed with black salt and topped with the remaining mint for an enchanting touch.
Slytherin Savage Harry Potter Cocktail
Only the most ambitious Slytherins are going to want to get their hands on this Slytherin Savage cocktail. "This drink is STRONG and was made for the cunning and ambitious!" Bri captioned her post. "It's been rumored that this drink is the REAL reason Voldemort disappeared for all those years." Check out the full recipe here.
Ingredients:
2 ounces DeKuyper Apple Schnapps
2 ounces jalapeño-infused vodka
1 ounce simple syrup
2 drops Angostura bitters
A drizzle of blackberry syrup
Black salt (for the rim)
Blackberries and jalapeño slices for garnish
To brew up this potion at home, add the apple schnapps, vodka, simple syrup, and Angostura bitters to a shaker and shake well. Serve the cocktail in a glass rimmed with black salt and filled with ice, and slowly add you desired amount of the blackberry syrup to the center of the glass. This will create the separation effect in the drink.* Garnish with blackberries and jalapeño slices and enjoy!
*Note: You must add the blackberry syrup after the vodka mixture. Adding the syrup to the glass before the drink will cause it to blend together.
Ravenclaw Remembrall Harry Potter Cocktail
Wit beyond measure is man's greatest treasure, but an extra splash of vodka every now and then is also appreciated, and this Ravenclaw Remembrall recipe lets you play with the measurements like a true potions master. "One sip of this and your intellectual prowess will awaken! Legend has it that right before Garrick Ollivander began to make one of his famous wands, he took a little sip of this to spark his creativity!" Bri captioned her post. See the full recipe here.
Ingredients:
Blue curaçao
Grape or blueberry vodka
Sweet and sour drink mix
Sprite
Grenadine
Edible silver glitter for drinks
Brew up this charming cocktail to satisfy your inner Ravenclaw by mixing together your desired amount of blue curaçao, vodka, and sweet and sour mix in a round glass. The amount of curaçao added will determine how dark blue your drink is. Sprinkle in some of the edible glitter and slowly pour in your desired amount of Sprite. Next, slowly add in your desired amount of grenadine and top with ice and more edible glitter and enjoy!*
*Note: "Adding the grenadine last (and slowly) is the only way to create the separation in the drink. Adding it to the glass before the drink mixture will cause it to blend together."
Gryffindor's Goblet of Fire Harry Potter Cocktail
This fiery Gryffindor's Goblet of Fire cocktail is layered with mango and spice to scare away dementors and make happy hour a little more magical. "The candy on top was created by the Weasleys to trick the goblet into letting any Gryffindor (regardless of age) enter their name for the Triwizard Tournament!" Bri joked in the caption of her post. Conjure up a Gryffindor cocktail for yourself by following the recipe ahead.
Ingredients for the Yellow Layer:
2 cups frozen mango
2 ounces mango purée
2 ounces mango-flavored vodka
1 ounces peach Schnapps
1/2 teaspoon lime juice
2 drops citrus Angostura bitters
Ingredients for the Red Layer:
2 cups frozen strawberries
2.5 ounces berry-flavored vodka
2 ounces Grenadine
1/2 teaspoon lime juice
Tajin for rim of glass
Candied chili mango (garnish)
Peach gummy rings (garnish)
Begin by blending all of the ingredients for the red layer and freeze the mixture for five minutes in a Tajin-rimmed glass. Next, blend together all of the ingredients for the yellow layer and pour them on top of the red layer once it has set. Top the drink with a pinch of Tajin, the candied chili mango, and the peach gummies and enjoy. For a swirled drink effect, gently mix together the red and yellow mixtures before freezing.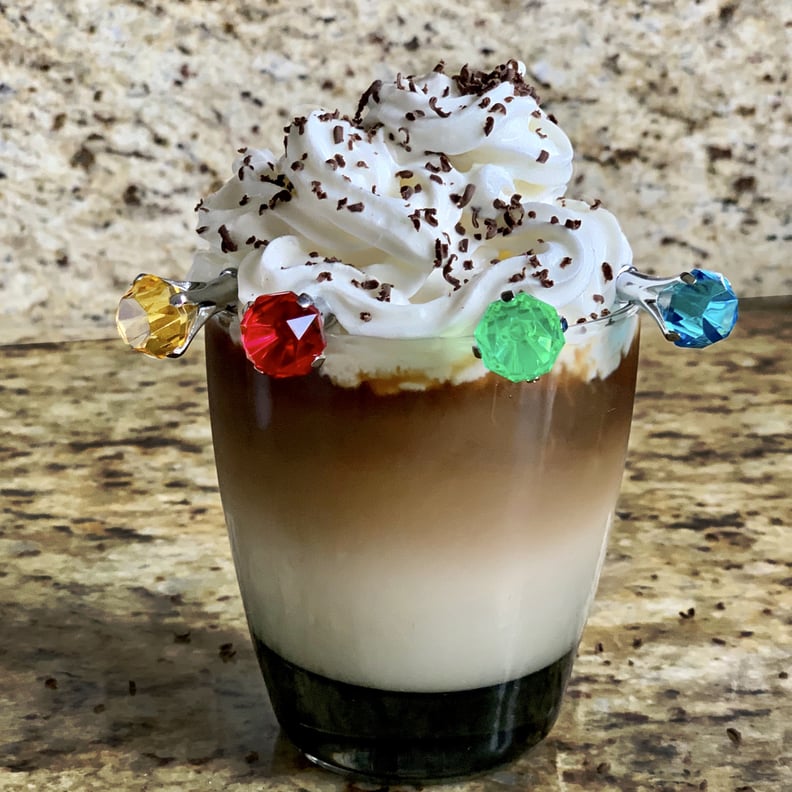 Hogwarts Elixir Harry Potter Cocktail
Finally, for any Hogwarts professors looking to let loose, this Hogwarts Elixir is like a dessert mixed with a shot, and we can totally see Professor McGonagall brewing one of these up in her office after class. Even if you aren't a professor, follow the recipe here to treat yourself to a taste of this harmonious house drink.
Ingredients:
3 parts double espresso vodka
1 part RumChata
Whipped cream
Chocolate shavings
In a glass, pour one part RumChata and top with three parts double espresso vodka. Serve with whipped cream and chocolate shavings and enjoy!