Ed Sheeran Launches Tingly Teds Hot Sauce
Ed Sheeran's Latest Venture Is a Little . . . Spicy
As POPSUGAR editors, we independently select and write about stuff we love and think you'll like too. If you buy a product we have recommended, we may receive affiliate commission, which in turn supports our work.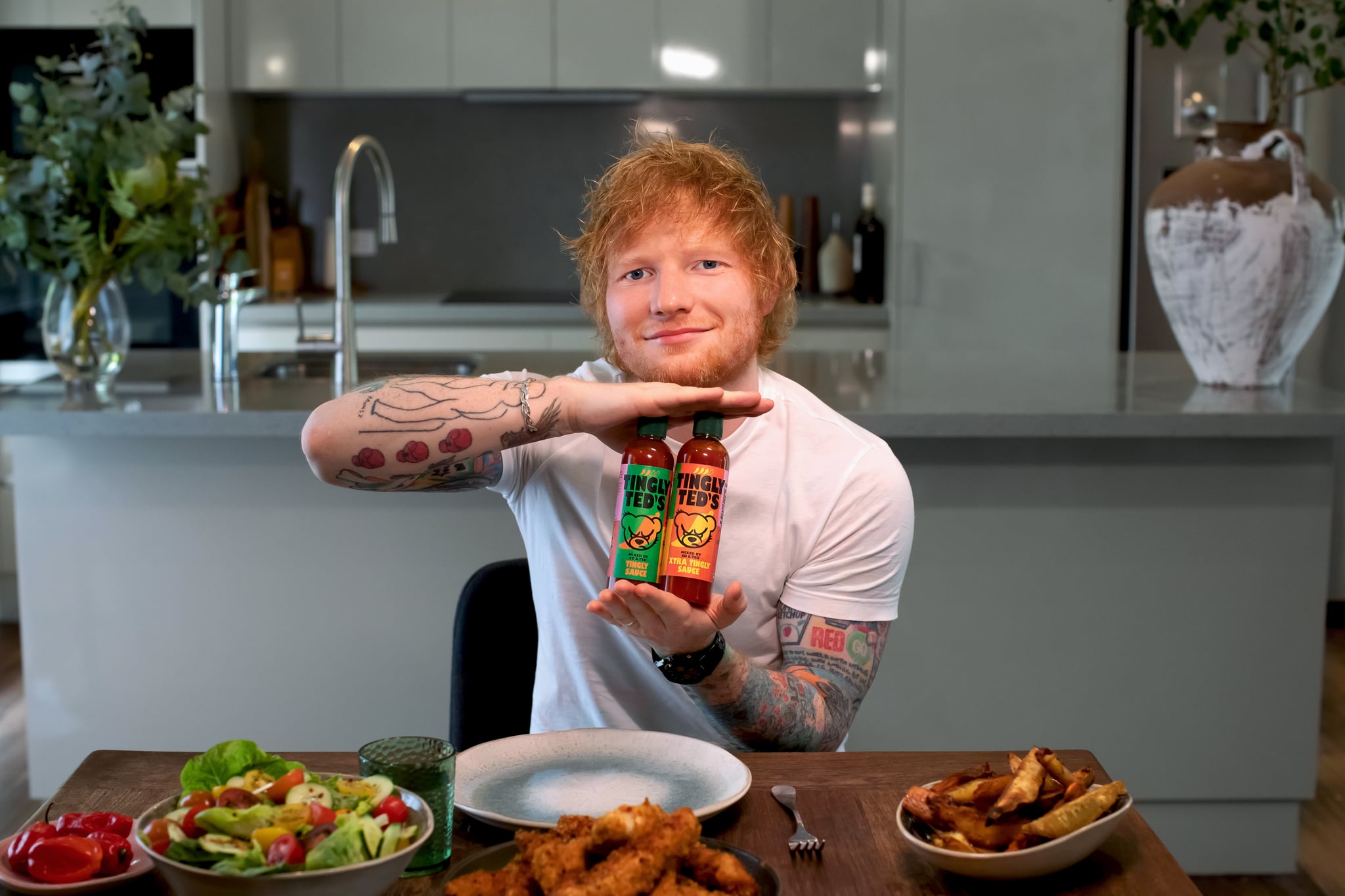 In a move that was not on our 2023 bingo card, Ed Sheeran has launched a range of spicy condiments called Tingly Teds. The hot sauces have been in the making for two years, created by Sheeran and expert sauce makers, after the "Shape of You" singer was unable to find what so many of us want: a versatile hot sauce that could rival ketchup in its put-on-anything ability.
Having admitted his Instagram account had become a little boring after he decided to distance himself from social media the past couple of years, it's safe to say the singer is back with some (literal) saucy content. "I felt like something was profoundly missing in my life, and after much soul searching, I realised it was a proper hot sauce. So I made @tinglyteds. I love it, coming to a shelf near you soon," he wrote on Instagram alongside a video on Feb. 21. He added the hashtags #therockhastequilaihavehotsauce (referencing The Rock aka Dwayne Johnson's tequila brand, Teremana), #bizznizzman, and #fridge, and even made a jingle to accompany the release.
The initial launch of Tingle Ted's includes two sauces: Tingly and Xtra Tingly. Made from red jalapeño and capsicum chilis, alongside herbs, spices, and lemon notes, the vegan sauces have no added preservatives or artificial colors, and the bottle is fully recyclable. "I love sauces, that's no secret. But the older I've got, the more I love and need spice with every single meal," the dad of two explains in the press release. "I travel a lot, so having a bottle in my suitcase wherever I go that can spice up any and every meal seemed like a good idea. I knew I didn't wanna do a watery hot sauce, as they usually all get relegated to the same shelf of other random hot sauces. I wanted to make a sauce that took the same pride of place as ketchup." Sheeran added that he has the sauces on tour with him and has them with every meal.
The singer joins a long list of other celebrities who have food and drink brands to their name. Kendall Jenner founded 818 Tequila, Lewis Capaldi has a range of frozen pizzas, and Cara Delevingne owns Della Vite Prosecco, to name a few. Now, we're just Thinking Out Loud here, but we think Sheeran's hot sauces could be what you need to fill that spice-shaped whole in your fridge.
Sheeran is working on making his sauces available globally, but are currently only available for preorder in Europe, Australia, or New Zealand. If you're lucky enough to live in one of those areas, sign up to snag your double dose of Ed Sheeran's Tingly Ted Hot Sauces ($7.27). For the rest of us, sign up for the waitlist — then try this homemade hot sauce while you bide your time.