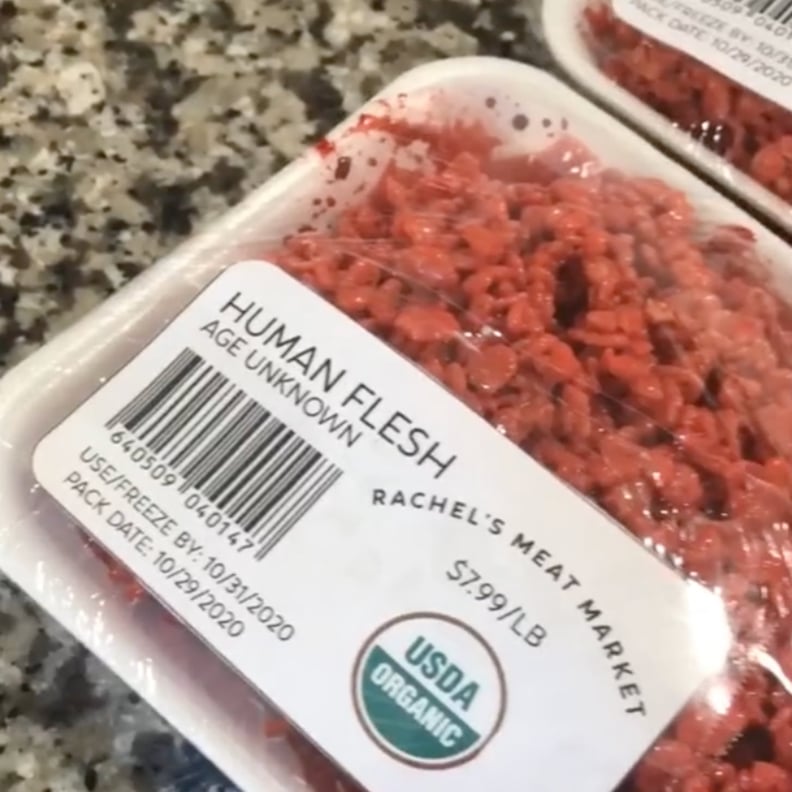 If you don't already have the "Monster Mash" queued up in your playlist, are you even excited for Halloween?! The fateful holiday will be here sooner than you know, and to get in the spirit of the season, we turned to TikTok to give us inspiration for the best Halloween recipes out there. These fan-favorite recipes are the most-liked for a reason, and that's because they're scary good. Complete with apple pie skeleton heads (eek!), "roadkill" Rice Krispies, and treats that are good enough to make your blood run cold, these recipes will prepare you for the ultimate season of horror. Whether you want to spook picky eaters or you're looking to win the prize for "Best Dessert," these recipes from TikTok will make everyone shriek. Keep reading to see the most popular Halloween recipes on TikTok now. Happy hauntings!
01
Apple Pie Skulls
Just the name of these is enough to make this dessert a fan favorite. With crisp apples, a hint of sugar, and a chilling design, these skulls will outdo pie any day of the week.
02
Roadkill Rice Krispie Treats
Um, yeah, these are horrifying. Bloody, gory, and expertly packaged — who wants a bite?
03
Pumpkin Bread
There's nothing more classic than pumpkin bread in the fall, and this seasonal recipe will make your taste buds shout for joy. Easy, delicious, and perfect with butter, nosh on this whenever the craving strikes.
04
Butterbeer
Tell us, what's more mouthwatering than butterbeer? With a magical taste, this Harry Potter-inspired drink will satisfy your desire to be a wizard in no time.
05
Halloween Candy Apples
We gotta say it: candy apples are severely underrated. Juicy apples and rich sugar produce a timeless treat that's even better when it has a Halloween spin.
06
Easier-Than-Pie Pumpkin Dump Crunch Cake
Craving a seasonal treat but don't want to whip up a full pie? This dump cake is supposed to look a little messy, so no need to take too much time making it perfect. Got a fork?
07
Pumpkin Oreo Treat
Take Oreos to the next level when you make this festive dessert. With a peanut-buttery filling and cute pumpkin design, these are sure to be a hit.
08
Oreo Cookie Smash
Everyone knows the Pillsbury holiday cookies are the best, so why not make them better? Simply get two slabs of cookie dough, stuff an Oreo in between them, bake 'em, and prepare to experience goodness like no other.
09
Hot Chocolate Bombs
Perfect for cold weather, these hot cocoa bombs are a true treat. Fill them with whatever you'd like (we prefer marshmallows), and enjoy!