As soon as I saw the now viral video in which TikToker Amanda Jones mixes balsamic vinegar with LaCroix to make "a healthy alternative to a Coke," I knew what the comments section would say. Unsurprisingly, it was filled with skepticism that matched my own. "Zero chance that tastes like coke," one user wrote. "Homegirl just got at least 50 people to drink balsamic vinegar with ice," another added. Though it was immediately roasted by others on TikTok, I decided to give Jones's concoction the benefit of the doubt. Giada de Laurentiis's olive oil sorbetto has balsamic vinegar in it, I reassured myself. And Bloody Marys and martinis often have pickle brine in them, and that's basically vinegar, right? How bad could it be?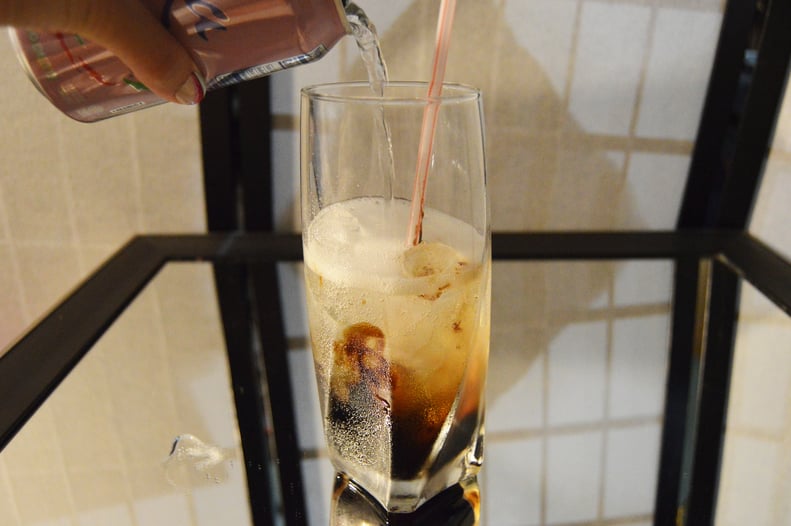 Despite knowing that vinegar does have a place (though a very small one) in both sweets and cocktails, I was still half expecting the drink to taste like watered-down salad dressing. According to Jones, you need just "a splash of balsamic vinegar" and "any sparkling beverage," along with some ice, but to do it justice as best I could, I opted for La Croix's guava-flavored seltzer, exactly as Jones did in the video. I poured in the balsamic, followed by the seltzer, and gave the two a good mix. And immediately, I had hope because the drink really did look like Coke.
That hope was quickly shot down upon first sip, however. The flavor, to me, doesn't taste anything like the TikTok suggests, but not necessarily in a bad way. I actually think it's closer to Dr. Pepper, but unsweetened and almost bitter in the same way beer is. The tanginess from the balsamic is also hard to miss, but oddly enough, it's more tart than vinegary. I think the guava flavor of the seltzer brought out the sweetness of the balsamic vinegar, or at least balanced it out well, because the combination somehow works. I would've never guessed the two ingredients had I known otherwise.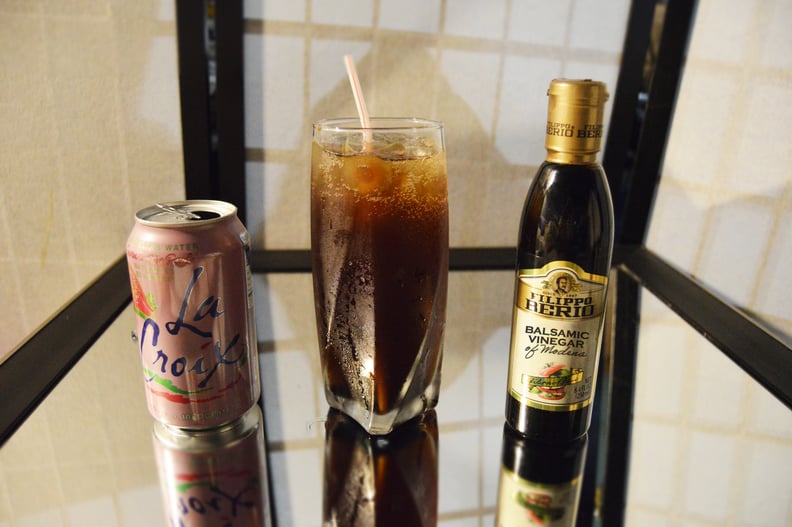 Being that I'm not a habitual Coke drinker, however, I decided to consult an expert for additional feedback — a friend of mine whose Coke palette is so refined that she swears Diet Coke and Coke Zero taste completely different and that nothing can compare to the real thing. I made no mention of Coke, seltzer, or balsamic vinegar to her, and the consensus was interesting: it reminded her of a sour beer, not soda. Would she go out of her way to have it again? Probably not, she said, and honestly, I'd have to agree.
A balsamic spritzer is tasty enough to try for fun, and it isn't by any means as disgusting as some are saying, but it does seem like something you'd pull together in your dorm room out of desperation for a Coke. Try it if you wish, but I wouldn't be surprised if the trend died down as fast as it went viral. The whole is definitely greater than the sum of its parts, but if I want a healthy alternative to coke, I think I'd rather stick to drinking my seltzers without the balsamic.