Paid Content For
Love One Today®
5 Nutritious and Delicious Summer Snacks For All You Diehard Avocado-Lovers
Paid Content For
Love One Today®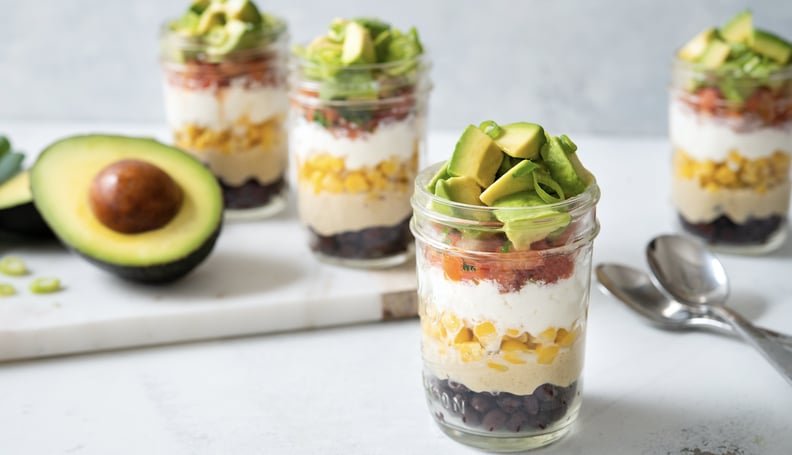 Hass Avocado Board
Hass Avocado Board
It's safe to say that avocados may never not be trending. The avocado is the forever darling of millennials, Gen Z-ers, and Gen X-ers alike for their creamy texture and rich taste that levels up pretty much any dish, including those midday snacks. But along with being oh so delicious, did you know that avocados are oh so good at helping you maintain your wellness goals? Fresh avocados, which are a good source of fiber, can be a satisfying addition to a reduced-calorie diet when eaten in place of other fat sources.
Fiber-containing foods like avocados help provide a feeling of fullness with fewer calories, helping save you from being tempted by those not-so-nutritious snacks. If you're trying to stick to a wellness plan that includes eating more nutritiously, look no further than the trusty avocado — add it to your midday snack to help you feel energized and fueled up between meals without knocking you off the healthy course. An avocado-full snack is one you can feel good about craving and indulging in whenever you need a little pick-me-up. Snacking on fresh avocados can be a part of maintaining a healthy diet.
Keep reading for five registered-dietitian-approved recipes that make avocados the star of the snacking show, and head to loveonetoday.com to get the complete nutritional info as well as tips on how to refrigerate your avocados so you can stock up and delay the ripening process.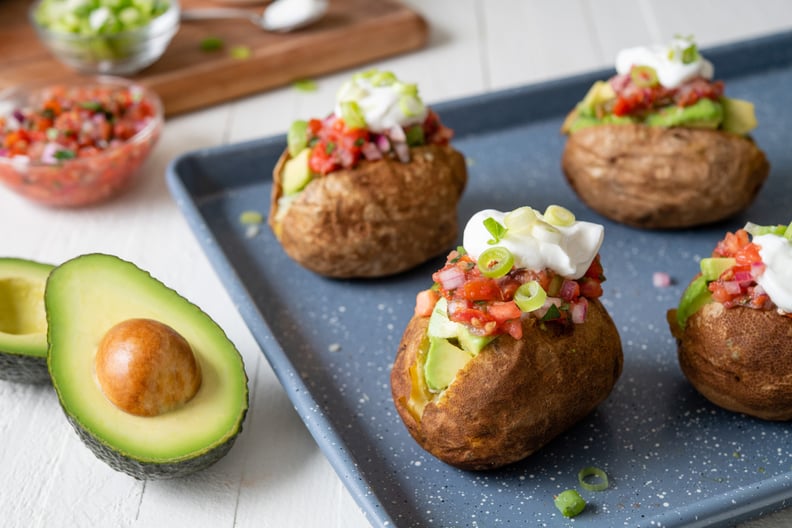 Baked Potato With Salsa Fresca and Avocado
The creaminess of the avocado filling perfectly complements the potato's crispy skin in this good-for-you snack or side.
Ready in: 40 minutes
Number of servings: 4
Ingredients:
4 small russet potatoes, washed
1 ripe, fresh avocado, halved, pitted, peeled, and sliced (large avocados (8 oz.) are recommended)
4 tablespoons salsa fresca, homemade or store bought
4 tablespoons plain Greek-style nonfat yogurt
4 tablespoons sliced scallions
Instructions:
Preheat oven to 400°F. Place potatoes on a foil-lined tray or on oven rack. Bake 40 minutes or as needed until baked through.
Cut potatoes in half lengthwise; gently press open and lightly fluff potato with a fork. Top with avocado, salsa, yogurt, and scallions, dividing ingredients evenly.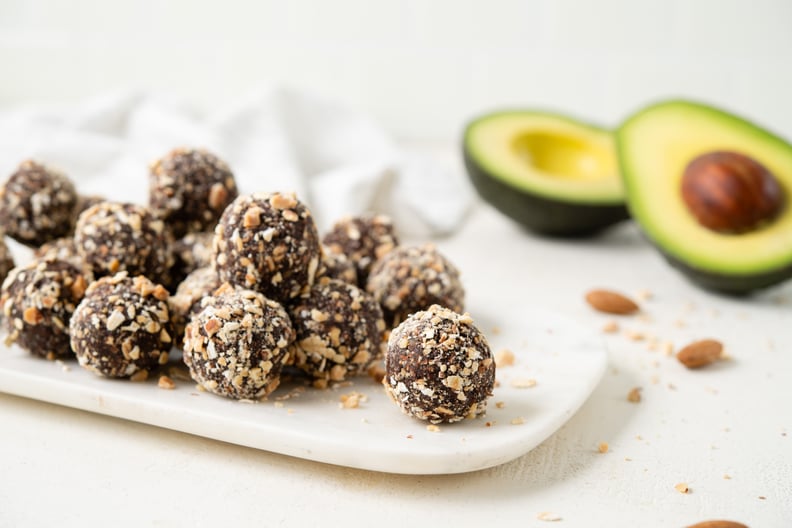 Chocolate Almond Avocado Oat Bites
Made with healthy avocado, whole-grain oats, crunchy almonds, and sweet dates, these no-sugar-added bites will satisfy your sweet tooth without the guilt.
Ready in: 1 hour and 30 minutes
Number of servings: 20
Ingredients:
1 1/4 cups rolled oats, toasted, divided
1 cup chopped almonds, toasted, divided (note: if you are using whole almonds, process in food processor for 15 seconds to chop prior to toasting)
1 ripe, fresh avocado, halved, pitted, peeled, and mashed (large avocados (8 oz.) are recommended)
1 cup (8 oz.) pitted dates, chopped, packed
1/2 cup cocoa powder
1 teaspoon vanilla extract
1/4 teaspoon salt
Instructions:
Preheat oven to 350°F. Spread oats and almonds evenly in a single layer on a baking sheet, careful to not mix and keep separate. Bake for 7-10 minutes, turning over occasionally, until lightly toasted; remove from oven and cool.
Process avocado, dates, 1/2 cup toasted almonds, cocoa powder, vanilla, and salt in a food processor until mixture is finely chopped and sticky. Stir in 1 cup toasted oats.
Transfer to a medium bowl, and refrigerate until chilled, at least 1 hour.
Form 20 bite-size balls using your palms. Roll balls in remaining toasted oats and almonds. Place on a tray lined with parchment paper. Store in the refrigerator for up to 3 days.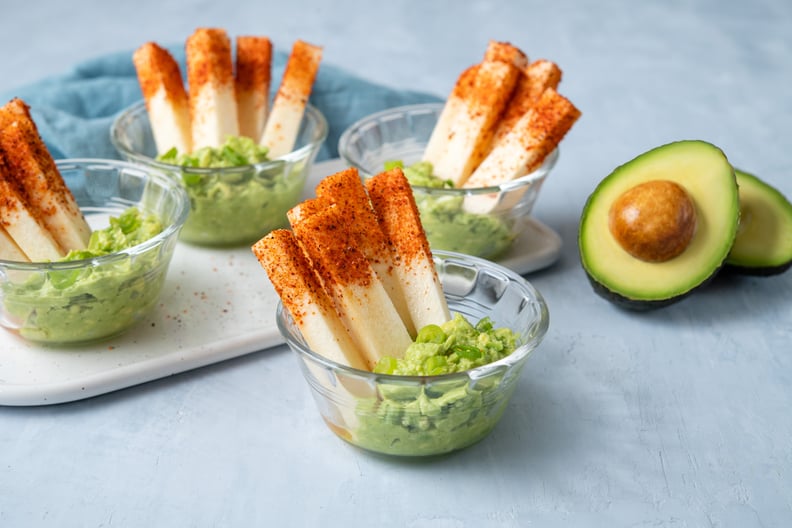 Jicama Strips With Spicy Lime Guacamole
Need an afternoon pick-me-up? This packable snack is easy to eat on the go.
Ready in: 10 minutes
Number of servings: 4
Ingredients:
1 ripe, fresh avocado, halved, pitted, and mashed (large avocados (8 oz.) are recommended)
1 tablespoon green onions, sliced
1 teaspoon chili lime hot sauce, or to taste
1/4 teaspoon salt
2 cups jicama, peeled and cut into slices
1/4 teaspoon chili lime spice
Instructions:
Combine avocado, green onions, hot sauce, and salt in small bowl. Sprinkle jicama pieces with chili lime spice, and serve with spicy lime guacamole.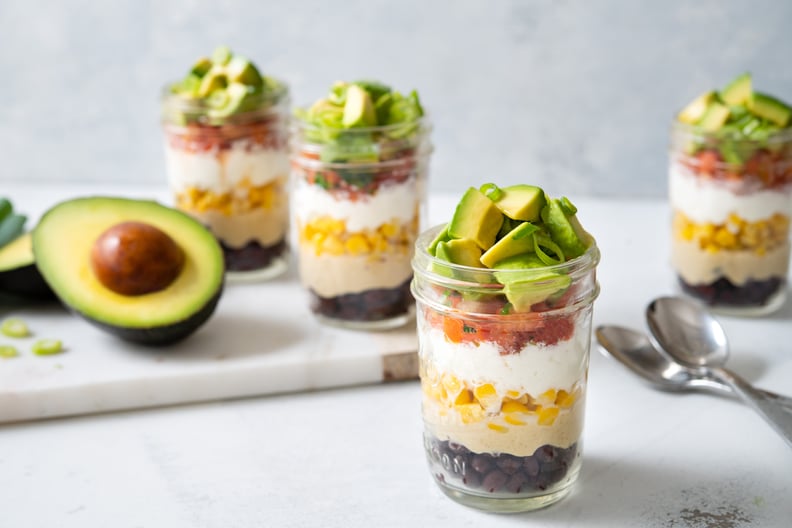 Better-For-You Individual 7-Layer Dip
Avocado chunks top this better-for-you spin on a classic party dip. Make individual-size portions and enjoy how well this healthy snack satisfies afternoon cravings. One serving provides an excellent source of both protein and fiber.
Ready in: 5 minutes
Number of servings: 4
Ingredients:
1 cup canned black beans, rinsed and drained
1/4 cup hummus
1 cup frozen corn kernels, thawed and drained
1 cup cottage cheese
1/2 cup pico de gallo, store bought or homemade
1 ripe, fresh avocado, halved, pitted, peeled, and diced (large avocados (8 oz.) are recommended)
2 tablespoons scallions, sliced
Instructions:
Layer ingredients, in order listed, into 4 small glasses or jars, dividing evenly. Serve immediately.
Avocado, Spinach, and Artichoke Spread
A zesty 100-percent plant-based dip paired with whole-grain crackers or veggies makes a satisfying snack.
Ready in: 15 minutes
Number of servings: 10
Ingredients:
1 ripe avocado, peeled, pitted, and sliced (large avocados (8 oz.) are recommended)
1 cup fresh baby spinach leaves, packed
1 tablespoon fresh lemon juice
1 clove garlic, minced
1/2 cup (5-oz. jar) marinated artichoke hearts, drained
1 tablespoon fresh parsley, chopped
1/4 teaspoon salt
1/4 teaspoon red pepper flakes
Instructions:
Purée avocado, spinach, lemon juice, and garlic in food processor for 1-2 minutes, scraping sides twice, until smooth. Add artichoke hearts, parsley, salt, and red pepper flakes, and pulse until roughly chopped, scraping sides as needed.
Transfer to a serving bowl, and serve with raw vegetables, crackers, or pita chips.