How to Get Free Starbucks Reusable Red Holiday Cups For 2021
Starbucks Is Giving Away *Free* Reusable Red Holiday Cups For 1 Day Only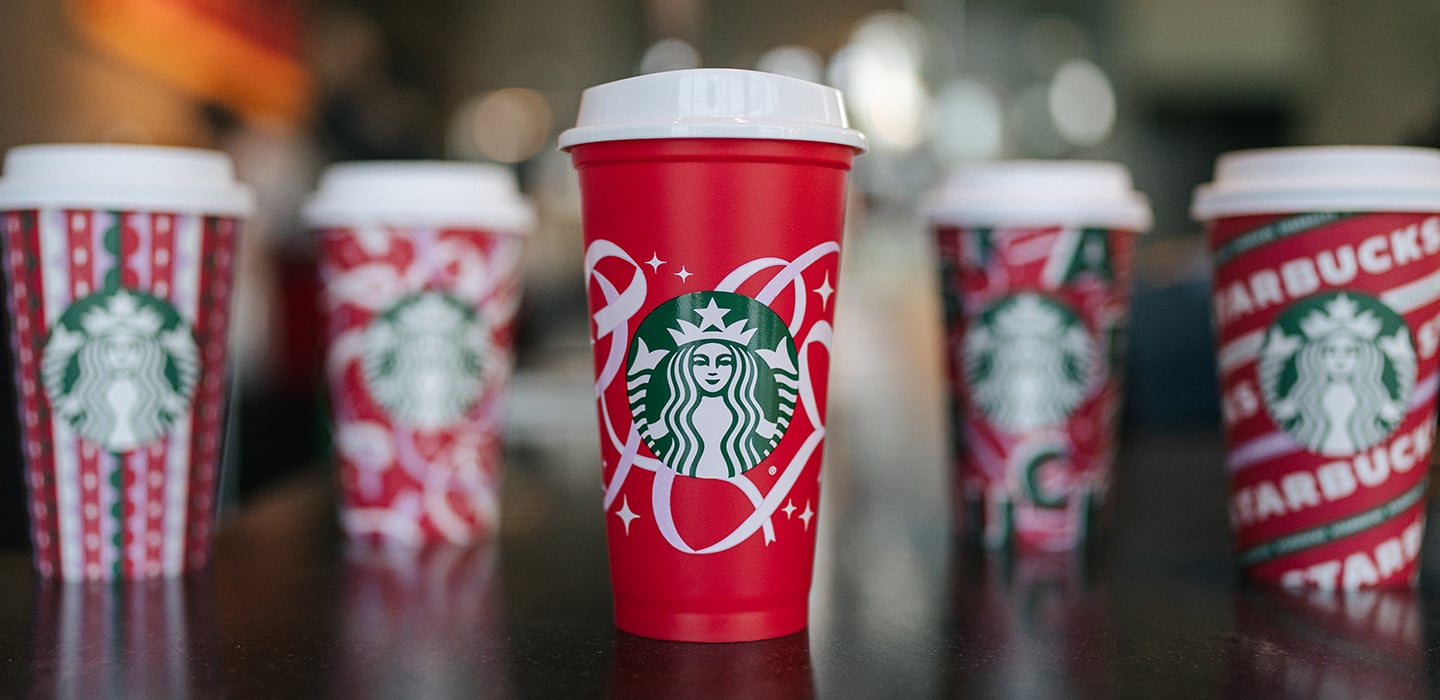 Starbucks-lovers, it's go time. On Nov. 18 only, Starbucks is giving away free reusable red holiday cups — the unofficial holiday relic — when you purchase a fall or holiday Starbucks beverage. The brand announced the 2021 news of its annual giveaway on Nov. 17, prompting reusable red cup collectors to set their alarms for an early-morning Starbucks run to snag the freebie. In theory, Starbucks has made it easier than ever to get your own reusable red holiday cup, but you still need to act fast. Not only is the limited-edition reusable red cup cute as heck, but it's only available while supplies last.
Before you run out of your house in your pajamas to grab one before they're gone, here are the nitty-gritty red cup details. You can get the 2021 reusable red holiday cup at any participating Starbucks locations, however you order. Yes, that means you can get one when you order in store or at the drive-thru of your local Starbucks, when you place a mobile order or a curbside pickup order, and even when you order via Uber Eats. The only catch is that the free reusable red cup giveaway is only valid when you order Starbucks's fall or holiday beverages, like a Pumpkin Spice Latte, a Sugar Cookie Almond Milk Latte, a Peppermint Mocha, and more. You can see a longer list of included seasonal drinks on the Starbucks website, but note that neither the Starbucks Christmas Blend brewed coffee nor the Christmas Starbucks Reserve is included in the giveaway.
"As we build on our strong start to the holiday season, we're delighted to bring back our reusable red cup giveaway for the fourth straight year," said Brady Brewer, chief marketing officer for Starbucks, in a press release. "The reusable red cup has become a tradition for customers each holiday season and is a step towards reducing single-use cup waste as we work towards our planet-positive goals." In the spirit of reducing waste, the 2021 Starbucks reusable red holiday cup is also made of 50 percent recycled materials.
Remember, once you have your own reusable Starbucks cup, you can get a $0.10 discount on your order when you use it. And with the 2021 cup's whimsical ribbon-and-star design, celebrating Starbucks's 50-year anniversary, this is a cup you won't mind sipping with all the time.
Image Source: Courtesy of Starbucks