Ina Garten's Chipotle Mashed Sweet Potatoes Recipe
You'll Want Ina Garten's Slow-Baked Chipotle Mashed Sweet Potatoes at Your Thanksgiving Table
Thanksgiving dinner is all about the side dishes. The turkey and roast ham get the honor of sitting centerstage, but it's the mashed potatoes, gravy, stuffing, green beans, and cranberry sauce that are the true stars. Of course, Ina Garten is a step ahead in terms of holiday food, which is why her chipotle mashed sweet potatoes look like they deserve to be served up on a silver platter.
The creamy sweet potato recipe, shared to the Barefoot Contessa website on Nov. 17, calls for heavy cream, butter, and a drizzle of maple syrup to balance out the minced chipotle chiles. I'm a huge fan of candied yams with marshmallows on top, but I might have to skip them this year in favor of Ina's chipotle sweet potatoes. Also, the recipe serves four, making it perfect if you're hosting a smaller or more intimate dinner party. Find out exactly how to whip up this slow-roasted sweet potato mash for yourself ahead.
Ina Garten's Mashed Chipotle Sweet Potatoes
Barefoot Contessa
Notes
It's OK if the milk looks curdled in step seven!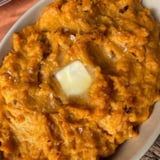 Ingredients
2 pounds sweet potatoes (3 potatoes)
1/2 cup whole milk
1/2 cup heavy cream
1 1/2 teaspoons minced chipotle chiles in adobo sauce, with seeds
1 1/2 teaspoons adobo sauce (from the can of chiles)
2 tablespoons pure Grade A maple syrup
2 tablespoons unsalted butter, diced
Freshly ground black pepper
Kosher salt
Directions
Preheat the oven to 350°.
Line a sheet pan with aluminum foil.
Place the washed and dried sweet potatoes on the prepared sheet pan and pierce each potato four times with a small knife.
Roast the sweet potatoes for 60 to 75 minutes, until very tender inside when tested with a knife.
Leave the oven on and set the potatoes aside until they are cool enough to handle.
Peel the potatoes, discard the skins, and place the potatoes into the bowl of an electric mixer.
In a small saucepan, bring the milk, cream, chipotle chile, and adobo sauce to a boil. Once boiling, lower the heat and let the mixture simmer for five more minutes.
While the mixture is simmering, place the paddle attachment on your electric mixer.
With the mixer on low speed, add the chipotle-milk mixture to the sweet potatoes.
Add the maple syrup, butter, and 1 1/2 teaspoons of salt.
Mix until the potatoes are coarsely pureed and only have a few chunks visible throughout.
Pour the sweet potato mixture into a 9 x 6 x 2-inch baking dish (preferably oval-shaped) and bake for 20 to 30 minutes or until heated through.
Once the potatoes are done baking, sprinkle them with flaky salt and pepper. Serve hot and enjoy!
Information
Category

Side Dishes, Potato

Yield

Serves 4

Prep Time

10 minutes

Cook Time

1 hour 35 minutes

Total Time

1 hour, 44 minutes, 59 seconds